Tunerworks brings back to life a 1993 BMW E36 with a 535-hp output LS1 Corvette engine. Nice.
Many believe in the doctrine of rebirth; that the Soul can return into a new body. Perhaps as a plant, maybe a goat, or in this case, a clean 1993 325is—simply, the belief that one's energy never really dies. So when Rob Leech, owner of Tunerworks Performance Inc. based in Calgary, Canada decided to play God with his E36, he did so in divine fashion, resurrecting it into a 535hp monster powered by a GM LS1 (C5 Corvette) engine and the Soul of an M3 Evo.
1996 E36 M3 parts in a 1993 E36 Shell
Rob's car began life as a regular 3-series—a well-behaved, morally correct 325is he purchased with intentions of modifying. Good karma quickly led to an M3 conversion, Euro-spec, of course. While the European M3 never made it across the Atlantic in the late 90's, North Americans got stuck with the less adept 3.0L 240hp "Evo counterpart." As a performance shop owner, Rob wasn't having it, so he did the next best thing: purchase a 1996 E36 M3 Euro Evo, everything but the shell, and shipped it over. Upon receiving, he slapped the parts into his current 1993 E36, and with some extra parts, managed to squeeze another 20hp out of the 3.2L 320hp Euro M3 engine.
Also Checkout: Supercharged 1996 BMW M3 Cabriolet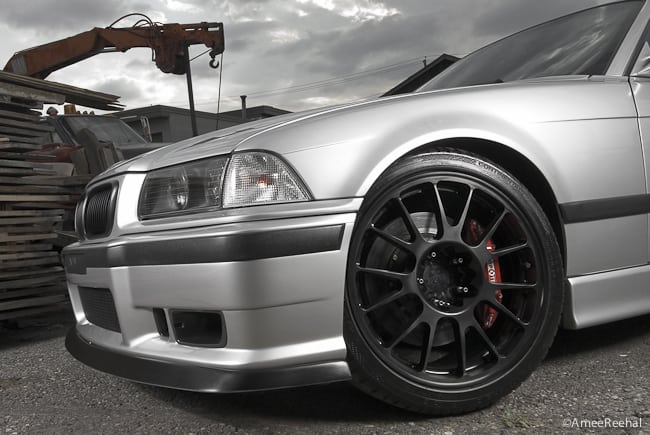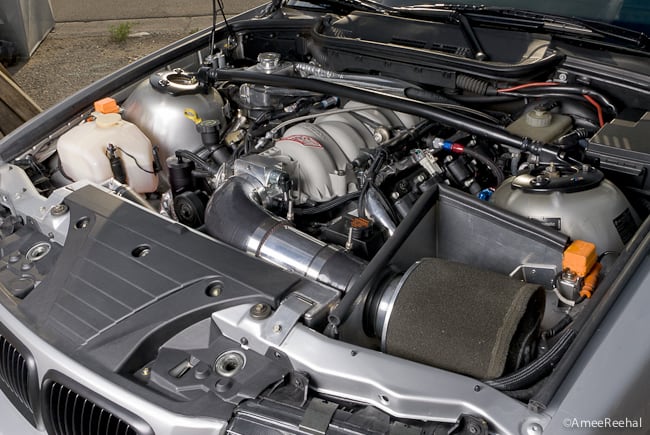 The Inspiration
As a track instructor with the BMW and Porsche clubs in town, Rob's E36 had seen countless days at the track which began to takes it's toll, as Rob explains, "I used my car for instruction and personal use at the track on a regular basis, and it became clear the turbo just wasn't suited for this…the lag and heat were obvious signs." Unsuited coupled with the unquenchable thirst for more power encouraged an awakening, "I definitely wanted more power but without a turbo," Rob continues, "to build the most complete, most capable street and track BMW in the world…something to top a Porsche 996 GT2 in all categories." Bold words by an equally bold guy who sold his engine (to a person in California who is apparently winning races, no less) and led his beloved ride down a path of Self-Realization—a path of transformation, full of perfection and eternal bliss, in search for a new life of American muscle fused with German engineering.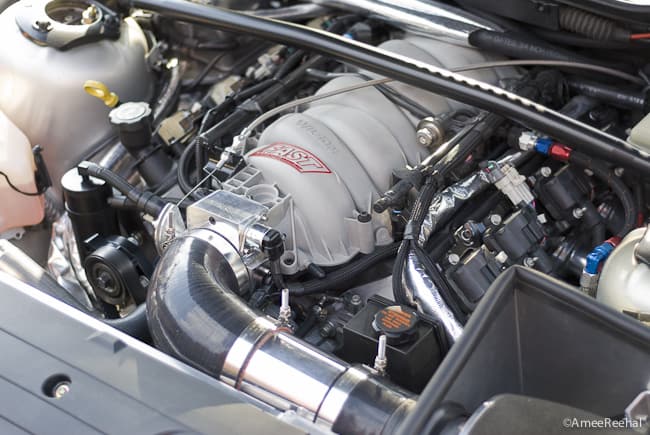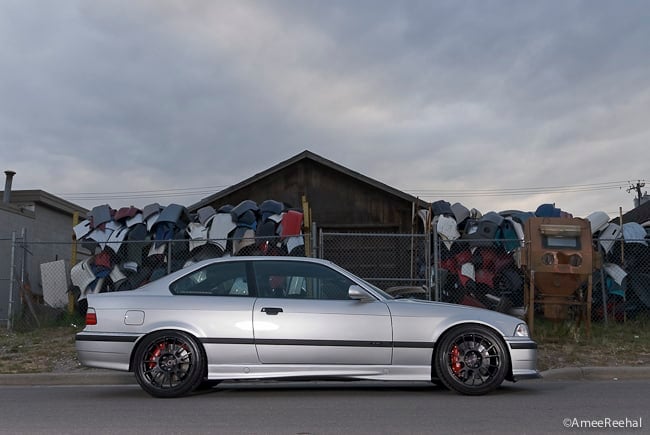 Even as a Euro performance specialist who has built, both for himself and his clients, several BMW projects (including a '99 M3 Cab featured in the Nov04 PBMW), Rob claims he's not a 'BMW Guy,' in the sense that he was not absolutely set on tuning a BMW for this project. He simply wanted the ideal platform for what he wanted to achieve, which happened to be a BMW. Whether this quasi homage-to-the-BMW statement makes any sense or not, all that matters is the rationale for the C5 Corvette engine and the remarkable install that went along with it. With the mandate to build a great street car without compromise on the track, the goal was to use an engine build for the broad power band with loads of power without being too 'peaky;' an engine designed to run continuously at high RPM. So why go with an American V8? As Rob explains, "Because it's compact and lighter. The BMW engine has an iron block with aluminum head, thus this V8 is actually lighter than the V6. Plus it makes my car go faster!" Indeed.
The Build
If karma exists, and good deeds in the previous life lead to a new life of comfort, success, and 0-60 in 4.0 seconds, then this '93 E36 must have been holy in some capacity to be blessed with a Corvette power-plant. But not without consequences, and in this case, countless hours of labour with endless custom fabrications. From the chassis to the engine, virtually everything had to be custom made, including anything and everything attaching the mammoth engine to the car, with parts as simple as fuel lines. The most difficult part of the build, however, was the headers. "We went through 6 revisions before we could get it right, spending nearly 100 hours. It's safe to say the headers cost more than the car!" Rob states. And all this after he consulted on a previous LS1/E36 project spearheaded by his friends Paul Botting and Trevor Petrow, who suffered tenfold with their attempt, without the same level of success.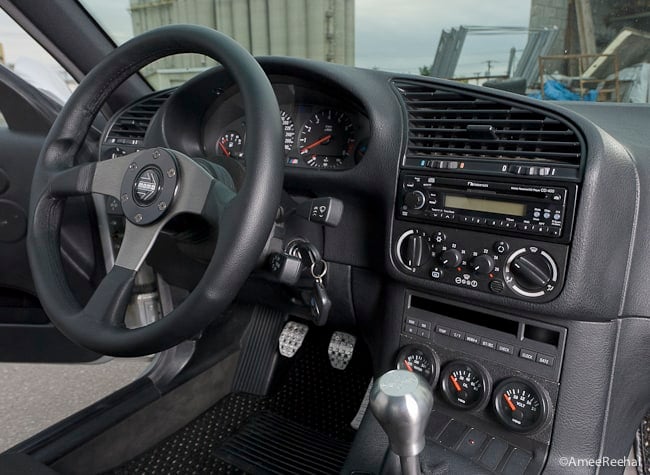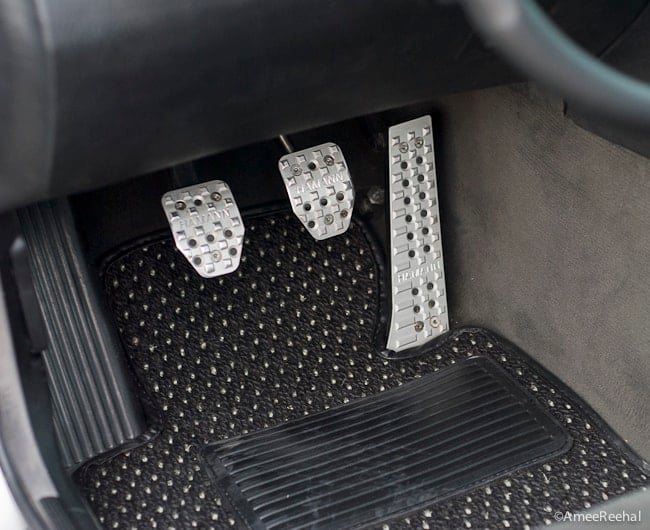 Lightweight Driveshaft
The lightweight driveshaft is definitely noteworthy. "The driveshaft is carbon fibre, which is very unique, " Rob says, "it's extremely light, only 14lbs, and the reduced vibration makes a huge difference as well." The drivetrain also includes a T56 6-speed transmission and Fidanza aluminum flywheel with a SPEC Stage 3 clutch. Custom parts include a BMW subframe with urethane motor mounts and transmission brace with a urethane mount, along with a custom shifter.
Exterior Styling
The exterior styling is very clean and sharp, the mark of a striking E36 that has aged extremely well since '93, with a bodykit that retains the original lines. Ironically, for someone who sells aftermarket gear, Rob opted for an OEM kit, justified by claiming, "I picked the factory 1998 M3 aero-kit because factory components have had the most wind tunnel testing, opposed to other aftermarket products." Certainly makes sense, and looks good. Other cosmetics include black kidney grills; Euro headlights with an HID upgrade along with Euro clear lighting; a rear lip spoiler; and brake ducts to replace driving lamps.
Interior Upgrades
The interior is equally as striking, including the Koenig Germany sports seats with Schroth harness' which Rob feels "provide the most amount of lateral support of any sport bucket (excluding race seats)." Again, nice and simple, from the Momo Corse wheel and UUC stainless steel shift knob to the Euro M3 gauge cluster and Nakamichi CD player.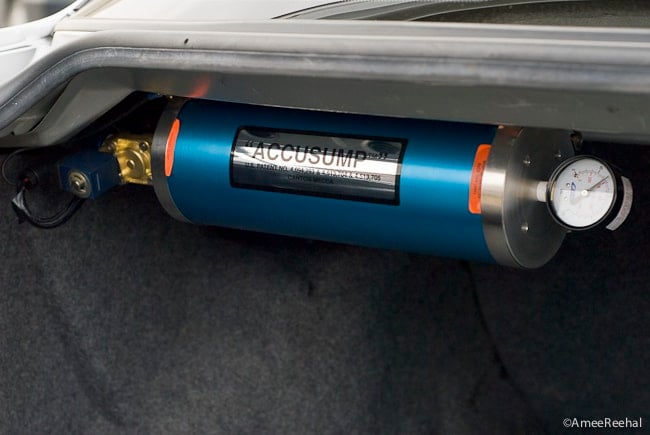 The Wheels and Footwork
What would the transmigration of the Soul be without new wheels? Absolutely nothing, so this M3 rolls on black custom forged 18×9" wheels wrapped in 255/35/18 tires on the streets, and Kosei 17×8.5" with 255/40/17 Toyo RA1 rubber for the track. Stopping assembly includes a Stoptech 4-wheel 332mm big brake upgrade, paired with Stoptech SS brake lines. Rob chose these brakes because of their size, but they also allow him to run both this 17" and 18" wheels for track and street, respectively. "Stoptech does the best job creating balanced brakes kits, while allowing me to easily change the brake pads to track specific."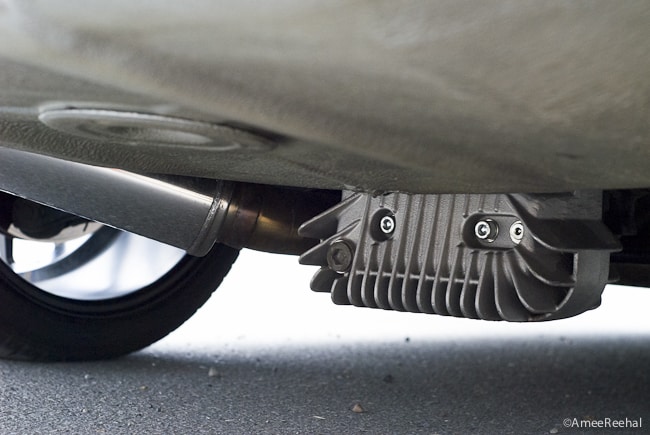 "My suspension was chosen for a wide range of adjustability, particularly, to adjust ride height and stiffness of the shocks, as well as the chamber and toe settings." Rob explains. This setup includes a Ground Control coilover kit with Koni dampers and custom springs rates; and Ground Control camber/caster plates. The BMW Motorsport strut brace; Ground Control rear shock mounts; Eibach sway bars; and Powerflex bushings, all help with rigidity.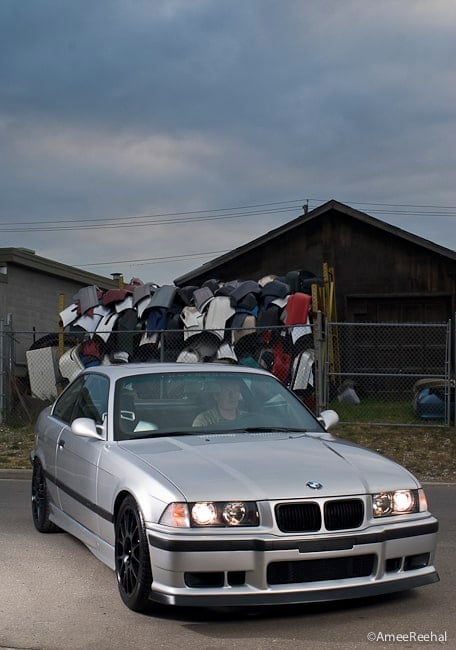 So, is there a moral to this tale of reincarnation and multiple lives of an E36? Perhaps a profound doctrine of divine justice, imposed or enforced by rules of the universe? No, not really. But while he looks nothing like A.C. Bhaktivedanta Swami Prabhupada, Rob is somewhat of a modern day BMW Hare Krishna. So if you see him wandering the Heathrow or LAX airports preaching the word of incredible engine swaps and power gain enlightenment, you should really stop and listen (and if you can, spare him some change).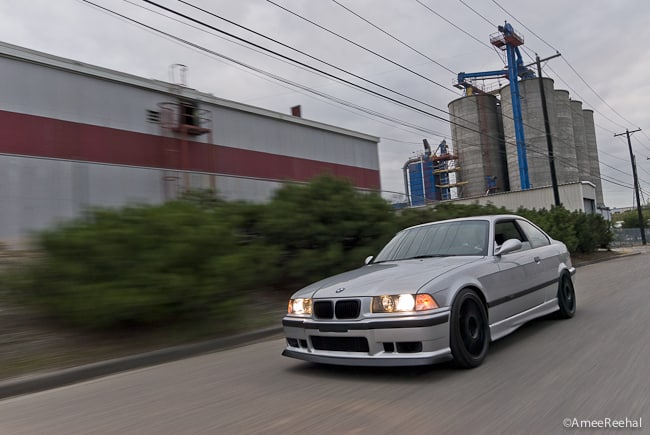 TECH SHEET: 1993 BMW 325IS Sterling Silver on Black
ENGINE:
GM LS1, 347ci
forged pistons
balanced and blueprinted bottom end
block girdle
ported oil pump
dual-row timing chain
AFR 205cc CNC heads
Comp cam
Comp dual valve springs with titanium retainers
Comp lifters
Comp chro-mo pushrods
NW 90mm throttle body
FAST 90mm intake manifold
4" cold air intake
SLP 85mm MAF
42# injectors
large fuel pump
custom stainless stepped headers
Random cats
3" X-pipe
custom dual 2.5" exhaust (455rwhp, 415 rwtq)
external oil cooler
with Accusump oil pressure system
DRIVETRAIN:
custom BMW subframe with urethane motor mounts
custom transmission brace with urethane mount
T56 transmission
Custom shifter
Fidanza aluminum flywheel
SPEC Stage 3 clutch
Carbon fibre driveshaft
Diffsonline 40% LSD
CHASSIS:
Street: Custom forged 18×9" wheels with 255/35/18 street tires
Track: Kosei 17×8.5" with 255/40/17 Toyo RA1
Ground Control coilover kit
Koni dampers
Custom spring rates
Ground Control camber/caster plates
Ground Control rear shock mounts
Eibach sway bars
Powerflex bushings
BMW Motorsport strut brace
Stoptech 4-wheel 332mm big brake upgrade
Stoptech SS brake lines
Motul fluid
Street and track pad compounds
EXTERIOR:
Complete 1998 M3 aero-kit
Rear lip spoiler
Black kidney grills
Euro headlights with HID upgrade
Euro clear taillights
Brake ducts to replace driving lamps
INTERIOR:
Koenig Germany sport seats
Schroth harness
Euro M3 gauge cluster
Custom VDO gauges
UUC stainless knob
Hamann pedals
Momo Corse wheel
Nakamichi CD player
HOPLAP lap timer
PERFORMANCE:
0-60 in 4.0 seconds
1/4 mile in 12.0 seconds @ 123mph
top speed @ 188mph
skidpad 0.95
fuel mileage = poor
THANKS TO:
Paul Botting and Trevor Petrow, the LS1/E36 gurus
Chris and Arlyn for amazing exhaust work
Maranello Auto Refinished Ltd.