You can't buy the Bürstner Harmony 3 Concept Caravan (yet) but we can certainly enjoy gawking at it.
Part of the Harmony line of camper vans sporting a low-frame chassis for those smooth highway drives, the Harmony 3 trailer isn't a production model but more than anything, gives us a glimpse into what small future campers should aspire to be: a modern hotel on wheels.
This smaller trailer reminds us of the new Airstream Nest, but with a greater dose of glamping vibes and luxury.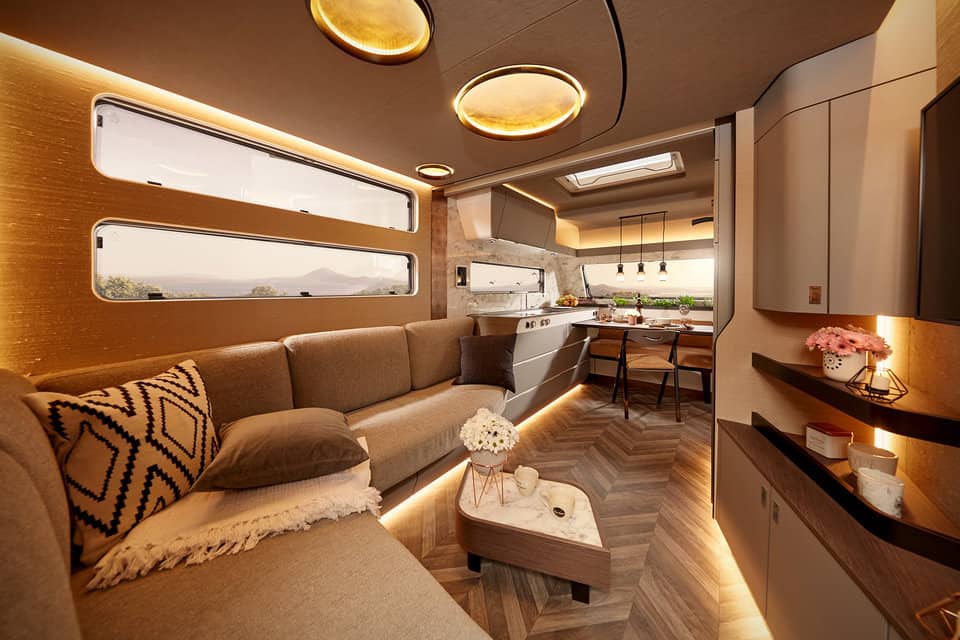 Next-Level Travel Trailer
Equipped with a rainfall shower, a wall integrated espresso machine, sleek pendant lamps, and overall surprisingly ample interior space with dining for four, this concept home on wheels strikes a good balance between compact exterior dimensions with spacious cabin sporting all the amenities you'd need — you know, like a shower wall with changing lights and refrigerated wine storage.
If a luxury RV with a helipad is more your thing, check out the Furrion Elysium Concept: the Ultimate American RV.
Here's a look inside the concept camper trailer by Andrew Ditton: