Quebec City, QC – Barely a month goes by without a manufacturer trumpeting its latest driver assistance technologies. Safety and convenience systems such as automated emergency braking, adaptive cruise control and lane-keeping assist are fast becoming the exception rather than the rule in everything from mass-market sedans to luxury SUVs.
Separating real breakthroughs from me-too applications can be difficult, but Super Cruise technology – available to begin with on the Cadillac CT6, but which will migrate to the rest of the range from the 2020 model year, and later across other GM brands – can justifiably be called different to anything else currently in the market.
But first, let's talk a little about the new 2018 CT6 Platinum Super Cruise
Platinum Model
The attractively styled CT6 is Cadillac's rival to European luxury staples like the Mercedes-Benz S-Class and BMW 7 Series. It's been on sale since 2016, starting at C$62,355. We drove the range-topping, C$100,795 Platinum model, which comes with Super Cruise as standard. The technology is also available on other grades as part of a C$5,750 Super Cruise package that includes additional driver-assistance technologies, 20-inch wheels, Magnetic Ride Control and active rear steering.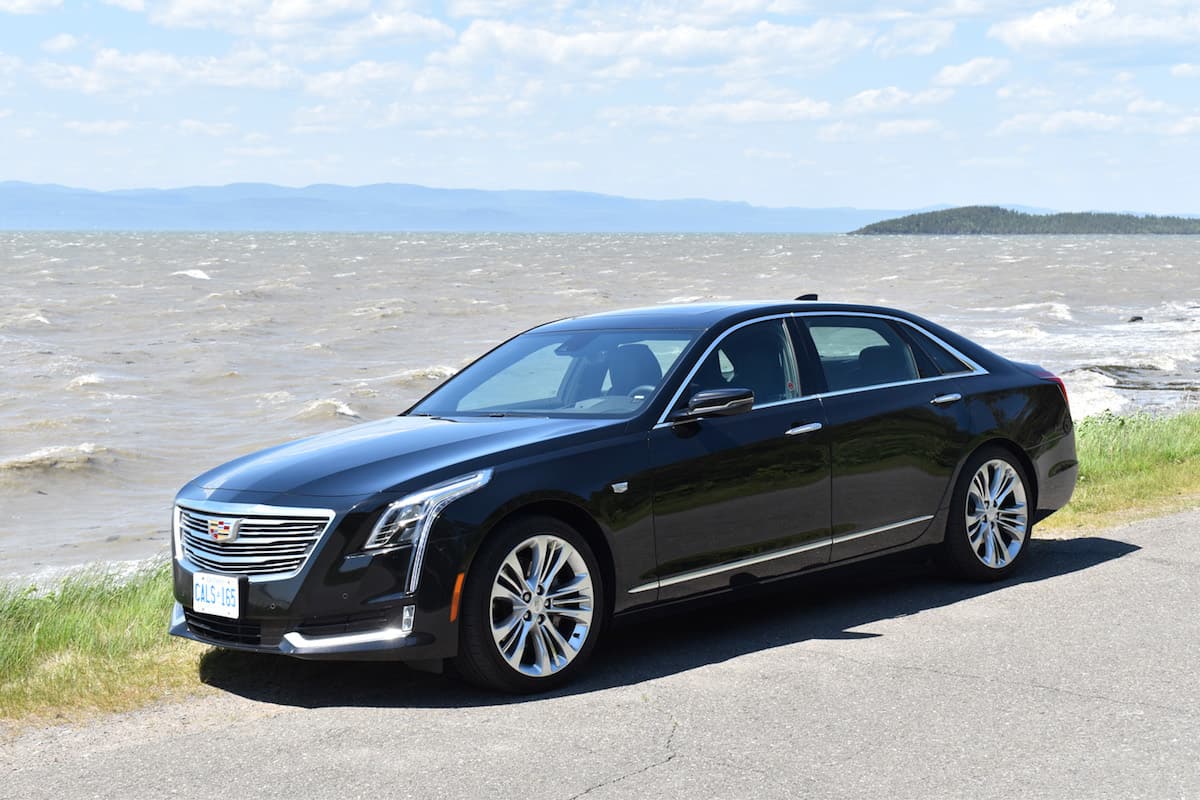 Under the CTS Hood: 404-hp V6
The all-wheel-drive CT6 Platinum is powered by Cadillac's excellent, 404-horsepower, twin-turbo V6 mated to an 8-speed automatic transmission. Its high-end interior boasts a Bose sound system, 20-way power front seats with massage function, attractive Sapele wood and twill weave carbon-fibre trim, and soft black leather.
How Does Cadillac Super Cruise Work?
Super Cruise is only available for use on divided highways. GM worked with an external company, Ushr, to create high-definition 3D maps of all eligible routes in the US and Canada – some 210,000km in all – using LiDAR (light detection and ranging). It's likely that LiDAR scanners will end up on the fully autonomous cars of the future, but for now the cost remains prohibitive, so the LiDAR maps are instead stored on two identical hard-drive partitions in the rear of the CT6 that provide redundancy in the event of a glitch.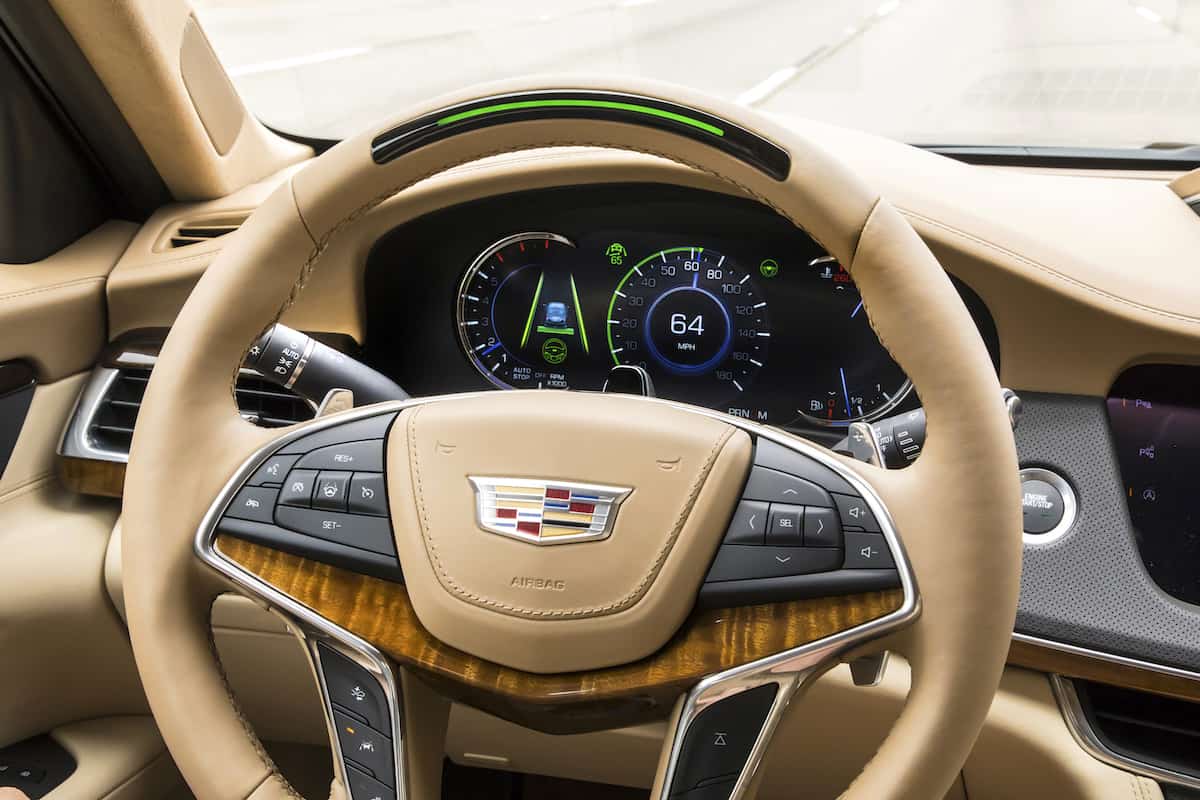 The map data is refreshed every three months courtesy of OnStar over-the-air updates but the car checks for urgent updates every six hours.
On- and off-ramps are not included in the eligible highways and nor will Super Cruise change lanes automatically. Cadillac's intention has been to create a system that's 100% reliable on the roads for which it has been designed, thereby removing the possibility of the type of high-profile incidents that have befallen the likes of Tesla.
There's less weaving across the lane than you'd expect, although this effect was noticeable when the system was working to counteract the high winds encountered on part of our 400km test drive.
Once you're on one of the mapped highways, a number of conditions must be met for the system to engage. The stored LiDAR data provides information on lane number and width. A high-precision GPS then determines the car's current lane before a forward-looking camera identifies lane markings and plots the car's course for the next 2.5km. The 360° parking camera further refines the car's positioning in the center of the lane.
When the system is ready, a greyed-out steering wheel icon appears in the instrument panel. Press the appropriate button on the left of the steering wheel and the icon turns green, as does the light bar at the top of the wheel. If all looks good, you can take your hands off and voilà, you're Super Cruising…
Tesla Autopilot vs Cadillac Super Cruise
Electric automaker Tesla have their own hands-free tech – here are a couple good pieces comparing the two driver assist systems: one from CleanTechnica.com and another from Chris Davies at SlashGear who prefers Caddy's version.
Super Cruise on test:
Hands-off on the highway
In practice the system works very well. It only took us a few curves to gain confidence that the system would guide us safely around. There's less weaving across the lane than you'd expect, although this effect was noticeable when the system was working to counteract the high winds encountered on part of our 400km test drive.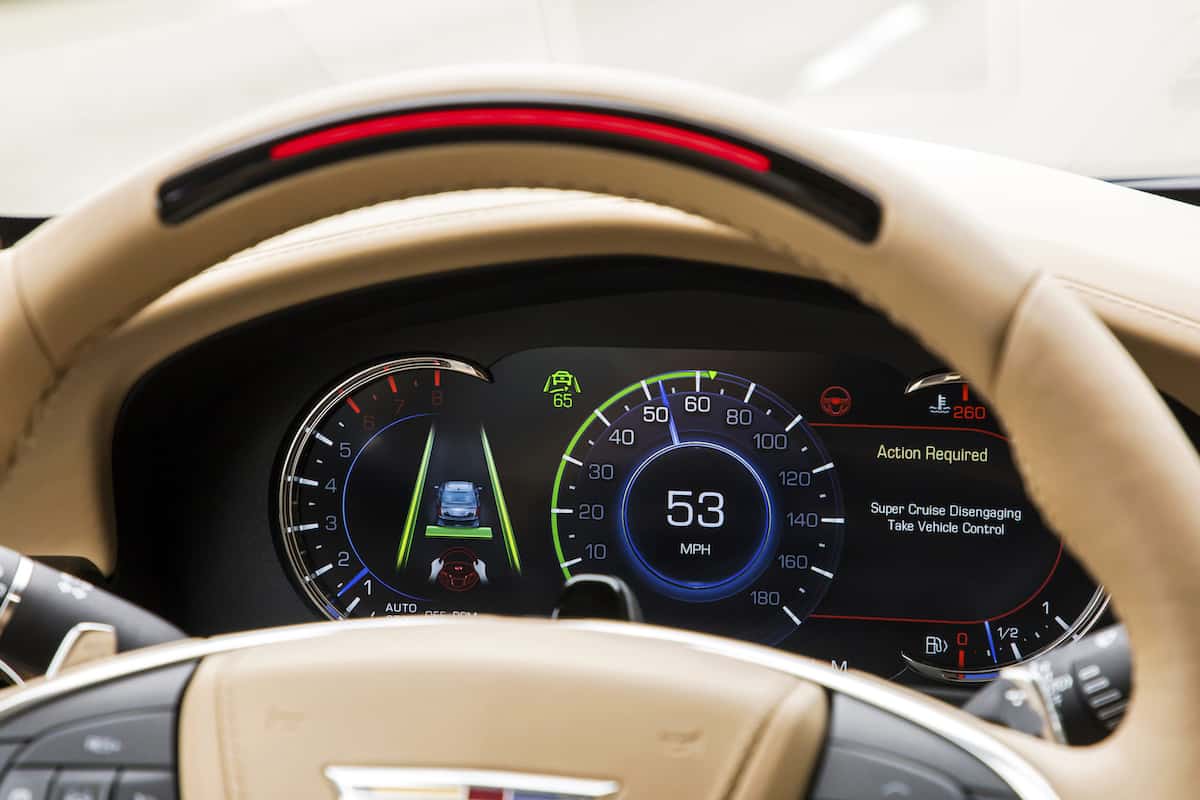 For kilometres at a time however we were able to leave the wheel alone, intervening only when encountering slower traffic. Here the system behaves like a regular ACC, slowing to maintain a safe distance until the driver initiates an overtake.
Driver-Assistance (Not Semi-Autonomous)
Cadillac is branding Super Cruise as a driver-assistance system rather than a semi-autonomous technology, stressing that the driver remains involved in the driving process even when hands-off. An innovative head tracking system is key to preventing the driver's attention from wandering – no chance of watching an iPad movie here. A small infra-red camera on the steering column watches the driver's face and triggers alerts in the event of persistent inattention.
We failed to fool the well calibrated head-tracking system which does a good job of keeping you engaged without becoming irritating. A flashing green light bar triggered if we covered our face or looked away for long periods; that escalated to red flashes and seat vibrations if we still failed to respond. Should the driver become incapacitated or refuse to retake control, Super Cruise will ultimately shut off and brake the car to a standstill on the highway.
Cadillac is branding Super Cruise as a driver-assistance system rather than a semi-autonomous technology, stressing that the driver remains involved in the driving process even when hands-off.
Where Super Cruise notably struggled was in construction zones. For one, the cameras don't recognize temporary speed limits, although automatic adjustment could conceivably come later as connected-car technology becomes more prevalent. The system's response was in any case inconsistent: if it failed to plot the lanes ahead, it shut off, but in other cases would continue as before.
This scenario underlined why Super Cruise is Level 2 autonomy, not Level 3: the driver needs to remain alert to what's ahead because he or she is ultimately still in control. To be fair to Cadillac, this is exactly how it is marketing the system.
Final Thoughts on the 2018 Cadillac CT6
The CT6 Platinum is a credible and distinctive luxury contender but not without its issues. The rearward view is poor thanks to undersized (but stylish) door mirrors. Likewise the 20-inch rims look better than they perform: there's too much road noise and the ride lacks the plushness you'd expect from a full-size luxury car, even with the magnetorheological dampers prioritizing comfort in Tour mode.
The interior is attractive, no question, and the materials are of an appropriately high quality, but there was the odd squeak or vibration from the instrument panel of our test car. There are questionable ergonomics, too: Cadillac's touch-sensitive buttons have never worked as well as conventional switches and while the central touchpad might help keep eyes on the road, my sense is that most people will still navigate the infotainment via the touchscreen itself.
Takeaway: Our Cadillac Super Cruise Conclusions
Super Cruise provides the CT6 with a standout feature to differentiate itself from luxury rivals. In our test it proved itself accurate and reliable but most importantly, it performed exactly as Cadillac intended. Cadillac has been deliberately cautious in its approach to the hands-off driving function and rightly so: advances in driver-assistance technology such as Super Cruise, done right, will build public confidence in the more ambitious autonomous functions yet to come. Head-tracking systems such as Cadillac's are likely to form a key component of the transition between human-guided and automated automobiles.
If I have a reservation about Super Cruise then it's the potential for increased driver distraction; this issue is not limited to Cadillac's system, of course. Being hands-off on the highway will certainly reduce driver fatigue over long distances but without driving tasks to occupy you – assessing speed and distance, checking mirrors and the like – there's a real risk of becoming bored, especially with no one else in the car.
Super Cruise and similar systems that will follow behind are not designed for the driver to check out completely – as a fatal Tesla Autopilot accident in 2016 unfortunately proved – but my concern is that the temptation for the driver to play with a phone, for example, will be heightened, especially when alone in the car. Our test revealed that the CT6's head tracking system is excellent at detecting a wandering gaze; let's hope that drivers don't find a way to circumnavigate its vigilance.