True unsung heroes, those crazy, high-speed Hollywood car chases wouldn't be possible without an ultimate camera car to keep up — with a 1,000-pound roof-mounted crane, of course. These workhorses shine behind the production scenes, ensuring the Hero car gets all the praise.
Ford joins the action with their 2019 Ford Edge ST — the first SUV from the Ford Performance team — teaming up with camera car company Pursuit Systems.
The Hollywood-based company already has an impressive stable of production machines including their Porsche Cayenne Turbo, BMW X5 M, and Mercedes-Benz ML63 AMG, adding Ford's performance Edge ST to the mix. These are all top-spec performance models, which makes sense seeing as they're often required to sprint over 100-mph, coupled with ability to stop and handle corners like a champ.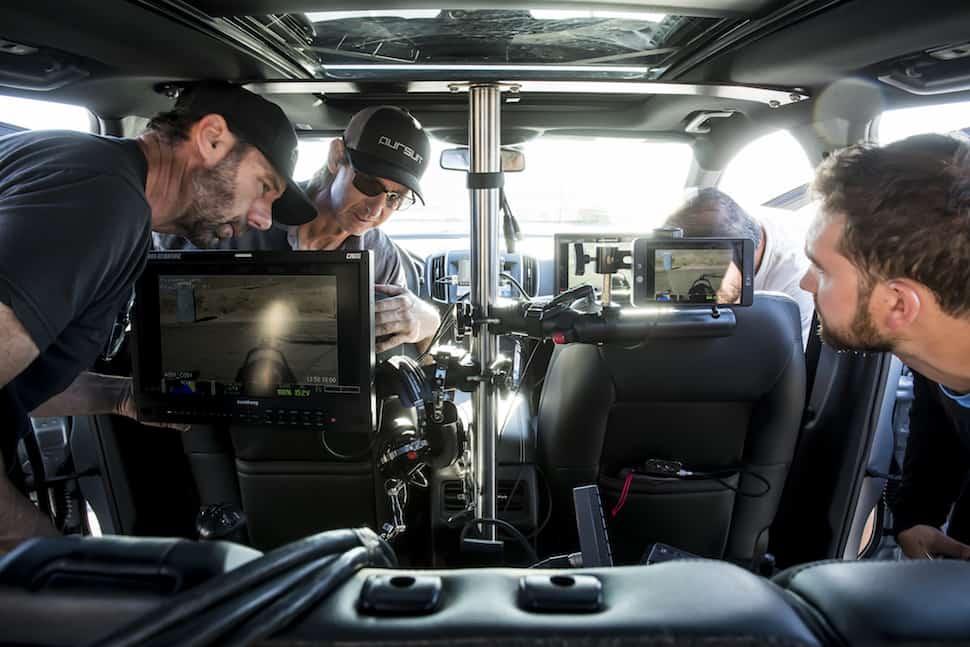 There's also a camera boat. Check out their full lineup of camera vehicles here.
About the New 335-hp Edge ST
The new 2019 Edge ST (read more here) is the first performance-enhanced SUV to ever join Ford's lineup. A major level up is the driving dynamics including improved braking, handling, and an ST-tuned sport suspension paired to new quick-shifting 8-speed transmission, all-wheel drive, and a specially tuned 2.7-litre twin-turbocharged EcoBoost engine pumping out 335 horsepower and 380 lb.-ft. of torque — the most powerful V6 in its class, according to Ford.
Pursuit Systems has taken this to another level.
Action Hero: Beefed Up Ford Edge
Firstly, this one-off Edge ST adds structural support to house the nearly 1,000-pound camera crane, dubbed the Pursuit Arm, with an agile gyro-stabilized remote-control camera to hit those proper angles. To handle the extra weight, the customized SUV sits on an individual-wheel air suspension, backed by a twin-turbo 2.7-liter EcoBoost engine specially retuned to counter the weight of the crane and other film equipment. The cabin is completed gutted, fitted with a roll cage and video monitors to view footage in real-time. And like most camera vehicles, this version is in all matte black to avoid those nasty reflections.
The film company plans to use the Edge ST camera car in future film and commercial projects. Most likely, we won't have a clue when they do. A true Hollywood unsung hero.