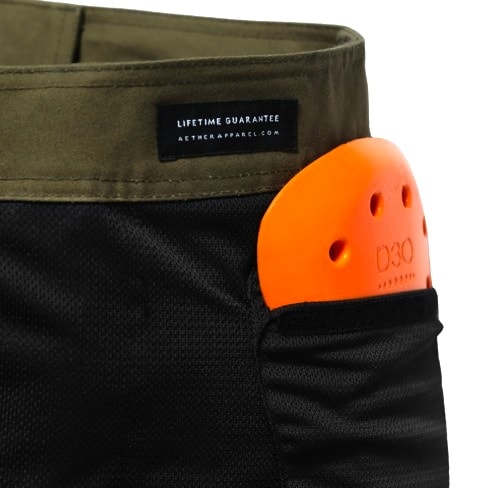 You can make riding your bike through the urban jungle just a little easier by wearing Aether's Compass Motorcycle pants. These trousers are meant for riding; with an ergonomic design that eliminates pinch points while increasing articulation, you may not get a more comfortable fit outside of riding in your underwear.
An adjustable Velcro waist permits adjustments while the Velcro leg closures and zippered cuffs guarantee a close and safe fit.
Pants with breathability and protection
These pants are created from a highly abrasive resistant canvas that offers an excellent feel, breathability, and protection. Incorporated into both the hips and knees are removable pads made from industry leader D30's protective padding.
This padding is soft and flexible at slow speeds, but will tighten upon impact to offer maximum defence against hard blows.
As if the comfort and protection were not enough, these trousers also offer angled pockets that allow for access to your belongings without everything spilling out onto the road. It is obvious that these motorcycle pants were designed for the rider in mind, but they are stylish enough to wear to your favorite restaurant or shop.
Available online, the Compass Motorcycle Pants have a MSRP of $475.00 US, making them an investment, but one that is worth the money if you ride frequently.
Check out more of Aether's pants at https://www.aetherapparel.com/collections/mens-pants