Escaping winter's wrath on a 2014 Harley-Davidson Street Glide Special in the Florida Keys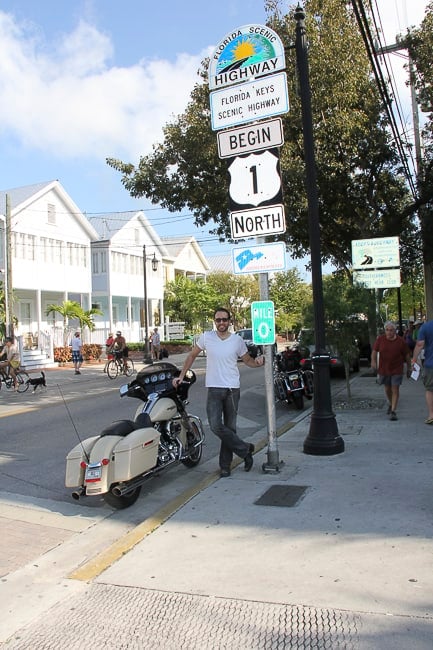 There predictably comes a time each and every year when my feelings toward the cold greyness of the winter season transition from mere apathy and disdain to pure, unadulterated loathing. The timing may vary from year to year but the record-breaking plethora of snow and sub-zero temperatures this particular winter had me climbing the walls and looking to escape Mother Nature's icy wrath before I went postal.
This hatred is of course compounded exponentially for those of us who rely on two wheels not only for mere transportation, but as the utter lifeblood of our being. With only five free nights to spare and an uncontrollable urge to ride, I researched destinations that would maximize both my sun exposure and seat time.
Hibernating over the previous months had allowed me to catch up on some classic books I would have read in high school if I'd had an English teacher that was remotely competent. I found myself drawn to the works of literary giant Ernest Hemingway and was eager to find out more about his adventurous and ultimately tragic life beyond the pages of his classic works. I found that he spent the better part of a decade in Key West and wrote some of his most celebrated works there, including For Whom the Bell Tolls, which I happened to be reading. It seemed like an intriguing destination worthy of exploration.

As is the case with any travelling, commuting, or life in general for that matter, visiting the Florida Keys is best experienced from the seat of a motorcycle. Immediately after landing, I made a beeline to pick up a gleaming 2014 Harley-Davidson Street Glide Special for the excursion. Strapping on my helmet and sliding on my Wayfarers, I settled into the saddle and felt the familiar 103 C.I. V-Twin gurgle then roar to life beneath me. Project Rushmore accomplished a great deal in making the touring line better travel companions, including improved aerodynamics, ergonomics and an integrated GPS that made riding in a strange city much easier, not to mention safer.
Once I found my way to US Highway 1 and pointed the nose of the Hog south, my pulse slowed and my shoulders relaxed. Stress is a four-letter word in the Keys and it doesn't take long to become acclimatized to the slower pace of life there. Grinning from ear to ear, I set my course to Key Largo and enjoyed the scenic ride to the sound of Waylon Jennings' booming voice echoing through the speakers of the new infotainment system from my iPod. As the sun dipped lower in the sky, the scent of salt water air floated on the warm breeze as I passed through the Glades National Park. Heeding the many warning signs along the side of the road, I still kept a keen eye out for crocodiles.
My only mission for the first day was to snap a few pictures and make it to the Bayside Inn before dark. As I unpacked the impressively cavernous new one-touch saddle bags, two men with deep southern drawls approached to admire the Street Glide. "Y'all better lock that bike up good and tight tonight otherwise she may not be there in the mornin'," said the first, whose sentiments were echoed by the second, who added, "Cuz she's bea-ut-i-ful," as they both nodded in approval. Outfitted in distinctively striking Sand Cammo Denim paint, this was certainly not the only time it would be complimented that week. The goal of Project Rushmore was to attract a new audience with more modern styling and features while also addressing small idiosyncrasies their faithful owners had been lamenting for years, without alienating them. It seems to be working.
Stress is a four-letter word in the Keys and it doesn't take long to become acclimatized to the slower pace of life there. Grinning from ear to ear, I set my course to Key Largo and enjoyed the scenic ride to the sound of Waylon Jennings' booming voice echoing through the speakers of the new infotainment system from my iPod.
The Bayside Inn is a popular spot for motorcyclists because of its location near the top of the Keys, but also the proximity of the rooms to the parking lot and Snook's Bayside Restaurant right next door where guests receive a 10% discount. Each and every evening, locals and tourists alike are invited by the sound of a conch shell horn to congregate on the patio of the beachside tiki bar to enjoy the sunset, a Florida Keys ritual. Sidling up to the bar to have dinner and enjoy some live music and a few cold beers as the sun went down, I made friends with Derek the bartender – a gentlemen who encapsulates merchants of mixology in the old school tradition. He introduced patrons to each other by name and hometown while telling entertaining stories, effortlessly mixing cocktails and bussing tables at the same time. He even remembered my name and drink choice, cracking me an ice cold Yuengling before I could even sit down when I returned later in the week. If you happen to find yourself in that part of the world, tell him Dustin from Toronto sent you.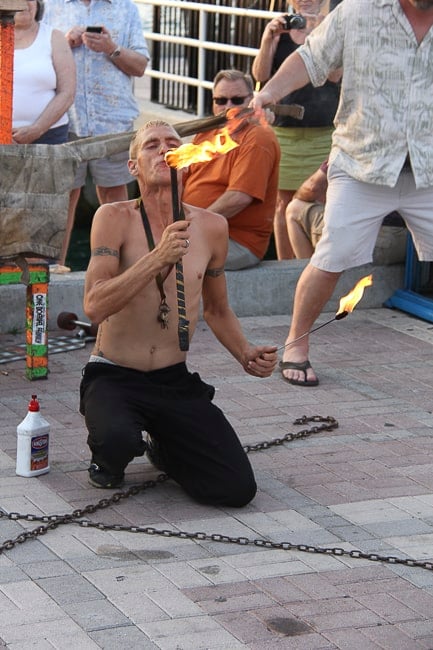 I awoke the next morning greeted by blue sky and the sound of the ocean lapping at the sandy beach after a restful slumber. It was a magical feeling to realize that the only thing I had on my itinerary for that particular day was to explore the Florida Keys in the sunshine. Logging in to Facebook while I waited for my morning coffee to percolate, my feed was littered with friends and family lamenting the frosty temperatures and accumulating snow back home. It was then that I decided to go off the grid, shut off my phone and truly enjoy my time away.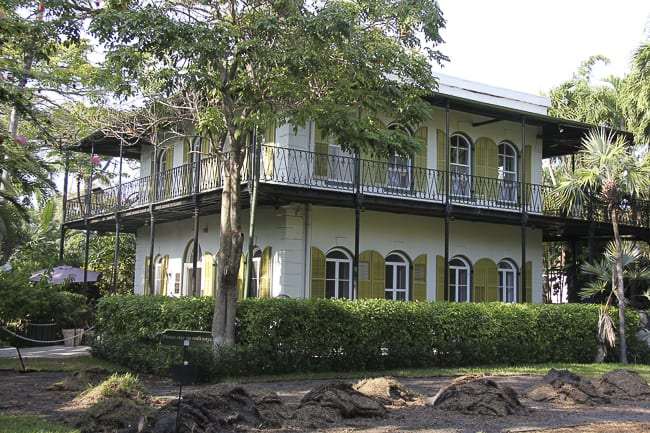 As I continued my journey down US Highway 1, I couldn't get Joni Mitchell's song Big Yellow Taxi out of my head. "They paved paradise and put up a parking lot," has never rung more true than in the Florida Keys. The natural beauty and culture of the Caribbean has been replaced with the epitome of Americana. Connoisseurs of fast food restaurants or tacky souvenir shops will rejoice but I'll admit I was hoping it would feel more remote and less suburban. The landscape did change for the better however as I approached the Glunz Ocean Beach Hotel & Resort in Colony Key where I'd be staying for the next two nights. Assistant GM Eric Oestreich rolled out the red carpet for me and turned out to be a fellow Canadian. As the story goes, he was on vacation in the Keys one winter and couldn't bring himself to go back so he decided to raise his family where the sun shines and the air doesn't hurt your face for half the year. The more time I spent there, the more I understood and grew anxious about returning home myself.
US Highway 1 connects the Keys through a series of bridges of varying size, including the massive Seven Mile Bridge that joins Knight's Key in the Middle Keys to Little Duck Key in the Lower Keys. It is a strange sensation to cross a seemingly endless bridge surrounded by turquoise water. Remnants of the old railway bridge can be seen in many places along the route providing a glimpse into the history of the region. Completion of the Oversea Railway from mainland Florida was commemorated with the first train arriving in Key West on Jan. 22, 1912, changing the Keys from an isolated outpost reachable only by boat to an accessible destination for tourists and cargo. The railway was the brainchild of Standard Oil tycoon Henry Flagler, who barely lived long enough to see his vision and investment come to fruition.
Reaching Key West and the zero mile marker for Highway 1, I toured around and took in the various sites and shot an obligatory photo of the concrete buoy marking the southernmost point in the continental USA. The Keys are a Mecca for watersports where tourists have the option to snorkel, scuba dive, jet ski, take in a glass bottom boat tour or a sunset sail. Each and every evening people flock to Mallory Square like moths to the flame to take in what has been hailed as the best place to witness a sunset on earth.
Visiting the Shipwreck Museum was fascinating as it recounts the colourful history of the island that was settled by Wreckers who would plunder merchandise and goods from ships caught on reefs or succumbed to violent storms, making it the richest city in the United States at one time. A deep sea fisherman, bull fighting enthusiast and big game hunter, I imagine it was this adventurous and rebellious spirit that attracted Ernest Hemingway to inhabit the island with his children and second wife (of four) Pauline. Purchasing a spectacular home constructed on the highest point of the island by Wrecking magnate Asa Tift, the famous novelist's private residence has been maintained in the same condition and it serves as a museum in his honour. Featuring the only pool in Key West, his wife Pauline had it installed while he was away on assignment for an unfathomable $20,000. To put it into perspective, the entire estate was purchased years earlier for only $8,000. Upon his return home Hemingway was understandably less than impressed and allegedly took a penny from his pocket, stating, "Here, take the last penny I've got!" Apparently Pauline thought it would be funny to commemorate the occasion by placing the penny in the wet cement, which can still be found today. Along with many other artifacts, antiques and books owned by the Hemingway family that still remain to this day, the property is inhabited by as many as 45 cats said to be the direct descendants of Hemingway's cat Snowball, many of which are polydactyl – meaning they have a sixth toe that resembles a thumb.
At first glance the casual riding enthusiast may not even detect that anything has changed from last year but the 2014 Harley-Davidson Street Glide is a drastically different motorcycle than its predecessor, in a good way.
Hemingway wrote some of his most critically acclaimed work in the study of that home, including A Farewell to Arms and For Whom the Bell Tolls. He may have only spent nine years in Key West but his larger than life persona evidently had an indelible effect as reminders of him can still be found all over the island. No doubt such a place left an impression on him as well; it is impossible not to take a piece of such a unique place with you when you leave.
SIDEBAR: 2014 Harley-Davidson Street Glide Special
The Street Glide is consistently Harley's best selling model and the Special designation throws in several additional features like a gloss black inner fairing, colour-matched fairing skirt, adjustable low rear shocks and standard ABS. The result is a tighter, more comfortable and intuitive touring bike that has evolved into a more thought-out and sophisticated entity without losing the essence of what riders loved. It pulls harder, stops faster and is an all-round easier bike to live with.
Named Project Rushmore, the full lineup of 2014 model year touring bikes have received significant refinements, contributing to the largest scale new model launch in the company's 110-year history. At first glance the casual riding enthusiast may not even detect that anything has changed from last year but the 2014 Harley-Davidson Street Glide is a drastically different motorcycle than its predecessor, in a good way. Collectively, each bike received more than 100 updates, some more significant than others such as the new high output version of the Twin Cam 103 powerplant which received liquid-cooling on the heavier models, however not on the Street Glide. All models benefit from a new airbox that increases intake airflow and a new cam that optimizes phase and duration, resulting in better low end torque and improved passing in the top gears. Encapsulating over 2,400 new part numbers over eight models, customers, employees and dealers were sourced for input on updates that include infotainment, aerodynamics and ergonomics. This list of small changes culminates in a big improvement
2014 Harley-Davidson Street Glide Special photos: