A story about a pair of badass custom V-ROD bikes
For Harley-Davidson that single word sums up the VRSCA V-Rod, a machine first introduced to the public nearly 10 years ago. In fact, the overhead cam, fuel-injected, liquid cooled 60-degree V-twin engine that powers the V-Rod was nicknamed the Revolution – simply because it's quite a departure from, say, the venerable Knucklehead or Panhead.
But just like those older engines there's some history behind the V-Rod. Back in 1976 Harley-Davidson was looking at the technology and the machines coming out of worldwide motorcycle factories and realized they really weren't capable of competing in the then-popular 500cc to 1,000cc segment. Harley-Davidson also understood that upgrading their Shovelhead motor wasn't going to be enough to ensure the firm's prospects.
While Harley-Davidson wasn't about to just abandon some 70 years of air-cooled engine history, the company decided to focus its energies on updating the traditional 45-degree pushrod V-twin, while also pursuing something completely different. Under AMF-ownership the Motor Company began the Nova project, designed specifically to lure new, technologically savvy riders to the American brand.
In 1979 Harley-Davidson partnered with Porsche. The goal was to have the German automaker help design a series of 60-degree V-style engines that would be built as twins, fours and sixes. Internal components had to be interchangeable across the range to ease production costs. For example, all valves would have the same diameter head, and pistons would all be the same size. Simply adding a pair of cylinders to the engine would expand capacity. To ensure the Nova engine was on a par with anything the competition was building H-D's unit had to feature the latest technology. That meant double overhead cams, liquid cooling, a balancing shaft and a unit-construction five-speed gearbox.
Harley-Davidson planned to design and build the Nova's steel-backbone prototype chassis in-house. The engine acted as a stressed member, and a rear subframe was welded to the backbone. Shaft final drive was considered, but Harley-Davidson finally decided to run a belt rear drive.
By 1980 the company had as many as 30 Nova engines built, and 12 complete and running prototype motorcycles accumulating test miles. Harley-Davidson planned a launch date in mid-1981. But when the AMF corporate structure changed late in 1980 all funding for Nova was cut, and the project literally abandoned. In the aftermath, Harley-Davidson executives saw fit to acquire the company back from AMF, and focused solely on development of the Evolution air-cooled engine, the Shovelhead's successor.
A rare example of what might have been — the Nova — is on display at the Deeley Motorcycle Exhibition in Vancouver. It's worth a look if you're touring into the B.C. area.
However, the Nova wasn't the end of liquid-cooled engines for H-D.
In 1994 Harley-Davidson hit the racetrack with a vengeance and their VR 1000 race machine. There is no record of any connection, but the details are too similar to assume that at least some of the lessons learned from the Nova project weren't applied to this new V-twin motorcycle. Fifty VR 1000 racers, powered by an overhead cam, 60-degree, liquid cooled, fuel-injected 1,000cc motor installed in a beam-style chassis were built for AMA homologation. Up against high-revving Japanese multi-cylinder racers, the Harley VR 1000 looked promising and won some events but failed to be as competitive as initially hoped.
By 2001 the VR 1000 campaign was cancelled. But according to harley-davidson.com, the VR 1000 led directly to the development of the Motor Company's first non-air cooled production motorcycle – the 1,130cc VRSCA V-Rod. In Harley-Davidson parlance, VRSCA stands for V-twin Racing Street Cruiser, and the A denotes the original, all silver anodized motorcycle.
To develop the V-Rod, once again, H-D contracted with Porsche. The German firm was mandated to develop the VR's race-spec engine into a reliable, street friendly powerplant capable of producing 115 horsepower. That was quite different from H-D's norm – as the Twin Cam 88 was making some 70 h.p.
In its final production form the V-Rod motor featured fuel injection, four-valves per cylinder, overhead cams and countershaft balancing to help quell vibration. The engine incorporated wet-sump lubrication, meaning Harley didn't have to worry about mounting an external oil tank. Liquid cooling of the V-Rod necessitated a radiator to dissipate engine heat. The last thing Harley-Davidson wanted was an inglorious radiator hanging up high and in front, so the company got creative and designed a shroud to conceal the radiator down low – much like a chin spoiler on a custom-built machine.
Styling of the V-Rod was a complete departure for Harley-Davidson. What looks like a fuel tank is actually an airbox cover, and gasoline was relegated to a vessel under the rider's seat. This helped increase the centre of gravity. The tube frame of the first V-Rods featured a rake of 38 degrees, however, the triple trees were offset by four degrees. An offset helped bring the front wheel closer to the frame.
Deliveries of the V-Rod started in early December 2001. When it landed, the V-Rod caused a sensation, admittedly the love-it-or-hate-it kind. And now, those enthusiasts who love the V-Rod say their preferred model is one of the most misunderstood products in the Harley-Davidson line.
Calgarian Marco Guidotti grew up with motorcycles. At 14 he was riding a 50cc Suzuki moped to school, and by the time he got his Class 6 licence he was aboard a Yamaha RZ350, and then a Yamaha FZR600. When his young family came along he sold his motorcycle and didn't return to the fold until 2006. He decided he wanted a Harley-Davidson, and visited both Calgary dealerships.
"It had been 10 years since my last bike," Marco says. "So, I walked in the door and the first thing I saw was the V-Rod. I thought it was so cool, yet the sales people really didn't seem to have that much knowledge about the V-Rod."
Marco went home and fired up his computer to learn more about the bike. He liked what his research told him, especially the horsepower and torque figures.
"It's an incredible machine with 125 h.p. out of the box," he says. Needless to say, Marco bought a 2006 VRSCD (the D denotes Night Rod) V-Rod late in the year, and put it away at Kane's Harley-Davidson until he could have it delivered in early 2007. Because it had been 10 years since he'd last been on a motorcycle he wisely participated in a refresher training course. With that under his belt Marco began practicing on his V-Rod, and before long was as comfortable as ever in the saddle.
Of the V-Rod, Marco says, "People just don't understand what a machine it really is. It's fast, it's cool, and it's fun. The acceleration on the V-Rod is like the acceleration on a sport bike – hammer on the throttle and you're gone."
In the tradition of most Harley-Davidson enthusiasts Marco was compelled to personalize his V-Rod. He started buying chrome-plated accessories and he changed the bulbs for LEDs, including the headlight, taillight and signal lights. Custom exhaust features chrome shields Marco designed himself. All hydraulic lines are steel braided, and the paint job has ghost flames embedded in deep black. He also designed a 'ram air' system to deliver more oxygen to the air box.
Originally, the V-Rod came equipped with a 3.9-gallon gas tank. The range wasn't great – you'd get about 200km before stopping for fuel. Marco has swapped out the smaller tank for a 5-gallon jug, giving him a range of some 300 km to 350 km.
And then there's Wayne Thomas. Wayne was never interested in motorcycles. In fact, he says. "I always thought people who rode motorcycles were idiots." But he changed his tune when his brother took him to Calgary Harley-Davidson.
"All it took was for me to see a V-Rod, and I was sold," he says. Wayne bought a 2003 100 th Anniversary Edition V-Rod. He left the bike at the dealership while he took a motorcycle rider training course. At 5'4 1/2" Wayne says one of the things he likes best about the V-Rod is the 26" saddle height — and it can be made even lower with a lowering kit.
"I can put a full foot down on the ground," he says. Wayne has turned his '03 V-Rod into a touring machine, adding a windshield, hard-sided bags and the 5-gallon gas tank. He's ridden the 'Rod across Canada and has toured into B.C. many times. "It's a fantastic cornering bike with a low centre of gravity and lots of power. People don't know what they're missing if they don't experience a V-Rod," Wayne says.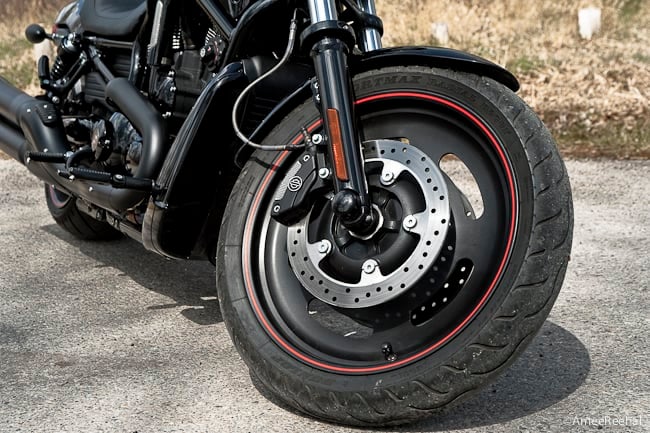 Calgary Harley-Davidson technician Jeff Holsey has been into bikes for close to 40 years. He's owned Brit-bikes, and more than a few Harley-Davidsons from Sportsters to Low Riders. But as he says, "I always tend to gravitate towards the faster ones."
While working in the service department Jeff says he got to thinking about the bikes he most often sees coming in just for tires and regular service. Those are the V-Rods.
"At first I didn't really like the looks of the V-Rod, but after they put some colour on them I liked them better," Jeff says. He bought a 2008 VRSCDX (Night Rod Special), and with a season and a half in the saddle he's covered some 10,000 km.
"It's not a traditional Harley," Jeff says of the V-Rod. "To me, it's a look at the future. You can't be able to build air-cooled bikes forever. Emissions laws are getting tighter and tighter, and you've always got to be looking to the future."
Jeff has spent a little time blacking out a few more parts on the already dark-themed motorcycle, removed the forward controls for mid controls, modified the forks with new cartridges and springs and installed SuperTrapp slip on mufflers.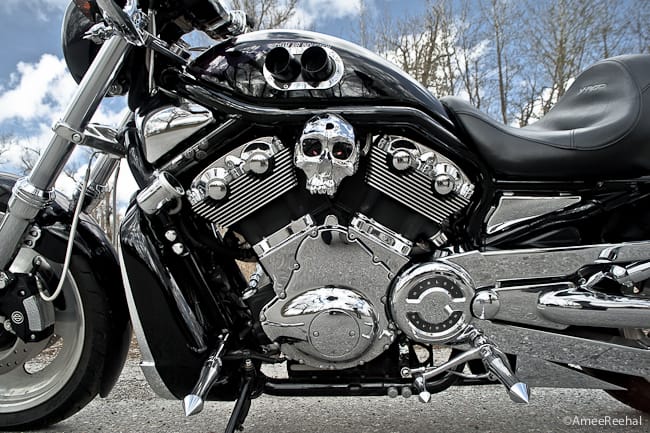 After nearly a decade in production several VRSC models have been introduced, and currently the Motor Company offers the VRSCAW V-Rod, essentially an A with paint and a wide rear tire, the VRSCDX, the all-black Night Rod Special, and the VRSCF, which is the V-Rod Muscle. In 2008 the Revolution engine became a 1,250cc powerplant, and is now used in all V-Rod models. The 1,250cc engine was first introduced in a special edition 2005 Screamin' Eagle model.
Jeff sums up the V-Rod Revolution succinctly. He says, "People like Harley-Davidsons because of the traditional 45-degree V-twin look. And the V-Rod is a change – it doesn't really have anything in common with other Harleys other than it has two wheels. But I'm open to new ideas, and I like the technology of overhead cams and liquid cooling – those Revolution engines are really quite something."