The knife is one of the earliest tools adopted by man. Its origins may have been as simple as a found sliver of stone or shell that featured a sharp enough edge that could be used for cutting, slashing, or scraping, but it has evolved into so much more.
There is no question that the knife may still be the most common tool in the human arsenal, and after thousands of years of continuous development, it exists in countless forms and is constructed of a multitude of materials.
Like many Canadians, I tend to carry a knife in my pocket almost every day. In fact, just about the only time I do not have some type of folding blade on my person is when I am preparing to board a commercial aircraft. Rules are rules after all.
Over the years I have accumulated a wide assortment of different folding knives and multi-tools, and I make my daily selection only after I have considered what activities I have on my agenda and where my travels are going to take me.
Recently, while shopping at a local outfitter, I stumbled upon a relatively new player in the Canadian knife market- a European brand named Deejo.
Where are Deejo Knives made?
Deejo is a trademark that belongs to Coriolis, a boutique design firm located in Bagnolet, France. Coriolis founders Luc Foin and Stéphane Lebeau have been creating innovative cutlery and outdoor gear since 1995 under two banners, Baladeo and Deejo, and their products are sold all over the world.
The 37g photos:
The Deejo 37g Knives main features and our test impressions
What sets Coriolis apart from other companies in this sector is the fact that the company strives to manufacture their products using only the highest quality materials and with an equal focus on both form and function. The company's products seem to represent the perfect melding of both traditional and modern materials.
In the case of the stunning Deejo folding knife, the sheer simplicity of the design is what initially caught my eye. The two Deejo knives that were on display at my local retailer were from the company's Naked line, which is comprised of basic models stripped down to be as lightweight as possible but still offer the end user the full functionality one expects in a fine cutting tool. These marvels of engineering are constructed of 420 stainless steel (noted for its durability and ability to hold an edge) and are available in three sizes, classified by weight – 15g, 27g, and 37g.
Look and feel
The look and feel of each Deejo knife is impressive, and although delicate in appearance, they are robust enough to tackle just about any duty expected outside of dedicated tactical use. Their slim design and near feather weight make them perfect for keeping in a day pack or gear bag where space is in short supply and excess mass can quickly put a damper on your fun.
Deejo knives are the perfect choice for fashion conscious individuals, or those who have to dress up for work, as the slim design is easily slipped into a pocket and is lean enough that it won't upset the lines of a suit or create an imbalance in the hang of a jacket. It doesn't hurt that should one notice your Deejo it is attractive and aesthetically pleasing and will no doubt spark some interesting conversations. The same cannot be said of a painfully pedestrian looking multi-tool, or the menacing presence that often comes along with selecting a heavy tactical-type folder as a knife for every day carry.
Deejo models can also be ordered dressed up to taste with either a vibrantly coloured polycarbonate handle insert, or better yet, a carefully crafted strip of fine wood to give it some extra character and natural beauty.
All Deejo folding knives feature a straight edge blade housed in a locking frame. A slim-line retention clip has been integrated into the design to keep the knife within easy reach either in a pocket or on a belt.
If you want to create your own design, the Deejo website (http://www.deejo.fr/) offers consumers the ability to customize their knife to reflect their own personality or individual style.
The 37g is Deejo's largest knife compared to the 15g and 27g options
I selected the largest model, the 37g, which is a comfortable 11 centimetres in length when folded. The ergonomics of the knife are impressive, as the bulk of its substance is comprised of the blade, but it feels really balanced. The almost skeletal twin-loop design of the frame feels natural in the hand due to its subtle curvature, and the extra depth provided by the addition of the wooden handle strip makes it easy to grip.
The blade is very thin, so unlike on some pocket knives, there is no fingernail groove or post to help deploy the blade. However, it flips open with ease and the blade will lock in place as a small retention peg on the lever arm clicks into a notch in the large, round, fixed fastener which holds the knife's components together. To close the blade one simply applies light downward pressure on this lever to disengage the lock mechanism. It's simplicity at its finest.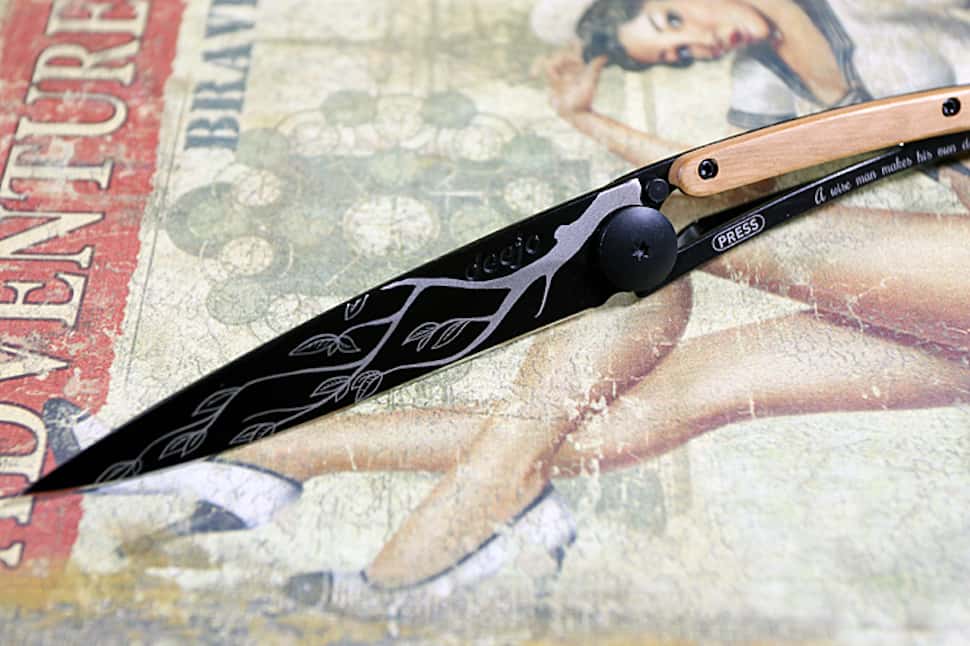 3 blade finishes
There are three blade finishes available – mirror, grey titanium, and black titanium. I chose the black variant as I wanted to also sample the Tattoo option, which allows the consumer to select from a wide array of designs that are permanently etched into the blade. The Tattoo process is available on all three blade finishes, but the Tree pattern I selected seemed best depicted on the darker surface. Deejo also allows the customer to have the knife inscribed, as long as you can keep your prose to 35 characters.
My knife was ordered, manufactured, and delivered halfway across the world in a mere four days. That is impressive! The build quality is better than I expected, and the knife is almost perfect, although there is a small flaw in the Juniper wood at the rear of the handle. I think this gives it a little extra character, and definitely provides evidence that the material is really wood.
The titanium finish on the blade seems on par with some of the treatment processes I have seen on military type watches and gear, so it should hold up well to normal light duty use.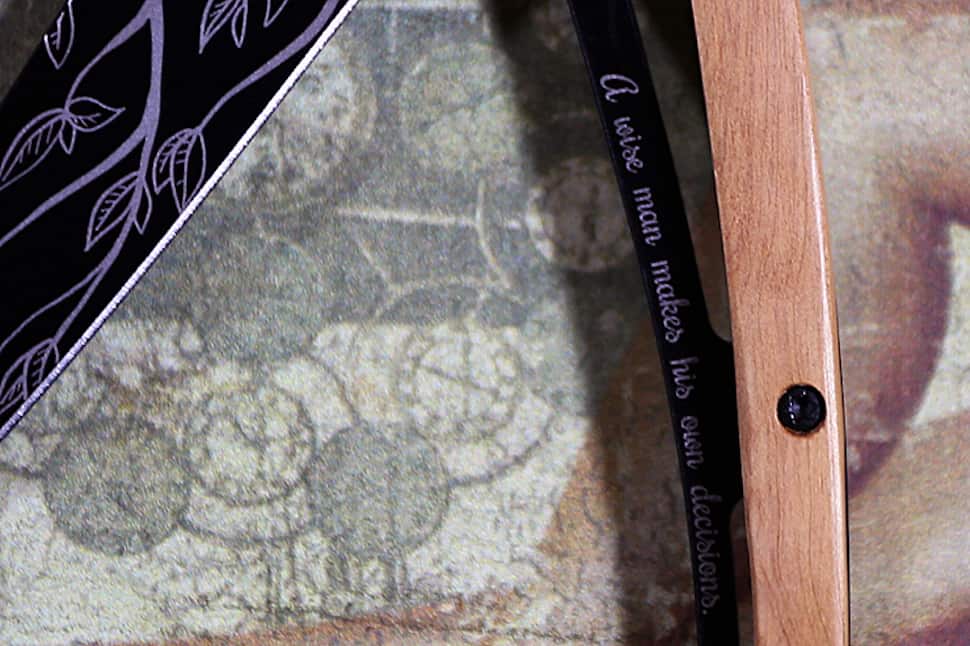 Takeaway
In short, the Deejo folding knife has been conceived to be as unobtrusive as possible. Its lightweight, minimalist design is so aesthetically pleasing to the eye that each knife stands as a piece of functional art that anyone would be proud to carry on a daily basis.
While there are several Canadian retailers handling Deejo's more basic models, the only way to get the Deejo that really suits your style and personality is to order it direct from the company via their aforementioned website. Pricing ranges from 19,90 € for the entry point to the lineup, the Deejo Naked 15g, to as much as 49,90 € for a fully-featured Deejo Tattoo 37g model like the one you see in the photographs that accompany this piece.