This father and son prove that motorcycles and the riding bug is in the DNA
Despite being endlessly and unquestionably supportive of me in every other facet of my life, my parents had always adamantly opposed my passion for motorcycles. When I was a kid they would refer to them as 'donor-cycles' while recounting stories of close friends who had perished on bikes, as I would spend hours drooling over the latest motorcycle mags. They did their best to dissuade me from actively engaging in the hobby in any way – hoping it was merely a phase.
Much to their chagrin, when I was 25 years old I insubordinately came home with my first motorcycle, proving that this was not simply a passing fancy and something to be taken seriously. My Mother cried and my Dad yelled until he was blue in the face. He had ridden in his younger years but had given it up when it came time to raise a family because of the risk involved. Despite the fact that I had invested a great deal of time and money researching and buying high-quality, armoured riding gear and taken the Gearing Up program at Humber College, they were still convinced that this was an irresponsible and dangerous undertaking on my part.
Like many middle-aged motorists, the visions that immediately pop into their minds when thinking of young bikers are of those on high revving crotch rockets weaving through traffic at twice the speed limit and popping wheelies down busy city streets. Neither of these activities has ever, nor will they ever be of any interest to me.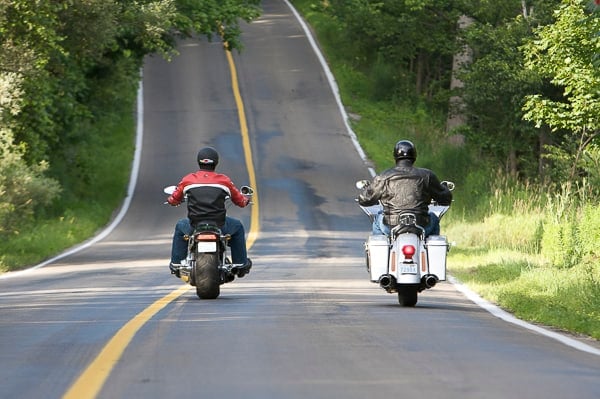 I acquired the black 1984 Yamaha Maxim 750 from a good friend's father with only 18,000 kms on it. While my parents referred to it as "That thing," I called her Betty. Despite being heavily neglected, covered in about five years of dust in the back of an old garage, I immediately saw the potential. She wasn't much, but after looking her over and agreeing on the price – she was mine. There is nothing in the world like swinging your leg over your very first motorcycle; hearing it sputter then roar to life for the first time. No drug I have tried, legal or otherwise, has compared to that kind of natural euphoric high. This feeling of pure, unadulterated freedom is what I could never get my parents to understand. Embracing that joy is what separates those who ride and those who don't. As the famous saying goes, "If I have to explain it, you wouldn't understand."
Several years and a number of bikes later, my passion for motorcycling is stronger than ever and has even morphed from merely a hobby into a career as a motorcycle journalist. Witnessing the multitude of beautiful bikes I would arrive at my parents' house on got my Dad thinking about his impending retirement. It started to become clear that the riding bug was still buried in there somewhere, however deep. One day he shocked me by swinging his leg over one of them before asking with a smirk, "So what does one have to do to get their licence these days anyway?" After 38 years of service as an Air Traffic Controller at one of the world's busiest airports, he was looking for a hobby that would be both fun and relaxing. Not overly ecstatic about golf and years away from lawn bowling or shuffleboard, he apparently began thinking about motorcycling as a way to travel, experience new things, and most importantly share a common hobby with his son.
Statistics show that he is not alone, as many baby boomers are emptying their nests and embracing the open road on two wheels. Not having ridden in some thirty odd years, he would have to start from scratch though. Not only did graduated licensing not exist the last time he rode, he didn't even need a specific motorcycle licence at all. After signing up for the same Gearing Up program I had completed years earlier with his good friend and fellow retiree Mike Sexton, he would need some gear. While we may share DNA and an off colour sense of humour, we have never shared the same clothing size. My Dad Barry is affectionately known as 'Bear,' partly due to his imposing stature.
Standing at six-foot-five and tipping the scales at roughly 240 lbs, he would certainly need his own gear. While perusing the helmet section at Jacox Harley-Davidson, a cute little blond sales associate who couldn't have been more than 19 years old asked if we needed any help. "What size helmet do you normally wear?" she asked. Bear smiled as he replied, "Good question. The last time I rode a motorcycle, you didn't need a helmet." After she got over the initial shock of such an inconceivably irresponsible idea, she pointed out their Fibreglass and Aramid Hybrid Ultra-Light helmet. "Well, this one is so light that it is hardly like wearing a helmet at all," she said with a dimpled grin. Sold. Next was the jacket and gloves. Sure, riding his old Triumph with no more protection than a pair of aviator sunglasses and sideburns was acceptable in the 1970's, but I wasn't about to let it slide now. Pleased as punch with his new Reflective Skull leather jacket and gloves, the next step was to take the course at Humber College.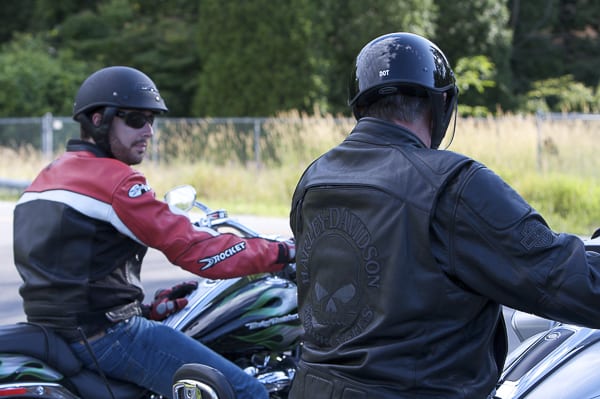 …when I was 25 years old I insubordinately came home with my first motorcycle, proving that this was not simply a passing fancy and something to be taken seriously. My Mother cried and my Dad yelled until he was blue in the face.
Saying he found riding the program's petite Virago 250s challenging would be as much of an understatement as saying Sidney Crosby knows how to play hockey. Never one to complain, he forged on riding the disproportioned scoot. After an unfortunate spill resulting from hitting his knee with the handlebars while practicing slow right turns, he was determined to succeed – bruised but not beaten, he persevered. Not only did this pay off by him receiving a perfect grade on his final test, but by being asked to apply as an instructor once he achieves his full M status. His excitement and enthusiasm as he waved around his recently acquired licence was akin to that of a child who successfully jumped into the deep end of the pool without a life jacket for the first time. The irony is that on a number of occasions since I have seen him flipping through various bike magazines earmarking bikes he likes and trips he wants to do. Funny how life goes sometimes, isn't it?
Starting slowly, we decided to stay local for our first few excursions on some exceptionally nice Harley-Davidson Custom Vehicle Operations press bikes I had sitting in the garage that week – a Springer and Road Glide. Letting Bear lead and go at his own pace, I was impressed by his smooth riding style – especially on a bike with the stature of the Road Glide. Although understandably cautious at first, his confidence quickly grew to the point where it seemed as if he had never stopped riding at all. Finally having Bear's blessing to ride has been a huge relief since it is such an integral and important part of my life, but being able to share it with him has been even more gratifying. One day recently while we were out riding on a beautiful sunny day, we came to a stop at an intersection after a particularly fun and challenging set of curves. Bear, looking over at me with a massive toothy grin, gave an assured nod of approval before twisting the throttle of the booming V-Twin and pulling away. I don't have to explain it to him anymore, he gets it.