Run Forester, Run! The all-new 2014 Subaru Forester is set to go
Taking the baton from the highly-successful, outgoing 2007-2013 Forester, the all-new, 4th-generation 2014 Subaru Forester is going to feel the pressure. But now with progressive exterior styling, an increase in cargo, and even a bit faster, the 2014 Forester should continue to climb the success chart — with or without X-Mode.
PROS:

The CVT tranny and tight suspension provides stellar handling
2.0XT turbo steps it up with new features
Reasonable price-point: under $40K for top-of-line
Bold new exterior styling
The overall best compact SUV in market?

CONS:

Progressive exterior styling not for everyone
Cabin may lack the glitz some SUV consumers seek
Outgoing Forester remains at top of its game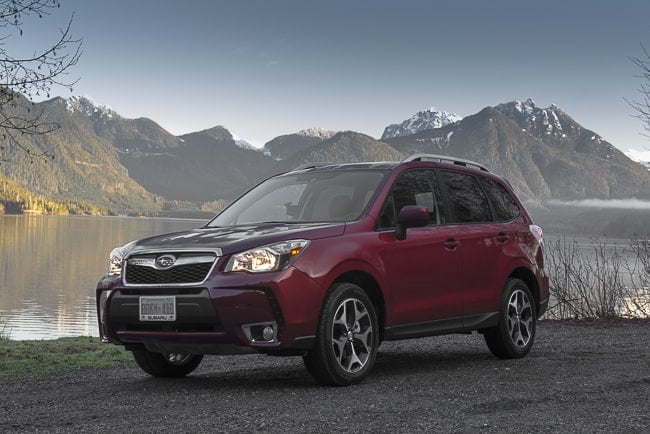 Ucluelet, British Columbia – Progression is a peculiar thing. Whether we accept that or not, it's inevitable. And in today's fast-paced, hungry-for-new society, change is the name of the game. Subaru understands this, and for an SUV that's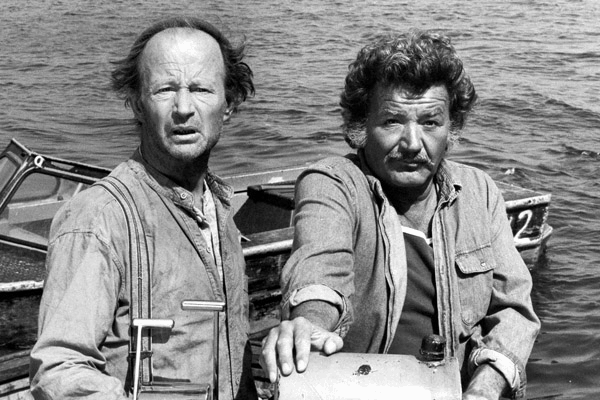 been around since 1997, going into it's 'new life' is only fitting. It's like replacing Michael Jordan in his prime. Or Chrissy on Three's Company, just when her and Jack Tripper were getting along. Ok, not quite. But the Forester accounts for nearly a quarter of all Subaru Canada sales. Nearly all of this success coming from the more streamlined, 3rd-generation Forester over the past six years of it's cycle.
Subaru held the official 2014 Subaru Forester media launch event two hours north of gorgeous Nanaimo, British Columbia, where a 15-minute plain ride from Vancouver to Nanaimo reminded me of CBC's BeachCombers, followed by a stunning 2-hour drive west through Pacific Rim National Park Reserve, finally landing in Ucluelet — a small town settled along the cliffs exposed to the vastness that is the Pacific Ocean. Where surfers and Subarus abound. Seriously, I've never seen so many old school Subies; often, 2 or 3 in a row on the highway. And of course, the more nostalgic Subarus with roof-strapped surfboards; almost like the modern-day VW bus or Bug. Except with more mary-jane and more utilitarian, off-road capability with AWD, no less.
It's clear why Subaru-loyalists have embraced this somewhat unconventional SUV — because it's just that: a Sport. Utility. Vehicle. Where function may out-weight form, but when you're up before dawn to catch that first wave, rocketing down the twisty, rocky path en route to the shore, I'd imagine utility and safety is your primary concern.
Exterior Styling
Yes, I'm a fan of the outgoing 2013 Forester exterior styling. But if change is inevitable, the all-new 4th-gen 2014 Subaru Forester redesign is done proper. The 2014 is essentially the exact same dimensional footprint as outgoing and the general styling proportions are the same as well ; but now with dramatically more chiseled features, particularly the new front grill fascia. Below, comparing the 2013 Forester front-end vs 2014 Forester:
2013 vs 2014 Forester Front Grill: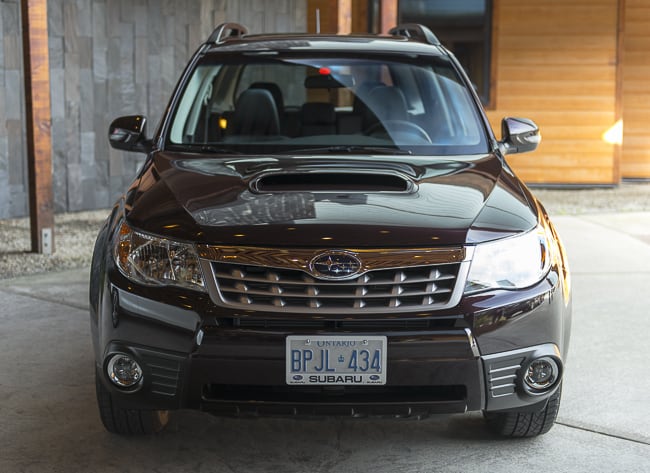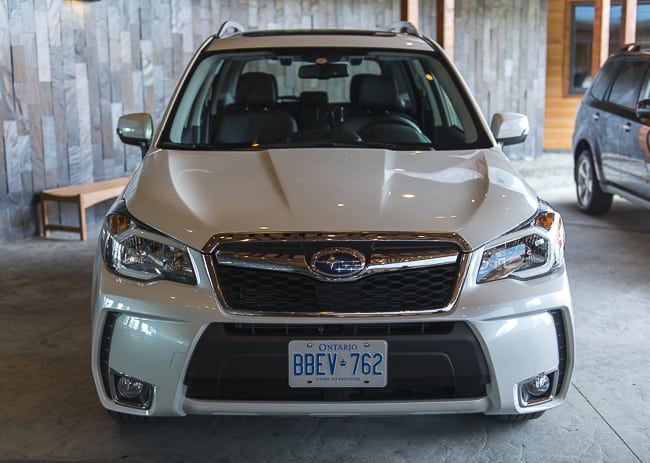 Mind you, the wider camera lens on the 2014 grill may exaggerate the wider proportions a little, but you get the general front-end styling cue differences.
From the side, the 2014 Forester looks almost indistinguishable from outgoing (trust me, I know…gawking at my neighbour's 2013 Forester, making mental comparison notes, the styling is etched into my mind):
Subaru has done a great job updating the styling without over-doing it. With 220mm ground clearance, this SUV sits high enough to traverse mountains yet low enough to stow groceries. It's essentially jacked-up without ever really looking jacked-up because the long shoulderlines and swooping long hood help proportion the vehicle.
Granted, many will disapprove (as usual), disliking the progressive front-end. But for those in the SUV market not entirely familiar with the Forester brand , the newly-designed, bold 2014 Forester may garner some potential buyers. From a distance, the 2014 Subaru Forester does look stunning; clearly veering onto a new, perhaps more enlightened design path: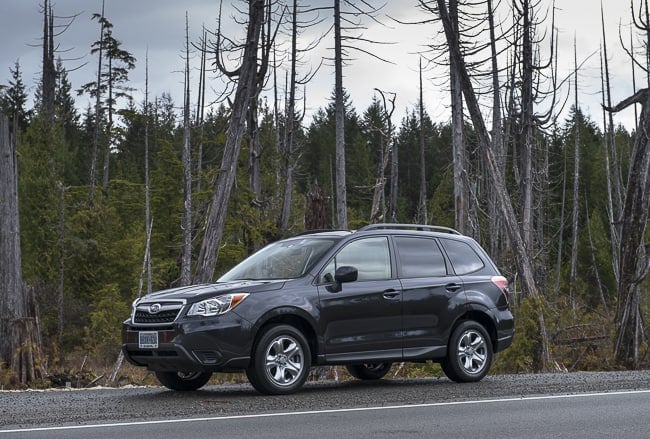 The 2014 Forester's rear doesn't see the drastic design cues as the front; the look is less aggressive yet works well with the front and overall design. The tailights aren't funky, and the bottom grill fascia is clean and streamlined. The rear tailgate now also finds a rear-inner gate switch for hands-free door duties. Always nice.
2 Models: Forester 2.5i and Forester 2.0XT turbo
The all-new 2014 Forester is available in either the Forester 2.5i with a naturally-aspirated 2.5-litre SUBARU BOXER engine making 170-hp. Or the sportier new Forester 2.0XT with the 2.0-litre turbocharged SUBARU BOXER engine producing 250-hp.
The 2.5i now finds the Lineartronic CVT (6-speed stick still optional on entry-level model), which felt responsive and tight through the windy mountainous twisties. But it's the 2.0XT blessed with the good stuff, including a high-torque version of the CVT with 6-speed and 8-speed manual shift modes with steering-wheel paddle shifters.
The entry-level 2.5i will be available in a Convenience Package with a PZEV option, a Touring Package, and a Limited Package with the EyeSight option. Also, the 2.5i entry-level and Touring Pkg offer a choice between a new 6-speed manual transmission or Subaru's CVT.
All CVT equipped Foresters find a brand spanking new X-Mode and Hill Descent Control feature, working in conjunction with Subaru's full-time AWD.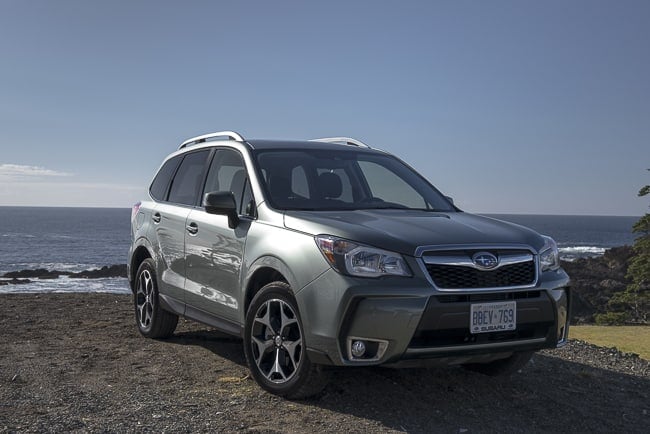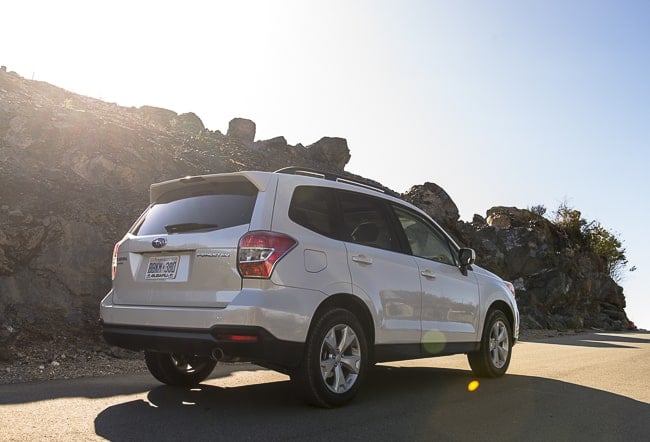 Subaru Forester 2.0XT Steps it Up
Of of the two models, the turbocharged 2.0XT finds the most significant changes. New features in the 2.0XT includes the 2.0-litre turbo engine mated to the CVT with steering-wheel mount paddle switches; an SI-Drive mode; a tighter performance tuned suspension with 18-inch stylish wheels; dual exhaust; larger front and rear disc brakes with rears vented; blackened headlamps, and distinct front/rear fascia's.
Another distinct feature on the Forester 2.0XT is the sporty front bumper that provides an updated appeal while showcasing the differences between the two engine choices.
18-inch alloy wheels with black and machined, high-relief finish.
X-Mode Time
Activated by a switch on the centre console, X-Mode is essentially a magic-button. This one button conrols the engine, transmission, AWD system, brakes, VDC and other critical components. All optimized for steep inclines and wet surfaces, all increasing safety but also performance.
Below: testing the Hill Decent feature; probably the best I've tested to date: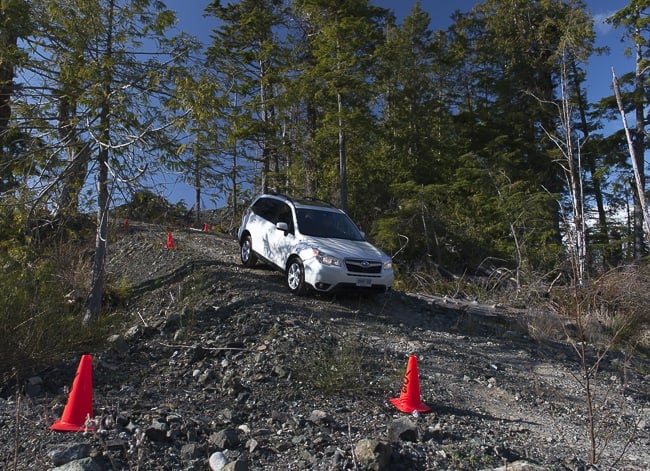 Even Better Symmetrical AWD System
The Japanese automaker's renowned all-wheel-drive system finds enhancements for 2014, including a new-generation active torque split AWD. Whereas previous systems responded to input torque and differential speed compensation based on the wheel speeds, the new system adds input from the VDC system, improving steering wheel angle, yaw rate, traverse, and acceleration. Overall, the new AWD system improves traction, handling and responsiveness in low friction environments.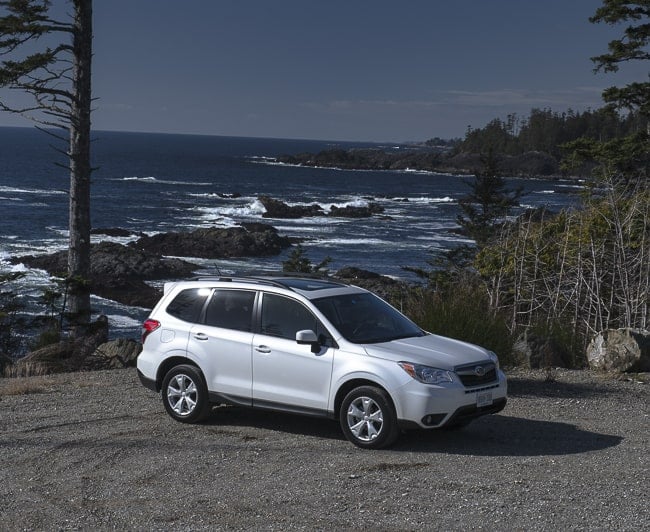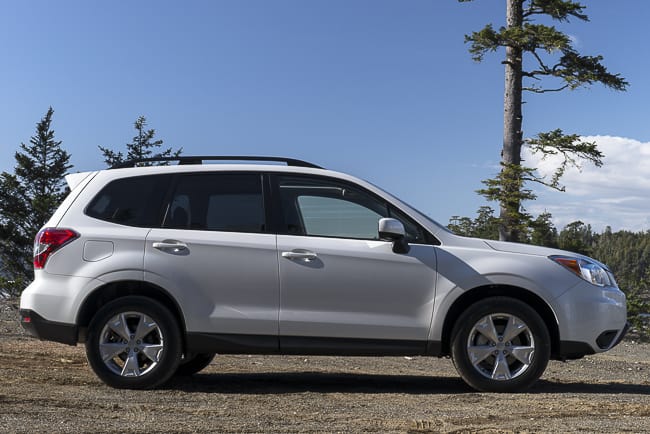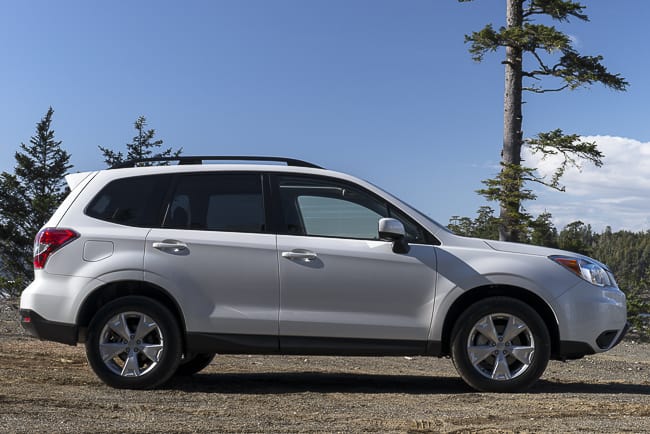 The Cabin is Roomier
Inside, the 2014 Subaru Forester feels spacious for a compact SUV. For 2014, the centre console back is moved 99mm forward. Scalloped front seatbacks and rear seat occupants moved 23mm back also opens things up in the rear cabin. Also, the centre tunnel height dropped a hefty 66mm, opening up to the back. Up front, the instrument panel top moved further forward; shoulder room and driver/passenger separation also increased.
Overall, the 2014 Forester gets a 9-percent bump in cargo capacity.
In other words, Subaru has taken the SUV and stripped it to it's essential. And now with some sexy styling, the 2014 Subaru Forester may hit the mainstream. I'd bank on it.
Driver position and seat comfort in the all-new Forester is also improved, with tilt-adjustable front seat headrests improved lumber pressure, just to name a couple. Also, improved ingress/egress, opening up the door passages, i.e. the A-pillar has been moved forward and a clean sill design reduce stepover distance.
The instrumentation and control layout is super-simple, yet super–straightforward. One may feel a Japanese automaker to indulge in glitzy electronics like many of the rivals. But the 2014 Subaru Forester keeps it real…the controls are within reach, and logically organized. The Colour Multi-Function Display includes a plethora of driver-aware features.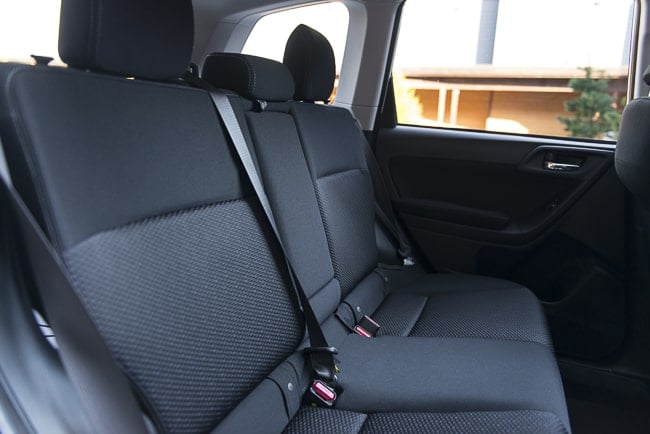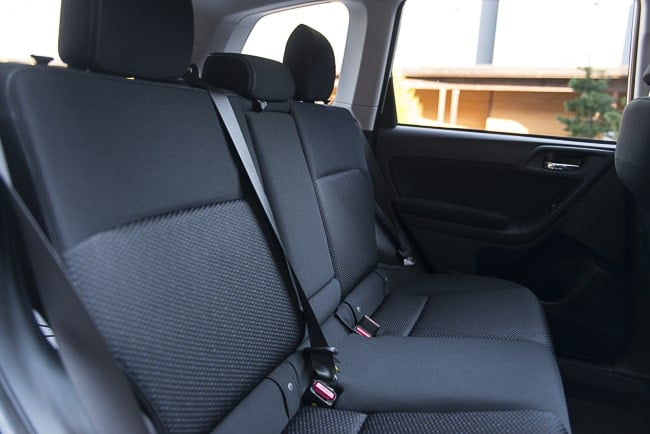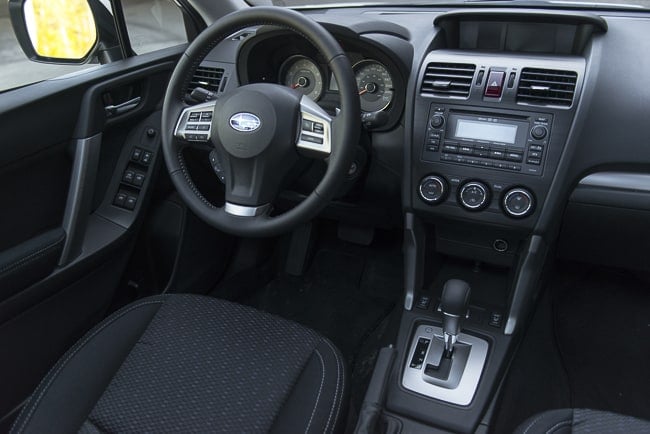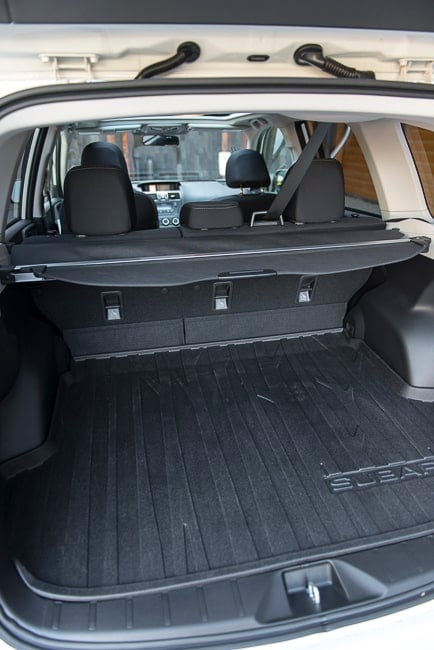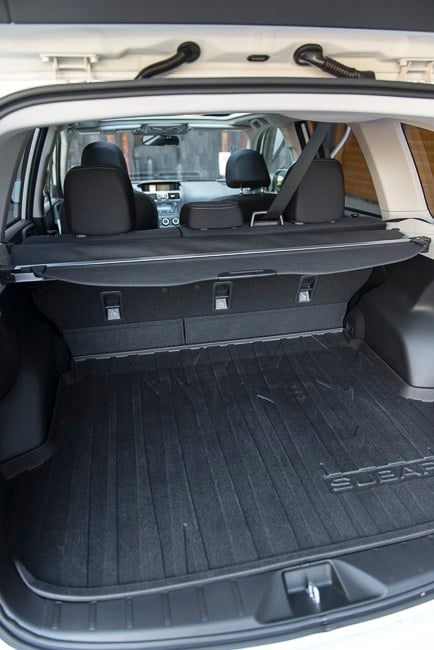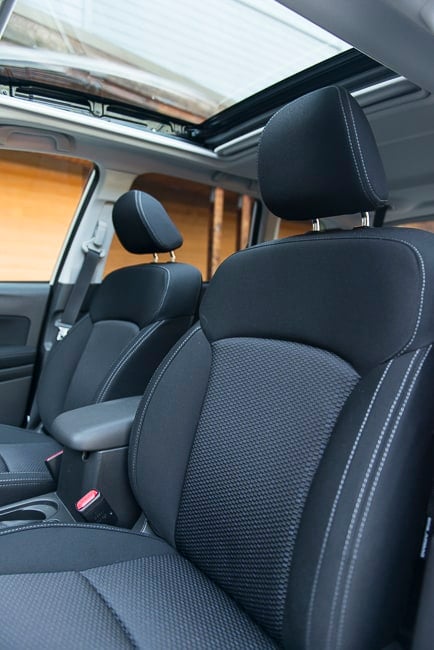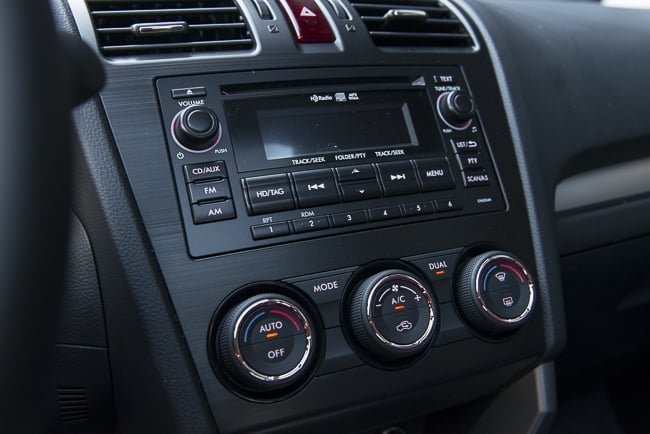 Forester Likes Children
If you're a parent, as I am, you undoubtably lose patience over vehicular, non-child friendly annoyances, like kids strapped in back who can't reach the cup holders. Or they can't board/unboard with ease. Well, the all-new Forester has acknowledged us helpless parents. With wider rear door openings coupled with a larger rear door sill with an anti-slip texture, kids will have an easier time. Also, tether anchors have moved to seatback, and rear seat surface is contoured a bit better to accommodate child seats. Subaru, we thank-you.
2014 Subaru Forester Pricing
The 2.5i with 6-speed manual starts at $25,995 CAD MSRP, and $27,295 with the CVT. Nine trims up, we find the top-of-line Forester 2.0XT with the Limited Pkg with EyeSight and Multimedia option and CVT, priced at $37,995.
Frankly, for under $40,000, the highest-trim 2014 Subaru Forester is reasonably priced. If you're in the market for snazzy SUV with all the bell and whistles, then perhaps the 2014 Subaru Forester isn't right for you. But if you're an outdoor-enthusiast, seeking safety, performance, and a no nonsense approach to instrumentation and controls, perhaps the all-new Forester is worth checking out. Throw in abundant cargo, refined handling, ample power, and sleek yet aggressive styling cues, and it's safe to say the Subaru Forester deserves some props. But of course, current Forester owners recognized this long ago.
The 2014 Subaru Forester is now available in dealerships across Canada.
2014 Subaru Forester 2.0XT Technical Specs
Engine: 2.0-litre DOHC, 16-valve, horizontally opposed, 4-cylinder SUBARU BOXER engine with twin-scroll turbocharger and intercooler
Horsepower: 250-hp @ 56oo rpm
Torque: 258 lb-ft @ 4800 rpm
Transmission: Lineartronic CVT with manual 6 and 8 manual modes
Type: 5-passenger, compact SUV
Wheels: 18″ x 7″ aluminum alloy, black and machined finish with high-relief design
Tires: 225/55R18 97H Bridgestone Dueler all-seasons
Brakes: ABS, 4-channel/4-sensor/4-wheel
Suspension:  4-wheel fully independent with rear double-wishbone
Cargo: 974/892 (volume with seats up)
Towing capacity: max. weight with trailer brakes- 680kg; without brakes- 453kg
Fuel economy – City/Highway (L/100km/h):  Auto Transmission- 8.9/7.2L/100km
2014 Subaru Forester Gallery