Out of the Woodwork: This 1916 Harley-Davidson Board Track Racer Replica Recreates Motorcycle Racing's Blood Sport Past
Board-track racing promoted an early culture of speed.
On highly banked oval tracks constructed of planks, riders wearing minimal protective gear – often a wool jersey and jodhpurs, perhaps a leather helmet and puttees over lace-up shoes — piloted primitive motorcycles.
Built to do nothing but go fast, the machines had only top gear and no clutch, brakes or suspension. Usually, there was no throttle; the carburetor was set wide open and if a rider had to slow down, a handlebar mounted magneto cutout was used to ground the sparkplugs to give compression braking. Engines had short, fire-breathing open exhaust pipes, and oil spewed from total loss lubrication systems. The hot liquid covered both rider and wooden track.
Motorcycles routinely reached speeds of 100 mph, and the public ate up the action. If one rider went down, the rest of the field usually couldn't avoid the resulting melee of limbs and metal. Splinters from the boards could be massive, and deaths were constant.
Los Angeles Motordrome was the first lumber track built in 1910, and across North America over the next two decades the number of wooden circular and oval circuits exploded. In Canada, the quarter-mile Toronto Motordrome opened in late May 1915. Cars, too, raced the planks, but by the late 1920s motordromes had mostly disappeared.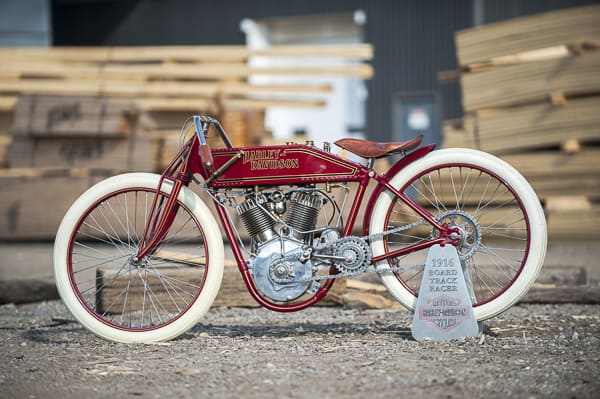 Calgary speed enthusiast Larry Pedersen, 68, was born too late to participate in board-track racing. But when he acquired a 1916 Harley-Davidson Model J V-twin engine from a local collector, he envisioned constructing a machine in homage to the era.
Pedersen was 11 when he bought a Whizzer-powered bicycle for $2. When it was running, Pedersen was a blur. When it wasn't running, he was working to fix it. He then rode Francis-Barnett and James motorcycles, and says, "If it had a motor, I was interested. I still don't care if it's a riding mower or a model airplane, if it burns gasoline I'm interested."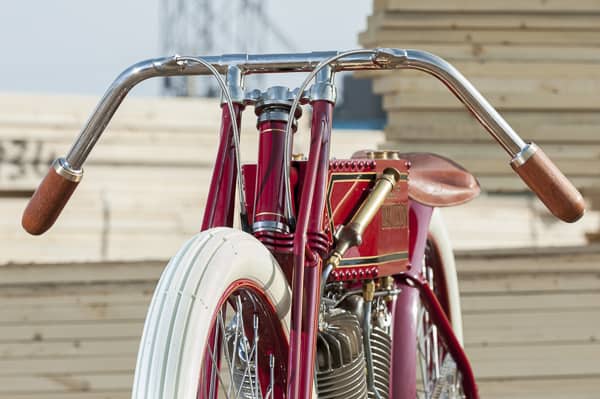 In his late teens Pedersen was pals with Terry Healy (son of the legendary Calgary motorcycle retailer Walt Healy) and several others. "We played all the time down at Walt Healy's shop, where we'd paint bikes and work on stuff. We formed a club, called the Cam Riders, and with our little crests sewn to our leather jackets we'd hell around Calgary on our bikes. Healy had a 500 Triumph, and I had a BSA."
Aboard Jawa, Triumph and Indian machines Pedersen also competed in hill-climb, scrambles, trials and flat track events. Was he competitive? "Oh no. I'd love to say yes, but I was always an also-ran. I did run with a lot of successful guys, though."
Motorcycles routinely reached speeds of 100 mph, and the public ate up the action. If one rider went down, the rest of the field usually couldn't avoid the resulting melee of limbs and metal.
Motorcycles remain a passion and Pedersen, an oilfield supply entrepreneur, now has more than 48. He curates a private mini-museum in Calgary, and the rest are displayed at his Phoenix winter home. The 1916 Harley-Davidson engine came in a package with two early single-cylinder motors, an original H-D flat tank and a few other pieces – but nothing close to a complete motorcycle.
At a Las Vegas motorcycle auction in 2007 Pedersen met father and son team Mike (now deceased) and Matt Smith of Antique Motorcycle Works. The pair wanted to purchase Pedersen's antique Harley parts, but he was determined to keep them in Calgary and construct a board-track racer.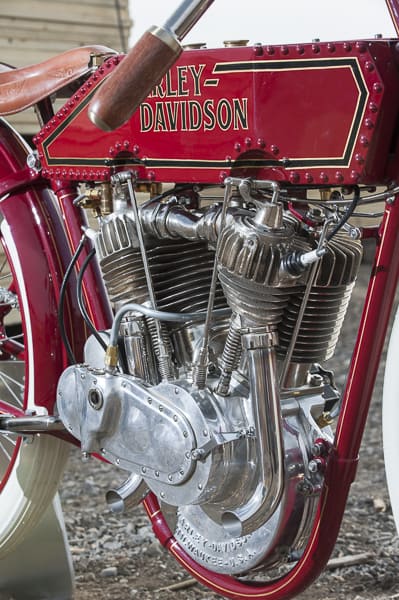 "They had some parts, and I figured I could buy enough to actually fabricate a bike," Pedersen says. From the Smiths Oregon-based shop he bought a reproduction frame, rigid fork, handlebar and 28" wheels with Coker tires. He crated the 61-cubic-inch intake-over-exhaust engine and sent it to the Smiths for rebuilding, and although they had it running, Pedersen's never fired the twin. To locate other pieces, such as a right-side pedal crank, he joined the Antique Motorcycle Club of America and placed 'Wanted' ads in the club's magazine.
Pedersen works with a team of fabricators and painters, and they refer to themselves as the Pedersen Performance Team. Coercing the original Harley-Davidson and reproduction pieces together in Pedersen's Calgary shop was fabricator/welder Al Kerrison and machinist Wilson Pankrat. Components were first mocked up to ensure fitment, including the reproduction Antique Motorcycle Works rivet-style tank with its rocker arm pockets. Gas is carried in the right, oil in the left. A rear fender of unknown origin was found in Pedersen's stash of parts and cut and shaped to fit. Short exhaust pipes were also manufactured in-house.
Dale Ross prepped the metal and sprayed the paint, while Bruce Ander applied lettering and striping. Nickel plating and polishing was done at Calgary's Alberta Plating, while Pankrat machined finishing touches, including brass-capped wooden grips. A reproduction Mesinger Cavalry No. 3 seat from Saddles by Heilman completes the look. Pedal cranks are clamped in situ, and would not have been used in starting a board-track racer; they are simply foot pegs.
Pedersen likes the board-track era, but isn't sure he'd have tried it. "I can't imagine going along at full-bore with no safety gear and hitting a sprung-up plank – those guys had some cojones."
1916 Harley-Davidson Board Track Racer Replica Gallery: