Sometimes staying home provides the best getaway. A 2013 Harley-Davidson Street Bob makes it better.
The ideal summer long weekend experience for the typical Torontonian generally involves heading to a cottage or campsite to get away from the bright lights of the city and closer to nature. While I too enjoy time spent in sweet solitude, enduring countless hours trapped in stop and go gridlock sucking back exhaust fumes isn't exactly my idea of how to best spend my precious few hours away from the office.
Canada Day Long Weekend with the Harley-Davidson Street Bob
Following a hectic spring of International business travel and being granted access to a 2013 Harley-Davidson Street Bob, I decided that the Canada Day long weekend would be best spent right at home getting familiar with this Lucky Green Flake monster and reacquainted with my own beloved city. Being fortunate enough to travel all over the world for both business and pleasure, I have fallen in love with many beautiful cities but have been feeling disconnected and out of touch with my hometown.
Certainly not without its shortcomings and problems, we have a constant debate over where to expand our transit system, what to do with our garbage, whether to impeach our 'allegedly' crack-smoking buffoon of a mayor and how to overhaul each and every one of our losing professional sports franchises. That being said, it is a world-class city with immense culture, undeniable multiculturalism and a vibrant pulse. The old days of Toronto the Good when shops were closed on Sundays, bars shut down at midnight and you could fire a cannon down Yonge St. after 8pm any night of the week are long gone.
I'm no stranger to long trips but the reality is that most fair-weather riders will use a HOG like the Street Bob for daily jaunts or weekend boulevard cruising anyhow. Like the best road trips all begin, I started with a vague plan of places I wanted to hit but left the rest to serendipity and chance. While I often play the role of map and camera-carrying tourist in other cities, in my 32 years of living here I had yet to explore some of Toronto's most well known highlights that are considered a must-do for anyone visiting our fair city.
Visit Toronto and the first suggestion each and every person will have is to visit the CN Tower. Why? Because it's there, I suppose. Recently surpassed by quite a large margin as the highest freestanding structure in the world by the Burj Dubai, Toronto's concrete communications tower and tourist attraction still offers a pretty damn good view standing 147 stories and 553.33 metres tall.Boasting a movie theatre, a rotating restaurant and various observation decks, the highlights for most people are the glass floor and the relatively new EdgeWalk where visitors can walk around the circumference of the building above the restaurant exposed to the elements while tethered to secured rollers. Experiencing the glass floor was surreal to say the least but the only moment of fear was when an unattended child came running over and started jumping on the glass. Measuring 2.5 feet thick, there is little chance of a mishap, but it didn't stop me from nearly soiling myself in surprise. I'm sure it showed on my face. So why did it take me 32 years to do something most people do in a weekend? The same reason I don't visit prostitutes, it was wildly expensive and the experience didn't last very long.
When my Uncle used to babysit my sister and me as kids, he used to take us to Casa Loma, which means "House on the Hill." Majestically overlooking the city, I'm amazed at how many locals don't even know about the existence of this famous landmark. Exploring the turrets and secret tunnels as a child was magical but appreciating the history and architecture as an adult it is no less fascinating. The ostentatious dream of Sir Henry Pellatt, an entrepreneur and local businessman, construction of the castle began in 1911 and was sadly never finished. With an investment of $3.5 million, 300 labourers and craftsmen worked for three years to construct the elaborate building but Pellatt's financial woes forced him to vacate his beloved dream home and part with his belongings at a fraction of the price. It is a sad story indeed but serves as a reminder to the city and its inhabitants of what we can accomplish when we dream big.
There is no shortage of options when it comes to good food in this city so it reallycomes down to what you're craving and when. You could spend $35 on Bymark's famous hamburger surrounded by Bay St. types or spend an hour in line waiting for the best pizza in town at Pizza Libretto but the true diamond in the rough is a little known spot near Rosedale Station called Black Camel. Cooking up the best pulled pork and beef brisket sandwiches you'll likely ever ingest, they do it quickly, jovially and without any pretension whatsoever. Don't let the long line scare you, it moves quickly and do yourself a favour by trying the pulled pork with arugula and charamoula mayo. No need to thank me.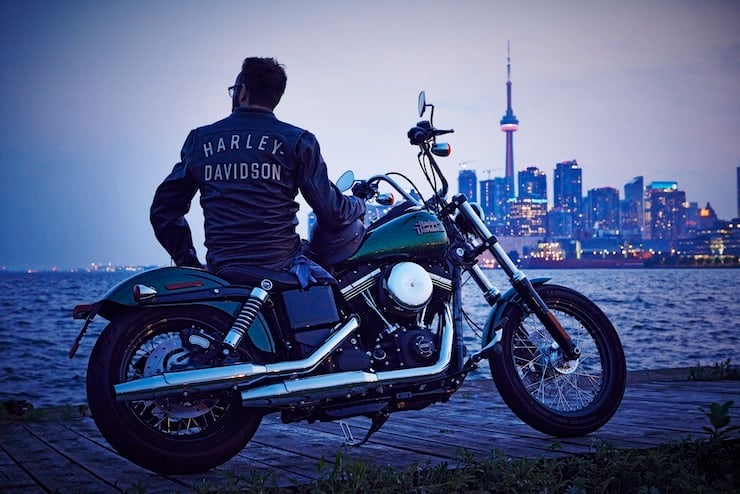 Photo by Matt Barnes
Not too long ago, the area now known as the Distillery District sat abandoned and derelict, in danger of being destroyed in favour of condos and strip malls. Thankfully after much debate it was deemed to be a heritage site and is now a hip little pocket of the city bustling with restaurants, shops, a craft brewery and popular event spaces that are packed every night of the week all year long. I decided to stop in for an iced coffee to cool off on a hot day.
The Queen West strip offers a great bar scene, great shops and superb people watching, along with Trinity Bellwoods Park – a haven for individual expression and silliness each and every summer weekend. I had always wondered where the colourful alley was where Rick Mercer does his famous rants on the Rick Mercer Report every week but it turns out that it happens to be in this neighbourhood too which made for a great photographic backdrop for the chromed and chopped Street Bob.
Continuing my exploration of the city, I decided to cruise over to Kensington Market. There is really no better word to describe this neighbourhood than eclectic. Bustling with a mix of hippies, junkies and hipsters, local purveyors include second hand thrift shops, army surplus stores, independent bike and coffee shops, restaurants, bars – even cheese affineurs and fish mongers. Rumour has it that a Walmart may be invading this colourful neighbourhood but I sincerely hope that is a fallacy because it would ruin one of the last corners of the city that has evaded corporate infiltration thus far.
With no shortage of nightlife to choose from, Toronto offers a variety of distinct scenes. Based on your age, tax bracket and musical taste, you may prefer any number of establishments, each with their own rich personality. Thanks to condo developments the once thriving entertainment district has slowly dispersed with the bulk of the audience moving west down King St. Most anti-establishment folks favour Queen St. West but Ossington has become a hotbed of nocturnal activity with The Dakota Tavern being a personal favourite. Hosting incredible love acts and featuring an amazing house band, The Beauties, it has become a popular place every night of the week its open. The sign outside may explain it; Beer, Music, Whisky. Add women and motorcycles to that list and I wouldn't ever want to leave.
Whether you favour the pretentious upscale shopping of Yorkville or the down and dirty rock clubs of Queen West, the culinary delights of Little Italy and the Danforth or cold tea and Kung Pao chicken at 4am in Chinatown, whatever you're looking for, Toronto has it. I may not have connected with nature or eaten s'mores around a campfire while singing Kumbaya but I definitely had a smile on my face when I went to bed on Monday night. I may not have left the city limits all weekend but I somehow still managed to clock over 300 kilometres rediscovering the ins and outs of my own city and definitely rekindled the romance I'd been missing.
2013 Harley-Davidson Dyna Street Bob
It's impossible not to feel like Peter Fonda when you're in the Bobber Solo Seat of the Street Bob with your arms stretched out to the Mini Ape Hanger handlebars with your boots working the factory-installed Forward Controls. Blacked out and stripped down to elemental bobber purity, the Street Bob features a chopped rear fender, low-profile taillights, a side mounted license plate bracket, black laced steel wheels and stainless steel spokes with an aggressive 19-inch wheel out front.
It also offers optional eye-catching flake paint schemes inspired by classic 60s and 70s customs. New for 2013, Hard Candy Custom paint is a large metal flake finish is accentuated by bold funky finishes, pinstripe graphics and a unique tank medallion.
The H-D1 factory-customizing program has been expanded beyond simply Sportsters to include the Street Bob as well. Buyers can log on to the H-D1 site to configure their own unique Bobber, choosing from available handlebars, seats, forward controls, wheels, and 14 different paint colour and style choices, letting you personalize the bike to your own distinct taste.
Boasting classic, minimal lines, the upgraded 103 cubic-inch V-Twin (Twin Cam 96 is standard) shudders, gurgles then roars to life before settling into its legendary trademark idle rumbling through the chrome, staggered, straight-cut shorty exhaust. The retro-style air cleaner cover, stamped with The Motor Company bar and shield, gives the engine an authentic soul and genuine Bobber character.
Starting at only $14,759, it offers enough value to actually have me seriously considering adding to my own fleet…