Fuelled by a love of gasoline, pistons and spark plugs, Fred Phillips has created a collection of hot wheels whose power surpasses what's under their hoods.
Some automobiles are perceived to be utilitarian, functioning to move family or cargo. Other automobiles, however, do more than move people. They move emotions. Get Fred Phillips talking about cars and within seconds the passion and emotion he brings to the subject are apparent.
Cars are his life, literally, and over the past 25 years he has amassed an impressive collection of rolling works of art. Just as a piece by Dali, Picasso or Warhol has the power to move the spirit, the vehicles Phillips collects speak to him on a very emotional level.
"The car is art," Phillips says, "and the metal is the canvas. There's form and there's function, and once you're past the parameters of why the car is being built—for function—we move to form. That's when cars are merely a blank canvas."
Born and raised in Calgary, Phillips grew up in Brentwood. Surprisingly, his love for gasoline, pistons and spark plugs was not inherited. No one in his family showed any interest in vehicles. Cars were simply appliances.
It wasn't until a young Phillips visited friends in small town Alberta that he became aware of the lines and subtle nuances of different vehicles. Down Main Street Rockyford came a 1968 Dodge Charger R/T, and the older brother pointed it out to Phillips. "I remember asking, 'how does he know that?'" Phillips says. Inspired by this experience, Phillips began educating himself about automobiles, spending hours poring over Hot Rod magazines. He moved from paper to metal, and before even holding a valid Alberta driver's licence Phillips bought, fixed and sold more than 20 cars. His first car of note, and one that he actually drove, was a 1968 Oldsmobile Cutlass 'S'.
After graduating from high school Phillips found work in the concrete industry, installing rebar in recognizable Calgary landmarks, including the interchange at Crowchild and Glenmore Trails and the Saddledome. Back-breaking labour soon took its toll and Phillips chose to further his education. He selected computer studies at Mount Royal College, and attended all of his classes. In fact, he was ready to write his final exams when he bailed. "I said, 'I'm living a lie,' and didn't sit the exams. Instead, I pursued my dream."
His dream included cars, and Phillips opened Fred's Restorations on 11th Street S.E. in Ramsay. Out of this location rolled restored Chevrolet Camaros, vehicles in which Phillips specialized. But when a friend with a Mazda complained about the $100 price tag for a set of acrylic headlight covers—items that essentially protect the equally expensive lights beneath them, Phillips thought there had to be a $30 option. He found one.
"I was buying a cheap blister pack of nuts and bolts at the hardware store, and as I pulled it off the hook I was looking at the packaging and said to myself that all I needed to do is make a blister pack for headlights." Using vacuum forming equipment, Phillips began turning plastic soda-pop-bottle material into plastic light covers. It was 1987. Phillips had accumulated seven cars while operating Fred's Restorations, and he sold every one for seed capital.
Alberta is the broken-headlight-and-windshield capital of Canada, so Phillips was ideally located for his plastic automotive accessory business, which he called Focus Auto Design. Phillips caught his first big break selling headlight covers to local rental car companies. Successful with headlight covers, Phillips and Focus Auto Design began cutting, bending, heating and forming other acrylic accessories ranging from wind deflectors to tail-light protectors. Today, Focus Auto Design produces acrylic items for several OEM (original equipment manufacturer) automakers. A hood deflector or other accessory made by Focus Auto Design will sell through a new vehicle dealer's parts department."Basically, a bunch of things clicked, but I've worked hard and had a lot of luck, too," he says.
Focus Auto Design was running on all cylinders in the late 1980s when Phillips was again able to purchase a collector car—a 1969 COPO Camaro Rally Sport with a 427 cubic-inch engine. He continues to comb high-end collector-vehicle auction houses such as RM, Gooding, Sportscar Auction Company and Barrett-Jackson, and selectively—and passionately—purchases automobiles. "I find cars through a network of enthusiasts that has taken years to build," Phillips says. "It seems that the love affair with most of this art form runs so deep that conventional wisdom goes out the window when it comes time to sell. 'Normal' people just don't seem to understand car people; we are a silly bunch, and rather than pay the bills we will keep our car.
"More often than not it seems that death, taxes and divorce are my best friends when it comes to prying loose another gem," he says. "Paying too much also seems to work well."
Storage was found for his ever-expanding collection in a west Calgary location (which shall, for obvious reasons, remain vague). Phillips currently has more than 60 vehicles ranging from the very exotic to the very pedestrian. There is no pattern of selection for the cars he buys, and as Phillips says, "They are all vehicles that simply speak to Fred."
For quite some time, Phillips was secretive about the collection and shared it with very few. In 2010 that situation changed. The Phillips family went through treatment at the Alberta Adolescent Recovery Centre, better known as AARC. Phillips says, "Not only are AARC clients going through addiction and alcohol problems, but they are dealing with adolescent issues as well. We're aware of it, and we're affected by it. But AARC has a solution and they are helping these adolescents."
Recognizing the impact of addiction on a family, Phillips decided it was time to give something back. During a discussion with a colleague the idea was floated to open the doors on the collection. "Bing! It was like a light bulb went off," Phillips says. He had an outstanding collection of cars, and perhaps his emotion and passion for automobiles could help him raise funds for AARC. "A lot of people had heard about the collection, but very few had seen it; it wasn't open to anyone." Phillips is as surprised as anyone that he decided to share, but he's pleased he did.
Groups of 30 to 35 people are guided by Phillips through his automobile collection. He entertains with the details of the hunt, and spouts specifications with ease. At the end of the two-hour tour, Phillips finds himself hoarse, and the suggested $25 per person contribution seems a mere pittance. The groups range from hardcore auto enthusiasts in car clubs to financial advisors in investment banking firms, and everyone in between. All it takes to join in is an e-mail to tours@focusauto.com. Individuals and smaller groups will be blended together so that everybody gets an opportunity to experience the emotion first-hand.
The best part of this? Not only does Phillips share his cars, he matches the donations, dollar for dollar. In 2010, during his first year of tours, Phillips managed to raise $50,000—enough cash to put a teen through treatment at AARC. Funds raised in 2011 are not only going to AARC but also to the University of Calgary Sports Medicine Clinic.
"Those cars open doors that I can't," Phillips says. "The collection is a vehicle that is far more powerful than Fred."
1955 Tojeiro Bristol

The Tojeiro Bristol in Fred Phillips' collection was one of three produced by the builder in 1955, and saw race action on tracks in the U.K. throughout the 1950s.
If American artist Alexander Calder (known for his work in the Kinetic Art movement and as the inventor of the mobile) had attempted to design a car, this Tojeiro could have been the result. Calder's works are fluid, and his mobiles move with the wind. Moving like the wind is just one of the attributes of a Tojeiro, which was hand-built by English racecar designer John Tojeiro, who is perhaps most famous for his design of the AC Ace, an iconic vehicle that went on to become the basis for Carroll Shelby's AC Cobra.
The importance of the 1955 Tojeiro is in its lightweight space-frame chassis construction.
Made up of small-diameter tubes, the frame is light and stiff, contributing to a better-handling sports racing car. A 2.0-litre Bristol six-cylinder engine fitted with three Solex carburetors provides power in this Tojeiro, and energy is transferred via a four-speed synchromesh gearbox.
1955 Alfa 1900 CSS Savonuzzi Ghia Special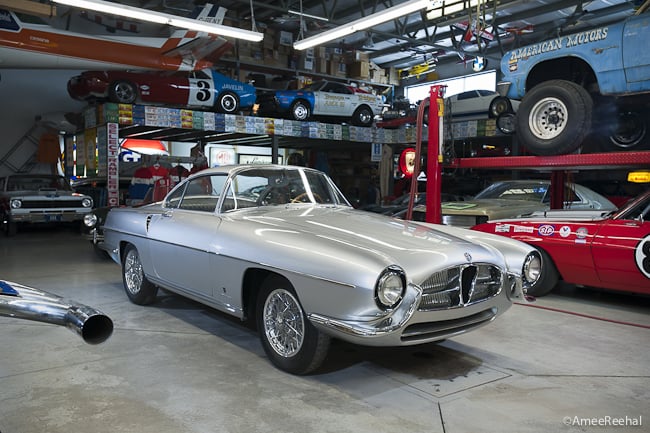 Futurism was an Italian art movement established at the start of the 20th century, and as a group, Futurists celebrated speed, noise and, most importantly, the machine.
Half a century later, Giovanni Savonuzzi may have taken some cues from the Futurists in designing of nine bodies for Turin coach builder Ghia, all underpinned by an Alfa Romeo 1900C chassis. No two of the nine Savonuzzi Ghias are the same, and the 1955 example owned by Phillips is the only one that features suspended headlights and front bumperettes that curve up to meet them. The CSS (Corto Super Sprint) tag means the car has multiple carburetors on a larger 1,975cc engine with five-speed transmission and a shorter chassis.
"Not only did Savonuzzi draw a fine body, but the craftsmen who brought the car to life in aluminum were artisans themselves," Phillips says.
1969 AMC SC/Rambler

Pop artist Andy Warhol took everyday consumer objects and glorified them, including Campbell's soup cans. Had Warhol been involved with American automaker AMC, he might have come up with the SC/Rambler. Instead, it
was legendary rod and custom builder Chuck Miller who designed the outrageous prototype of the SC/Rambler. "This is basically grandma's car on steroids," Phillips says of the production SC/Rambler.
American Motors Corporation was the last maker to the muscle-car party. By the late 1960s Chevy had the Camaro, Ford the Mustang, Plymouth the Barracuda and Dodge the Dart. And then came AMC in 1969 with the SC/Rambler, a vehicle that started life as a very basic grocery-getter and ended up being kitted with AMC's largest 390 cubic inch engine and four-speed transmission. Only 1,512 SC/Ramblers rolled off the assembly line.
The massive hood scoop and red, blue and white paint certainly help attract attention. "It's insane," Phillips says. "One would think it was designed by a kindergarten class, it's so outrageous."
1953 Muntz Jet

"In the Car," a 1963 canvas by American pop artist Roy Lichtenstein, is a stylized comic strip image of a couple driving, the man behind the wheel and the woman in the passenger seat. The image is dramatic, full of bright and bold colours, like most of Lichtenstein's work.
A similar statement is made by the pink 1953 Muntz Jet in Phillips' collection. Earl (Mad Man) Muntz was an L.A.-based new-and-used-car dealer turned electronics inventor (televisions and the four-track tape player)-cum-automaker. In 1950 Muntz bought the rights to a sports car being made by Frank Kurtis. Muntz stretched the Kurtis vehicle by 13 inches (330mm) so a back seat could be installed, making it the first sports car that could honestly seat four.
Phillips' Muntz Jet is equipped with a 365 cubic inch Cadillac V-8 engine and GM Hydramatic transmission. Apart from its distinctive pink colour, which is original to the car, this one does have an unverified claim to fame—Hollywood actress and singer Gloria DeHaven bought it new.
1966 DeTomaso Vallelunga Fantuzzi Spyder Sport 1000

Surrealist Salvador Dali is noted for his 1931 painting The Persistence of Memory, which features a desolate scene populated with melting pocket watches. It is unlikely that Italian designer Medardo Fantuzzi took his styling cues from Dali, but the body panels of his DeTomaso Vallelunga Spyder Sport 1000 seem to morph around the wheels and slowly melt to the pavement.
And the car comes with quite the tongue twister of a name. DeTomaso was a Modena, Italy-based automaker, and between 1964 and 1968 he produced the mid-engine, rear-wheel-drive Vallelunga sports cars. Fantuzzi's coachwork covers the Vallelunga spine chassis, and sitting behind the driver lurks a 1.0-litre BRM inline four-cylinder engine mated to a five-speed gearbox. Weighing just 570 kg, the Fantuzzi Spyder Sport is capable of 0-60 mph (96 km/h) in six seconds with a 140 mph (225 km/h) top speed.
1931 Ford Rat Rod

The names Kenny Howard (a.k.a. Von Dutch) and Ed (Big Daddy) Roth won't be found in any high-end art books. That's because these two Americans were the progenitors of a do-it-yourself kind of art, known as Kustom Kulture, which is often dismissed as lowbrow. Their canvases included custom automobiles and motorcycles, with Von Dutch taking pinstriping to the next level by using an etching tool to engrave intricate designs on everything from engine cases to guns. Big Daddy is best known as the creator of Rat Fink, the hot-rod scene's anti-Mickey Mouse and the subject of a 2006 Ron Mann documentary, Tales of Rat Fink.
Today, Gas Monkey Garage proprietor Richard Rawlings of Dallas, Texas is following in their footsteps. Rawlings built this '31 Ford to drive the 3,000 miles (4,800 km) of the first U.S. Bullrun, an event that in 2004 was a cross-country
Los-Angeles-to-Miami romp. He competed against more expensive autos, including Ferrari 550 Maranellos and Spyker Spyder C8 convertibles.
The rat rod is itself an art form, as counterculture builders thumb their noses at big-dollar painted and chromed rides. Paint? Who needs paint when rust gives the entire car an organic sensibility?
With a chopped Model A body on top of a Gas Monkey Garage chassis, the Rawlings rod features a 500-cubic-inch Cadillac engine pushing power through an overdrive automatic transmission. For comfort, the car has air ride suspension and air conditioning. Rawlings won the 2004 Bullrun, and sold the car to Phillips in 2006.
1967 Lamborghini Miura P400

Austrian painter Gustav Klimt focused almost exclusively on the female body, and his works are peppered with eroticism. In the late 1800s a series of three works Klimt completed for the University of Vienna but which were never displayed there, were even called pornographic. The Symbolist could have had a hand in designing the Lamborghini Miura P400, a vehicle that is defined by sensuous lines and an undeniable sexiness.
The Miura P400 was initially sketched by Bertone designer Giorgetto Giugiaro, and was eventually completed by Marcello Gandini. On the mid-engine Miura, the front end of the car is very low, allowing for bulging fender arches. (With a mid-engine design—where the powerplant is situated directly behind the driver—there is no need for a hefty and bulky front end.) The radiator that provides cooling for the 350 horsepower V-12 engine is in the nose of the car. Produced between 1966 and 1972, the car in Phillips' collection is one of only 474 Miuras built.