A Kawasaki KZ200 Cafe Racer Feature
Tradition would suggest that a café racer be based on something British, perhaps a pre-unit Triumph 650cc twin in a Norton Featherbed frame. There are only so many parts and pieces from those motorcycles around, however. And now, thanks to an increased interest in the café style of build, folks are turning to some rather pedestrian machines – such as Honda CB350s or Yamaha XS650s — as starting points.
Others, though, are becoming ever more creative in their machines of choice. Take Calgarian Al Onia. His most recent project was based on a run of the mill 1978 Kawasaki KZ200. But it turns out Onia's reason for choosing a small-displacement Japanese single-cylinder motorcycle does have a connection to a couple of British bikes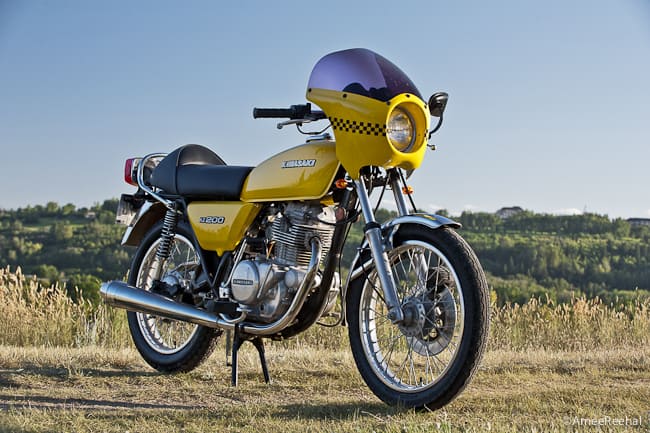 "I've always loved the British machines, and always liked the Royal Enfield Continental 250," he says. The GT Continental was based on Royal Enfield's pushrod 250cc single-cylinder Crusader, but the GT was equipped with a sleek gas tank, clip on handlebars, rear sets and a small windscreen. It looked the part of a mini café racer, and although it got the blood up in some of the young lads, it only sold from 1965 to 1967. The other British bike Onia appreciated is the BSA 250 Starfire. Onia says, "They look clean and uncluttered, and even though they're utilitarian they do have some style."
Onia has been riding motorcycles since he was 14. He started out aboard a used Honda S65, purchased from Bow Cycle, and says every couple of years he'd trade up to something better, including a Honda CL72 250cc scrambler, a Hodaka Super Rat and finally a brand new Suzuki TS185 street scrambler. After that, Onia took a 20-year hiatus from bikes before jumping back into the hobby. In the early 2000s, with the luxury of a few months of early retirement, he started buying and restoring some of the bikes of his youth.
After restoring and riding a few Japanese machines, Onia decided he'd create a café racer. And although he admired the RE Continental and the BSA Starfire, he says he didn't look too hard for one of them. "I was spoiled by the ultimate reliability of Japanese motorcycles – they were easy to get running and keep running," he explains. "So I started looking for a small displacement Japanese bike that wouldn't suffer too much under my customizing hand if I screwed it up."
Onia found his '78 KZ200 in Coeur d'Alene in the Nickel's Worth newspaper, a classified ad resource serving the Pacific Northwest in the U.S. Upon spying the ad, Onia went online and Googled the KZ200 and liked what he saw and read. "They are different than either a Honda or Yamaha and they have a good reputation," Onia says. He got pictures from the seller, and although the machine had been painted blue with a rattle can and there was a Harley-Davidson seat affixed, Onia decided the bike had some potential.
Kawasaki built the KZ200 from 1977 to 1985. With a SOHC 200cc single-cylinder powerplant and five-speed gearbox, the KZ200 was marketed as a small displacement street cruiser. One can only imagine how many 'cyclists have learned to ride aboard just such a machine.
He completed the deal for $550 without actually seeing the motorcycle up close, but he was comforted by the fact that the owner still had the original papers and all of the parts he'd taken off the Kawasaki during his ownership. Onia filed his paperwork with Canada Customs and drove to Coeur d'Alene to pick up the KZ200. Everything went smoothly coming back across the border with his purchase, and Onia had the bike home in the fall of 2008.
He says he had formed a mental picture of what he wanted the bike to look like when he was done with it, and that was a simple and clean little café racer. With only 4,500 miles on the odometer, Onia says the KZ200 ran fine, and he didn't have to pay much attention to the health of the engine, apart from cleaning the carburetor and changing the oil.
Onia didn't want to put on rear sets or lower the handlebar with a set of clip ons. Instead, he fitted a drag bar with a minimal pull back, and that helps retain a more upright riding position as opposed to the crouch adopted by many other café racer motorcycles. The Harley-Davidson saddle was promptly removed, and Onia restored the stock Kawasaki seat pan before conferring with his upholsterer about how best to build the classic 'bum stop' seat pad.
A small fairing to fit a six inch headlight was located and purchased at motorcycle wrecker TJ's Cycle in Calgary. With the fairing fitted to the Kawasaki it became apparent that the large lollipop signal lights that are prevalent on the Japanese motorcycles of the period could not be retained. Instead, Onia installed a set of Lockhart Phillips turn signals, and these units helped tidy up both the front and back of the machine. Taillight is the stock unit, as are the instruments, hand and foot controls, fuel tank and side panels. Even the muffler – with its slight megaphone pretension – is the stock unit. Wheels and spokes were cleaned up, and a set of Duro tires installed.
What's not stock on this Kawasaki is the paint. Onia says he'd always wanted a yellow motorcycle, and decided the KZ200 would look good in a coat of Corvette Millennium Yellow, a hue Onia says is identical to Ducati yellow. To complete the look, he found a roll of chequered flag decals at a local hobby shop, and applied the trim to the fairing and the centre of the gas tank.
At 5'7" and 140 lbs., Onia isn't a big man. The riding position and size of the Kawasaki suits him perfectly. "I'm the ideal size to be on a bike like that," he says. "It's easy to handle, and I 'm a small guy so it's not lugging a lot of weight." He rides the KZ200 regularly on the local back roads, and will tour 160 to 200 miles at a go – just not on the Trans Canada. "That would be disconcerting, even though it will do 60 to 65 mph all day long."