Updated: 2019 Ascent Pricing Announced
February 23 Update: Subaru released official MSRP pricing for their new SUV today, as follows (less fees/charges):
2019 Ascent US Price & Trims:
Ascent, 8-passenger with CVT: US$31,995
Ascent Premium, 8-passenger with CVT: US$34,195 to $38,455 (depending on options)
Ascent Premium, 7-passenger with CVT: US$35,655 to $38,455 (depending on options)
Ascent Limited, 8-passenger with CVT: US$38,995
Ascent Limited, 7-passenger with CVT: US$38,995
Ascent Touring, 7-passenger with CVT: US$44,695
2019 Ascent Canada Price & Trims:
Convenience: C$35,995
Touring: C$40,995
Touring w/Captain's Chairs: C$41,495
Limited: C$46,495
Limited w/ Captain's Chairs: C$46,995
Premier: C$49,995
---
Subaru finally fills the void with a 7-passenger sport utility
Los Angeles, California – Subaru has really stepped it up in the last five years since it first debuted the Crossrek – their all-new compact crossover that's been selling like hotcakes, along with the all-new 2019 Forester just unveiled in New York.
The company's products have grown into more stylish, tech-savvy, all-wheel drive machines that appeal to a broader market now.
But the Japanese automaker's stable was missing a full-size family hauler. And we won't get into the mid-size Tribeca SUV produced between 2005 to 2014 – that was a different time.
And at the moment, the 2018 Outback is the closest you'll get to a Subaru SUV, but it's more of a medium frame utility wagon and void of that third-row larger families are yearning for.
Finally, Subaru introduces a 3-row sport utility – their largest product to date – available with choice of seven or eight passenger configurations designed for everyday versatility, comfort and safety.
2019 Ascent Release Date and Features
Arrives early summer 2018
The new Subaru SUV will be built in the company's US plant in Indiana along with the Outback, Legacy and Impreza. Dealers will begin receiving the Ascent early Summer 2018. Pricing hasn't been announced but we'll make that available soon as Subaru releases info.
Ascent trim levels include base, Premium, Limited and Touring.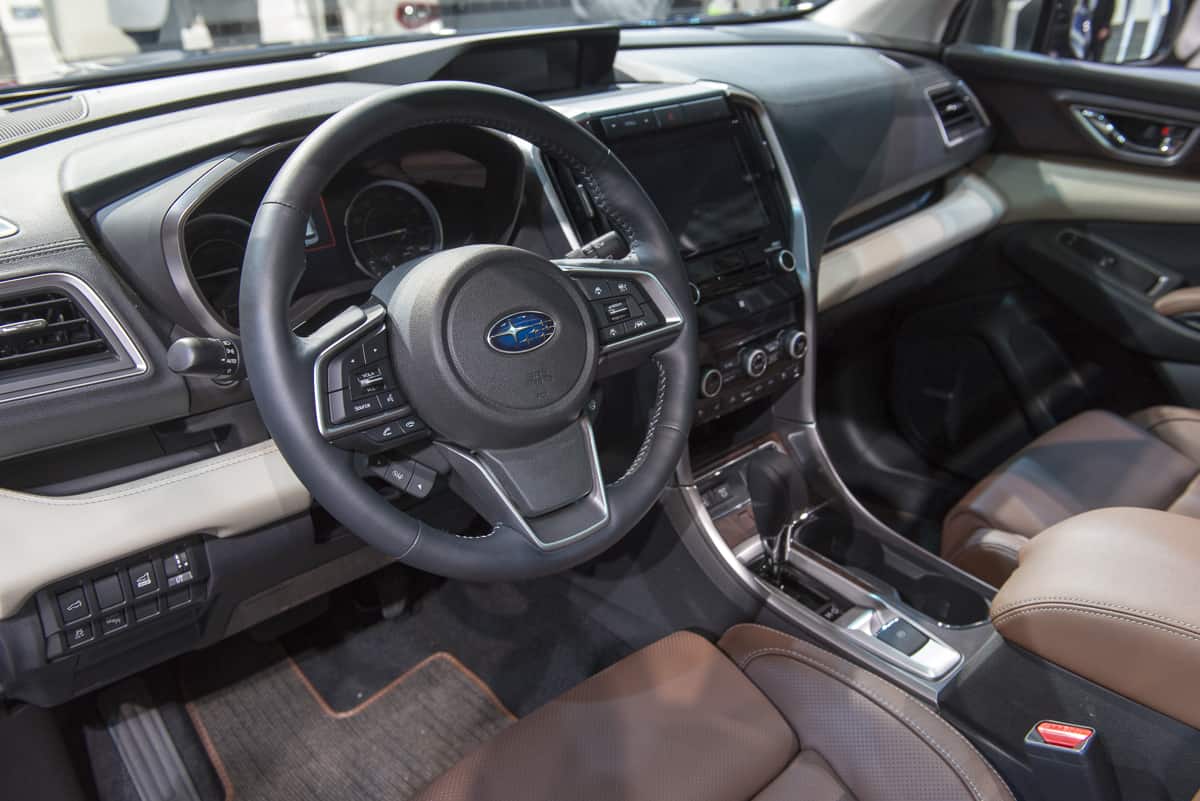 All-new turbocharged 260-hp BOXER engine
Powering the new Ascent is an all-new 2.4L engine making 260-hp at 5,600 rpm, and 277 lb.ft. of torque at 2,000-4,800-rpm.
This full-size hauler will tow up to up to 5,000-lb – paired to Subaru's standard Symmetrical All-Wheel Drive and a high-torque Lineartronic CVT with an 8-speed manual mode function with steering wheel paddle shifters as well as X-Mode with Hill Descent Control, it's clear the Ascent is all family-focused for those long journeys.
Riding on 18-inch wheels and lower profile with 8.7 inches of ground clearance, Subaru's goal was to create a 7-passenger machine that blends the capability and cargo of a full-size SUV with the ride and handling of a car.
We should get a chance to test drive the Ascent in the new year and will provide our own feedback on power and handling.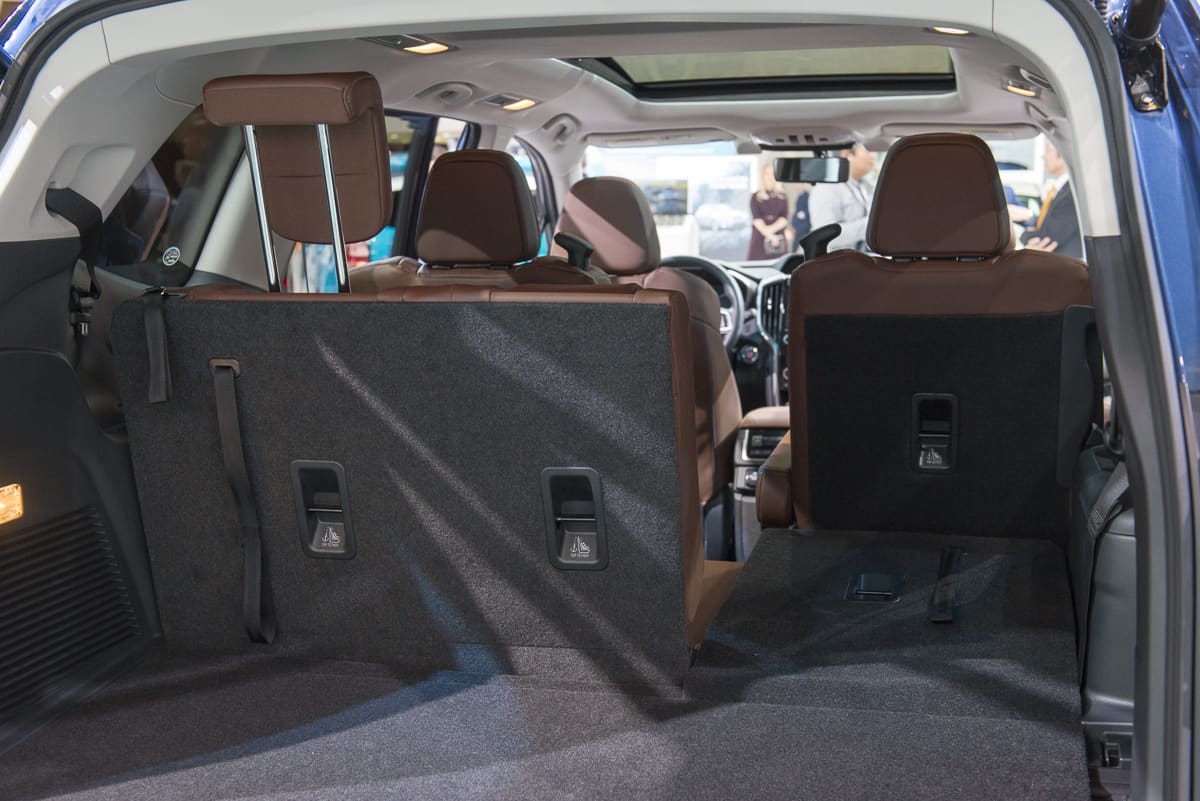 Subaru Ascent Interior
The cabin will feature loads of tech including a new 4G LTE Wi-Fi setup, and EyeSight Driver Assist comes standard in the Ascent – usually an option in other Subaru products.
Stepping inside, the cabin feels roomy, as you'd expect. With a 113.8-in. wheelbase and 153.5 cubic feet of passenger volume, families definitely have room and plenty of cargo space, especially with rear doors that open 75 degrees for improved access to the third row.
Add eight USB ports, a 120-volt power outlet based in the rear of the centre console, standard three- zone automatic climate control, and the STARLINK multimedia system with a multi-touch high-resolution display screen wit Apple CarPlay and Android Auto integration, connectivity is pretty much covered.
---
New Subaru SUV Reviews:
What others are saying about the Ascent
Subaru has been missing out on the large SUV game for quite a while now, but it seems the delay will ultimately be beneficial. With its myriad features, the 2019 Ascent should be great for families, but its utility could also be useful for adventurous singletons or young couples. The Indiana-built Ascent hits dealerships this June. – Emme Hall, CNet
Nothing beats a minivan for three-row liveability, but the Ascent does a not-bad job. It's far easier to access the back row compared with many of its rivals, aided by very wide-opening doors, although legroom back there is tight unless second-row passengers slide forward and give up some of theirs. – Driving.ca
The Indiana-built Ascent strikes us as the right vehicle for many suburban families. The easy-to-live-with cabin, smooth ride, and all-around versatility will have the Ascent appealing to a much wider audience than just those who outgrew the Forester. – Consumer Reports
---
First 2019 Ascent Rolls of the Assembly Line in Indiana
UPDATED – May 8, 2018: In case you had doubts, here's the new Subaru SUV in production mode – the very first 2019 Ascent that will go on sale in the coming months. With the addition of the Ascent, Subaru will produce close to 400,000 vehicles each year, joining the Outback, Legacy, and Impreza at the plant.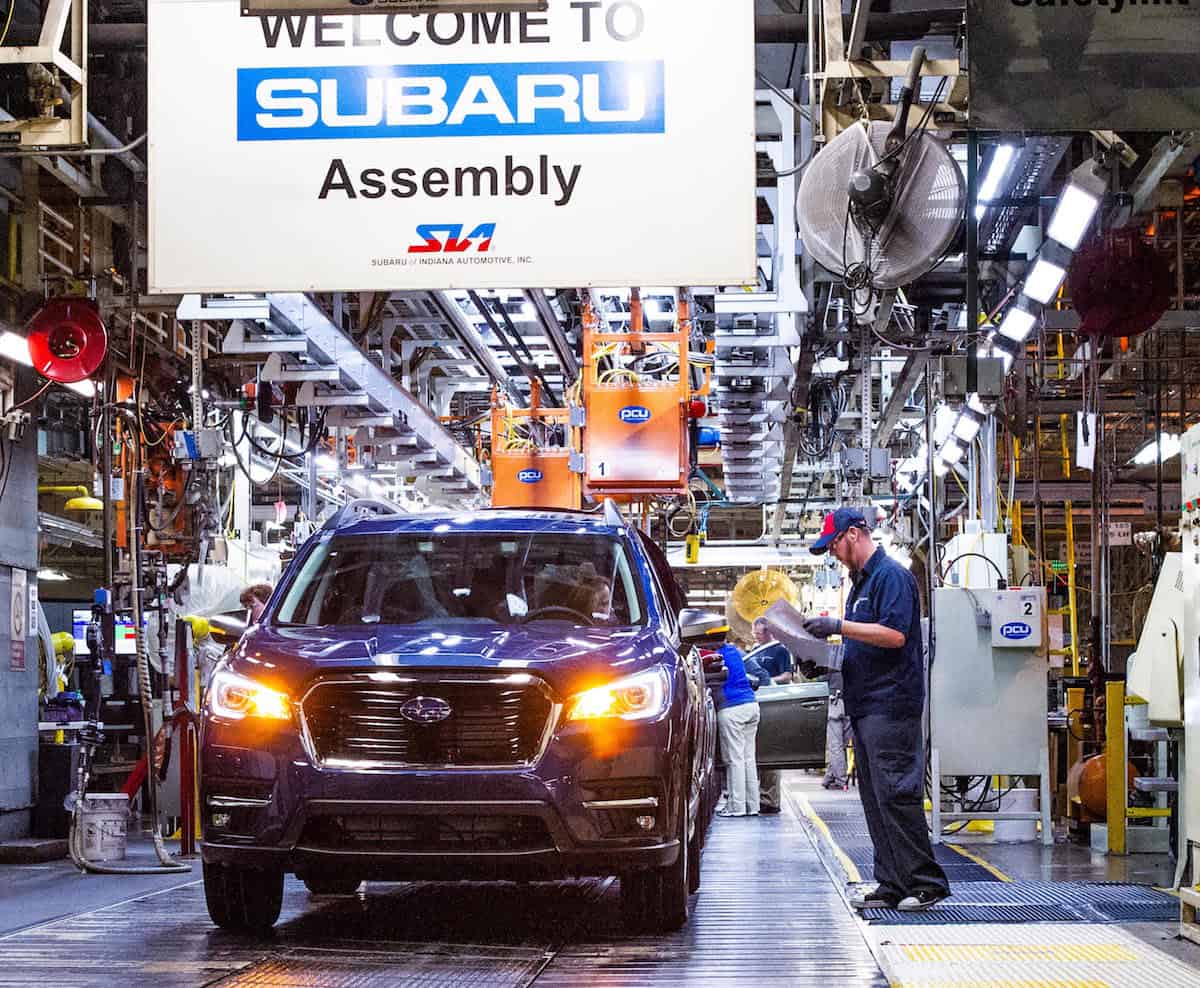 Learn more – Ascent USA | Ascent Canada
Photos: