Have you longed to brew a cup of coffee in your car? Yeah, us too. Check out our review of the Handpresso Auto, a portable espresso machine for the transient, road-warrior.
Pros:
Top-notch espresso in your car
Superb design
Great build quality
Cons:
A bit slow if you need more than one shot
Coffee-lovers love a good cuppa Joe. A tiring drive can be made good again by a quick stop at a highway gas station for either a cup of their coffee, or one from your own flask.
However, things aren't so cool when you're paying over the odds for gross brown muck faintly resembling the good stuff, or the only coffee you have left is hours-old stuff in your flask, which tastes like off-milk and chemically plastic.
Finally though, for us coffee nuts there's a saviour, an answer to all those gut-churning, plasti-coffee's; the Handpresso E.S.E Portable Espresso Machine! Let's have a look at it then eh…
Build quality and design features
We previously reviewed Handpresso's original product – the Handpresso Wild – and loved the precise, well-made details and excellent build quality. We found the same with Handpresso Auto. Clearly noticeable are the high end materials which include soft-touch plastics. The power cord is thick, giving a good, solid current and a sense that Handpresso are not skimping on product quality overall.
The Auto is a weighty 880 grams (1.94 lbs), and you'd have to be wearing steel tow-capped boots to not notice the pain, should it fall and land on your foot. The Auto is stylish too, and looks very much like someone has taken the world's coolest flask and let Q from James Bond loose on it – the Auto certainly wouldn't look out of place in the glovebox of James Bond's car.

Using the Handpresso Auto
The Auto is a very easy gadget to use. Firstly, plug it in and the symbol on the plug lights up white meaning the power is on. Next, sit it in a cup holder, making sure it isn't going to overbalance or fall. Unscrew the top cap and there are seven clear round windows. As you pour in your water, these windows go dark and getting to the last means it's full. A simple but clever feature. Next, sit your E.S.E coffee pod on the top, screw the cap back on and press the power button.
Finally, unplug it and flip it over, before pressing the side-situated button with the cup motif on. A perfect stream of dark caramel-coloured coffee comes out of the Handpresso Auto, taking around 15 seconds to to fill a standard espresso cup, finishing with a beautiful crema. Okay, for you purists out there, 15 seconds for a shot will seem too quick perhaps. But we say, wait until you try it before commenting. It's paradise in a cup I tell ya! The espresso is at a good drinking temperature (see later in article) and there's no sourness there either. Bellissima!
Another point; if you have one of those in-car mini fridges, take some milk with you and one of those small battery-powered milk frothers and you'll be able to enjoy a cappuccino or latte!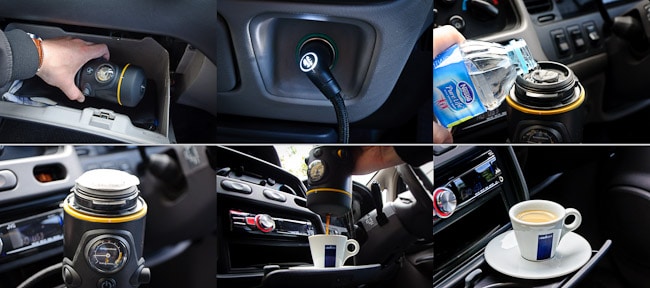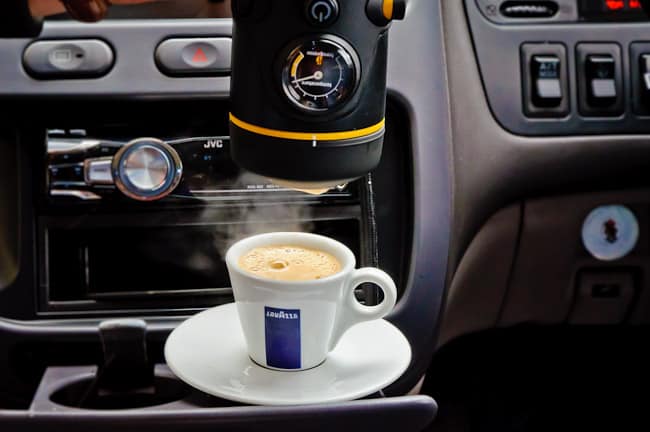 Good and bad stuff
What things did we like about the Handpresso Auto? Well, it produces beautiful, tasty espresso shots, has a great gadgety look about it, fits perfect in most gloveboxes, and is made of high quality materials. Have a think just how much you could use the Handpresso Auto too! Camping, road trips, holidays, boring commutes to work, sat in your car while the rain lashes at your kid's baseball game, and more. Put it this way; it's simply one of those gadgets that you'll actually make good use of, not one you'll buy, use once and throw in the attic for future generations to discover.
No so good points; The first shot of the day will not be hot enough. As with any espresso machine, the first shot is usually just get the unit up to temperature. The second espresso you make with the Auto will be great though, so no worries! Another negative, is that espresso shots from the Auto can take around 4 minutes each to do, so if you're wanting a double, make sure you have time to kill folks.
Final thoughts
The Handpresso Auto is a truly brilliant bit of kit. If you travel a fair amount, and demand good coffee, this shpuld absolutely be an essential. Retailing around $210 CAD, we think the pricing is right on the money for its excellent build quality, the high standard of espresso shots it makes, and because it is unique – there's absolutely nothing for sale like it!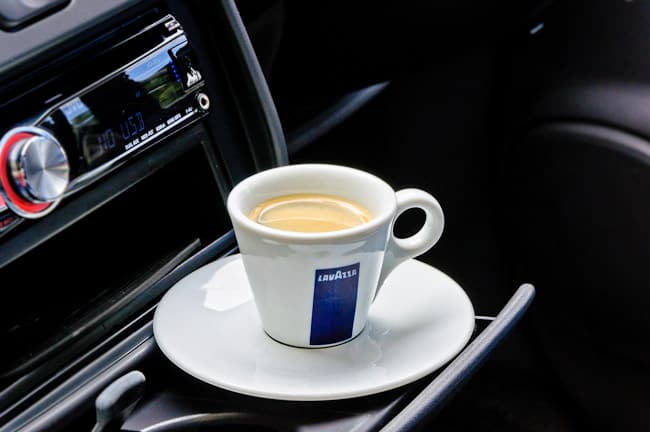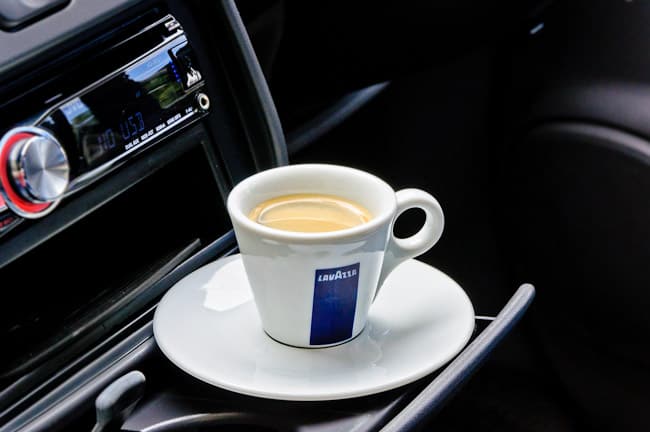 | | |
| --- | --- |
| WEIGHT | 880G (1.94 LBS) |
| DIMENSIONS | LENGTH: 210MM, CIRC.: 70MM |
| POWER | 12V |
| WARRANTY | 1 YEAR |
| COLOUR | BLACK/YELLOW HIGHLIGHTS |
| BUNDLE | HANDPRESSO AUTO, DRAWBAG, MATERIAL SERVIETTE |
| USES | E.S.E COFFEE PODS |
| WEBSITE | FAIRFAXCOFFEE.CO.UK |
| PRICE | APPROX. CAD $210 |