Enjoy shooting action videos? A GoPro alternative, we test out the durable Drift HD Ghost action camera.
Pros:

No need for external cases unless you plan to submerge below 10 feet; Durable construction.
Image quality is exceptional, as is battery life.
Competitive price: beats GoPro Hero3+ Silver Edition when factored in all extras needed to match those included with HD Ghost.

Cons:

Fewer retail outlets carry Drift.
At 1080p the 30FPS rate can appear choppy at times.
Point-of-View cameras allow athletes and sportsmen to relive the action, and share an experience with their friends, fans, and family. The giant in this field is GoPro, largely due to the immense amount of money they throw into marketing their products, but there are a host of other POV cameras on the market that match, if not beat, GoPro's cameras for certain applications.
An alternative to the competition
As an automotive journalist I have sampled half a dozen different camera systems over the past few years, and eventually I caved and bought a GoPro Hero2. The camera system proved capable and reliable, but in order to make it work for my needs I had to purchase a lot of extra mounts, housings and accessories. The Hero2 has served me well, but at a recent event it left me in a bind, as the sound quality from both the integrated microphone and the external accessory unit I was using failed to deliver the sound quality I needed for my project. The footage was crisp and sharp, but the sound was horrendous. It became apparent that I was going to have to upgrade my gear to remedy this situation as one of my new clients has an unquenchable thirst for quality video.
After exploring the marketplace I narrowed my search to include the latest from GoPro (Hero3), Contour, and Drift. After consulting with some peers and conducting some research I managed to get my hands on an evaluation unit of the Drift HD Ghost camera from a local distributor, Launch Helmet Cams.
HD Ghost: Features and Review
The HD Ghost is the latest offering from this innovative company, and it features a compact, lightweight set-up with an aerodynamic profile and simple controls. The colour camera records high-definition footage through an adjustable, wide-angle lens that transmits up to a 170-degree view. The lens also rotates up to 300°, which allows you to be creative with your shots and expands your mounting options.
The simple user interface allows you to dial down the resolution to maximize space on the Micro SD card recording media, and also offers users the opportunity to zoom in up to 10X. The camera can take still images up to 11.0 Megapixels in size.
The HD Ghost features a built-in, 2-inch LCD screen which gives it a distinct advantage over its competition, as there is no need to pair it with a secondary device in order to view footage or compose your shot. The screen is constructed using Gorilla Glass, a specially treated glass engineered by Corning for a combination of thinness, lightness, and damage-resistance. This same material is used in the manufacture of the camera's lens.
The Drift HD Ghost camera is Wi-Fi enabled, which allows you to connect an iPhone or Android smartphone using a dedicated Drift app that is free to download. Users will get access to a live feed, but will also be able to control the camera, choose the operating mode, change settings, and preview and download their recordings.
The camera comes with a rechargeable remote control unit which allows the user to operate the HD Ghost on the fly. This two-button unit can be fitted with an included Velcro strap so that you can wear it on your wrist or attach it to your gear, and its buttons are large enough to permit operation while wearing gloves. The two buttons also incorporate control identifiers so that you can operate them by touch without removing them the device from your pocket, or taking your eyes off the task ahead. The remote has an effective range of 5 metres.
If you require long battery life, rugged reliability, and outstanding image and sound quality, then the HD Ghost could be the camera for you.
I found the remote control to be particularly useful as I use POV cameras to record footage of automobiles in action. This usually requires the camera to be mounted outside the vehicle in precarious positions using suction cup mounts. Having the remote control I was able to reduce the number of stops I had to make during my filming sessions, which is a good thing, as these breaks in the action usually take place along the shoulder of some pretty dangerous roads and highways. Having the ability to check on the operational status of the camera while still safely belted in to the driver's seat was very handy, not to mention a great stress reliever.
The remote uses a series of coloured LED lights to alert the operator to the operational status of the camera at any given time. With a quick glance at the remote's flashing lights the operator is able to determine the current mode of the camera and whether it's recording or not. The camera features a small status light just aft of the lens which will illuminate green when the camera is powered up, and red when recording is in progress. Having both these visual alert systems should help ensure that you do not miss any of the action.
The camera utilizes a dedicated clip mount that screws to the base of the camera unit. The clip is formed in high-density plastic and can be quickly mated to a variety of mounts with one handed operation. It operates much like the buckle on a backpack waist strap, and appears to maintain a very sound and secure connection.
I chose to remove the clip mount and utilize the threaded tripod mount that has been incorporated into the HD Ghost's base. Unlike the other camera systems, I didn't have to source a special accessory piece or hardware to mount the HD Ghost unit to the suction cup mounting systems I prefer to use for my application. The camera remained secure throughout the duration of my shoot, and due to the low profile of the camera, it cut through the air better, reducing drag, wind turbulence, and vibration.
The HD Ghost offers almost three hours of recording life when operating in full HD mode. What is even more impressive is the fact that I managed to get this type of battery life while filming in very cool temperatures (5-8°C).
I was immediately impressed by the footage from this setup. The image was bright, the colours were rich and natural, and everything appears very sharp. By using an external microphone I was able to capture the glorious rumble of the Jaguar F-Type test car I was filming with a quality I had never experienced before.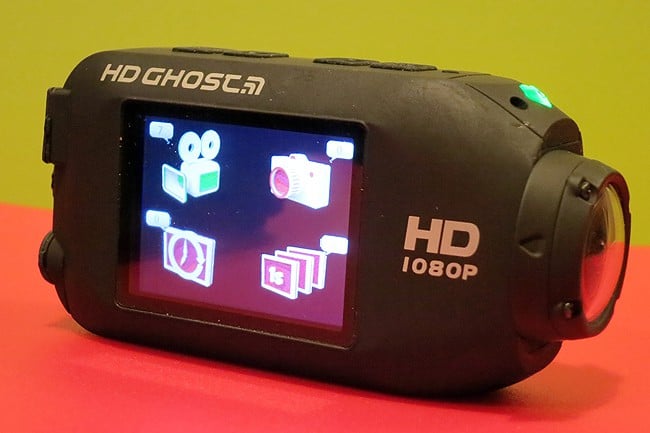 Apart from capturing video, the HD Ghost also offers time lapse and photo burst modes, as well as the ability to capture a still image at the same time as recording video without interrupting your recording feed. Video Tagging is another unique feature which has the camera record a loop for up to 5 minutes.
The camera can be connected to a computer (MAC or PC) using the included USB cable for viewing or uploading footage and images, and a Mini HDMI connection allows you to showcase the action on your big screen using an optional connector cable.
The standard kit includes the camera, remote control with strap mount, rechargeable battery, one universal clip, two adhesive mounts (one flat, one curved), a goggle mount, and a Connector Hatch replacement door. There are a wide variety of optional mounts available including a suction cup base for mounting to vehicles and flat surfaces, roll bar and handlebar mounts, and even applications for surf sports and scuba diving. Hunters and tactical users can also order a Picatinny rail mount to permit attachment to a wide variety of firearms.
Drift HD Price
The Drift HD Ghost isn't cheap at $349.99, but it is more capable and better built than many more expensive camera systems. If you require long battery life, rugged reliability, and outstanding image and sound quality, then the HD Ghost could be the camera for you.
Learn more about the latest action cameras by Drift Innovation
Drift HD Ghost Specs:
Price (MSRP): 349.00 CDN
Dimensions (mm): 105L x 52W x 33H
Weight: 167g
Video Modes: 1080p (1,920 x 1,080) @ 25/30 frames per second (FPS)
960p (1,280 x 960) @ 25/30/48/50 FPS
720p (1,280 x 720) @ 25/30/50/60 FPS
WVGA (848 x 480) @ 25/30/50/60/100/120 FPS
Adjustable Wide Angle Lens: 90-, 127- or 170-degree Field-of-View
Lens Rotation: 300-degrees
Zoom: 10X
File Format: MOV / MP4 (H.264 Codec)
Video Format: 16:9 / 4:3 (960p)
Photo Resolution: 5.0, 8.0 and 11.0 Megapixel
Sensor Type: CMOS
Screen: 2-inch LCD
Battery: 1,700mAh Rechargeable Lithium-Ion
Media Memory: Micro SD up to 32GB
Other features:
Built in speaker
Noise reducing microphone
Mini HDMI output
3.5mm external microphone port
Waterproof to 3 metres
Drift HD Ghost Gallery: