Mirabel, QC – Studded or non-studded: the choice is yours. Continental has worked with tire distributor, Groupe Touchette to create a new winter tire specifically for the Canadian market. We went to snowy Quebec to try it out
Canada's hard winters make the country fertile ground for winter tire sales. Around 60% of the estimated 22-24m tires sold here annually are winters, according to Groupe Touchette, which claims to be the country's largest distributor. That's a far higher share than in the US, where winter rubber accounts for only around 5% of the market.
---
Few more winter tire reviews worth checking out:
---
"We were born and raised in Montreal and know a lot about the requirements for using a good winter tire in the Canadian market," says Frédéric Bouthillier, COO of Touchette, which works with everyone from independent repair shops to OEM dealerships. "We face different weather conditions to other countries and the requirements for developing our winter products need to be different to the Asian market, Scandinavia, Europe or the USA."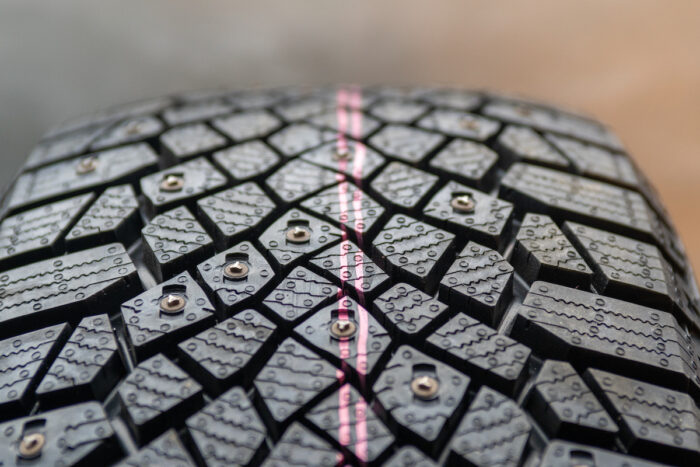 "In Quebec for example, a lot of salt is used, leading to a lot of melted snow and slush that gets compacted inside the tread. And for the past 10 years we've faced not just snow but much more ice rain than before. As a result, we've been selling many more pre-studded tires, not just in Quebec but in the northern part of Alberta and around Whistler in BC, for example, because of their additional grip on ice."
Touchette had never previously participated in the development of bespoke products but approached several major tire manufacturers with a view to creating a high-performing new winter product for extreme Canadian conditions.
"North American sizing was important," adds Bouthillier. "You don't have the Cadillac Escalade in Europe for example, so we needed specific sizes for those vehicles. We also wanted a more aggressive tread pattern than you'd see on a purely friction-based ice tire. We wanted something more open for our slushier conditions.
"Our requirement for a single tread pattern for both studded and non-studded versions was really difficult for the tire manufacturers to deliver," he continues. "Usually you'll have a specific one for a pre-studded tire and something else for the purely friction [tire] with no studs."
Continental emerged as Touchette's partner on a project that led to the design and manufacture of the new IceContact XTRM winter tire. Conti has made the tire uniquely for the Canadian market and was able to deliver the project in 18 months.
Availability
IceContact XTRM goes on sale in Canada in the fall of 2020 in 46 sizes across rim diameters from 15-22in, with both studded and non-studded versions available in each size.
By the end of the 2021 winter season the number of sizes will have almost doubled to 91 – covering 85% of the market – and will also include some LT products, although P-metric sizes to fit popular trucks such as Ram 1500s and Ford F-150s will be part of the launch lineup.
Design of the IceContact XTRM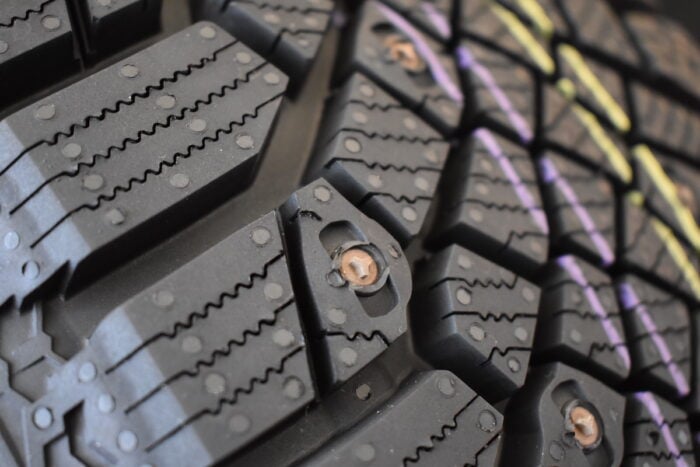 The IceContact XTRM has a V-shaped tread pattern with nine lateral elements. The connected center rib and siping is designed to improve steering response. The lateral grooves to remove slush and water are wider on the outside than in the center, and pockets and ridges in the sidewall provide traction in deep snow. The compound, even on unstudded variants, is of the type typically seen on a studded, Nordic winter tire to account for sub-zero Canadian temperatures.
On the studded tire, each stud is surrounded by an 'ice reservoir' to help it maintain performance. XTRM uses aluminum stud bodies and a TriStar head. Before insertion, the studs receive a chemical coating. An additional curing process then forms a chemical bond between the stud body and the surrounding tire compound. Conti says that the tire's stud retention should be up to four times higher than without the coating, providing up to 5% more grip on ice.
The random-looking positioning of the 130 studs within the tread – each surrounded by a crushed ice reservoir – was determined by computer analysis to balance the maximum number of stud rows with the lowest possible tire-road noise.
Performance: IceContact XTRM on test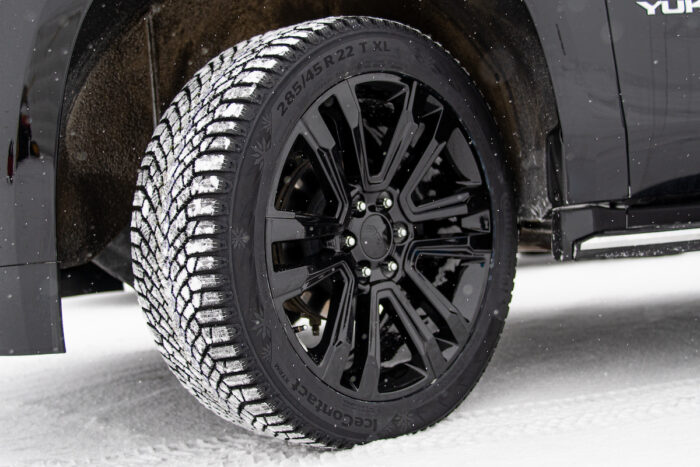 Before the COVID-19 lockdown took effect, we were part of the first group of journalists to sample the IceContact XTRM on snow and ice tracks at the iCAR facility in Quebec. We tried the tire in both studded and non-studded versions, in a 22in size on a GMC Yukon and as a 16in on a Subaru Impreza and Volkswagen Jetta.
Our feeling is that the non-studded version will do a great job for customers who do most of their winter driving on snow
We found little to choose between the studded and non-studded XTRMs when driving the Yukon on a winding road with a surface of groomed snow, although the studded tire did stop a little quicker. Our feeling is that the non-studded version will do a great job for customers who do most of their winter driving on snow.
It's on ice that the studs come into their own. Driving the AWD Impreza on sheet ice, the studs' ability to enable understeer recovery – pulling the front end back into line when it started to slide – was outstanding. The FWD Jetta's much shorter stopping distance in a braking comparison confirmed the benefit of the studs on ice. The XTRM should provide some healthy competition for the Nokian Hakkapeliitta 9 in the premium studded market.
Also read: Winter Driving Safety Tips – 5 Point Checklist
Takeaway: is the IceContact XTRM worth it?
Continental's data says that the IceContact XTRM should outperform its rivals, but we can't confirm that without the opportunity to test it against them. However, Conti's WinterContact and VikingContact lines are already among the best winter tires you can buy, so we've no reason to think that the XTRM will be anything other than a very high performer, with or without studs, and particularly in the extremely cold conditions for which it has been designed.