Editor's Note: Photos shown of both 2.5i and 3.6R models
These days, most SUVs and crossovers share much of their DNA with cars, through a practice called platform-sharing, which allows a manufacturer to save money by designing one platform that underpins a variety of vehicles.
Also see: Subaru's All-New 2019 Ascent 3-Row SUV Arrives Early Summer 2018
But while most car-based utility vehicles try to hide their humble beginnings, Subaru's Outback has always seemed proud to proclaim its close relationship to the brand's Legacy mid-size car. This is simplifying things a bit, but through more than 20 years on the market, the Outback has basically remained a Legacy station wagon, riding on a lifted suspension and sporting more rugged-looking body panels.
2018 Subaru Outback Changes
In a bid to keep things fresh, Subaru has given the Outback a mild styling update: There are new, larger infotainment touchscreens and, sadly for fans of the manual transmission, the Outback now comes only with automatics.
TractionLife.com reviewed the full lineup of new 2018 Outbacks back in October; you can read the review here: 2018 Subaru Outback Review First Drive: Mid-Cycle Refresh with More Rugged Styling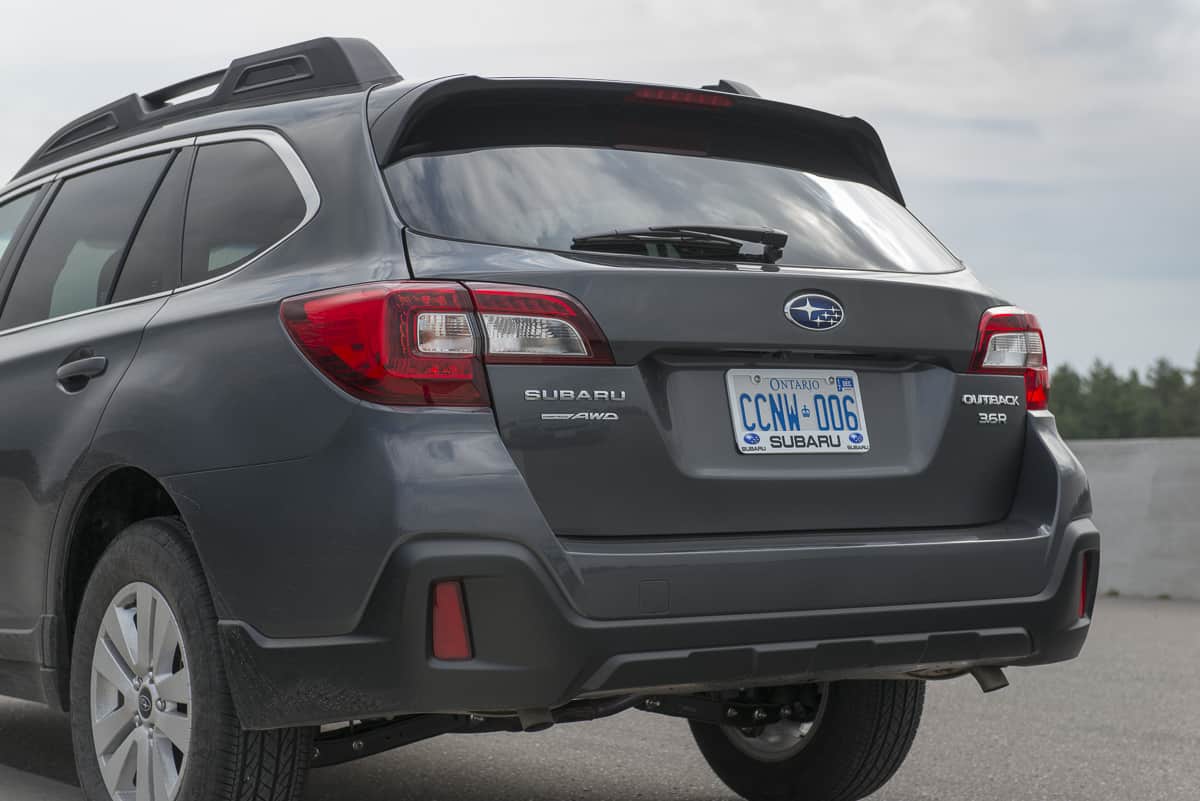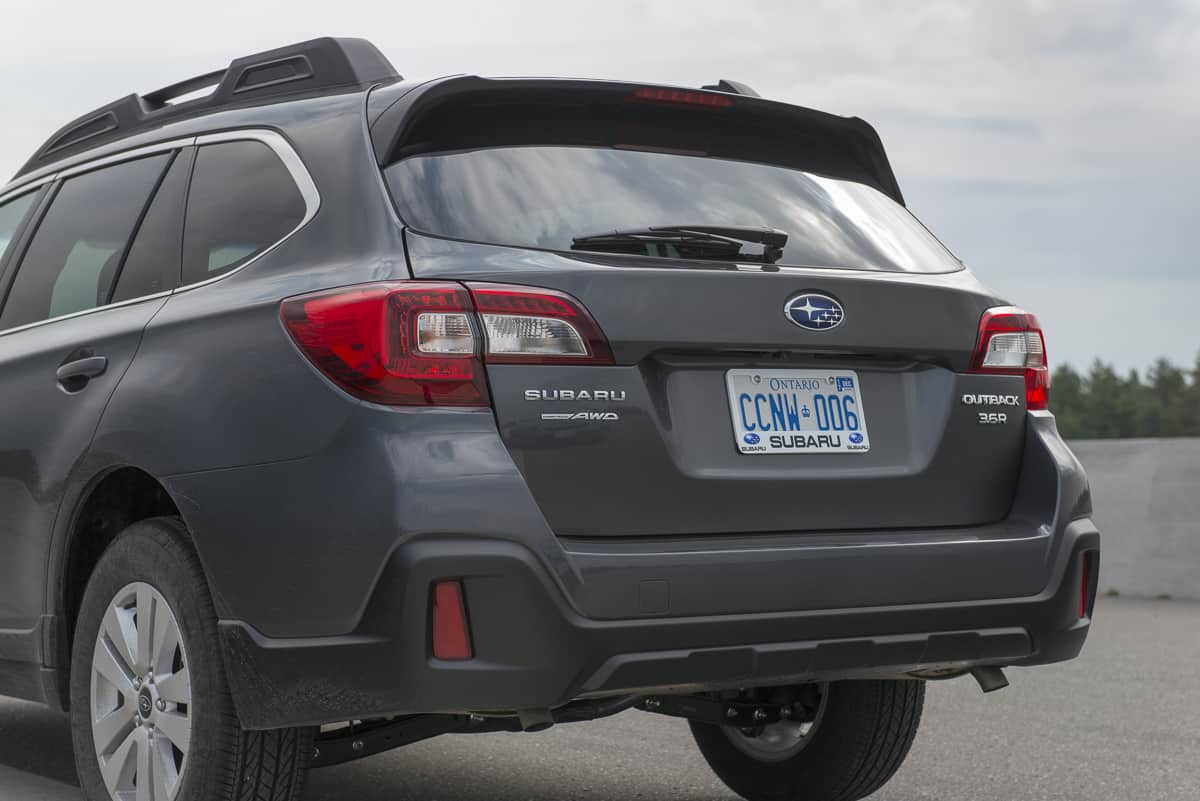 Fans of station wagons (the Outback is now the closest thing you'll get to a Legacy wagon) may appreciate Subaru's approach, but with the Outback now well into its fifth generation — and despite this year's updates — the concept is starting to show its age, compared with the vast number of other mid-size crossovers against which it competes.
The Outback's tall suspension provides the high seating position and useful visibility that crossover buyers have come to expect, but a body derived from that of a car means there's less headroom inside than in a utility vehicle with a bespoke body. Surprisingly, headroom is better in the back seat, and leg room is reasonably generous back there, too.
2018 Subaru Outback 2.5i Premier: A Closer Look
Refreshed Outback Interior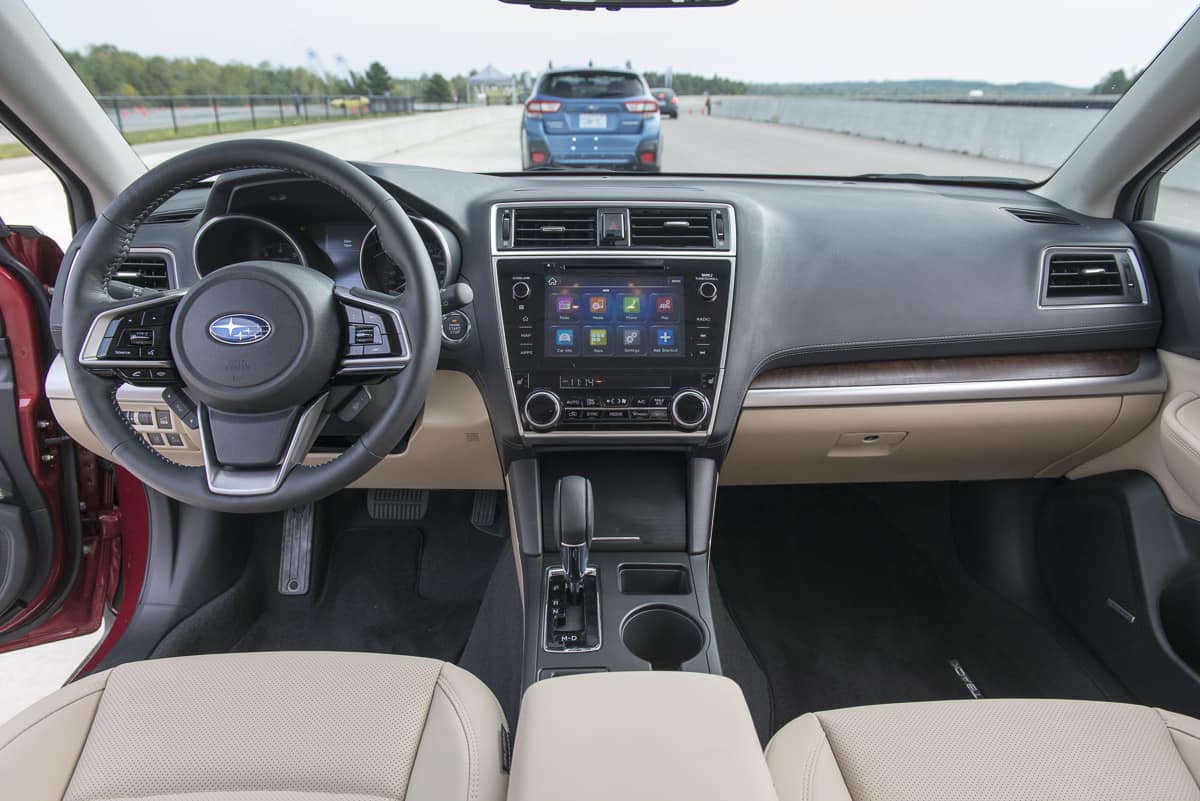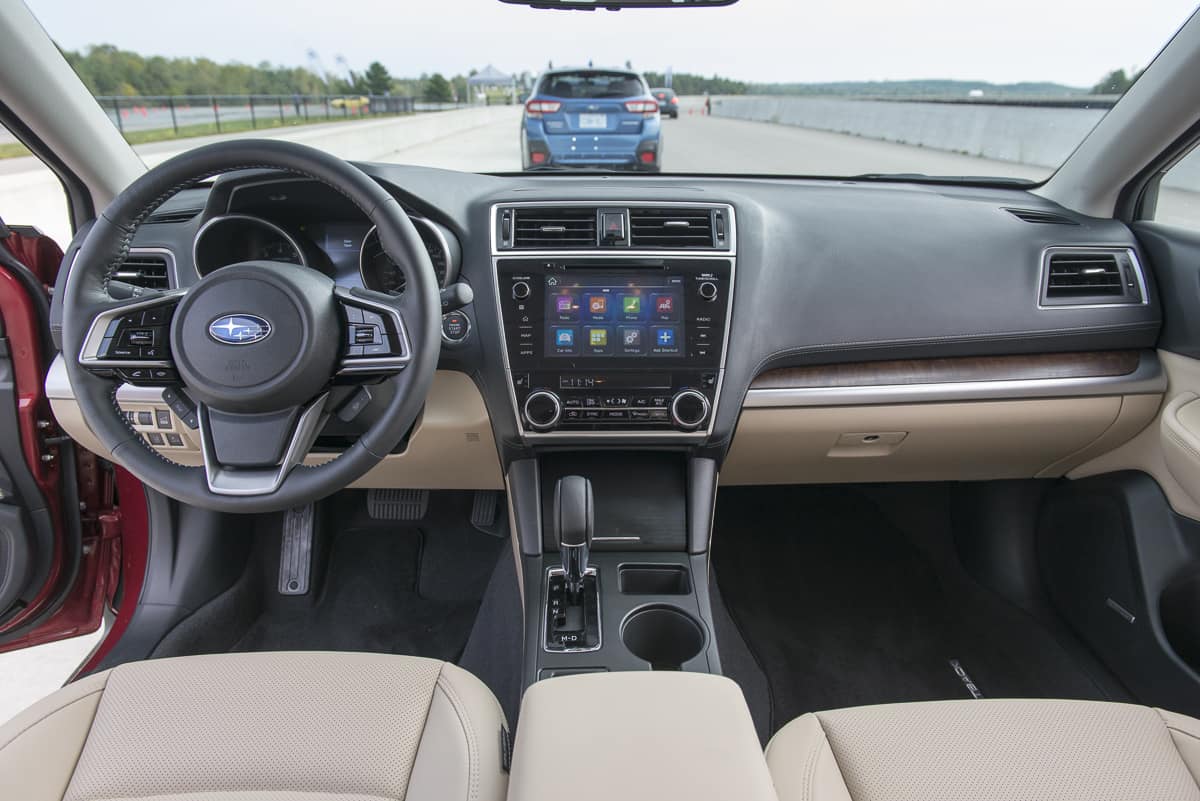 Our 2.5i Premier-trim tester made up for its space-related shortcomings with attractive brown leather upholstery on comfortable seats and well-done artificial wood trim. Other standard kit for this poshest four-cylinder model's C$39,195 price include niceties like the EyeSight active-safety system (which gains automatic high-beam headlights for 2018), an 8.0-inch touchscreen, 12-speaker stereo and heated rear seats.
When we first got into our test car, we spent five minutes looking for the clock in the infotainment touchscreen and the gauge cluster — where it lives in most cars — only to find it crammed into the air-conditioning display. Also quirky are the stereo's volume and tuning knobs and the climate control dials, which don't offer a lot of grip.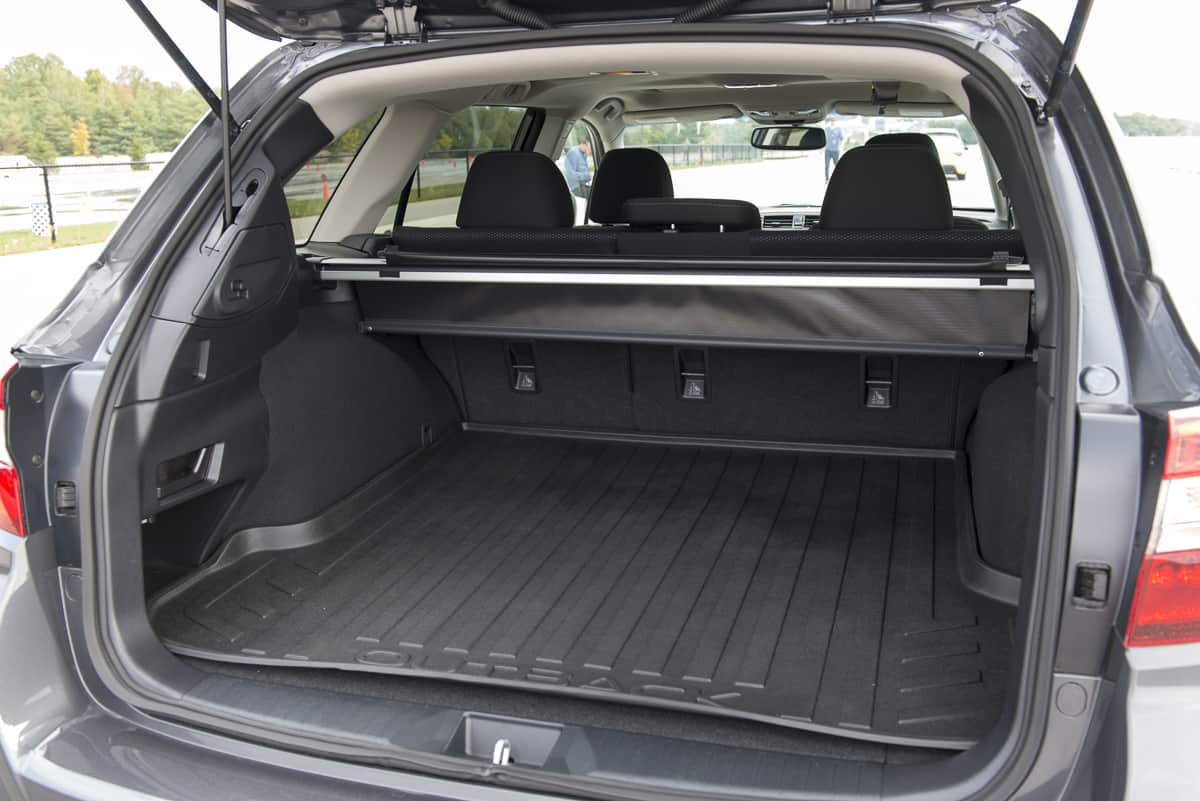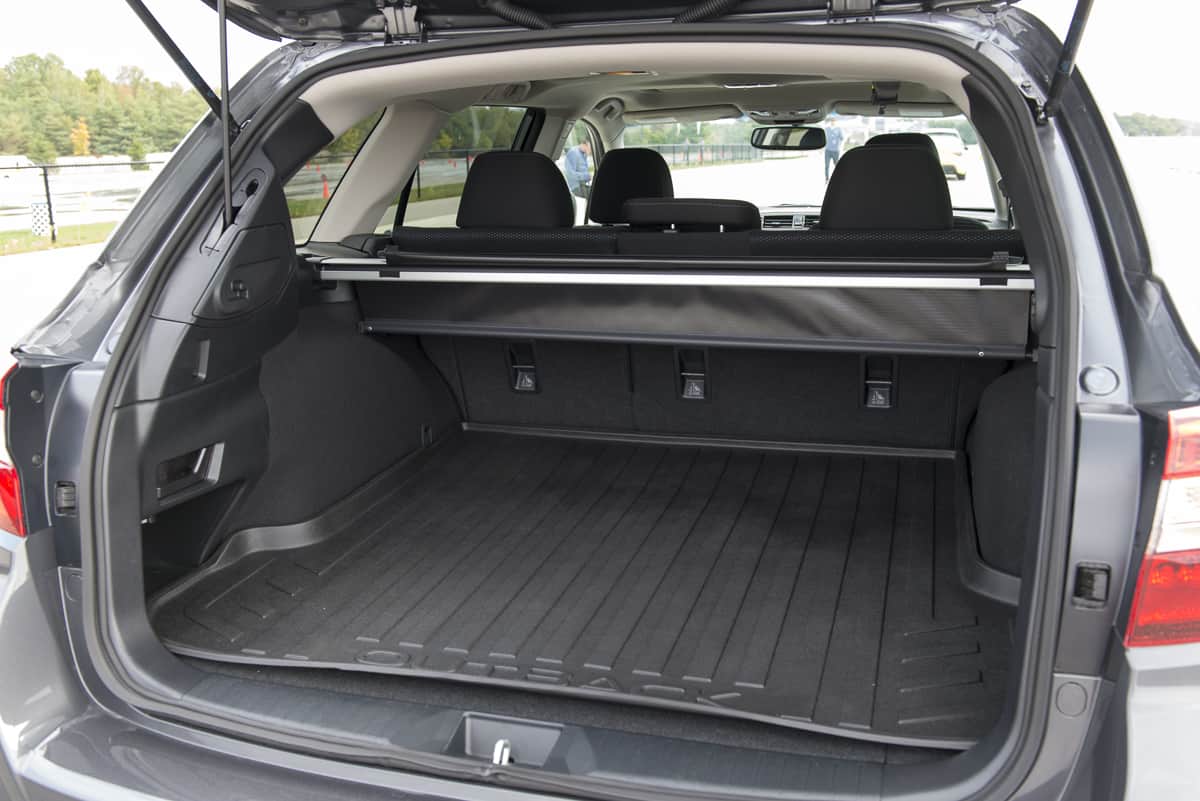 2.5L Outback Engine
Subaru's 2.5L four-cylinder engine makes 175 hp and 174 lb-ft of torque, on the low end of typical for a mid-size crossover, which is evident in the Outback's performance: Acceleration is adequate for most driving situations, but this engine has little in reserve for highway passing. Hyundai and Kia both offer a four-cylinder engine in entry-level versions of their Santa Fe and Sorento models, and while its 185 hp output isn't much of a boost on paper, it feels stronger in those vehicles.
The Outback's automatic transmission makes the best of what power there is with prompt downshifts, but the optional 3.6L six-cylinder engine (256 hp and 247 lb-ft) is better-suited to this car, and we think it's worth the $3,000 it adds to the price.
2018 Outback Fuel Economy
Our test car averaged 10.6 L/100 km over a week of city driving, while Subaru promises fuel consumption estimates of 9.4 L/100 km in the city and 7.3 in highway cruising for the four-cylinder Outback.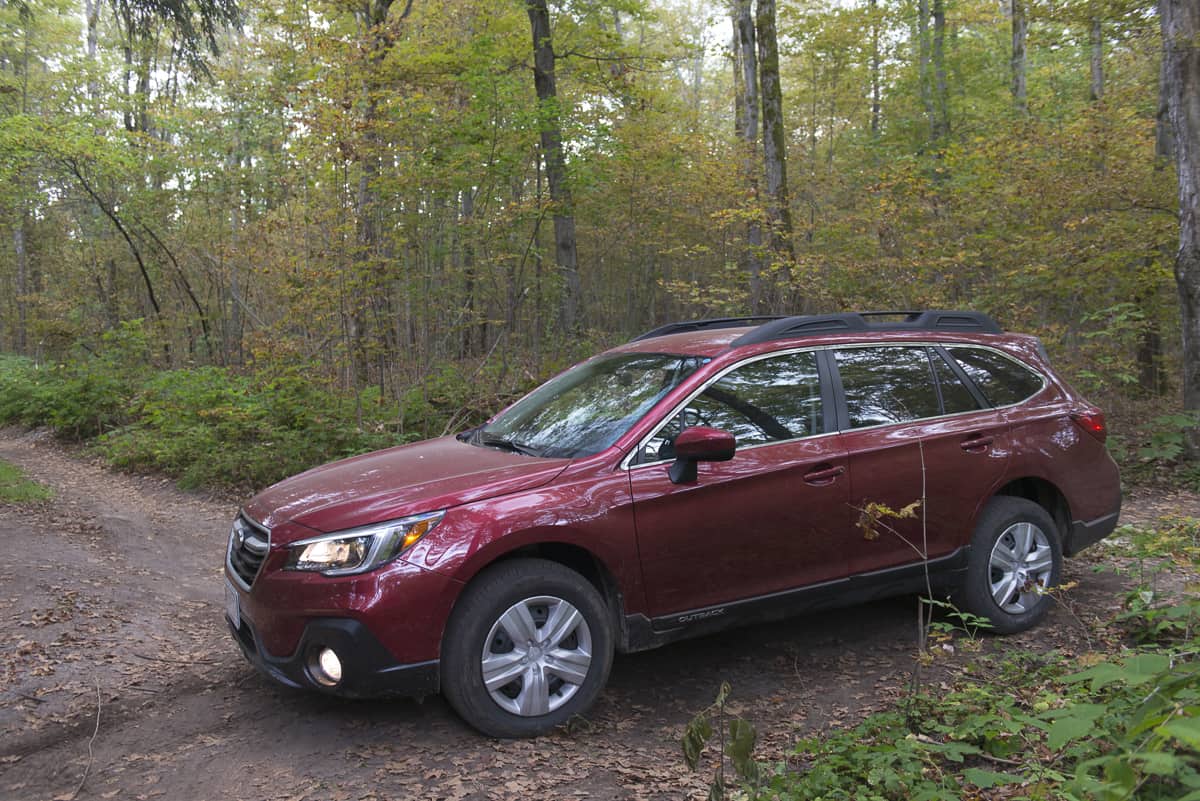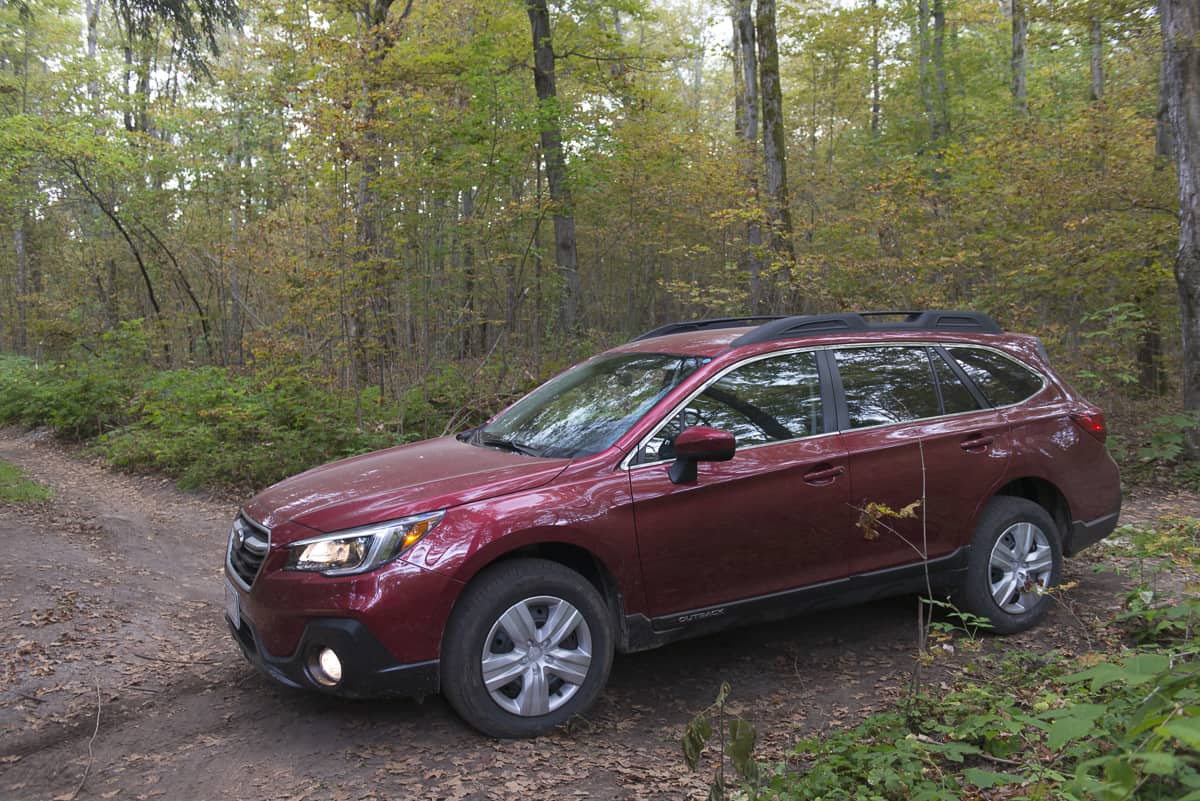 Subaru 2018 Outback 2.5i Premier Takeaway
You'd be forgiven for thinking us ambivalent toward the Outback, but the truth is we appreciate Subaru's different approach to the mid-size crossover category. Now that Subaru has the larger Ascent in its lineup, with three-row seating and the most powerful engine of any of the brand's crossovers, there's more room for the Outback to continue being an oddball alternative to its many more conventional competitors. We just wonder how much longer the Outback can cling to its station-wagon roots before the marketplace leaves it behind.
Subaru 2018 Outback Specs for 2.5L Model:
Engine: 2.5L four-cylinder

Power: 175 hp

Torque: 174 lb-ft

Transmission: Continuously variable automatic

Brakes: Four-wheel disc

Steering: Electric power-assist rack-and-pinion

Suspension: MacPherson strut (front); Multi-link independent (rear)

Fuel economy, ratings (l/100km, city/highway): 9.4/7.3

Fuel economy, observed (l/100km): 10.6

Price: US pricing, see 2019 Outback link above; C$29,295/C$39,195 starting MSRP/as tested
2019 Subaru Outback Out Now
If you're shopping for a 2019 Outback, they're on sale now in the US and soon in Canada. Overall, comparing the 2018 Outback vs 2019 things are generally the same. However, the new Outback adds a few updates including 6.5-inch multimedia and Eyesight safety now standard across all models.
Read more including 2019 Outback pricing in our news piece here.