We test out both the SYLVANIA SilverStar zXe multi-reflector halogen headlight and the
ZEVO Interior Strip Kit
OSRAM SYLVANIA is a world leader when it comes to lighting technologies, so it should come as no surprise that the company continues to strive to develop innovative systems to help consumers improve the lighting standards of their vehicles or just add a custom look.
Recently I had the opportunity to evaluate two of SYLVANIA'S latest automotive lighting products on my personal vehicle, and I am happy to report that both seemed to perform as advertised.
SYLVANIA SilverStar zXe Review

It is easy to forget how important the headlight is to the safe operation of the automobile until you experience a failure such as a burnt out bulb. The reality is that headlights represent an essential safety system that will alleviate driver stress and even help inspire confidence.
The multi-reflector halogen headlights that come as standard equipment on the Honda Ridgeline have served me well, but I will admit that I have been somewhat disappointed with their performance when I call upon the high-beam setting.
SYLVANIA SilverStar zXe replacement bulbs seemed to be a viable solution for my problem, as they have been designed to compete with High Intensity Discharge (HID) headlights with regards to both style and appearance.
The competitively priced halogen replacement bulbs utilize a special mirror tip and cobalt blue coating to give these headlights a distinctive blue shimmer that replicates that of the advanced Xenon lighting systems used on many of today's very high-end automobiles, trucks and SUVs.
Below: Right bulb closeup, A slight blue hue and a whiter tone are visible from the zXe bulb.
Below: Lowbeam, Right bulb – A slight blue hue and a whiter tone are visible from the zXe bulb (right).
The zXe bulbs emit a noticeably whiter stream of light that greatly improves visibility over that delivered by more traditional halogen bulbs like those fitted to the Ridgeline. Sylvania's literature claims that the zXe bulbs emit a colour temperature of 4200Kelvins, which represents the whitest halogen offering in the company's SilverStar catalog.
Much to my surprise, after installing the zXe bulbs in my vehicle I found that the pattern broadcast by these units while operating in the low beam setting was wide enough that I could see the full breadth of the road immediately ahead of my truck, up to and including, the shoulders.
In fact, the zXe bulbs seemed to enhance forward visibility enough that I didn't need to rely on my high beams as often as I tend to when operating with the OEM factory bulbs.
Below: OEM Lowbeam, Left bulb – The Honda halogen OEM
bulb is more yellow than the zXe replacement units.
Below: Lowbeam, Left bulb – A slight blue hue and a whiter tone are visible from the zXe bulb (left).
Overall reach was improved as well, and the light seemed better placed to cut through low ground fog and circulating road mist brought on by rain showers.
When operated in the high beam setting, the overall reach was much superior to the standard units employed by Honda for the Ridgeline. If I had to make an educated guess based on appearance alone, I suspect that the gain may represent an improvement as much as 20-percent.
The bulbs meet all DOT requirement and carry a one year replacement warranty. The MSRP for the SilverStar zXe twin pack is $69.99.
To learn more about SYLVANIA SilverStar zXe the visit here.
PROS:

Brighter than traditional halogen headlight bulb designs.
Stylish cobalt blue shimmer adds curb appeal
One year exchange warranty

CONS:

Higher output leads to shorter life span
Premium price
---
ZEVO Interior Strip Kit Review
The ZEVO Interior Strip Kit is an easy to install LED accent lighting system designed to offer consumers a cost effective way to dress up the passenger cabin of their vehicle for that custom look.
The kit is comprised of two 12-inch LED strips comprised of six lights each. These adhesive backed flexible strips can be mounted virtually anywhere you can find a clean, flat surface.
I suspect that most buyers will mount the ZEVO strips discretely under the dash to illuminate the foot-well, but I chose to mount them beneath the rear seats of my Honda Ridgeline.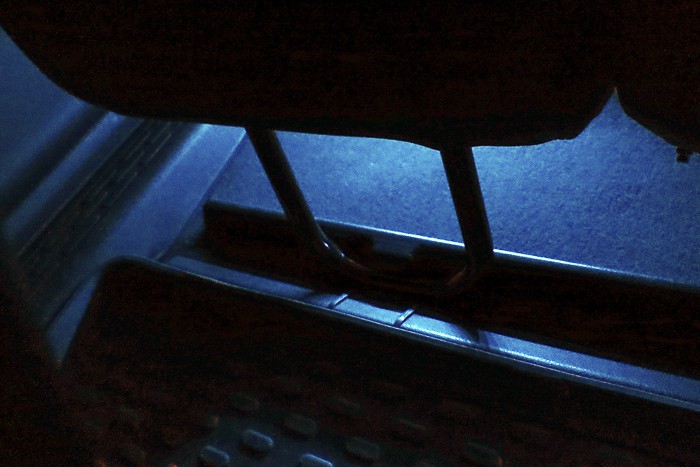 Once mounted ZEVO lights can controlled by way of a wireless remote. With the simple touch of a button the user can select from 16 different colours and five lighting modes- flash, strobe, fade, smooth, solid.
The operator is also able to adjust the brightness of the six LED units and the speed of the four active operating modes.
Call me boring, but I felt the solid white setting worked best for my needs, as the two strip lights provided a convenient way to cast a soft light over the floor surface of the rear passenger cabin of my truck.
I tend to store small items beneath the rear split bench seat, so having a durable and efficient lighting element illuminating the space has made my life much easier when I need to access the area while on the fly at night.
The ZEVO kit can be hard wired if you plan to install the lights permanently, but a 12-volt car adapter is also included if you are uncertain about placement or are looking at them as a temporary solution to a lighting problem.
The ZEVO system has been designed so that has many as 20 of the individual strips can be connected together for larger applications.
Installation was quick, and relatively painless, as I decided to use the 12-volt adaptor rather than dealing with the more involved permanent application.
Priced at a very reasonable $49.99, the ZEVO Interior Strip Kit is well worth a look if you are looking to add some flare to your pride and joy.
Gallery Below: The ZEVO Interior Strip Kit offers users the choice of 16 different lighting colours.
VIDEO: How to install the SYLVANIA ZEVO Interior Strip Kit:
PROS:

Easy to install.
Highly adaptable due to adjustable settings and modes.
Brings custom look to vehicle interior for a very reasonable cost.

CONS:

Connection cables are very short (36″), which restricts placement
Remote operation requires visible placement of a receiver cable.