Editor's Note: All photos of the GT AWD trim
I turned into the dealership and immediately felt a pair of eyes on me.
As I parked the crossover I was driving, a salesman slowly walked over. He wasn't looking to make a sale; he wanted to check out my ride.
"It's pretty good looking, eh?" he said. "It kind of looks like a bunch of other vehicles mashed together – it's got a bit of the RDX, X3, Q5…it's really nice, other than the front grille!"
I was driving the Mazda CX-5 that day (and had to go to a competing dealership for another story I was working on.) The salesman could have compared the CX-5's design to any other crossover on the market, but all three he mentioned fell into the luxury segment.
And he's right – it's gorgeous vehicle. (Well, he did stop short of praising it entirely. But he isn't the first to disparage a Mazda grille – the Mazda3's "smiling" frontend certainly has its detractors.)
Strong lines rip across the hood creating a powerful image. But finessed indents on the side of its body and slight curves on the backend provide balance. It's all part of Mazda's "Kodo"-inspired design. The CX-5 may start at $22,995, but it looks like vehicles that go for twice its price.
I tested the GS FWD model – the middle trim level (AWD is also available on all trims) – which brought the starting price up to $28,045. It's a well-equipped trim including a power moonroof, blind spot monitoring system, heated front seats, 17-inch alloy wheels and rearview camera.
The seats, which utilize "premium cloth" (I guess if you get the base GX trim you have to slum it with normal cloth), are very firm. Firmer than I expected, at least. But they're quite comfortable. There's little give when you sit down, which feels a bit odd at first, but over long drives I appreciated the support.
The CX-5 may start at $22,995, but it looks like vehicles that go for twice its price
When not ogling over its design, or appreciating its seats, the CX-5 can also transport you places. Go figure. Of course, one of the big stories is that the CX-5 is Mazda's first vehicle to use the automaker's full suite of SKYACTIV Technologies. That means an all-new 2.0L engine, six-speed automatic transmission (a six-speed manual is standard) and a lighter but more rigid platform. Mazda created this all in the name of fun efficiency – creating a vehicle that not only achieves impressive fuel numbers, but that's also fun to drive.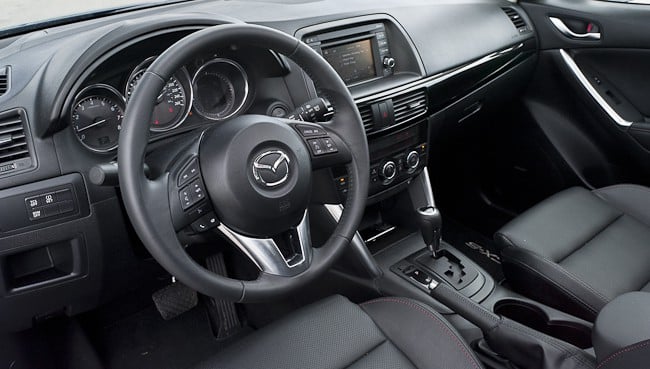 Well, it is quite efficient. During my week with it I averaged 7.2 L/100 km. Pretty good for a five-seat crossover – I had a couple passengers for most of my driving and a decent amount of luggage in the cargo space as well, so it certainly wasn't setup for the best results. Yet, it achieved just that.
Cargo space is quite adequate at 966 L of capacity, and 1852 L with the rear seats folded down. And, unlike some other vehicles, getting the rear seats to fold is simple. Maybe too simple. It uses a one-touch system – so, yeah, it just takes one touch on the lever and they're down.
Space in the rear seats, surprisingly, is good enough for adults. You probably don't want your friends back there for too long – it's not Escalade spacious – but it's fine for the everyday stuff, and quick weekend getaways.
Handling is Mazda-esque. Pinpoint steering around tight corners, very nice steering wheel response/firmness, and a planted ride that doesn't make you question its stability. All expected from Mazda, but often hard to combine all at the same time.
Power, though, is lacking. With 155 HP and 150 lb-ft of torque, it's great for everyday city driving. But I felt a lack of pull when going up steeper hills, and when I needed it to get up to highways speeds quickly. Certainly disappointing, but it delivers the way it "should" in its price range – it's a constant reminder that it's not a 40K vehicle (when looking at it from the outside at least).
That aside, though, the CX-5 ups the level of efficiency and design we'll expect from crossovers in the near future. Well done.
…a vehicle that not only achieves impressive fuel numbers, but that's also fun to drive

Learn more – Mazda CX-5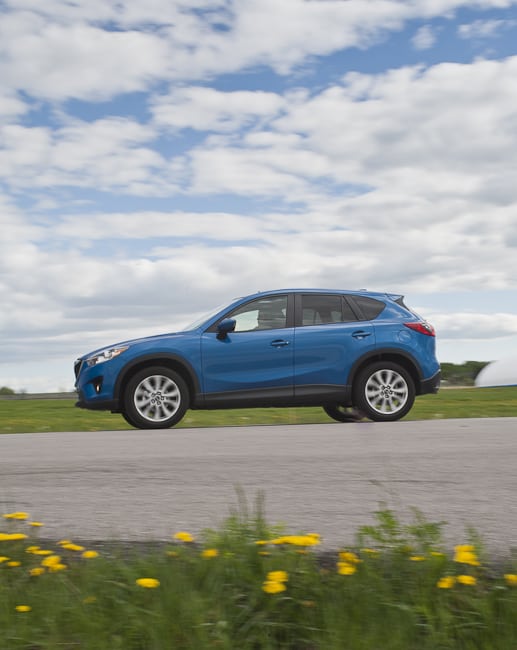 PROS:

Killer design
Firm ride
Fuel efficient

CONS:

Lacks power for uphill scenarios
Note: All photos of the GT AWD trim: