Snow and Porsche work well together (really). We review the 2009 Boxster with the 7-gear PDK
Opting for a 2009 Porsche Boxster as the vehicle of choice for a weekend trip to Banff, Alberta, amidst the worst snow storm to hit Calgary in nearly a year, may seem like a really bad idea. Perhaps even outrageous or ridiculous, particularly when your buddies are all sporting SUVs and 4x4s. But for this giddy journalist, it was all smiles.
Also check out: All Porsche Boxster Reviews
The fact is Porsche products, including the entry-level'09 Boxster starting at $58,400, are very capable, safe winter machines. They're engineered to be driven, not sleep in the garage. It's like placing a gifted child in special ed. class. You just don't do it, and unfortunately, most Porsche owners do exactly that, depriving their vehicles of its full potential.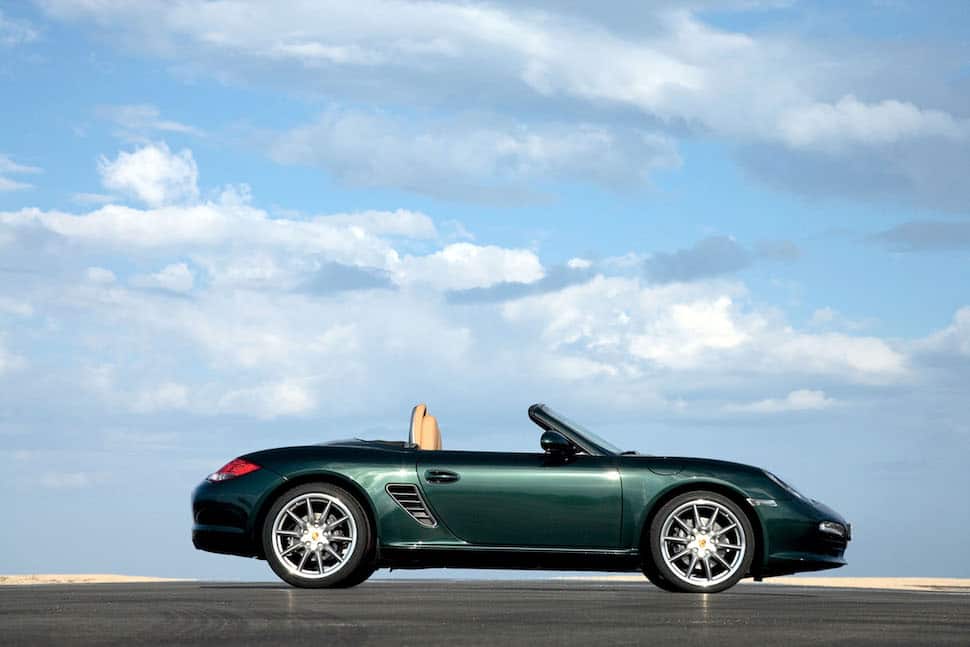 2009 Boxster Loves Snow
Fortunately, Porsche Canada is working hard to encourage owners to leave the insurance running year round, invest in performance winter tires, and take full advantage of their products' true capabilities, no matter the weather. As Joe Lawrence, President and CEO of Porsche Canada, puts it, "There is no rule against driving a Porsche in the winter! To the contrary, a Porsche performs strongly and safely whatever the season… While visiting Porsche dealers around Canada, I was amazed to hear how many owners put their Porsches away for the winter."
Granted, the Boxster's rear-wheel-drive may add skepticism, but when equipped with the right tires, this mid-engine car handles astonishingly well with amazing traction control coupled with the added benefit of the 7-gear PDK transmission's quick shifts lending more or less torque and control as needed (and for those who are still on the fence, Porsche now offers 13 all-wheel-drive models in the 911, Cayenne, and Panamera ranges). Winter driving is empowering and adds a new level to the Porsche experience, not to mention a few extra months of driving! Check out the Winter Sports microsite at www.porsche.ca.
Power: 2.9-litre, 6-cylinder engine produces 255-hp
The 2009 Boxster's 2.9-litre, 6-cylinder engine produces 255-hp and 214 lb/ft of torque. Paired to a standard 6-speed manual transmission with dual mass flywheel. The new double clutch 7-speed PDK version, as tested, is a $4660 option. Last years Boxster saw a 245-hp engine with a 5-speed standard tranny, so these upgrades are a welcome addition. Again, the mid-engine design equates to a well balance ride (not to mention 2 trunks, including a spacious one in the rear).
Exterior styling is notably different than the previous year (and looks notably sexier and sleeker than the 2008 model), with perhaps the LED front/rear headlamps the most obvious. The front and rear fascias are also redesigned lending a more refined look. The new headlights are available with the optional BiXenon Headlight with Dynamic Corning Package for $2130, as on this tester.
Though the top was never dropped, it was surprisingly unnoticed when cruising at highway speeds en route to Banff—virtuously no noise, no vibrations or impact on handling, or other annoyances that may come with softtop roadsters; feeling more like a hardtop Cayman, for all intents and purposes (and that's a pretty big deal for those discouraged by a convertible and the impact it may have on drivability).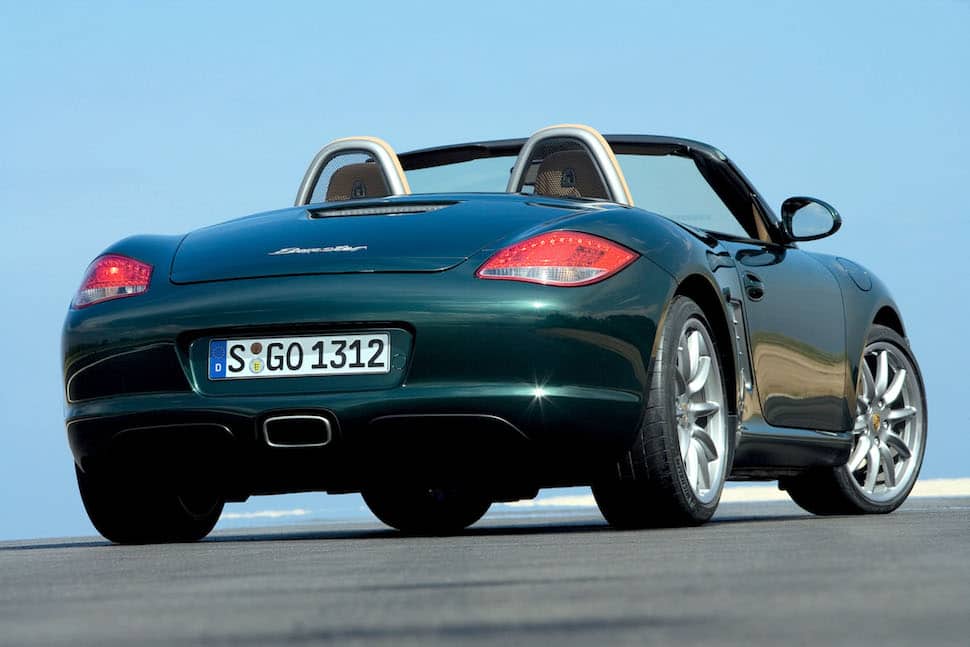 Boxster Wheels
Standard wheels include 17" alloy wheels with 205/55ZR17 tires up front and 235/50ZR17 in the back. This tested model came with a very worthy $1690 upgraded 18" Cayman II wheel package, wrapped in Michelin Alpine Pilot PA2 winter rubber (priced separately).
The interior is comfortable, remarkably spacious, and screams nothing that says 'entry-level.' As always, centre console/multimedia is laid out perfectly in a tight, limited area. Some of the buttons have been reworked from last year and for the better.
Overall, the extra 10-hp, standard 6-speed, and updated exterior styling cues are a few things that set the 2009 Boxster apart from the previous year, raising the Boxster's' base model' stock considerably, and in all the right places. You may not realize this now, but the 2009 Porsche Boxster is a perfect year-round sports car—drop the top in the summer, and shred the roads in the winter. Just winterize it, slap on the right tires and you're good to go!
2009 Porsche Boxster Price and Trims
The Boxster is available in 3 trims: Boxster, Boxster -S, and now the all-new 2011 Boxster Spyder which recently debuted at the L.A. Auto Show and hitting Canadian dealers in February 2010 for $72,900 CAD.
Learn more about the all-new Porsche 718 Boxster