That's how many motorcycles arrive at Mark Blundell's Calgary-based boneyard. Sometimes, all they need is a little love and nurturing and they have a whole new life. Consider this early 1980s Honda XR500.
"It was a $50 purchase," explains Blundell, owner of TJ's Cycle New and Used Parts Emporium. "It looked like crap, but it still ran. My heart bleeds for some of these vehicles, and I didn't want to put it in the back yard for breaking – it needed to be a project."
Casting about for ideas, Blundell became enthused after showing customers online photos of speedway motorcycles – apparently they'd never heard of the sport. Speedway, widely popular in Europe, has bred a distinctive style of motorcycle made solely for sliding left around a dirt track. Machines have a single gear, no brakes, and a frame with little trail in the neck. According to FIM regulations, a speedway bike must use a single-cylinder, four-stroke engine not exceeding 500cc's equipped with one carburetor and one spark plug.
"I was inspired after showing them the pictures," Blundell says. Of course he was. Honda's XR500 engine was ideally suited for a road-legal speedway replica. "It was always more about building an art project than it was building a practical ride," Blundell admits, and adds, "It's just about creating something different, as opposed to the Orange County stuff."
First and foremost a machinist and custom motorcycle builder, Blundell is a raconteur who has also washed windows, sold cemetery plots, and worked with a chiropractor as a massage therapist. Born and raised in Coventry, England, he moved to Canada in 1988, stopping first in Windsor, Ontario before heading west to the mountains in 1989. In 1998 he purchased TJ's Cycle, and he treats the environment like his playground.
In the shop Blundell peeled away the XR's frame, leaving the engine attached to its front and rear plates. Then, he set the lump in his frame-building jig and simply guessed at the proper angles. An aftermarket Harley-Davidson neck, cut down to fit a late 1930s BSA girder fork, was set in the jig. Tubes were bent and welded together, forming a rigid frame utilizing the XR rear axle plates cut from the original swingarm.
"It's just about creating something different, as opposed to the Orange County stuff."
With the frame out of the jig, Blundell wandered into his boneyard and found a mid-1970s Honda XL 21" front wheel, complete with speedo drive. Axle slots in the BSA girder were enlarged and a brake plate-mounting block fabricated. Front and rear fenders are from unknown donors, but they would have started life on some kind of Japanese motorcycle. A 19" rear wheel with disc brake is adapted from a Yamaha YZ125 of unknown year. Both front and rear tires are Bridgestone Trailwings. A large rear sprocket helps keep the speedway-style aesthetic, but Blundell had to lower the tooth count on the front drive.
An aftermarket signal light on the front fender, retrofitted to function as a headlight, keeps the bike road legal. Taillight and brake light are a series of LEDs across the licence plate, while front and rear amber lights provide indicators. Blundell ordered the Jawa fuel tank online, and it fit the frame exactly. "We must have got all of the angles just right for it to fit that well," he laughs. Saddle was from an old project Blundell had never finished, so it was recovered by his good friend Andrea Briggs of Powersport Seats in Calgary and mounted on a rigid bracket. Aftermarket dirt track handlebar bristles with British-style brake and clutch levers and electrical controls.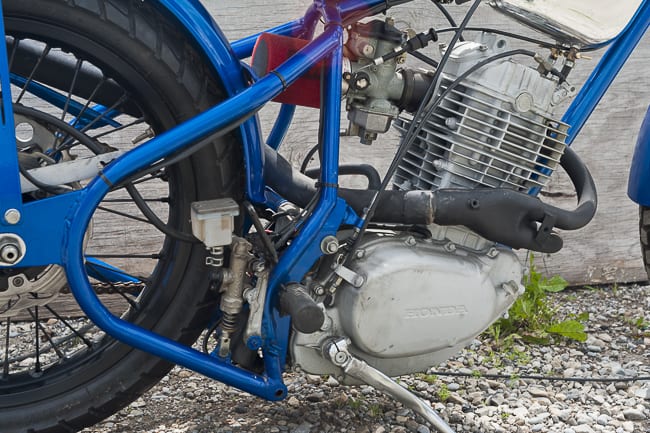 On true speedway machines (which only turn left, remember) the exhaust pipe comes down and hangs low on the right hand side. Because Blundell wanted to turn both left and right, he tucked the high pipe behind the engine and through the frame rails to exit high on the left. The chainguard, visible just below the pipe, is the front right trim from a 1986 Jaguar XJ6 bumper.
Shift linkage mounts to a braced-up sprocket cover on the left, while the kickstarter doubles as a sidestand on the right. Blundell fabricated a heel-operated brake pedal to clear the kickstarter's arc. Engine was cleaned and detailed, but it never came apart as it ran clean and strong. Nothing on the minimalist build was sent for chrome. Everything was powder coated blue at Top Gun Coatings in northeast Calgary.
"It rides like a right bastard," Blundell says of his creation. "It's snaky because its frame geometry is set up to go around left hand corners permanently, and it doesn't much like the straights. It's twitchy, so I don't ride it far. But like I said, it was more an art project than a practical ride."