Found in Translation – Part 2: Our Top-13 Other Vehicles of the 2013 Tokyo Motor Show
Also check out: Found in Translation 1 – Our Top-13 Vehicles of the 2013 Tokyo Motor Show
Honda MC-β
This short-distance EV commuter is also, effectively, a scooter with a roof and an offset back seat. I ran this bad boy through a quick pylon course at Honda's Tochigi and came away impressed with its ability to generate g-forces.
Honda F90 Tiller
Arguably, the meanest looking machine on the showroom floor, the Honda F90 Tiller is fitted with an air-cooled diesel engine and looks capable of running roughshod over even the trickiest slice of terrain. (Steel-toe boots not included.)
Honda RC213V
The machine with which Marc Marquez captured the MotoGP World Championship in his very first year at the very top level of motorcycle roadracing. The RC213V allowed the young Spaniard to produce physics-defying rides all season long.
HINO 500 GT Dakar Race Truck
Many years ago, I rode shotgun in a similar truck from Amsterdam to Marseilles, an experience that could fuel the next Jason Statham blockbuster. This thing makes the Hummer H1 look like a Buick Encore—a diesel engine with close to 1500 lb-ft of torque seals that particular deal.
HINO Pancho Mini
Leave it the country that gave the world Pikachu and Hello Kitty to produce the cutest bus since the Scooby Gang's Mystery Machine. The HINO Pancho Mini features an expansive glass area, a flat floor with low ride height, ramps that come out the side and back entrances, and an all-electric powertrain.
Kawasaki "J"
Looking like it came straight off the set of the next sequel to Tron, the three-wheeled Kawasaki is powered solely by a battery cell and features two different riding positions for more relaxed or sportier riding. The "J" was one of the outright stars of the Tokyo Motor Show—on two wheels, three wheels or four.
Mitsubishi FUSO Canna
According to the press packet, the Cute Truck Project was initiated by female employees of Mitsubishi FUSO who wanted to create "cute trucks for hard-working women." Again, only in Japan could this type of design make perfect sense.
N
I've no idea what this thing is because all the press literature was in Japanese and none of the congenial gentlemen in the both spoke anything but Japanese. Still, it's got a funky-dorky vibe going for it, no?
Toyota i-Road
One of a handful of personal mobility devices presented by Toyota, the i-Road looks like a scooter with a roof but is much more than that: Its rear wheel leans into corners to aid in carving corners and maintaining stability.
Yamaha Bolt Café
Powered by a 950cc air-cooled V-twin engine, the Yamaha Bolt Café prototype made a big impact in Tokyo through sheer style alone. The café racer look harkens from the past, but the bike's fuel injection and customization options are 21st century all the way.
Yamaha PES1 (right) & Yamaha PED1 (left)
PES1: This all-electric prototype sport bike gave the Kawasaki "J" a run for its money and drew plenty of attention from passers-by. For good reason: The PES1 screams futuristic with its swappable battery pack and hybrid monocoque/frame.
PED1: The off-road version of the PES1, the PED1 also features an all-electric powertrain (called the Yamaha Smart Power Module) and a transmission with both manual and automatic modes. The lithium ion battery pack clearly packs a punch—both versions of this e-bike weigh less than 100 kg.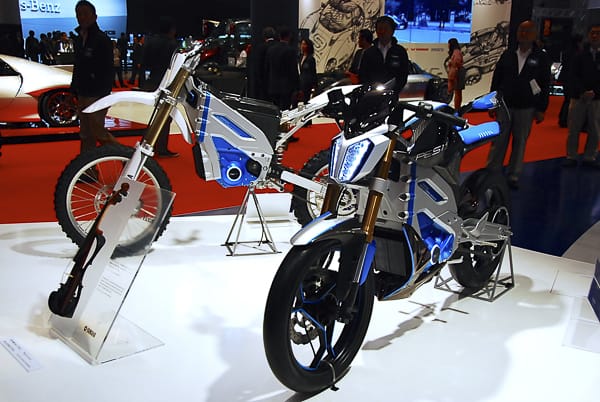 ZieD α1
While this thing looks like some kind of torture chamber on wheels, it's actually a two-seat vehicle designed specifically to help handicapped folks get around. Don't let its crude exterior design throw you for a loop—the ZieD boasts racy features including aluminum wheels, a double-wishbone suspension system and 4-wheel steering.
=