We take the Aspen to Kokanee – the 2008 Chrysler Aspen is the perfect Dude's golf getaway chariot
That's right. A 5.7L V8 SUV. They still make these things. Despite record oil prices and gas expected to hit $1.50/L in a couple months, manufacturers continue to roll them out. And from the looks of it, they're selling too. In the two weeks I had the Aspen, I saw several others cruising the streets (mind you, we're talking boom-town Calgary here).
But the Chrysler Aspen truly epitomizes what a Sport Utility is and always has been—a luxurious, arguably invasive, gas-guzzling behemoth that makes no apologies. And why should it? Look up 'SUV' in the dictionary and you'll find a picture of the .
The exterior styling is classic for this segment: overall big and beefy with splashes of chrome and just enough curvature not to be confused with its CUV cousins.
The fenders roll out to house the large 20" aluminum chrome clad wheels wrapped in P265/50R/20 BSW all season tires (optional feature), with a 17" steel spare wheel. The front end is clean and simple, with a large bumper housing a couple inset fog lamps, and a massive grill of chromed horizontal slates with a subtle Chrysler emblem embedded up top. The body colour running boards run parallel to strips of chrome on the sides. Above are large side mirrors with memory control.
The Aspen looks just as gorgeous from the back: a flat rear deck lid, clean straight lines, and squared taillights. The remote open/close function of the rear door was probably the most useful function on our trip. Or perhaps it was simply the coolest, whether opening it from afar as we approached the rear in our golf cart, or remotely operating in from the second floor of our building to allow my passengers access.
Also check out: The 2015 Chrysler AWD and 4WD Winter Driving Event
One thing's for sure, the Aspen got a lot of attention. Whether driving in Calgary or on the highway. But nowhere more than the golf resort parking lot, where the 'older' guys showed the most intrigue. On a few occasions, while grabbing my clubs, I was approached by a few groups of these Boomers. Hovering the Aspen, wondering what it was, telling me they're in the market for an SUV. Moments later, they were inside, checking things out, presumably impressed. My friends, average age 32 or so, would always question the fuel efficiency first, whereas these older dudes could care less from the looks of it. Big performance, big styling, big interior, big everything seemed most important. So it was obvious, to me anyway, that there's still a market for the full size SUV.
The interior is spacious, as you can imagine.
The base price for the Aspen is $49,995, and some of standard fittings include A/C, power sunroof, power 8-way driver seat, steering wheel with audio controls, power locks/windows with one-touch up-down feature. Audio ensemble including an AM/FM CD/MP3 radio, Sirius Satellite radio with one year service by Sirius, all paired to Alpine 8-speaker system.
Notable standard safety features include front and side airbags, anti-lock 4-wheel disc brakes, a tire pressure monitoring display, illuminated/keyless entry, and an electronic stability program.
My press loaner, priced at $56,795 (including all taxes, and a bunch of other upgrades including the Trailer Tow Group package for $775, and Popular Equipment Group II package at $1725) includes some of the following optional interior equipment: A/C with Dual Zone Control (driver and front passenger controls), heated front seats, leather trimmed 1st and 2nd row seats, a 368-watt amplifier and Alpine subwoofer, security alarm. We also had the GPS navigation package including a rear back-up camera ($1900 option).
I traveled with a couple old friends. Mark Zemenek, a regional marketing manager for a nation liquor distributor. He's 6-foot-something, and slept in the 2nd row seating, laying flat mind you, so it's safe to say there is plenty of room there.  Mike Cejalvo, a Civil Designer/Engineer, on the other had, was wide-awake, making note of all his surroundings. And like most engineers I know, making note of the details and how things could be better.
Mike's gripes include: manual lumbar support (I have to agree. The lever is located on the inside of the seat; you need to wedge your hand between the seat and centre armrest console, proving near impossible to access. And it's manual?); too many vents; not much room for coins, maps, etc.; and gear shifter on the steering column gets in the way of the radio control use.
Again, there's plenty of room in the back. The 2nd row includes 40/20/40 split reclining seats. The 3rd row is 80/20, and is fairly room with sufficient legroom for the smaller passengers. You'll get a better idea of rear cargo below:
Below: 3rd row seating & rear cargo space in the 2008 Chrysler Aspen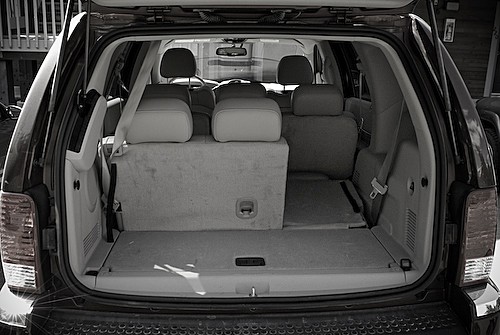 3rd row down: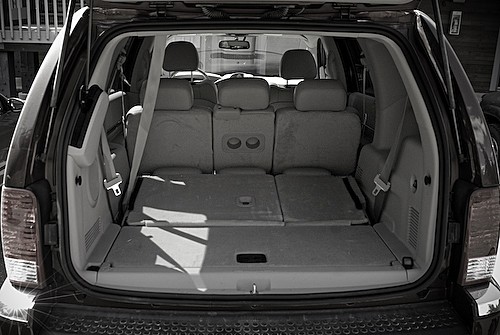 3 sets of clubs laying flat, Mark's incredibly huge dufflebag for a short trip, more bags, more stuff, and my Chucks: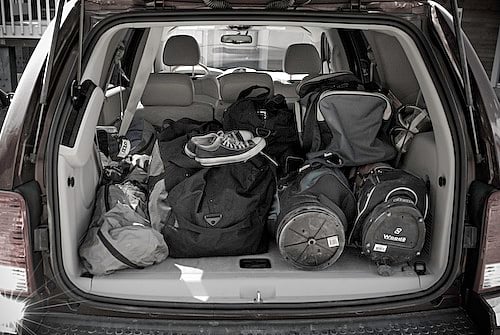 The long, windy road leading up to the resort was breathtaking. But we had a 2pm tee-time to hit, so I hit the gas. The Aspen handles remarkably well. Braking was good in the corners, and the V8 kicked in strong when pulling out of the twisties. Visibility was exceptional, including out the rear. Overall, the Aspen handled really well for its size and proved responsive. The passengers found the ride comfortable also, not too stiff. The power 8-way driver's seat could really use better lumbar support (opposed to the two settings: flat or inflated), especially for our 6-1/2 hour drive each way. The steering wheel felt secure in the hands; with groves for the fingers, and the upper half of the wheel in wood looking sharp.
The trip was fun, the vehicle was perfect, realizing the Aspen is as grand as the gap that separates its target market to the SUV naysayer—it's a lot of fun, but not for everyone. Either you love it or you don't…much like golf.
—————————————————————————————————————
Visit here for or more info on the 2008 Chrysler Aspen
(Special thanks to Jack Sulymka, Regional Communications Manager at Chrysler Canada Inc.)
—————————————————————————————————————
Our 2008 Chrysler Aspen Journey enroute to golf bliss in the mountains