A long journey for one Triton motorcycle owner, fulfilling his bike ownership dreams.
A collection of café racer motorcycles invaded Sturgis last summer when the Ton Up! display rolled into the veritable v-twin bacchanalia. According to co-curator and blogger Paul d'Orleans, aka The Vintagent, "…I heard nary a peep of criticism for bringing an 'it ain't a Harley' collection to Sturgis for Bike Week, and when the show was up, even the most inebriated accidental viewer was agog at the display of beautiful bikes." Café culture, it would seem, has arrived.
Many of those café racers at the Ton Up! exhibit pay homage to the classic Triton – a Triumph engine in a Norton frame – and Neil Gordon's machine epitomizes the genre.
Raised on a farm near Okotoks, Alberta, Gordon says he felt stifled by the daily chores. Since he was a child, he'd longed to be an artist and proved talented with pencil and paper. Critically, when he was 17, Gordon saw The Great Escape. The Steve McQueen jump-scene soon gave him another interest, and in the spring of 1969, while still in grade 12, he found a $500 1964 Triumph Bonneville.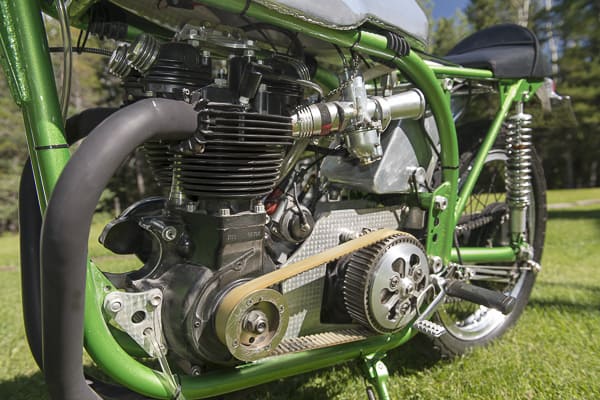 Learning to ride on the gravel roads around the farm while there was still snow in the ditches, Gordon says the Triumph fit him well and was easy to ride. By the end of summer, though, the top end had worn out. "I had a copy of Nicholson's Modern Motorcycle Mechanics and their mail-order catalog," Gordon says, "and I was going to fix it myself." With new parts and fresh machining, Gordon got the engine back together and it ran well.
Oddly, he wasn't that curious about engines. "I still wanted to be an artist," Gordon says. "Bikes were an escape for me, but the mechanics of it all just came naturally." Motivated perhaps by the film Easy Rider, Gordon decided a Harley-Davidson should be his next bike and bought a 1956 Panhead from Kane's in Calgary. He was never a fan of sissy bars and king and queen seats, though and he built a bobber out of the fully decked Harley. Thousands of miles were added to the bob job before it was written off in an accident.
While searching to replace the Panhead, Gordon discovered Avenger Sports, a Calgary Brit-bike breaking shop. From them he bought a customized 1952 Triumph Thunderbird and also got a job repairing and rebuilding British engines. He was in the middle of a four-year painting program at the Alberta College of Art and Design, but he'd show up for work after school and on weekends. He also continued to build bobber-style Brit bikes, until questioned by a leather-jacketed English rocker.
"'Why are you building rigid-frame bikes, when you've Norton featherbed frames up there – build a Triton!' he said to me," Gordon recalls. "'What's a Triton?' I asked." A blend of Triumph engine in a Norton frame, the Triton was the café racer to build, and while working towards crafting his own Gordon discovered the motorcycle on these pages. It was for sale, and a deal was made. The 1952 Norton Manx frame was fitted with a non-running 1965 T-120 unit-engine and a pair of Amal GP2 carbs. Gordon soon had the bike running and in 1979 rode it all summer. He longed to replace the unit engine with a pre-unit set-up, though.
Over the winter Gordon fabricated new engine plates and installed a highly modified Triumph 6-T engine with a 1957 gearbox filled with 1973 five-speed internals. A hand-lettered alloy fuel tank went on, and he made his own seat and put clip-on bars on the Roadholder fork. This all stood him well until he encountered some landscaping sand on the Glenmore Trail on-ramp in 1993. He laid the bike down and seriously scuffed it up.
Busy at the time with a sign shop and painting sets for Hollywood (his work can be found on the storefronts in Eastwood's Unforgiven), the Triton got parked. In 2005 Gordon pulled the Triton out again, and decided to emulate the Francis Beart Manx Nortons. Beart is famous for racing and tuning British machines, but is most closely associated with his Nortons, finished in Ludlow green and tricked out with lightened components. "There's a frankness and an honesty to Beart's machines. There are no embellishments, and there's not an extra ounce on them that won't get you down the road."
Rather than running big bores, big cams, big valves and big carbs – which is the American way of gaining speed – Gordon resorted to 'the olde English' style of hopping up an engine. A 1968 Triumph crankshaft – balanced to 80 per cent — and rods went in the 1952 T110 cases, and cylinders bored to .060" slid over 11:1 pistons. The head has been opened up with 32mm intake ports, and is mated to the cylinder without a gasket. Gordon laps head and barrel together to seal, and picks up half a point on the compression ratio without using higher dome pistons.
There's more that can't be seen. All of the rocker arms have been meticulously narrowed, the tappets and valve adjusters hollowed out, cam wheels look like snowflakes drilled out with holes and gear faces narrowed from 1/2″ to 3/8". Gordon does all this work at home on his lathe and mill
From John Oland at Motoparts in Edmonton Gordon bought a 1968 Norton 4-speed gearbox, mounted with his own engine-turned alloy plates. Belt drive and clutch are a Tony Hayward (U.K.) kit, and the alloy gas and oil tanks and two-into-one exhaust are from Unity Equipe. Instead of Beart's flat Ludlow green, Gordon mixed and sprayed the frame metallic green. He's running 32mm Amal Concetnric carbs, and says the bike will now idle, but still has the same basic response it did with the GP racing instruments.
Gordon's lived café culture since 1979, and he wouldn't have it any other way. "It won't take on a modern Japanese sport bike, but it can still show them a thing or two in the corners."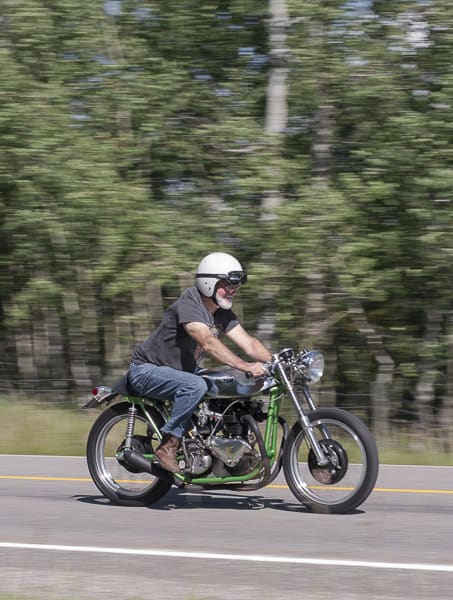 Triton Gallery: