Old-school Nissans age well. This 1992 Nissan 240SX SE with a 1998 Silvia SR20DET swap is no exception.
There's nothing like nostalgia to bring back fond memories and good times, like a classic Biggie track or the smell of sweet perfume. We see so many builds throughout the years that might be hot for a minute but a season later the style or trend has hit the recycling bin. Then there are individuals like Jeevs Sidhu who opt for a build that will always buck the trends, who would rather go with a project that will endure the times. The Calgary native has shown a unique sense of style and it shows with his 240sx build, no matter the age of the car he would hope to keep things in fashion. Jeevs set out to build his car with the same prestige as famed S13 chassis tuner/driver Koguchi, but with his own twist to it. "Koguchi always has the best steeze" Sidhu claimed when asked about his build.
You might like: Nissan S14 / 240SX with RB26 swap
The beginnings: a 1998 Silvia SR20DET
The iconic build began with the heart of the beast. Sidhu had imported a SR20DET Red Top which come's standard issue in mid to late S (early, and blacktop was late) chassis. Following some hard drift and track sessions the tired Red Top was relieved of its duties for a crispy Black Top SR20DET found in the big brother S14. Prior to swapping the motor Sidhu wanted to extract the most out of the power plant as possible, beginning with a Garrett GT28-60RS Turbine, mated with a Tomei Expreme Manifold. Gases were expelled through a Circuit Sports downpipe and Apexi N-1 Titanium Exhaust System. To increase airflow a Greddy Intake manifold with a big bore throttle body lead to a Greddy front mount intercooler. Once the engine was re-assembled a wire tuck ensued including fuse box relocation, those with s-chassis know this is not an easy task to partake.
Styling and Footwork
In Koguchi fashion, Jeevs wanted to have a clean yet recognizable aero package, G-Grow would be the face of 240sx matched with OEM Kouki side skirts, rear valence, wing, tail lamps with a carbon Kevlar garnish as the cherry on top. Before being coated in a metallic black skin the front and rear fenders were pulled and prepped by Sidhu himself. This would allow for aggressive fitment and stance. "Finding a good wheel and tire combo that wouldn't make my car drive like garbage wasn't easy, it took time and money" said Jeevs. After going through several sets to dial in the car to his liking, the 240sx sports 18 inch dual toned SSR Professors.
Handling
Handling was one of the most vital aspects of the build relying on Stance Dampers, Tein tie rods and a whole array of bushings and braces. Matched with a Safety 21 roll cage the car was rigid and ready for track duties or daily operation to and from work. With the additional power added, braking was the next area to address. A Project Mu 4 pot big brake kit was employed to share the duties with Z32 2 pot rears.
Cabin
To round out the build two Bride holding monsters were placed in the cockpit, along with Origin Lab carbon fiber rear seat delete. Tired of the worn out OEM lighting inside the Nissan, Sidhu went through the necessity of replacing or wiring in LED bulbs, from the climate control to the Nismo cluster with a wideband 02 gauge built in. Supermade floor mats and a Sparco steering wheel complete the interior.
Takeaway
The objective of this build was to have a daily driver that would break necks while looking at home at the track. Sidhu has easily achieved all of the above and feels he has a complete package sitting in his garage. Little details and some hard work have allowed this iconic chassis to always be one that many would envy, through the years this 240sx will never show its true age.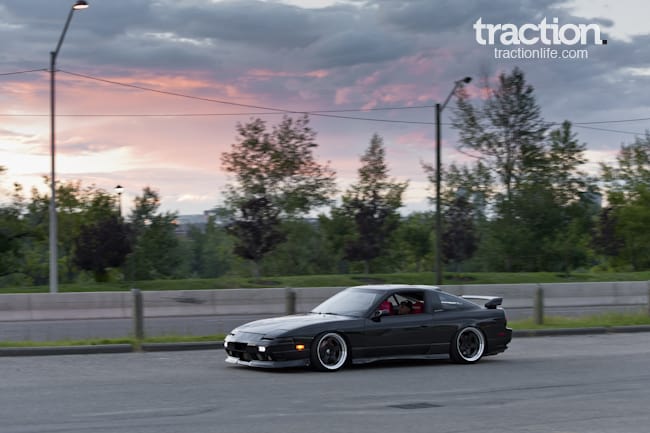 1992 240sx SE Spec Sheet:
Paint: Porsche Basalt Metallic Black
Engine
1998 Silvia SR20DET w/5Speed
P2M Coil Pack Grounding Plate
ARC Air Box
Tomei Expreme Manifold
S15 Multilayer Exhaust Manifold Gasket
Garrett GT28-60RS Turbo
Circuit Sports Downpipe
Apexi N1-Ti Exhuast System
Circuit Sports Turbo Lines
Greddy Intercooler
HKS Sequential BOV
Aluminum Charge Piping
Nissan N15 Big Bore 70mm Throttle Body
Greddy 1Pc Manifold w/ Welded 70mm Flange, Powder Coated Grey
RC 550cc Injectors
SARD Fuel Pressure Regulator w/ Aeromotive Gauge
Aeroquip Fuel Lines and fittings
Greddy Fuel Rail, Powder Coated Black
Hondata Heat Shield Gasket
Circuit Sports Coolant reservoir
Koyo Radiator
ARC Water Pump Pulley
Greddy Radiator Cap
Samco Red Hoses
Power Enterprises Belt
Fal Dual Electric Fan and Shroud combo
Battery Relocation Kit
Optima Dry Cell Battery
Wire Tuck
DriveTrain
Nismo X Exedy Multiplate Clutch and Flywheel Combo
Circuit Sport Clutch Damper Eliminator
STRD Clutch Assembly
B&M Short Shifter
JDM 180sx LSD
Peak Performance Race Transmission Mount
Energy Suspension Rear Subframe Bushing Kit
Brakes
Project Mu 4-Pot Calipers
Project Mu 2 Piece Rotors
Project Mu Pads
Z32 Master Cylinder
Z32 Rear 2Pot brake
Z32 Drum e-brake conversion
Stainless Braided Lines
Suspension
Stance Coilovers
Energy Suspension Bushing kit
Energy Suspension Steering Rack Bushings
Circuit Sports Exhaust Hanger Bushings
Circuit Sports Aluminum Steering Bushing
Tein Tie Rods
Nismo Power Brace
Custom Reinforced LCA
Powder Coated Red Front and Rear Subframes
Tanabe Front Sway Bar
White Line Adjustable rear swaybar
White Line End Links
Carbing Front StrutBar w/ brake stopper
Cusco Rear Strut bar
Touge Factory C-Pilar Bar
Circuit Sports Trunk Floor Bar
Saftey 21 8pt Roll Cage
Peak Performance RUCA
Wheels
SSR SP1 3piece Custom Painted
18×9 +8 Front
225/35/18
18×10 +8 Back
245/35/18
Rays Engineering long Lightweight lugs nuts
Interior
Sparco Concave Suede Wheel
Kazama Shift Knob
Kazama Spin Turn Knob
Carbon Glove Box Delete
Bride Gias Low Max Carbon Kevlar Driver Seat – Red
Bride Brix 1 – Red
Takata 4pt Harnesses
Origin Carbon Rear Bench
Super Made Floor Mats
Pioneer F90BT Navigation
Greddy Emanage
Greddy SpeedCut Defender
Innovate Wideband Gauge
Nismo 260km LED Backlit Gauge Cluster w/ Wideband
Supermade Checkered Floor Mats
T1R Interior Lights
Removed Rear Seat Brackets
Exterior
Parts by Max Skid Plate
G-Grow Front Bumper
Ganador Electric Mirrors
JDM 180sx Kouki Side Skirts
JDM 180sx Kouki Rear Lip
JDM 180sx Kouki Rear Wing
JDM 180sx Kouki Side Markers
JDM 180sx Kouki Signal Lights
JDM 180sx Kouki City Lights
JDM 180sx Kouki Tail Lights
JDM 180sx Kouki Carbon Kevlar RPS13 Tail Light Garnish
Origin Roof Wing
Painted Carbon Hood
Shaved Trunk LID
Pulled Rear Fenders