A crazy 475-hp 1998 Acura Integra GS-R from Alberta, Canada
When you think of the Alberta Prairies (as you often do) you think of warm Chinook winds, rolling foothills, open blue skies, and the recent, isolated case of Mad Cow. Now you have one more thing to think about—this '98 Acura Integra GS-R, a car so sick it puts The Mad Cow to shame. Both are completely insane, and whether it's at the track or on your dinner plate, they intend to spank you silly.
Also Checkout: 2017 Acura NSX Price tops out at $250,100 CAD MSRP
Why the GS-R?
Many import enthusiasts have made the switch from the world of sound systems to that of strict performance enhancement, sacrificing the decibels in lieu of high hp gains, and Colin Tull from Calgary, Alberta, Canada, is no exception. With Colin's first two cars, a '92 Civic Hatchback and then a '91 Honda CRX, it was all about the stereo. Then his power-hungry cravings finally surfaced. "For my next project, I wanted power and performance," he says, "So I picked up a brand new GS-R and never looked back." The first attempt was a nitrous setup, but unsatisfying results led to a built motor using a Greddy kit, producing ETs in the mere 13's. Unfulfilled, Colin handed his keys over to the team at Speedtech Racing & Development (STRD), one of Western Canada's premier tuning shops.
How the project got underway: Performance first
The derangement began with a Garrett GT30 ball bearing turbo, offering increased durability and more power to the inspiring 1.8L B18C1 inline-4 engine. The block was enriched with Darton sleeves and 9:0.1 compression pistons, along with a cast of Crower goodies, including Billet connecting rods, turbo camshafts, valve springs, titanium retainers, and stainless steel valves. An ACT Extreme clutch kit was thrown in to help distribute the power, along with an HKS SSQV blow off valve to relieve the madness. In the pursuit for performance, tweaking the ECU is paramount—thus, the Hondata S200 system was the obvious choice for this project, integrating the 3 Bar MAP sensor for reliable boost readings.
A Full-Race intercooler was incorporated, fed by Full-Race aluminum charge piping. A Walbro fuel pump, AEM fuel rail, and AEM pressure regulator were also bolted in facilitating the RC Engineering 850cc injectors, and while a Hondata heatshield gasket ensured heat reduction, engine breathing was enhanced with a Skunk2 intake manifold. Both a Full-Race stainless steel 3" down pipe and an equal length exhaust manifold, coupled with a custom 3" cat-back exhaust managed the air, while a Turbosmart 35mm wastegate kept boost in check. To ensure an efficient ignition setup, STRD opted for the MSD line, including their Digital 6 Plus ignition, Blaster HVC Works ignition coil, distributor cap and spark plug wiring.
When it finally came time for the highly anticipated dyno, a variety of setbacks evolved. Managing the project at STRD was Allan Calagui. "Initially, we had a problem with the igniter and had to go back to fix it," he explains. "Went back the second time and pulled a 300whp and the oil light came on. Not taking any chances, we towed the car back and realized the oil pump failed." However, on the third attempt the car produced an astounding 355whp at 12psi, "And that was on regular 91 octane pump gas" Allan continues. "We tried a 20psi run but the stock TypeR oil pump had failed again. We solved this problem by simply replacing it with a Prodrive competition oil pump gear." Allan concludes, "The wastegate was now maxed out at 20psi, so we are going to replace it with a upgraded spring. We're going to run at 25-28psi and intend on breaking 500whp." Despite the current setbacks and as far as anybody is concerned, this is undoubtedly a 450whp-plus beast as it stands today.
Styling
Even with some aesthetic touches on the outside, including ViS Racing TSC front and rear bumpers, Z1 Boxter side skirts, an Invader carbon fiber hood, and a couple AC Autotechnic chrome tow hooks, the car holds a strong sense of modesty. Sporting a stock spoiler and retaining the stunning electric blue color that continues to turn heads, the true character of the GS-R is not compromised. Nor is the initial mandate of engine management. Taking home the top performance awards at both Sport Compact Nationals-Calgary and ImportShowoff this past year, Colin's car shows up to collect awards, not put on cosmetic charm.
Interior Upgrades
The interior, on the other hand, is a raging frenzy of gauges. The familiar Auto Meter attire including fuel pressure, oil pressure, air/fuel, and EGT gauges. Okay, it's not exactly a "raging frenzy" but let's stick to the theme of the story. Adding to the interior lunacy is a Greddy turbo timer alongside the Greddy PRofec B boost controller. Not to mention an Alpine CD player, now that's crazy.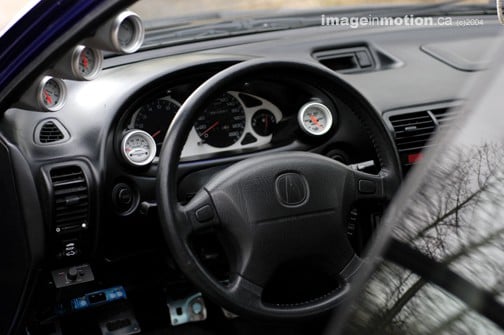 The Footwork
Undoubtedly, the rollers had to fit the overall look and feel of this brawny beast. And it did just that, adorning a set of meaty 19" Racing Hart GT5 wheels finished in gun metal and sheathed in Pirelli P7000 215/35/19. Keeping things grounded, an Energy Suspension Engine bushing kit was employed sharing close company with a set of Neuspeed lowering springs and an AEM big brake kit.
So, what do the Alberta Prairies, a single case of Mad Cow disease, and a power-hungry car all have in common? Absolutely nothing. But always remember, "In a sane world, madness is the only escape."
Modified 1998 Acura Integra GS-R Technical Spec Sheet:
Engine
Acura 1.8-liter, 4-cylinder, 16-valve, DOHC with Variable Valve Timing and Lift Electronic Control (VTEC) system, Turbo
Engine Modifications
Darton Sleeves
JE Piston 9:0.1 compression
Crower billet connecting rods
Crower turbo camshafts
Crower Valve springs
Crower titanium springs
Crower stainless steel valves
Brad's Port and Polish
Brad's Blue Printing and Balancing
Skunk2 intake manifold
Hondata heatshield gasket
RC Engineering 850cc injectors
Walbro in-tank fuel pump
AEM fuel rail
AEM fuel pressure regulator
AEM underdrive pulleys
Prodrive oil pump gear
Full-Race equal length exhaust manifold
Full-Race intercooler
Full-Race aluminum charge piping
Full-Race stainless steel 3 inch down pipe
Turbosmart 35mm wastegate
HKS Super Sequential blow off valve
Garrett turbo GT30 ball bearing 70-63 trim
Apexi N1 3 inch muffler
Custom 3 inch cat-back exhaust
ACT Extreme clutch kit
Fluidyne radiator
MSD in-line fuel pump
Proform electric fan
MSD Digital 6 Plus ignition
MSD Blaster HVC Works ignition coil
MSD distributor cap
MSD spark plug wires
Engine Mgmt
Hondata P28 ECU with conversion
Hondata with 3 bar MAP sensor
Hondata S200
Exterior Mods
ViS Racing TSC front bumper
ViS Racing Z1 boxter side skirts
ViS Racing TSC rear bumper
ViS Racing Invader CF hood
AC Autotechnic chrome tow hooks
Suspension & Footwork
19 inch Racing Hart GT5-gun metal
Pirelli P7000 215/35/19
AEM big brake kit
Energy Suspension Engine bushing kit
Interior Mods
Auto Meter triple pod holder
Auto Meter dual gauge bezel holder
Auto Meter boost gauge
Auto Meter EGT gauge
Auto Meter fuel pressure gauge
Auto Meter air/fuel ratio gauge
Auto Meter oil pressure
Greddy PRofec-B boost controller
Greddy turbo timer
Momo shift knob
Razo racing knob
Alpine CD player
Numbers:
355whp @ 12psi; 475whp+ @ 25-28psi (est.)
Shout outs
Maranello Auto Refinishing (bodywork and paint)
Speedtech Racing & Development guys:

Brad Unryn (Tuning)
Patrick Tan (Tech)
Allan Calagui (Project Manager)