A luxury off-roader known for hitting the dirt and traversing mountains piloted by adventurers like Mike Horn, this 2020 Mercedes-AMG G 63 reimagined by Louis Vuitton's head designer didn't exactly get the memo.
But that was the whole point behind what is clearly more art piece and less off-road beast, a Mercedes-Benz and Virgil Abloh collaboration. The idea behind the G-Wagon concept — dubbed Project Geländewagen — was to push the boundaries of what luxury really is, or where it can go. As Abloh puts it, "My ultimate goal in this project with Mercedes-Benz is inspiring young artists, engineers, designers to question the status quo."
Overall, this G 63's look is all race car — a departure from its overlanding roots. Again, that was the whole point. "Project Geländewagen perfectly encapsulates Mercedes-Benz's manifestation of contemporary luxury, pushing creativity and innovative design" according to Mercedes-Benz AG's VP.
The exterior flosses a super clean, uber-minimalistic look with the bumpers, turn signals, and mirrors completely gone. It retains the G-Wagon's outlines though reminds us more of a 2020 Kia Soul, in part to Abloh's G 63 being widened and lowered, more inline with track-worthy racer than a mountain climber. The huge tires, including a spare on the back, adorn massive lettering — an Abloh trademark that reminds us of his Nike collaboration, like these Nike Air Force 1 sneakers.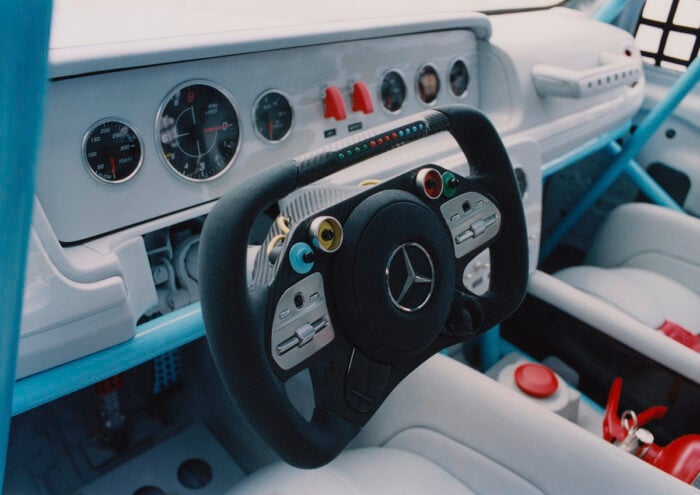 The cabin's safety frame becomes a central motif, all while retaining the clean, racer vibes with nearly everything inside being stripped back. Paying homage to classic racers, this art piece finds an analogue speedometer and fuel gauges replacing the 2020 Mercedes-AMG G 63's massive front digital cluster.
Also gone is the luxe steering wheel in lieu of an F1-style wheel, along with futuristic-looking seats. Plenty of baby blue on white with touches of red rounds out the clean styling. Safety features and key racing elements including the safety frame or the 5 point seat belts, are a nice touch.
End of the day, love it or hate, Project Geländewagen is ultimately an art piece evoking emotion, pushing boundaries, and reframing the things we've become accustomed to — in this case, driving luxury forward with innovative design.
Best part? This design piece will be auctioned as part of Sotheby's Contemporary Curated with all proceeds going to a charity that supports international creative communities.
G 63 Project Geländewagen photos: