The owner of this parallel-twin Yamaha XS was thrilled to have his bike featured. But then the doubts began.
Rest in peace, TJ's Cycle. Last fall the gates closed forever on Calgary's motorcycle boneyard, and some folks, such as Scott Wilson for example, have taken the demise pretty hard. On his lunch-break, the 31-year old autobody technician would visit TJ's, where proprietor Mark Blundell let him have free reign of the used parts emporium. Wilson spent his hour scouring for pieces to incorporate into his 1980 Yamaha XS650 Heritage Special, a bike that's more a lesson in evolution than creation.
"My bikes all took form through what I found in Mark's yard," Wilson explains. "It's such a shame to have lost that outlet." Most of Wilson's motorcycles have been free – including his first. When he was 10, his uncle Ethan gave him a recalcitrant two-stroke Kawasaki 80cc street bike, and Wilson never did get it to run. But that didn't deter him; he just tried harder the next time.
Wilson grew up on a farm near Bassano, a town a couple of hours east of Calgary. It's the make-do mentality of his dad, Frank, that informs Wilson's motorcycle creativity. "When I was growing up, if you didn't have something, you made it out of something else," he says. "We didn't have a lot of money to buy new stuff."
Cars captivated Wilson for several years until a friend gave him a 1976 Honda CB360. This was six years ago, and his uncle suggested Wilson build a café racer. So, Wilson tore the CB apart, cut it and shaped it, and along the way met Blundell at TJ's. With some ingenuity, he got the bike back on the road. Unfortunately, the Honda didn't last, but some of the custom parts found their way onto a 1978 Kawasaki KZ750B, which he rode for a year.
What he really wanted was an XS650. When an image of an abandoned XS turned up on his friend's Instagram feed, Wilson managed to track the bike down — it was leaning against a fence in another friend's yard. Synchronicity at work, that is. Wilson's friend wouldn't take any money for the bike, so he loaded up the freebie and headed home.
The engine was stuck, and it needed a complete rebuild. Wilson ordered a replacement cylinder and piston kit online from Mike's XS 650. Of course, various parts came from TJ's Cycle, and Wilson got a better cylinder head from The Old Motorcycle Shop in Calgary. He put the engine back together himself, installing an overdrive gear and all new seals. He scrapped the electronic ignition, and reverted to points.
Wilson says the bike started taking shape as a café/brat style crossover. He fit Kawasaki ZX6R forks, and Blundell helped modify the stem so it would fit the XS frame. Blundell also machined bushings for a Honda front wheel, while clip ons, a hard aluminum seat and the stock gas tank and swingarm made up the rest of the Yamaha. That's what the XS looked like when I met Wilson by chance in a Canadian Tire parking lot. I asked him to send snapshots so we could consider the machine for a feature, and he obliged.
When an image of an abandoned XS turned up on his friend's Instagram feed, Wilson managed to track the bike down
Then, when we were getting ready to photograph the bike, Wilson emailed to say he'd taken a look at some of the previous featured machines and he didn't feel his XS was worthy. So he rebuilt it. He sold his Kawasaki KZ750B to fund the purchase of a David Bird weld-on hardtail, which he bought online from Lowbrow Customs. "It was always the look of the motor that dictated where the bike would go, and I didn't think it suited either the café or the brat – it needed a hardtail to show off the motor," Wilson says.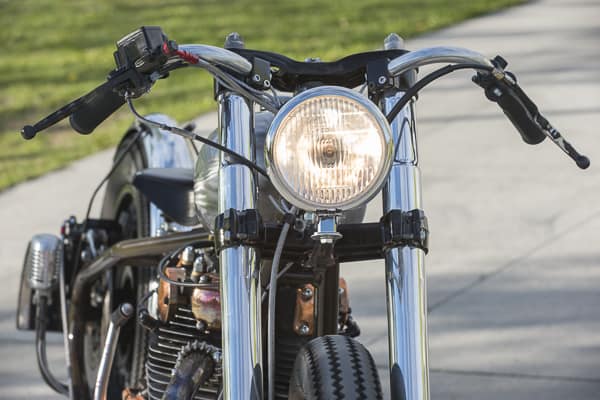 A Suzuki GS750 sacrificed its rear wheel to the Yamaha, which gives Wilson disc brakes front and rear. From BikeBike in Calgary, Wilson bought a Brooks bicycle saddle. He removed the saddle's chassis, and fabricated a dual spring mounting system for the rear, and the front loop spring is bolted directly to a frame gusset on the hardtail. Wilson modified the clip ons by cutting apart a bicycle handlebar and bolting the individual bends into the clamps. Foot controls are universal-style floorboards, and Wilson has set them up so they pivot and are connected by linkage to the shift control and rear brake master cylinder – he says they work great.
Although Wilson spends his days painting wrecked Audis and BMWs, he chose to metal prep the frame and sprayed it with gun bluing solution. It was an experiment, and with clearcoat over top, the tubes have taken on a root beer colour. The bike's been out in all weather, and so far the finish is proving durable.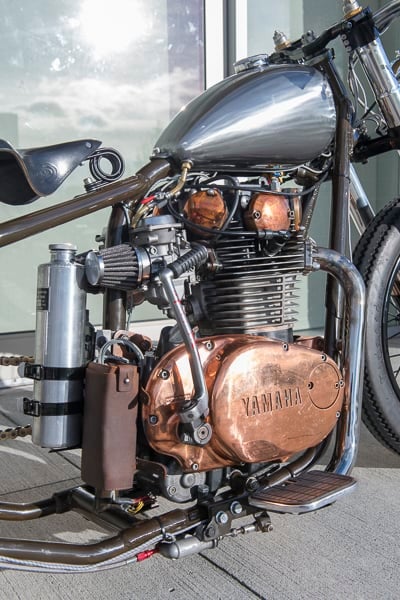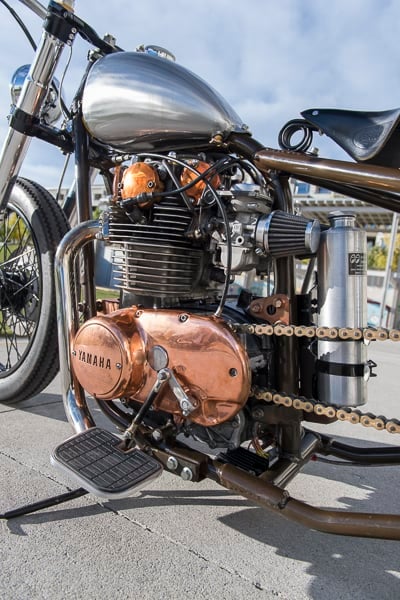 The Lowbrow Customs peanut tank is clearcoated raw steel. Taillight is a repurposed microphone outfitted with Princess Auto LEDs, and because there's no reserve on the peanut tank a Moon Eyes aluminum bottle is strapped to the frame downtube – it holds extra fuel. A small leather bag hides a 12-volt gel cell battery, and the Yamaha is kickstart only.
Exhaust pipes are short, and they dump right beneath the engine. Wilson has installed baffles for some backpressure, and Alberta Plating in Calgary applied the chrome and copper plating. Stock carburetors breathe through a set of pod filters. After adding hundreds of miles to the Yamaha, this summer Wilson plans to ride into B.C. to really put it through its paces. If he breaks something, or starts another project, he won't be heading to TJ's Cycle – but he does wish Blundell a happy retirement.