With only 499 units to be produced worldwide, the all-new LaFerrari made its world debut at the 2013 Geneva Motor Show
Sure, the LaFerrari may look like a Pagani Zonda, but it's anything but. Boasting an insane 949-hp and 644 lb.ft or torque from the 6.3-litre V12 power plant paired to a seven-speed dual clutch gearbox, the LaFerrari's primary electric motor makes an additional 161-hp, coupled with a second motor powering the auxiliary functions.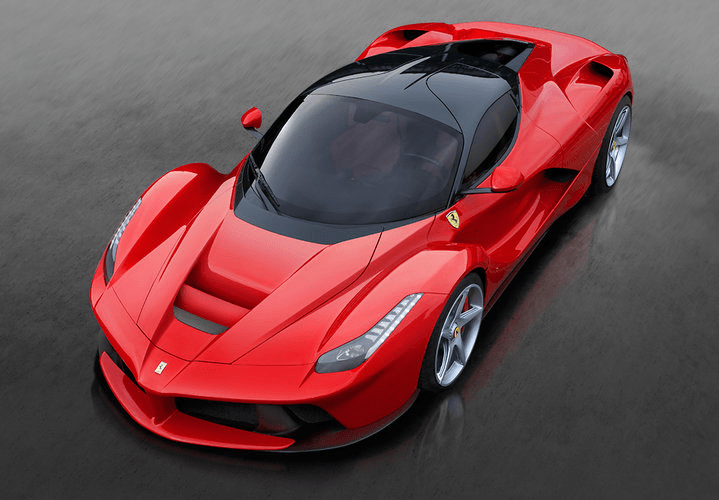 The chassis features no less than four different types of carbon-fibre, all hand-laminated and autoclave-cured in the racing department using the same design and production methods as the Formula 1 car. This helped optimise the design: various functions were integrated (e.g. seats and battery compartment) into the chassis to improve torsional rigidity (+27%) and beam stiffness (+22%) whilst cutting weight.
Styling Dynamics
To boost efficiency, the Ferrari LaFerrari sports active aerodynamic devices front (diffusers and guide vane on the underbody) and rear (diffusers and rear spoiler) which generate downforce when needed without compromising the car's overall drag coefficient. These devices deploy automatically on the basis of a number of different performance parameters which are monitored in real time by the car's dynamic vehicle controls, thus guaranteeing the ideal configuration on the basis of the driving conditions.
Cockpit
Inside, there's a newly-designed steering wheel sporting all the major commands, and the gear-shift paddles are now longer and more ergonomic. The signature bridge on which the F1 gearbox functions are clustered has taken on a sleek, suspended wing-like shape. The whole interior, in fact, has a fiercely track-inspired, pared-back allure.
Pricing is not yet disclosed but the 2014 LaFerrari hits dealerships mid 2014…queue the millionaire lineup now.