1956 Douglas Dragonfly: A Douglas takes flight
A Douglas Dragonfly is distinctive, but it certainly isn't the most widely recognized British motorcycle. The 350cc flat twin touring machine was built in an era – the mid 1950s — when many British manufacturers were trying to design clean, economical and reliable transportation.
Produced by Douglas Motorcycles, this 1956 Dragonfly was restored by its owner, John Whitby of Calgary. He readily admits he enjoys breathing life back into some of the lesser known British bikes – no Triumph Bonnevilles or Norton Commandos for him. Whitby, 45, has been involved in the motorcycle scene for many years, and quite literally has British motorcycles in his blood. His parents moved from England to Canada in 1957, and back home their transportation had been a Norton ES2. And Whitby's granddad used an Ariel Square Four with a Watsonian double-adult sidecar as daily transport.
Whitby hasn't been without a motorcycle since 1971, and his passion for quality restoration started when he took apart and refinished a 1966 Honda CS65. "It turned into a sickness from there," Whitby says of his restoration hobby. "The Japanese bikes were easy to find in the early 1980s." Then along came a Triton, a mix of a pre-unit Triumph T110 engine mounted in a Norton International frame. That introduction to British iron sealed the deal, and Whitby has since restored some of the more esoteric English bikes including a Velocette LE and a Francis Barnett Merlin. "They have to be odd and different. They have to be interesting restoration projects."
Enter the 1956 Douglas Dragonfly. Calgary BMW enthusiast Dave Larmour bought the Douglas in the late 1970s when he was living in Toronto. Apparently, the bike had been imported into Canada from England in 1976. There is interesting documentation still with the bike that indicates it came across in a Bombardier/Can-Am shipping container with several other British motorcycles. Little more than that is known about how the bike wound up on this side of the pond. Not that Douglas machines hadn't previously been imported to Canada for retail. A two-page catalogue distributed in 1935 by Nicholson Bros. Motorcycles of Saskatoon, Sask. lists several models of Douglas machines the prairie dealer offered for sale.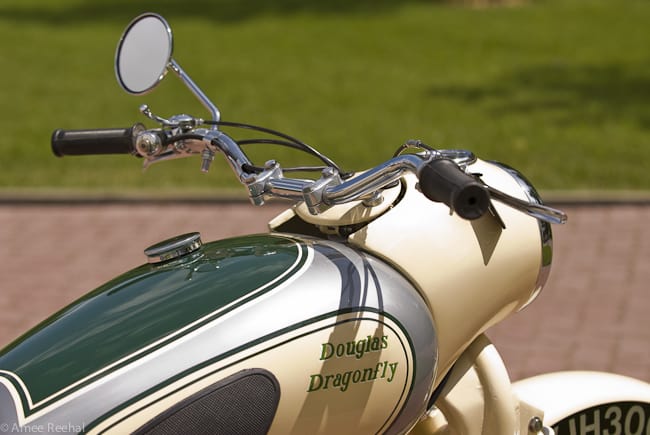 Douglas began the manufacture of motorcycles in 1907 in Bristol, England. Brothers William and Edward Douglas opened a blacksmith shop – Douglas Engineering Company — in 1882, and were just in time to participate in the development of gasoline engines at the turn of the century. They worked with W.J. Barter, who had designed a 200cc horizontally opposed flat twin engine for use in a motorcycle. Barter's firm failed, and Douglas took over the production of two-wheelers starting in 1907 with their own 350cc model. While not one of the better-known names in the British motorcycle industry the Douglas company was the first to incorporate disc brakes on some of its motorcycles, and garnered several successes in dirt track racing.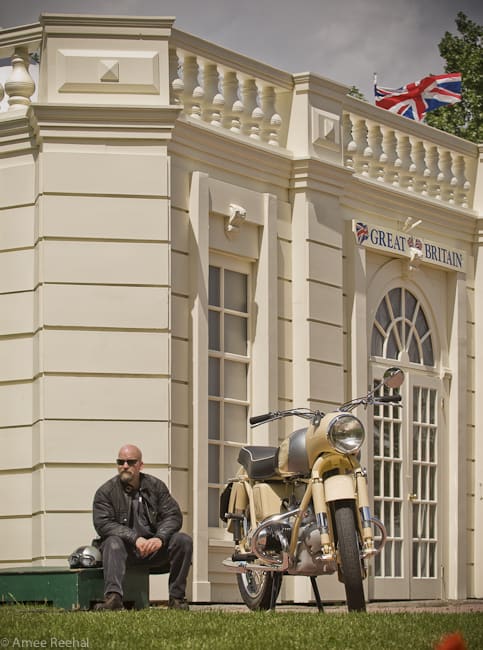 The Douglas motorcycle company had its ups and downs, and changed ownership in 1935. Motorcycle production continued throughout the Second-World War, but by 1948 the company was back to offering only a 350cc flat twin powered machine. Production of the Dragonfly, a bike that features Earles-type leading-link forks and standard swinging arm rear suspension, began in 1955. An unusual headlight nacelle wraps around the front forks and joins up with the gas tank, providing an illusion of streamlining. The 348cc engine features overhead valves that rely on engine oil mist for lubrication – there is no other method of top end oiling.
Production was short lived, however, as by the time this featured 1956 Douglas Dragonfly motorcycle was built the company was literally winding down operations and closed their doors in 1957. According to the serial number, and as authenticated by the London Douglas Motorcycle Club, this particular bike was the second-last to leave the Bristol-based production line. Approximately 1,600 Dragonflys were built.
When Larmour bought the Douglas it was together and running but he disassembled the Dragonfly for restoration and never followed through. He stripped all of the metal parts and had even gone so far as to have the tinwork repaired. The engine, however, was given to a Toronto-area mechanic who paid it little attention for the six or seven years it was under his care. Larmour got the parts back, put everything into boxes, and moved to Calgary.
Whitby met Larmour in the mid-1980s, thanks to a common interest in BMW motorcycles. "(Dave) had the Douglas because the flat twin engine reminded him of the BMW," Whitby says. "I first heard about Dave's Douglas in 1987. And I bugged him to sell it to me for years."
When the project finally changed hands in late 2005 Whitby joined the London Douglas Motorcycle Club, which has become the only source for parts for the flat twin machines. Using the parts books that came with the project Whitby inventoried the pieces he had. All that was really missing were the cam followers, and a few odds and ends that the club had in stock, and he ordered them up. The crank and rods were fine, the cylinders had been resleeved and new pistons and rings were in the box.
"The speedo was only showing 17,620 miles, and I'm not sure if that's original, but most of the engine internals were in really good shape," Whitby confirms. He polished the aluminum, cleaned and painted the cylinders, and put together the engine. The only real issue he had with the engine is that replacement points are not available for the Miller distributor – Whitby modified a set of Lucas points originally intended for a Triumph twin.
Whitby's Douglas left the factory finished in black. But, as stone (a beige/cream colour) and green was an option in 1956, Whitby sprayed all of the parts himself in the flashier colour scheme. Whitby spoked and trued his own wheels, and says assembly of the Dragonfly was really very straightforward – he was even able to use the original cloth-covered control cables that came with the bike. Once all together (he had it finished in just three months), the little machine started first kick, and as Whitby says, "It sounds just like a Singer sewing machine."