A swarm of angry bees couldn't part Stu McColl from his Suzuki Stinger.
In 1969 when McColl was a starving Montreal college student he walked by a Suzuki dealer. Displayed in the showroom window was a brand new Stinger. "I stopped in my tracks, and said to myself that was a nice bike," he explained about his particular fascination with one of Suzuki's two-stroke oddities. As he drooled over the little machine, he mused, "Some day, some how, some way, I'm going to get me one of those."
Suzuki introduced its twin-cylinder high-pipe T125 Stinger to North America in 1969, and it was an answer to a question nobody had asked. With 15 horsepower at 8,500 rpm available from the horizontally canted engine, the machine could be kept boiling with its five-speed constant mesh gearbox. Clearly aimed at a young boy-racer market, the U.S.-style motocross bar is incongruous with the rest of the bike. What clearly captures the imagination is the distinctive dual exhaust; something Suzuki called a 'power-pipe'. Paint, too, helped set the Stinger apart, and over its three-year run featured Candy Yellow, Pop Green and Roman Red.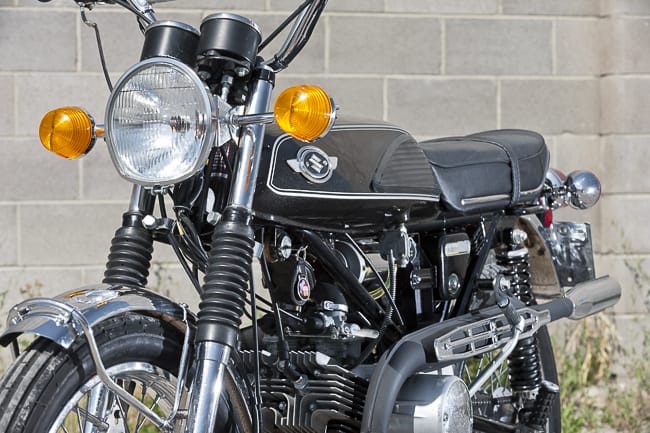 Front and rear 18" spoke wheels were shod in skinny 2.50" and 2.75" tires respectively. Single leading shoe brakes slow the Stinger's flight, and were pilfered from one of the company's off-road parts bins.
Prior to strolling past the Stinger, McColl's life changed irrevocably when he visited the 1968 Canadian Grand Prix race at Mosport. He was thunderstruck. "I thought it looked like fun, and wanted to try it," he said. However, his Honda S90 wasn't up to the task of road racing, and he didn't ever get his Honda Super Hawk café racer on the track.
What clearly captures the imagination is the distinctive dual exhaust; something Suzuki called a 'power-pipe'
He did attend as many speed events as possible to get a fix. "Road racing really turned me on," he said of the visual and aural experience. By 1972, though, McColl had left school and was working for the government, which funded a brand new Honda CB750. "Racing was still in the back of my mind but the chance to ride plenty on the street appealed to me more," he said, and continued, "But, to make a long story short, I fell in love with a girl. In 1976 we moved to Calgary. She went to school to become a pharmacist, and I was selling office furniture to fund her education. I thought that when she was done, I'd finally get to go racing."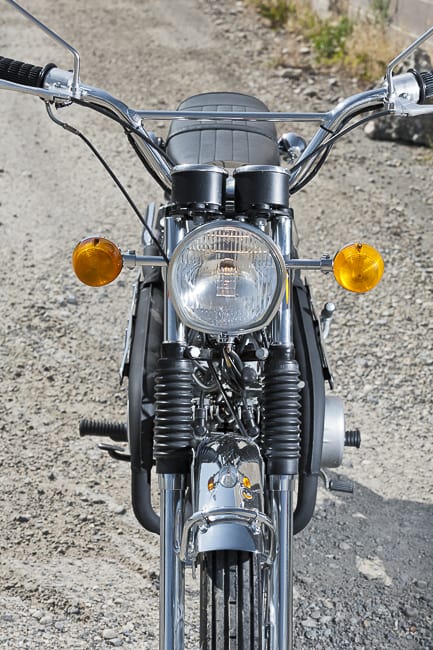 "In 1977, she left me for another guy, and I realized I'd be racing sooner than I thought," McColl laughed. When he opened the Bargain Finder classified ads searching for a race bike he found a 1971 Suzuki Stinger. "I can realize two of my dreams here," McColl said, "owning a Stinger and racing." McColl's emphasis on 'and' is long and drawn out, and his deep voice only adds to the effect.
A father had purchased the Stinger for his daughter, who'd lost interest. By the late 1970s the machine was still in original condition, but McColl stripped away signals, horn and headlight. Michelin M38 tires and safety wired fasteners completed race preparations. With a CMA licence, McColl hit the track.
"I was totally outclassed, but I didn't care 'cuz I was racing, and I was doing it on a Stinger. Little did I realize three years later I'd be Canadian National Champion in 125 GP Junior – not aboard the Stinger, but it was the Stinger that got me started." McColl competed on increasingly serious machines including a CR125 motocrosser converted to road race spec, a 1980 Honda MT125R, and a 1981 Honda RS125RW – the bike that helped him clinch the championship.
In 1979, McColl painted the Stinger black to match his Dodge boogie van, and then parked the bike in his garage. It didn't turn a wheel again until 2010. Deciding the time had come to return it to the street, McColl simply unboxed and unwrapped all of the pieces he'd earlier removed, and bolted them on. When he bought the bike, McColl thought he'd need spares so he purchased all new cables, gaskets, pistons and rings and small end bearings. He's still got them all, unused, in their factory-sealed Suzuki packages. Tires are fresh, and the twin pipes were given a high-temp finish by Hugh Willamson at Calgary's Top Gun Coatings.
"Everything else is original," McColl said. "The wiring, the finish on the frame, the seat; there are only 3,000 street miles on the speedo – the instrument was off while I was racing — and it's still got its break-in stickers on the tachometer. I've ridden it to Calgary Thursday Bike Night at A&W, and once or twice to the local pub. I'm just going to cherish it forever and ride it some more.
"It's a buzzy thing, kinda like a great big bee."
1971 Suzuki Stinger Photos: