Twisted thinking is involved here. Most would take something ugly and make it beautiful. Not Dustin Gavel. His 1996 Honda Magna was an unloved monstrosity, according to him, and he wanted to make it more grotesque.
Gavel was 17 when he bought the VF750C. "The Magna was my very first bike," he says, "and I challenged the provincial motorcycle test on it to get my licence."
He rode the Magna to high school, but added few kilometres. None of Gavel's friends rode, and the 31-year old Calgarian was a fair-weather motorcyclist who eventually became more involved in dirt biking. "The Magna got parked and I lost my love for the cruiser-style. It was under a tarp at my uncle's place when it fell over against the shed and the tank got creased."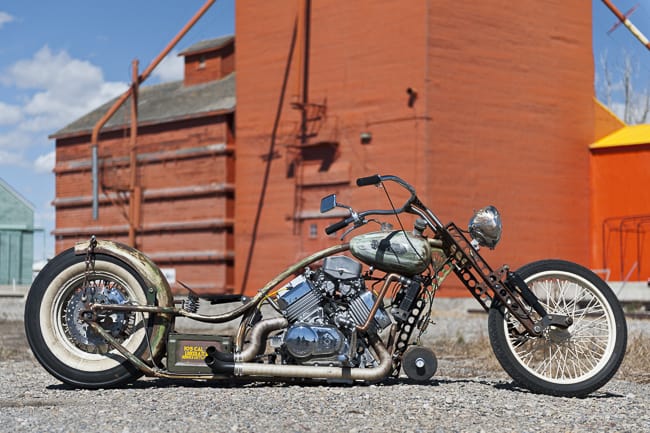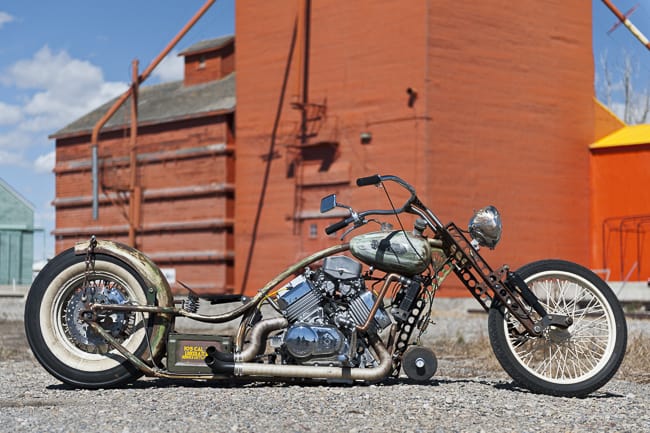 A friend attempted to cover the damage with an airbrushed checkerboard, but that just made it worse. "It was an ugly duckling, and that really solidified my hatred." Gavel liked the Magna's 750cc V4 engine, however, and no matter how much he abused the Honda it ran like a champion. He wanted to put the motor into a different frame, and began searching for someone doing metric chops. That's when he found Todd Anglani of AfterHours Bikes, a builder recognized for stretched out, gritty and rusty customs.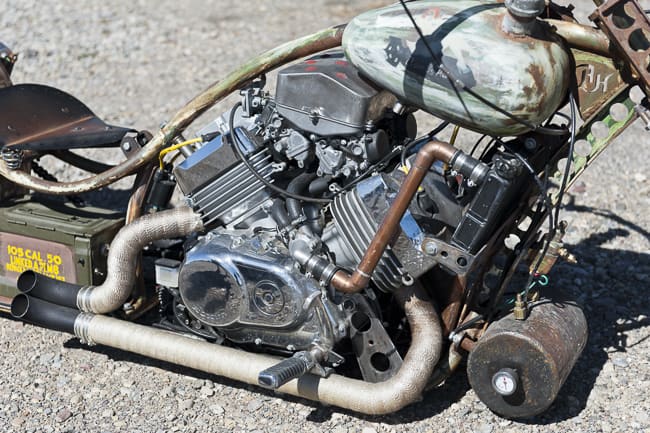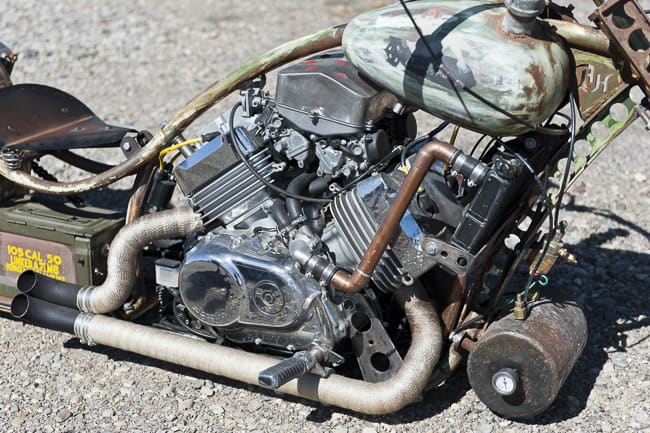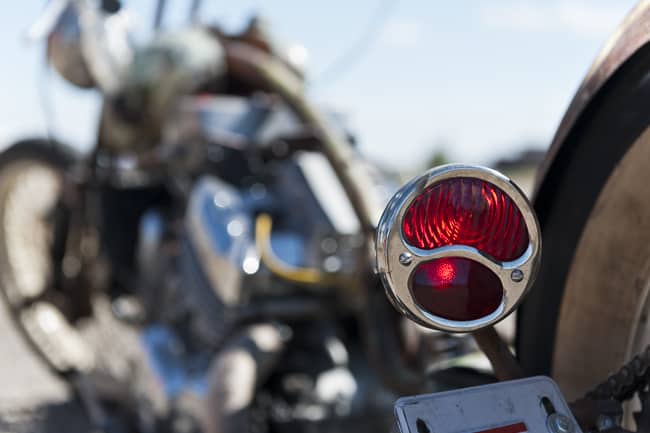 Gavel emailed Anglani critical engine dimensions so the Florida-based fabricator could produce a rolling chassis. "I build all of the frames on a table in a jig," Anglani says. He started Gavel's frame with a drilled and curved I-beam front downtube welded to a neck that takes Harley-Davidson steering bearings. Fork is also drilled I-beam with lower rockers supported by air shocks intended for a VW station wagon.
Headlight is Ford Model A, and gas tank is Paughco. Anglani split the tank and mounted it either side of the top frame rail. Rear fender is an old spare tire cover secured by welded chain struts, and the bare metal seat pan was cut from sheet steel and formed with a lip.
Anglani put together the 60-spoke powder coated wheels with hubs from Midwest Motorcycle Supply – it's all pre-2000 Harley-Davidson running gear with 3/4" axles. A 3.5-21" rim with Metzeler tire is up front, and a 5.5-16" rear is wrapped in a Hurst Racing Tires cheater slick. Single brake is a Harley-Davidson caliper and rotor.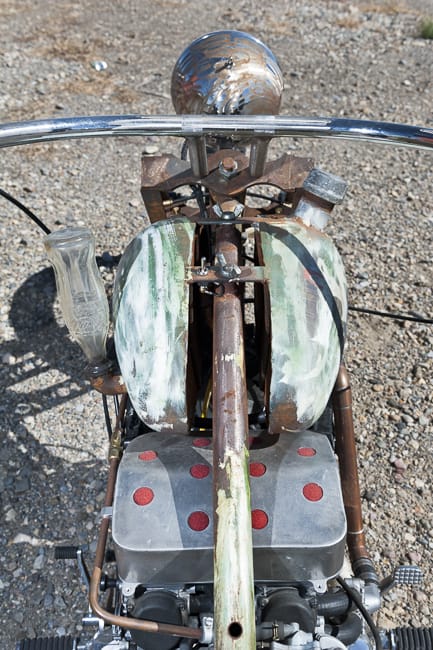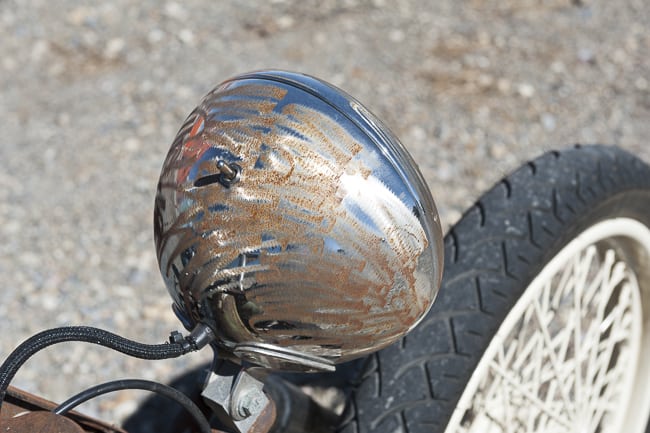 Rust and Sherwin-Williams home decor paint complete the look, and Anglani says his weathering process is a closely-guarded South Florida secret; only his wife and son knows how he achieves patina in less than 24 hours.
A motorcycle shipper picked up the 9'6" long rolling chassis in Florida and delivered it to a receiver in Shelby, Montana, where Gavel picked it up. "Once I got the chassis home I started taking apart the Honda, because I was going to use parts like the footpegs, shift linkage, radiator and fan and all of the electrics," Gavel says, and quickly adds, "I'm no fabricator, I'm more of a hack, but I wanted to see how much of it I could do."
Gavel is an oilfield consultant specializing in civil earth works, camps and logistics, and he runs his own fuel business — work picked up in the patch, and he couldn't meet his spring deadline. He talked to hot rod and motorcycle builder Dwayne Dool of Dirty Dooley's Fabrications in Calgary.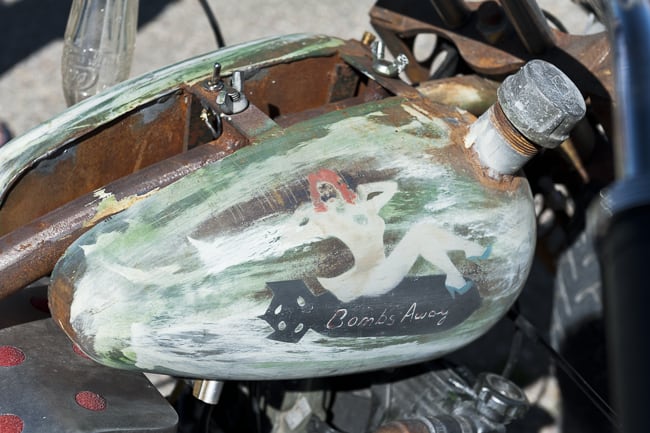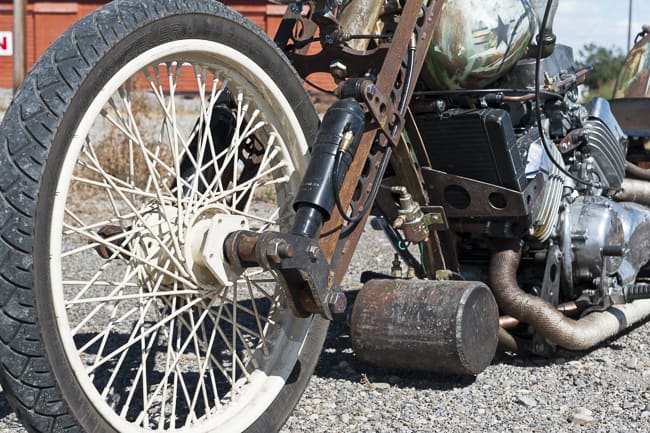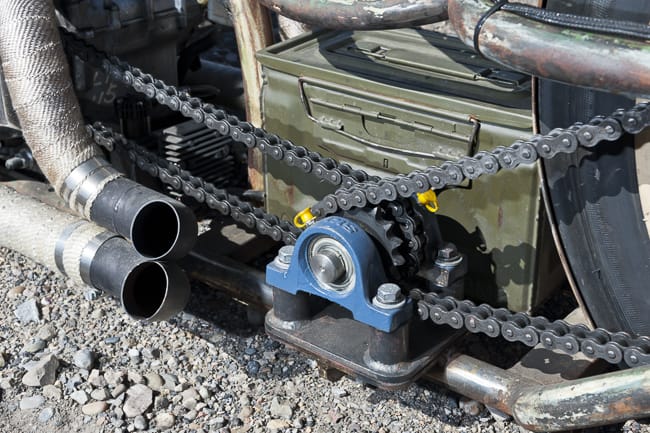 Dool took command, changing the handlebar to a wide California beach bar, installing the engine, building the four short open pipes, hiding the battery and air ride switch in an ammo box, constructing an air box and plumbing everything with copper tubing. Pinstriping, fuel tank art and Coke bottle sight fuel gauge are also Dool's work.
Rear drive chain was going to be a long stretch with nothing but an idler to take up slack, and Gavel didn't want it slapping him in the thigh. Dool devised a jackshaft system to split the run, but they couldn't accurately align the drive and the bearings gave up within 30 kilometres on its maiden voyage.
[AdSense-A]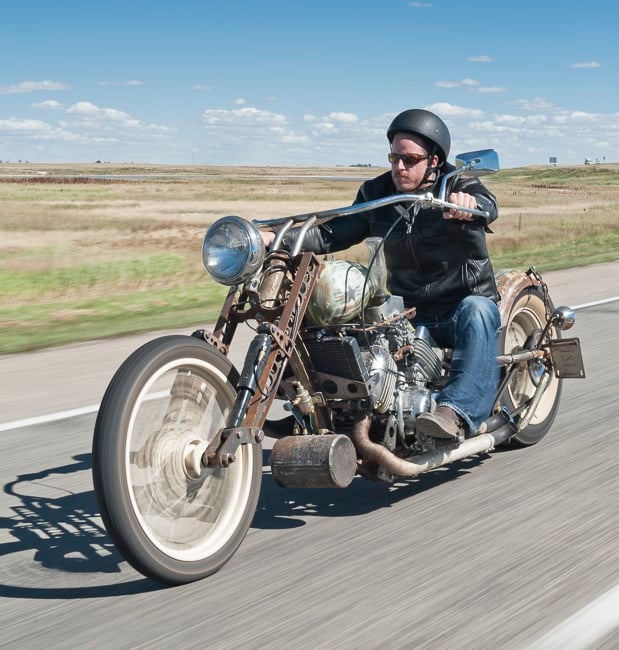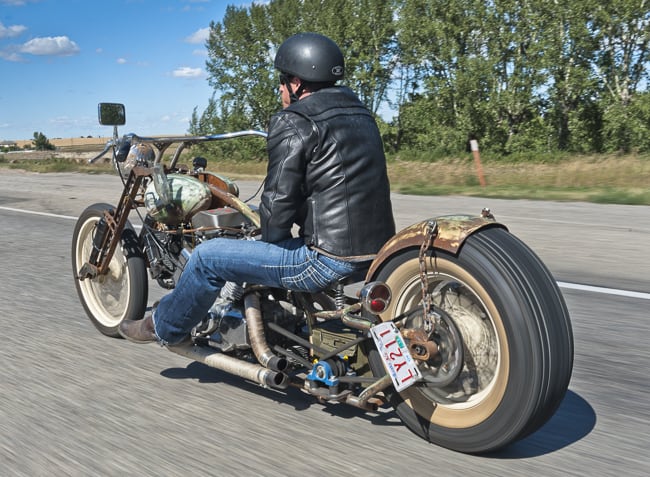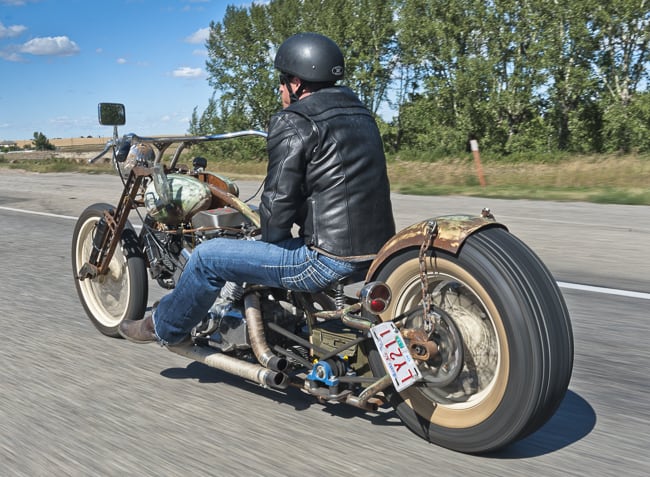 Essentially, Dool built the jackshaft prototype, and Gavel's millwright cousin Curtis Von Cube in Nelson, B.C, perfected it. Gavel's had the bike on the road all of 2012. "It handles like a snowmobile," he says. "It likes to go straight, but I don't really have a problem cornering. Where it gets exciting is in a parking lot – you can't turn it around without doing a three-point turn."
Sergeant Ugly, as he's nicknamed the Magna, exceeded his expectations — it draws a crowd when parked. "People just don't get it; because it's so ugly, they want to know when it will be finished. It's done."