Dave Mann's 1998 Subaru Impreza is perhaps the greatest street-legal GC8 on the planet, combining time attack function with an aggressive, unique style.
Story by David Pratte. Photos by Amee Reehal.
When you think of the GC8 Subaru Impreza, chances are the first images that come to mind are the awesome WRC machines piloted by rallying gods like Colin McRae and Richard Burns. Or if you're more into time attack than rally, perhaps it's images of fender-flared and big-winged monsters like GST's, Top Speed's or Zen Performance's Unlimited class Imprezas that call your screen saver home.
You'll Also Like: Reasonable Compromise: 2008 Subaru STI Hatchback Feature
Why the Impreza
For Dave Mann of Kelowna, British Columbia, his influences come from the dirt and the pavement. "It started for me out of a love for WRC. I had never really been into cars for the majority of my teen years-instead, I raced downhill mountain bikes at a high level. Naturally, rally was something I took a liking to, as it's very similar to downhill racing in some ways [loose surface and racing against the clock]. That, along with the fact that we were constantly shuttling on gravel roads in the mountains, drew me to Subaru."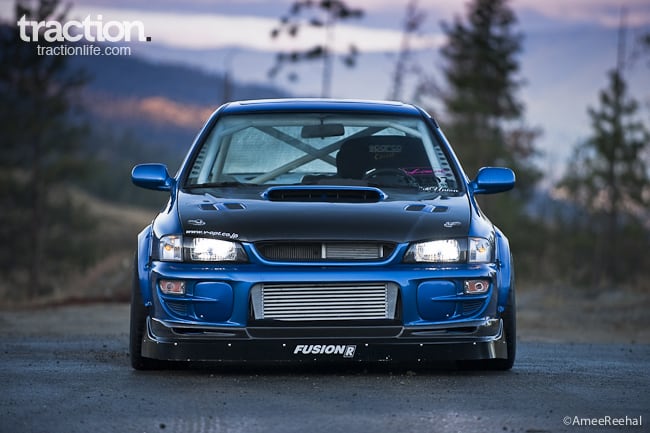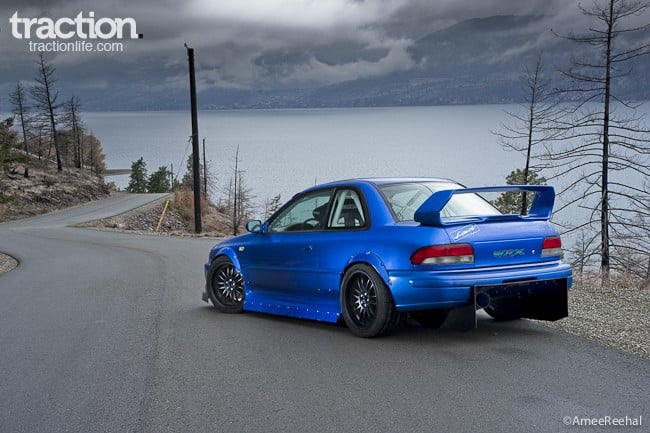 In 2002, when Subaru brought the WRX to the North American market, Dave knew he had to have one. But because he was barely old enough to drive at the time (he's now 23 years old and about to graduate from college with a degree in finance), it wasn't until 2005 that he sold his '91 Toyota pickup truck and found a used '02 WRX that fit his budget. "That's when I started to get into the modding scene. It started off light, but as most people know, the obsession grew fast. Within a year I had the car set up with all the basics, plus an upgraded turbo and fuel system, having done all the work myself. It was a great learning process, but I was hooked and wanted to do something bigger and better. I wanted to do a classic ('98-01) body style with a complete swap."
Dave's stars aligned when his local Subaru dealer informed him that they had a Rally Blue Pearl GC8 with a blown motor on the lot. He immediately sold his WRX and picked up the '98 rolling chassis and began researching the challenging JDM STI engine and transmission swap.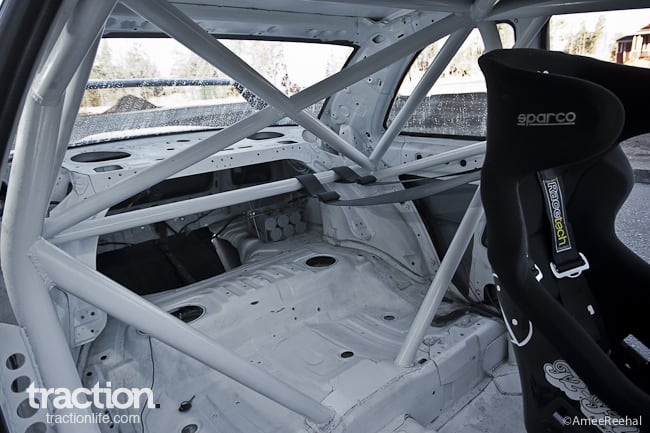 The Build: Performance first
"After many phone calls, I finally sourced my swap from Andre at SwapShopRacing.ca out of Blainville, Quebec. Once the complete JDM Version 7 WRX STI engine and Spec-C 6-speed transmission arrived, my friends and I completed the install over the winter months, and by the summer of 2007 the car was on the road. At this point, it was basically stock with the exception of the new engine and transmission."
It was around this time that Dave developed an interest in time attack. So rather than building his GC8 to slide sideways through the dirt, his objective was to turn his Impreza into a low-budget time attack special and aggressive street car. This meant gutting the interior and having Alsek Industries fabricate a CARS-spec (Canadian Association of Rallysport) eight-point rollcage, as well as developing some functional aerodynamic aids to go along with the usual power-adders and suspension modifications.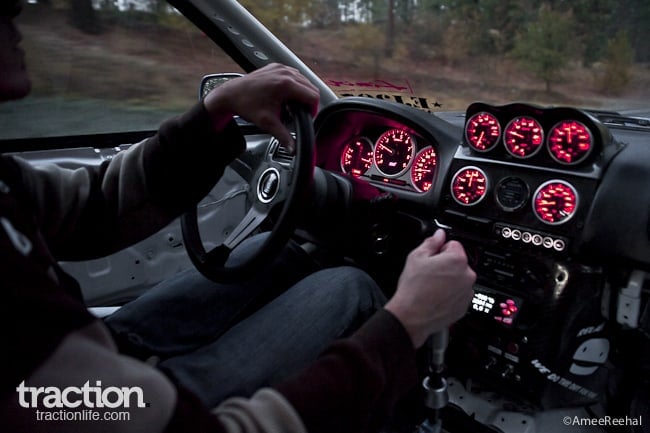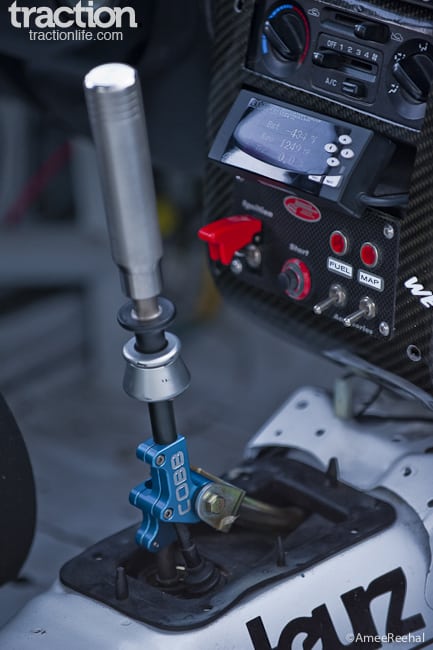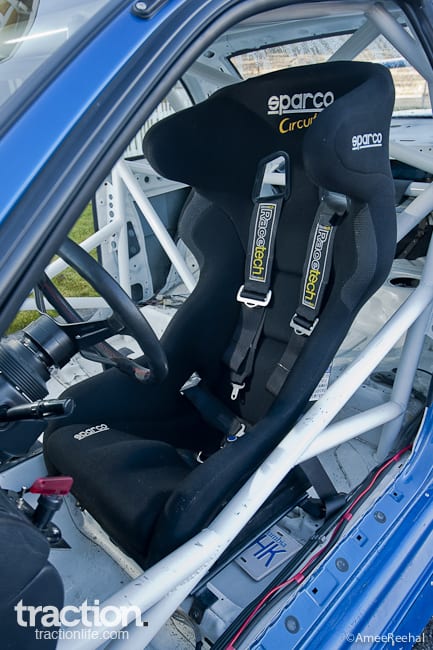 Styling
"One thing that is really important to me about this car is that it is 95 percent self-built. I have not had a shop do anything to the car except for the ECU tuning and cage work. Everything else I did myself, with the help of my friends." One of the more distinctive modifications to Dave's Impreza is the Limit Factory rear diffuser, a custom one-off item built by this small local fabrication shop. Installing it meant cutting a big hole in the trunk floor as well as the rear bumper cover, but Dave's never been one to shy away from adventurous mods like this, which not only look wild but more importantly should significantly improve rear downforce. The Do-Luck side skirts are also both functional and quite rare (especially on a GC8), complemented nicely by the Seibon carbon-fiber hood and front lip. The rest of the exterior is all JDM Version 6, from the STI foglight covers to the front grille and rear spoiler.
Wheels and Footwork
Just as much as the wild rear diffuser and unique aero package, it's the wheel offset and stance of Dave's Impreza that sets it apart from the crowd. It's not every day you see a set of JUN Nissan S13 fender flares on a Subaru, but that's exactly what Dave chose to create the super-flush look on his GC8, along with Rota SVN-R 18×10-inch +30 wheels spacered out to a +5 offset up front and +1 out back. Rolling on 265/35-18 Bridgestone RE-11s, ride height was set with Racecomp Engineering Tarmac II double-adjustable coilovers. The rest of the running gear is straight off a '01 Version 7 WRX STI-from the axles to the hubs, rotors and calipers, along with Cusco camber plates and a Whiteline 24mm rear antisway bar.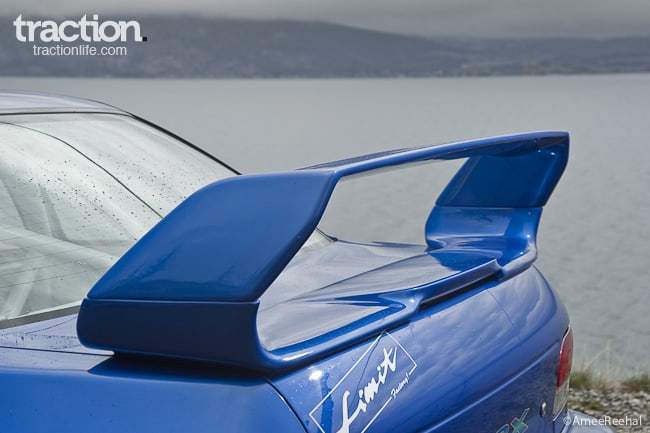 Under the Hood: 470-hp
Under the hood there's been no shortage of wrench-spinning by Dave and his crew, the '01 v7 engine having been treated to an Ultimate Racing GT35R turbo kit including an up-pipe and a 3-inch racing downpipe. Controlled by an Autronic SM4 stand-alone ECU, power is sent to all four wheels through Suretrac front and rear LSDs and a 20kg viscous center differential. And there's no shortage of power to be distributed, the current 94-octane pump gas tune being good for 470 bhp at 1.4-bar of boost pressure.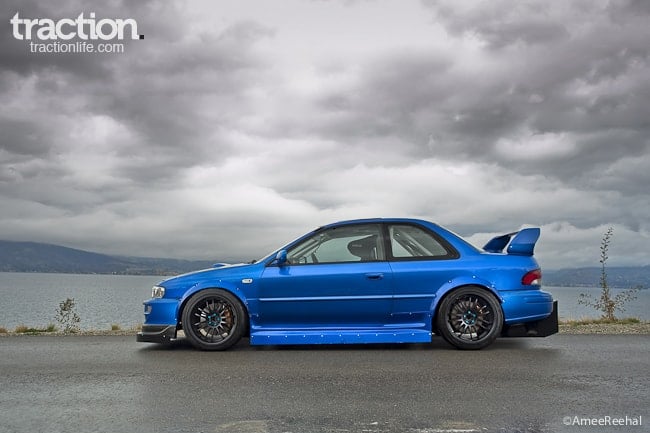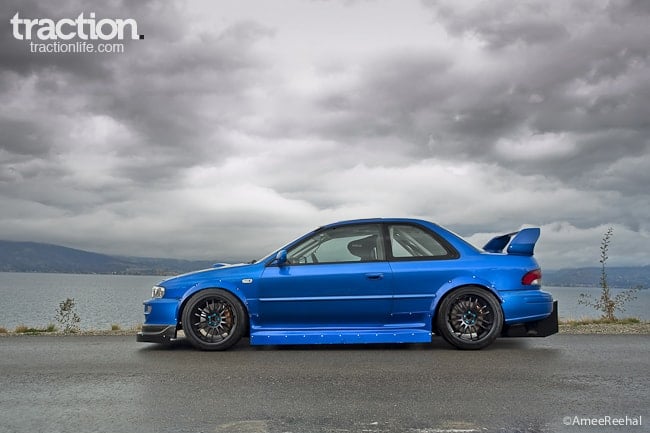 Takeaway
Having home-built this stunning Subaru with a style all its own, Dave Mann has no plans to stop developing his GC8. "My future plans include an upgraded fuel system with a surge tank, a built 2.5-liter engine tuned for high boost with an Aquamist water injection system, and a Accusump wet system. I also plan to do some more custom aero work." With a seven-page thread on NASIOC.com featuring nothing but declarations of love and admiration for Dave's Impreza, there's no shortage of fans (us included) that'll be watching as he continues to push the boundaries of function and form on this truly great GC8.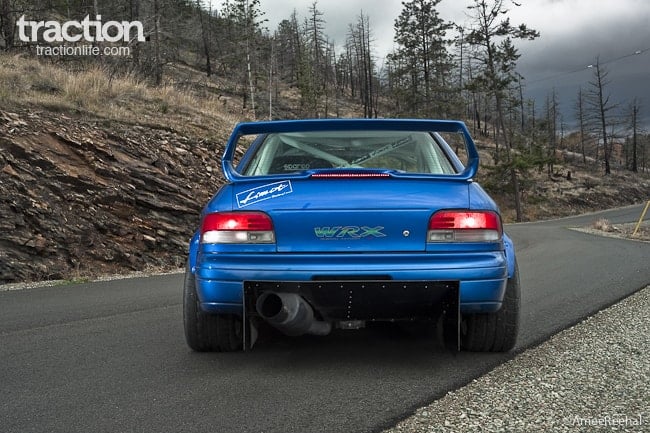 Worth Knowing
:
» Subaru owes much of its current popularity in the tuner/high-performance market to the success of its World Rally Championship program. In fact, the STI division was created by Subaru in the late '80s to spearhead its WRC effort. With WRC manufacturer's championships claimed in 19=95, 1996 and 1997 and a driver's championship in 1995 by the late-great Colin McRae, it was on the dirt in a GC8 (built in large part by Prodrive) that Subaru established its credentials as a high-performance brand and earned the company a loyal following in the process.
» Two Impreza generations later, the GC8 chassis continues to dominate time attack beasts campaigned by the likes of GST Motorsports, Top Speed, Roger Clark Racing and Zen Motorsports. Due to its relatively low mass (compared to GD and GR Imprezas) and expert tuning, the GST GC8 has won the Modified Tuner Shootout two years in a row as well as being a top runner in the highly competitive Unlimited AWD time attack division.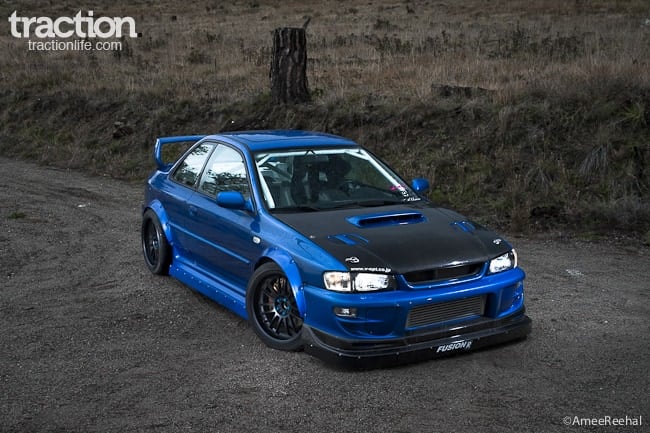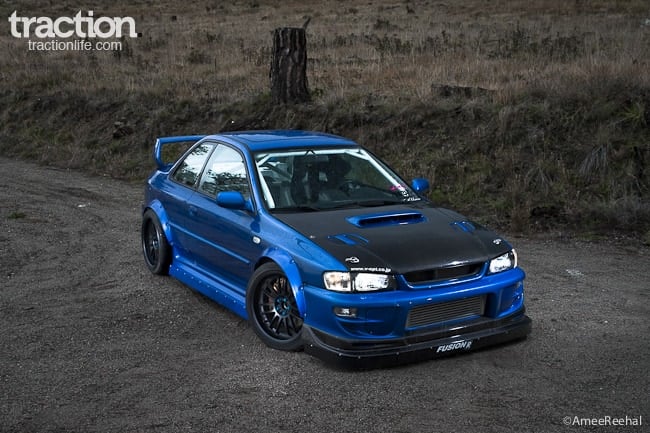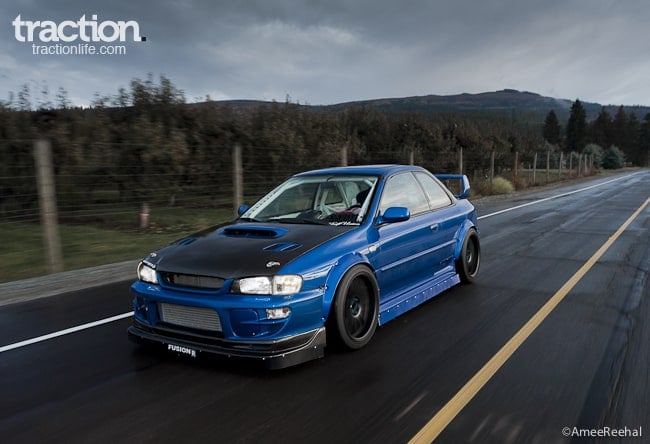 Specs & Details 
'98 Subaru Impreza 2.5RS Coupe
Engine: 
2.0-liter EJ20 2001 JDM Version 7 WRX STI
Engine Modifications: 

Ultimate Racing GT3582R (0.82a/r) turbocharger, racing up-pipe, and 3″ downpipe; AUS spec turbo blanket, HKS turbo heat shield, TiAL 44mm wastegate, TurboXS FMIC, custom Regan Ritchie intercooler piping, modified/reversed intake manifold, Invidia G200 3″ after-cat exhaust, Deatschwerks 850cc fuel injectors, Walbro 255-lph fuel pump, Mishimoto radiator and slim fans; Element Tuning race air/oil seperator, Mocal race oil cooler, rear-mounted Braille 6-lb carbon-fiber battery
Engine Management:
Autronic SM4 stand-alone ECU w/ antilag, A'PEXi AVC-R electronic boost controller
Suspension: 
Complete '01 Version 7 WRX STI suspension conversion (control arms, knuckles, hubs, subframes), Racecomp Engineering Tarmac II double-adjustable coilovers, Cusco adjustable camber plates (f/r), Whiteline 24mm rear sway bar
Wheels, Tires & Brakes: 
Rota 18×10″ SVN-R +30 wheels (25mm spacers front, 29mm spacers rear), Bridgestone 265/35R18 Potenza RE11 tires, Rays extended lug nuts, complete '01 Version 7 WRX STI brake conversion (hubs, rotors and calipers), Hawk HP+ brake pads, Goodridge SS brake lines
Drivetrain:
2001 JDM Version 7 WRX STI Spec-C 6-speed transmission, Suretrac LSDs (f/r), 20kg viscous center differential
Interior
:
Alsek Industries CARS-spec 8-point rollcage, Nardi Rallysport 330mm suede steering wheel, Momo quick release hub, Racetech RT-Pro 5 cam-lock harness, Sparco Circuit race seat, JDM WRX STI pedal set, Cobb Tuning double-adjustable short shifter, WC Lathewerks custom shift knob, custom carbon-fiber center switch panel, A'PEXi AVC-R monitor, Defi bf-series controller w/ boost, oil pressure, EGT, oil temp and water temp gauges; Aquamist dds3 flow gauge, '05 WRX STI gauge cluster conversion
Exterior: 
Seibon carbon-fiber hood and front lip; KLight 6,000K HID headlights, PIAA Ion Yellow corner lights, JDM Version 6 STI foglight covers, front grille, and rear spoiler; JUN S13 fender flares, Do-Luck side skirts, Limit Factory custom rear diffuser
Special Thanks
: Limit Factory, Drift Union, Benvoulin Hot Rod Shop, Rocket Rally and everyone who helped out with the build.