A busy dad gets the mod bug…again. This time, with a 2008 Subaru STI Hatchback.
Sometimes we get older and need to put aside our passions because life gets in the way. A scary truth is that there are a lot of people with families, who can't continue heavily modifying cars that take up their time, mental space and of course your wallet. This was almost reality for Danny Yee who after two children found it difficult to own a highly modified car. After parting out and selling his then Junction Produce themed Lexus GS, Yee was on the hunt for a functional vehicle that would suit his everyday needs, but never had the intention to mod. "For work I need space in the trunk, I have to pick up the kids from daycare every day. This car needed to be functional 365 days of the year." says, Yee.  Then one day Danny came across a near pristine Subaru Sti, and this is where his new journey began.
Thinking that the days of modifying cars were behind him Danny happily took the Subaru back and forth to work utilizing the hatchback's space, 4 doors as well powering through the snow with its superior AWD system. With good intentions of keeping the car in factory format, things took complete 180. The mod bug hit, and it hit hard. Danny came up with battle plan for his next build. Stipulations were that he was able to daily drive the vehicle even in hazardous conditions while achieving comfort, performance as well is esthetically pleasing to the eye.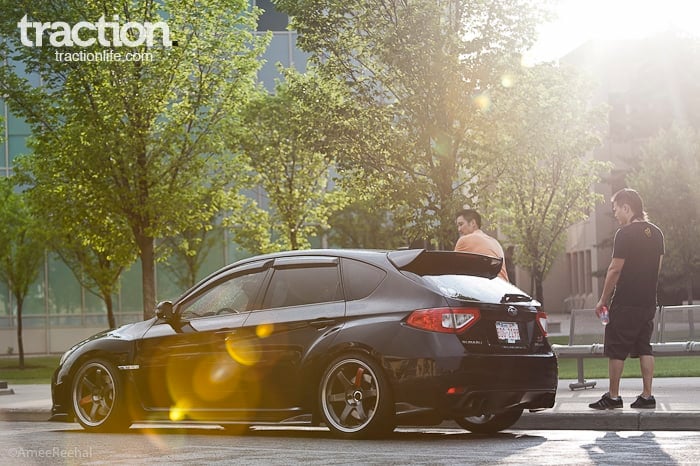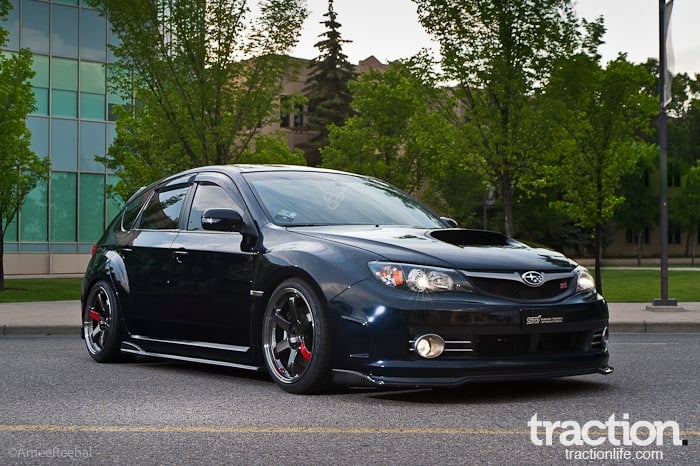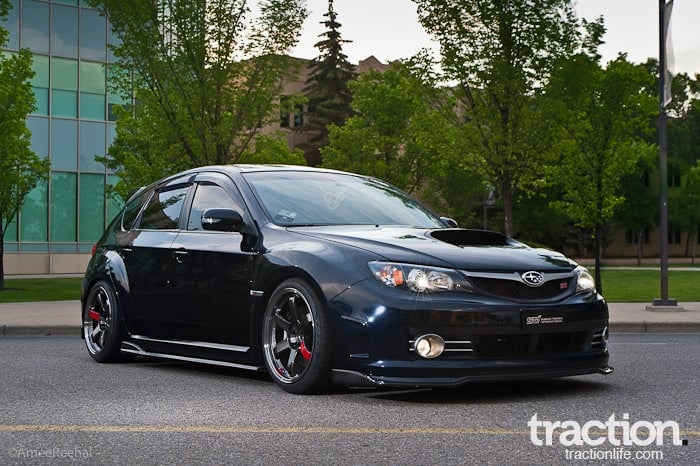 The Suspension
"I wanted the car to be low, yet ride close to stock comfort. I know this could only be achieved with a good damper, KWV3 was the way to go." Danny procliamed.  Once the suspension had been dialed in, the next order of business was a wheel and tire combo. Keeping with the set goals of a daily driver stretched tires and super low offsets were not a valid option. After playing around with different fitments Danny went with Volk Racing Super Lap TE37 wrapped in Toyo T1 Sports.  Needing a minor roll in the rear fender the Subaru easily accepts the new 18×10 wheel with 255/35/18R tires size. Finishing things off, Yee utilized a Cusco tower bar with Whiteline sway bars and bushing set.
After playing around with different fitments Danny went with Volk Racing Super Lap TE37 wrapped in Toyo T1 Sports.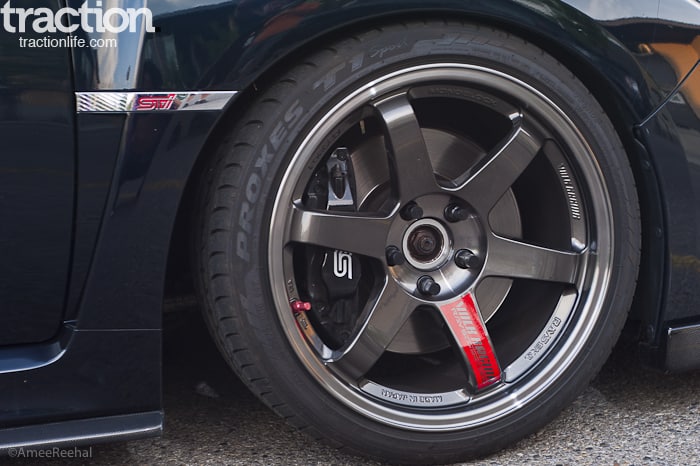 Power: 285-hp
Next order of business for the hatchback was to address the power department; not being a fan of the boxer rumble Yee opted for a Tomei Expreme equal length manifold to rid the Subie of its distinct tones. In addition a HKS downpipe, HKS SSQV, Perrin uppipe, AEM intake, Fujitsubo Exhaust and Cobb Accessport finished off the array of engine accessories to complete Yee's Stage 2 upgrade.  The modest upgrades showed gains to 285 whp @ 375tq post tune.
The first thing on the exterior of Yee's car you will notice is the carbon aero kit from Chargespeed, along with OEM fog lamp kit and window visors the exterior does not scream boy racer, but more a refined look that will never show its true age. "Needing to drive this car in the snow I needed exterior parts that were easily interchangeable once the weather hit the fan." That's right this car sees all sorts of weather from the brightest of sunshine to the deepest snowpack that Canadian climates throw at it. Rounding off the interior boost and air/fuel are monitored by a Defi Boost gauge and Innovate LM2 which are held in place by a Perrin gauge pod. Tunes are managed by an Alpine DVD head unit, Alpine Type R components along with a 10 inch Alpine Type R Subwoofer.
 I wanted the car to be low, yet ride close to stock comfort.
Danny serves as a great example, that even though life does get in the way that you don't have to relinquish the love affair with cars. But that you need to reach a reasonable compromise so that life has a nice balance.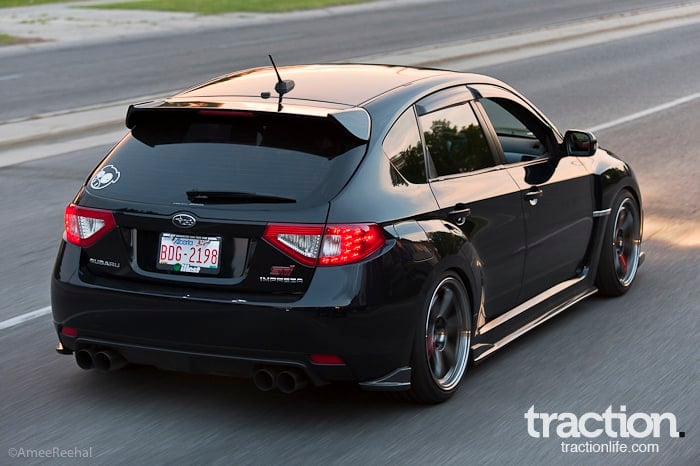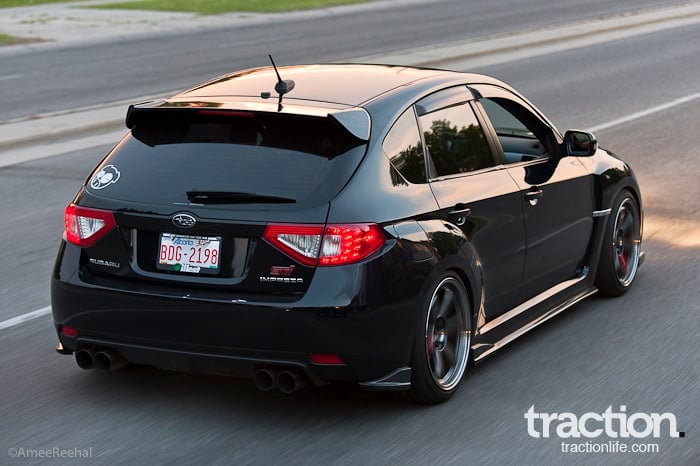 2008 Subaru STI Hatchback Specs: 
DRIVETRAIN:
-Cosworth 2.5L shock block
-Cosworth oil pan baffle
-Cosworth timing belt guide -Gates Racing timing belt -Upgraded oil pump pick up tube
-Kelford cams & valve springs
-Perrin Rotated turbo kit with Garrett GT3076R .63 A/R turbo -Perrin 3" intake with AEM dry filter
-TIAL 44mm External Wastegate
-Perrin Stealth Front Mount Intercooler -Braille radiator top cover
-Grimmspeed EBCS
-TGV deletes w/8mm phenolic spacers  -Custom painted intake manifold -EQ 3" blow-through MAF tube
-Air pump delete  -Perrin light weight crank pulley -Cosworth air pump block-off plates
-850cc injectors
-AVO 245LHP fuel pump
-COBB ACCESSPORT V2
– crawford gymkhana exhaust -Grimmspeed ported and ceramic coated exhaust manifolds
-Tunerworks custom engine oil cooler
-Group N engine mounts
-Kartboy Pitch Mount
-COBB shifter bushings -Gates Racing accessory drive belt -ACT HD pressure plate
SUSPENSION & BRAKES:
-KW Variant 3 coilovers
-Corner balanced
-Perrin sway bars
-Whiteline Roll Center Kit
-Whiteline Anti-lift kit
-Whiteline Diff bushings
-Whiteline rear arm bushings
-Cusco under braces
-Girodisc two-piece slotted front discs
-Stoptech SS braking lines
-Brembo brake fluid