Junction Produce Everything, this 2000 Lexus GS400 will make any Japanese Mafioso proud.
From Yakuza gangsters cruising the slums of Osaka to 9-to-5 suburban Dads strolling the mean streets of Middle America, the VIP culture has garnered worldwide popularity from its controversial, Mafioso origins.
While the luxury sedan, rear-wheel drive, low and wide VIP fundamentals are virtually the same throughout the world, the enthusiasts creating their own versions are completely varied and come from all walks of life. The platforms have become just as diverse as well, from minivans to economy cars such as the Scion, and even US platforms such as the Chrysler 300c have seen the VIP treatment.
Also Checkout: Lexus Creates a Real Hoverboard
But ask the purists, like Danny Yee from Calgary, Canada, and they'll tell you that in order to build a true, badass Yak-car, you need the right platform. No family vans, no econo-boxes. Only Lexus or Infiniti will do. So, Danny purchased a 2000 Lexus GS400 a few years back. "I wanted to try something different," he explains, "VIP cars were hot at the time and I loved the luxurious style and look…Lexus was the obvious choice."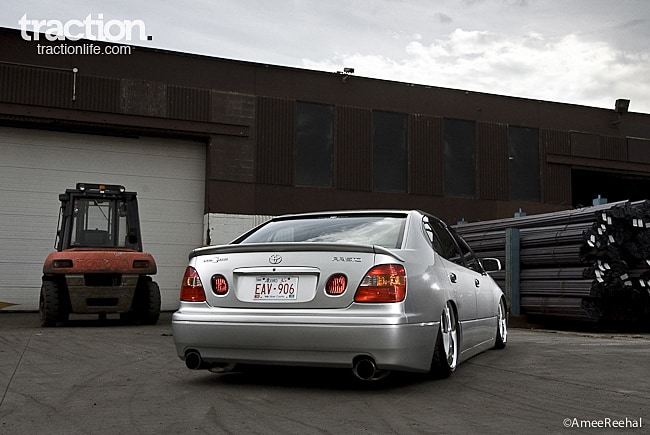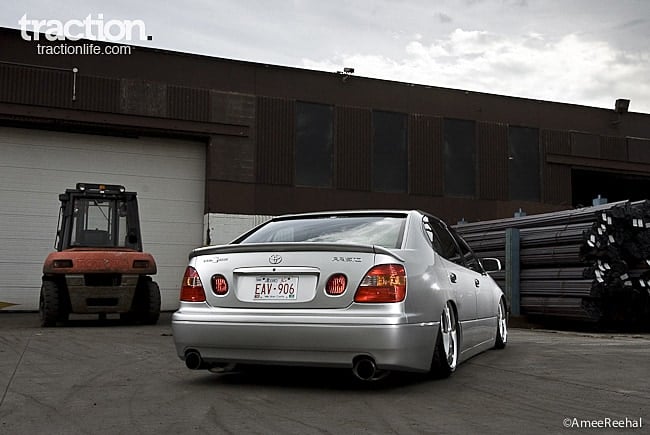 Moments following his newly acquired, naturally-aspirated 300-hp sedan, the next logical thing was to hit the road and bury the pedal, of course. Suffice to say, "It felt good! The combination of comfort and power was fantastic!" The next step was to enlist upon Danny's partner in crime, Nic Chow, and the team at SpeedTech Racing Development in Calgary to get the project underway. In addition to hitting the Internet and begin sourcing parts.
The first order of business, with help from AutoTech Performance & Security, was the Air Runner full air suspension kit installation. "I figured to make everything the way I required, I would install the air suspension first which would take the greatest time and effort. After installing the suspension, everything was easy in comparison," Danny explains.
This GS400 was the first Japanese luxury car in the city to see an air suspension kit, so finding the right people locally who could help created extra difficulties. Countless long-distance phone calls to Air Runner USA in California for support proved invaluable, yet time consuming.
Removing all the rusted nuts and bolts from the stock suspension also proved to be difficult (Danny purchased his Lexus second-hand, from the eastern region of Canada where they use salt on their roads during snowy winters. Thus, contributing to rust. Opposed to the western region where he resides, where they use gravel and not salt). To make matters worse, he realized the car was never undercoated for protection! Trying to loosen the rusted nuts and bolts was painstaking for all involved, so they said screw it, so to speak, and simply chopped them off. At this point, everything was running the way it was intended.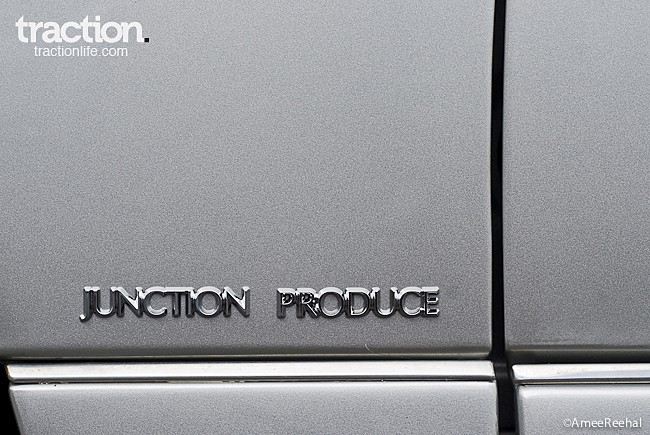 But wait, it gets better. Perhaps the most challenging task regarding the air suspension was the numerous air leaks that constantly required repairs. As Danny explains, "For the first week or so, we had an ongoing battle with different air leaks throughout the system. The night before, the car would be fully inflated, and by morning, my front end would be resting on the garage floor…there can be an air leak in the system at anytime. I guess it comes with the territory!"
Despite all these headaches, the as-low-as-you-can-go attribute is a VIP prerequisite. Frankly, lowering spring or coilovers need not apply; only an air suspension system is the proper way to go. Paired to the Air Runner system is an ACC Air Management Kit, a Dakota Digital Air Management System, and an ARHC Remote Kit. Everything sits on beefy yet sexy WORK Euroline DH wheels, sized 19×9.5 up front and 19×10 in the rear, wrapped in BFGoodrich KDW 235/35/19 and 245/35/19, respectively.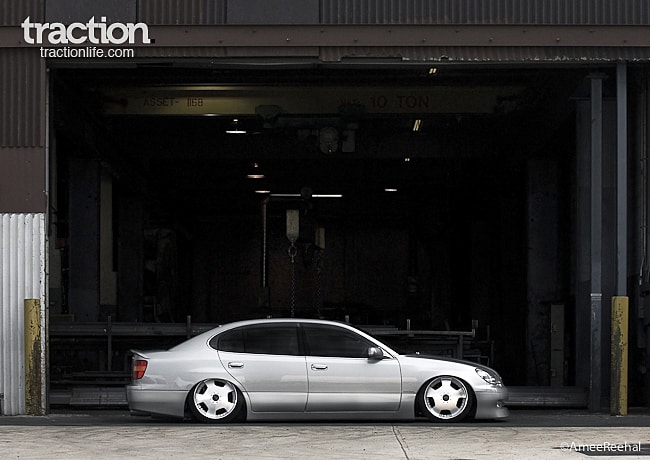 While engine modifications were kept to a minimum with the addition of a Tanabe Super Medalion cat-back exhaust, it's the exterior styling that really sets the iconic gangster sedan apart. And Danny's Aristo is no exception. It's all about the subversive styling—and with over 300-hp under the hood, there is more than enough power, whether you're outrunning the Tokyo Police or rushing home to make dinner.
Arguably, Junction Produce is the go-to brand for all things VIP. As Danny puts it, "I chose Junction Produce for my body kit because, in my mind, they are one of the best companies in Japan right now…all my parts fit like a glove, very easy."
Exterior styling includes the following Junction Produce attire for the JZS161 model: a 5-piece full aero kit, roof wing, chrome door handle kit, exclusive JP aero fog lamp, quarter pillar garnish, stainless trunk garnish, and JP emblems and crests. Puddle lights were also installed underneath along with illuminated EL stepping plates. All 'Lexus' badges were replaced with the Japanese equivalent 'Toyota Aristo.' Including Aristo sport garnish package acrylic visors.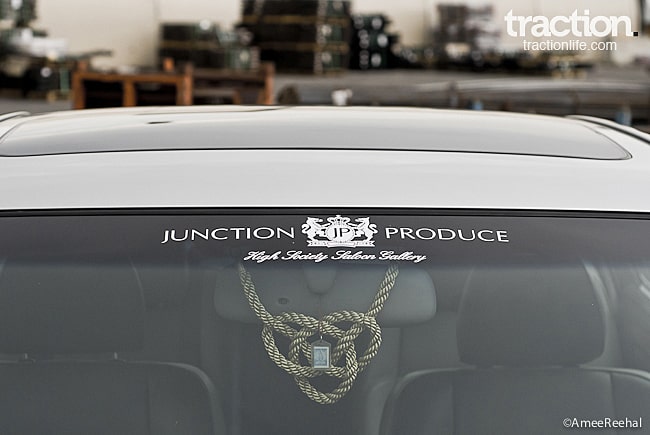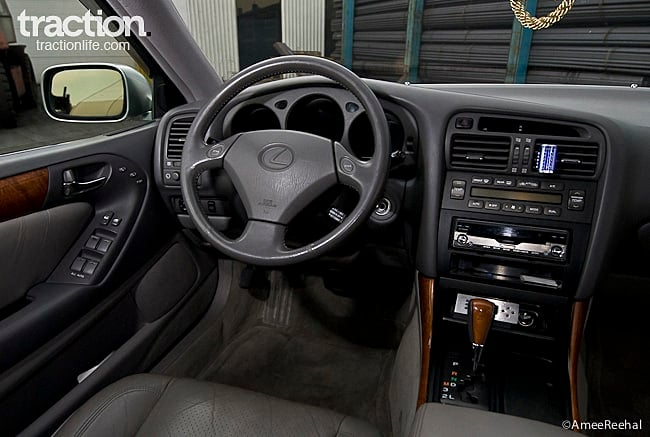 Inside, hanging from the rear view mirror, is a Junction Produce Kintsuna—the 'golden rope' symbolizing JP's hometown, as we are told. Danny doesn't mind the comfortable interior as is, but of course, he has his eye on some other goods. "Of course, there's always something to do to a car! As for the interior, I'm thinking full wood grain interior, Aristo wood grain steering wheel, Junction Produce Recaro baby seat, the little things!"
Equally imperative as a comfortable, luxurious interior, is a decent I.C.E. setup, and Danny's system is just enough. Anticipating long drives with music blaring, only the best speakers would do with Focal as the obvious choice. Including Focal component speakers and a 27H 10-inch subwoofer paired to a Pioneer 6500 DVD head unit with a Dimensions Pro 3.2X amplifier.
It's refreshing to see the VIP culture hit the western tuner world. It's kind of like JDM all grown up, but without the stiff seats and tight rides. It's all about the style and comfort now, and for all the Spoon-fed tuners like Danny Yee who have already done the naturally-aspirated-bolt-on-performance-thing, the timing could not have been better. Trading in the single-life for the married-life, and the Mazda for the Lexus, the VIP lifestyle suits tuner-enthusiasts like Danny just fine. As he puts it, "Now I don't have to enter every speed bump or curb at a 45-degree angle anymore, like my other friends." But hey, who says we all need to grow up, right?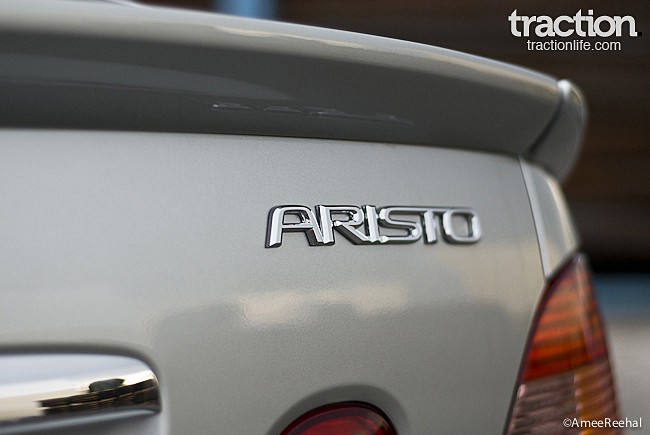 2000 Lexus GS400 Tech Sheet:
Exterior:
Junction Produce Full Aero Kit for JZS161 5pc
Junction Produce JZS161 Roof Wing
Junction Produce JZS161 Chrome Door Handle Kit
Junction Produce JZS161 Exclusive JP Aero Fog Lamp
Junction Produce JZS161 Quarter Pillar Garnish
Junction Produce JZS161 Stainless Trunk Garnish
Aristo Sport Garnish Package Acrylic Visors
Junction Produce Emblems and Crests
Toyota Aristo Badging
Puddle Lights (underneath)
Illuminated EL stepping plates
Engine:
Tanabe Super Medalion Hyper cat-back exhaust system
Interior:
Junction Produce Kintsuna
Suspension:
Air Runner Full Air Suspension Kit
ACC Air Management Kit
Dakota Digital Air Management System
A.R.H.C. Remote Kit
Wheels:
Works Euroline DH 19×9.5 (front) 19×10 (rear)
BFGoodrich KDW 235/35/19 (front) 245/35/19 (rear)
I.C.E.
Pioneer 6500 DVD head unit
Focal component speakers
Dimensions Pro 3.2X amplifier
Focal 27H 10-inch sub