For 2011 , the Ford F-150 SVT Raptor SuperCrew gets the 6.2L V8 engine as standard. Those graphics? An extra $1300
Few trucks will garner more attention than the 2011 Ford F-150 SVT Raptor. Sinister looks with unique styling cues and loud "digital mud" graphics sets this half-ton pickup apart from the crowd.
A couple years ago, I tested the 2010 Ford F-150 SVT Raptor, where jaw-dropped, mouth salivating trucker guys abound—
not much had changed this time around. But while the aroused public sentiment remained the same, the 2011 Raptor did see a few significant changes, now finding a much welcomed SuperCrew cab option (not available last year) and a standard 6.2-litre engine (previously an option).
New Features
Ford continues to lead the way with technology and innovation, consistently introducing a wealth of features into their products, and the 2011 SVT Raptor is no exception, including an electronic locking rear axle which engages with the pull of a switch, locking the rear gears together for maximum traction and power; Hill Descent Control allows the driver to control hill descent without applying the brakes; an off-road mode engaging a third throttle map and shift schedule for improved off-road performance; unique, cast-aluminum SVT front control arms providing extra and track width; and a massive front skid plate protecting the front underbody and engine.
New standard technology for the 2011 SVT Raptor include:
Perimeter alarm
Integrated spotter mirror
Express up/down driver and passenger front windows
110V power inverter in the centre console
Head restraint for second-row middle seat
Telescoping steering wheel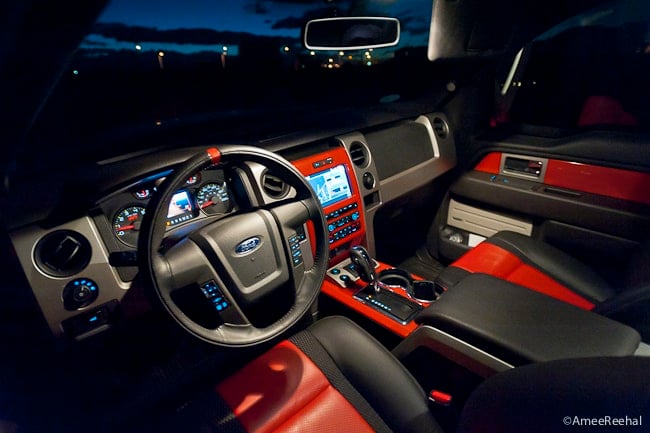 Under the hood
A 6.2-litre V8 engine makes the 2011 Raptor the most powerful half-ton on the market. Even better? This powerplant is now a standard, over the previous standard 5.8-litre. Whereas the outgoing 5.8-litre made 320-hp and 390 lb.ft of torque, this 2011 Raptor's 6.2-litre creates 411-hp and 434 lb.ft of torque. A significant increase in power.
Now, the Raptor is finally available in a SuperCrew offering a 5.5-ft box and a 145-inch wheelbase. For our little family, the extra doors were a welcome addition proving easier loading/unloading baby duties, especially with a child seat. A standard 4.2-inch LCD productivity screen also finds it's way into the 2011 Raptor.
Inspired by the old-school racing Broncos, the 2011 Raptor finds a new hood graphic this year, adorned with a matte black SVT Raptor logo (option). Also new, the Ingot Silver Metallic paint, with the standard black interior or the optional Molten Orange interior package.
Raptor pricing and options
The 2011 Ford F-150 SVT Raptor SuperCrew starts at $55,199 CAD MSRP, with a special dealer account adjustment factored in. Options on my Raptor include the power moonroof ($1300); graphics package (1300); hood graphics package (1100); Sony navigation radio (2300); pickup box extender (350); tailgate step and trailer brake controller (300 each); rear view camera and Raptor orange accent package (500 each). Bringing total options to $8050 with final price (before taxes/fees) to $63,149.
Learn more – Ford F-150 SVT Raptor
PROS:

SuperCrew new for 2011
6.2L engine is now standard (option in outgoing model)
Menacing, attention-grabbing looks; front grill is killer
Cabin fit and finish impressive; rival any sedan

CONS:

Unless you're traversing mountains, Raptor may be overkill
Digital Mud graphics option expensive at $1300
An OEM-aftermarket equipped vehicle often overpriced
2011 Ford F-150 SVT Raptor SuperCrew Technical Specs: