Family Fun-time in the 2012 911 Carrera S
Indeed, this is the new, next-generation Porsche 911, dubbed the internally-coded '991' (ousting the previous '997'). And, no, 'next-generation' does not now encompass any extra doors or family-friendly cargo compartments. Nor should it. As our Traction west-coast contributor Russell Purcell explains in his solid review on this exact same Lime Gold Metallic Porsche 911 press car, recently published here.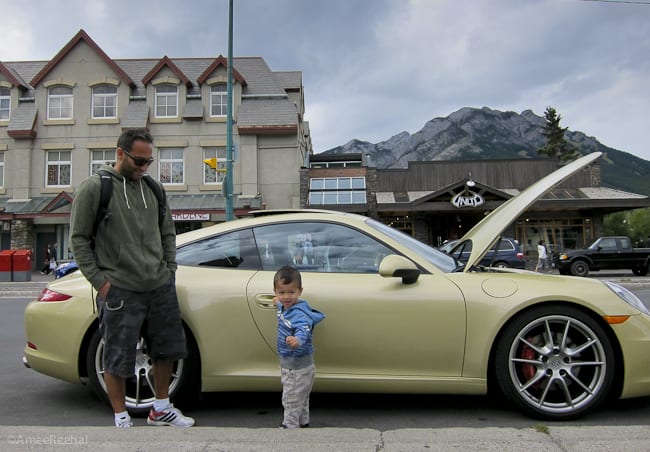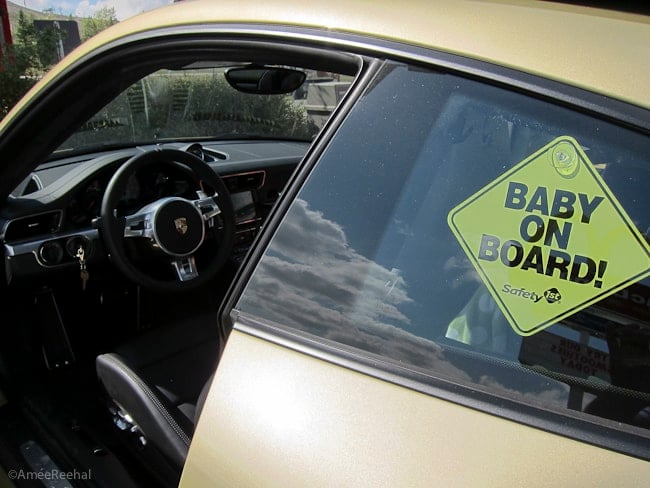 So, the question arises: why nestle my-son-just-turned-two-like-just-a-few-days-ago into a 400-hp German rocket on wheels? One answer: Child seat anchors. Now, I don't recall if these child seat hooks were available in any previous 911s I tested over the years. Whether I even checked? Or maybe I did,  and yep, there they are but quickly and possibly deflated realized strapping my 1 year-old last year into a 400-hp German rocket on wheels wasn't such a hot idea.
Actually, there's another answer: yes, this coupe is fast, and it's a track monster, and transporting a little kid in this car may seem inappropriate to onlookers (though the look on people's faces when they saw both a car seat in the back and a gleaming 'Baby on Board' suction cupped to the side window was priceless). However, I feel safer and unequivocally more confident navigating an overly-capable (and yes, powerful) new-model Porsche 911 with an insane brake assembly over a mammoth, lane-hogging SUV. I'd pick the 911 over anything, as long as it's the Carrera 4S with all-wheel drive. Slap some performance winter rubber and you'll be the first parent enjoying the coveted 'For Expecting Moms and Parents with Small Children Only' mall parking spot. Glaring, dirty looks included.
Note: the above notion, of buying a nearly $150,000 Porsche 911 that starts at $110,000 CDN MSRP as your little 'family-car' with baby in back, and wife cramped into the passenger cavity as though she's fleeing Mexico, are realistically, well, unrealistic. For most of us. But the other more critical notion of even proposing such a genius idea to your wife should make you feel unsettled and dizzy. If not, you have no shame.
 So, the question arises: why nestle my-son-just-turned-two-like-just-a-few-days-ago into a 400-hp German rocket on wheels?
Nevertheless, we as a little family-unit (minus Bruce our Boston Terrier, who arguably could have fit behind driver seat…?) felt comfortable enough to do exactly that: strap little guy in back; welcome wife into surprising spacious front passenger space with decent leg room for a smaller, well-proportioned, incredibly beautiful yummy-mummy who may one day read this; and I in the cockpit, all head out to Banff for the afternoon to hang out with in-laws camping for the night.
Clearly, I was feeling cozy and relaxed once we hit the open highway. And baby boy was doing great considering he's a giraffe at his age, with the passenger seat was fairly upright and forward to accommodate his crazy long-ass legs and giant feet. Hence, all eyes were on the passenger. And she didn't seem to complain. In fact, and I honestly quote, "I wish my office chair was this comfortable." Remember, she's in a coupe with baby Kareem Abdul-Jabbar directly behind her. Fortunately, our Carrera S found the $5080 Premium Package upgrade with 18-way seat adjustments.
Above all, the cabin space in the new 991 Carrera S has indeed been considered. As Russell in his review states, "The passenger cabin is more luxurious than that of previous offerings, and the dash, instrument cluster and centre console have been modernized to look more like less cluttered versions of those featured in the car's sisters, the Panamera and Cayenne."
For myself, the main disappointment remains the interface for entertainment and music…iPod plugged in and toggling through the menus is a bit archaic. I love the way Germans think…just need to make interface sexier. And easy to use. The driver gauge cluster with Info/Nav colour screen is definitely slick, and purposeful.
Again, I quote my friend Russell regarding the cockpit…he nails it with, "The car's cockpit has been designed to place the driver in the optimal setting to become one with the car, and the most vital controls, gauges and switches are easily accessible for the operator. The body-hugging sports seats seemed infinitely adjustable (18-way) and proved firm and well-bolstered enough for serious track duty. The three-spoke steering wheel features a wide-rim, and is fitted with paddle shift levers so that the driver can extract the most fun from the incredible PDK transmission.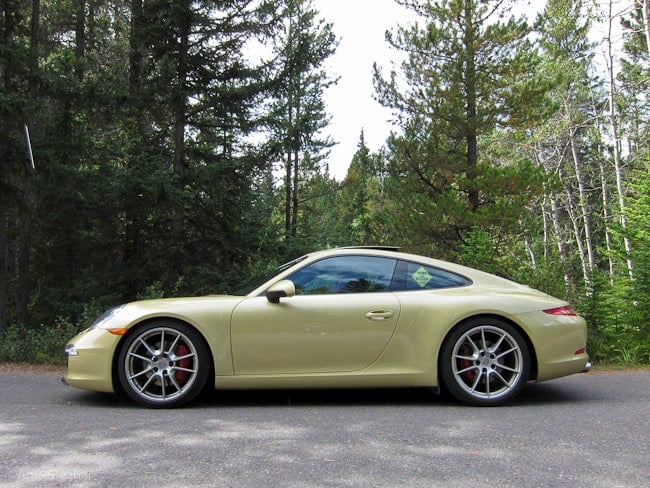 As for exterior design, this 2012 Carrera S is truly a jaw-dropper. Pedestrians and fellow drivers pan their drooling heads, gawking at the $3590 upgrade Lime Gold Metallic. Then, jaws drop as we roll away, puzzled with excitement when their eyes lay upon the 911's completely reworked, and probably controversial with some purists, rear end with peculiarly thin tail lights, realizing this is no ordinary Porsche. And when Porsche decides to deviate, in any which way, people will go bananas…both elated bananas and angry bananas.
Above all, Electric folding exterior mirrors! For only $370 upgrade, which is low considering some interior/cosmetic upgrades can run higher than 400 bucks. You don't know, but those dads who watch their kid a couple days a week, certainly do know. And, we dads know how valuable folding exterior mirrors are at parking lots of shopping malls, Toys "R" Us, community lake, and liquor store can truly be.
I feel safer and unequivocally more confident navigating an overly-capable (and yes, powerful) new-model Porsche 911 with an insane brake assembly over a mammoth, lane-hogging SUV.
Another effective Porsche-Dad feature, and also a new standard on the new 911, is the Auto Start-Stop function — the engine shuts down when at a stop or idling for some time. Then, quickly wakes up upon releasing brake or applying gas. Yes, this helps reduce emissions for the environment. But for a dad, at a stop, trying to keep an eye on the road while wrestling and attempting to console a loud, crying baby alligator in the back, this Auto Start-Stop can come in handy. Note, the above scenario is only hypothetical…my son never behaves like this (honest).
Read More Here > Traction west-coast writter Russell Purcell's review of the 2012 Porsche 911 Carrera S.
Technical Specifications: 2012 Porsche 911 Carrera S
Base Price (MSRP): $110,000 CAD
Price as tested: $146,795 (with optional equipment, $1,085 destination charge, and $100 A/C tax)
Type: 2-door, 4-passenger sports coupe
Engine: 3.8-litre, Direct Fuel-Injection (DFI) flat-six
Horsepower: 400 @ 7,400 rpm
Torque (lb-ft): 325 @ 5,600 rpm
Transmission: 7-Speed Porsche Doppelkupplung (PDK)
Brakes: Disc/disc
Top speed: 304 km/h
Acceleration (0-100 km/h): 4.5 s
Fuel economy [L/100 km]: City 10.6 L (27 mpg); Hwy 7.3 L (39 mpg)
Below, more photos of the 2012 Porsche 911 Carrera S…without the family: