We review the top-end 2014 Toyota Sienna XLE with AWD. Is this Van Made For Me and You?
A van, is a van, is a van. There's not much you can do to jazz up the styling of this utilitarian vehicle that's more synonymous with moms and soccer than it is with driving. Toyota gives its darndest attempt to lure you into the 2014 Sienna, though, with bevy of options that turn a rather mundane ride into a do-everything machine that addresses the needs—and wants—of many growing families.
The Minivan Dilemma
Most writers who test drive vehicles get asked one of the following two questions whenever someone finds out what they do: what's the best car you've driven and what vehicle should I buy?
The former is fairly subjective and I tend to run past it; the latter, however, is one that I can often whittle down to a handful of choices after asking a few questions of my own.
A former colleague of mine asked the very question when her family was deciding on a new vehicle. After learning they wanted room for at least five passengers for family trips, enough space to carry gear to the cottage and something her kids could drive with their friends, the answer was simple: get a minivan, I told her.
But my husband doesn't want another van, she retorted. He wants something a little more exciting, she continued. A vehicle with a dash of daring; he's paid his dues all these years, afterall.
I didn't disagree. Some of the vehicles her husband was interested in—Acura MDX his first choice—I enjoyed quite a bit. But, for their needs, nothing beats a minivan. The problem, however, is most people don't want to be seen in one. They're not attractive and they signal the end to perceived freedom and the beginning of a stage of life that will demand time and sacrifice.
Sienna Pricing
Toyota, much like Honda, seems to understand this mentality. Instead of ensuring their Sienna competes with the Dodge Caravan, they've loaded their van with a ton of available options for a rather luxe experience.
The 2014 Toyota Sienna starts at $29,120. But I tested the top-end XLE model equipped with AWD and Toyota's $9,195 Limited Package, bringing the subtotal up to a whopping $50,620. For most young families this is a small fortune. For my colleague who has older kids and has worked a bit longer, it could be doable if she wanted to stretch things. But, really, this seems like Toyota's way of showing you that a minivan can be quite a ride if outfitted to the nines. More affordable trim levels will deliver all you need, but it's hard not to become quite fond of what the Toyota Sienna XLE offers.
Cabin
Inside the Sienna is incredibly spacious. My tester has a seven-seat configuration–an eight-seat Sienna is available on different trims. Up front there's generous space between the two seats, which allows me to place by bag, groceries and other items I don't want to load into the back.
The second row consists of two captains chairs that can move in nearly any fashion you desire. And, while mainly suitable for young kids, the third row has enough room for adults to wiggle their way into for shorter rides. The nicest thing about the third row, however, is that it folds flat into the floor (with one touch), creating an incredible amount of cargo space while still providing seating for four.
Of course, nearly any amenity you can think of is present inside the XLE: dual-power sunroofs, power sliding doors and tailgate, heated seats, and woodgrain accents throughout the cabin only touch on the most noticeable ones.
Technology
It's clear Toyota made the Sienna for road trips. The XLE is filled with technology, headlined by the 16.4-inch widescreen display in the second row. Two wireless speakers allow for some aural relief if your younger kids want to watch Finding Nemo for the 15th time. And, those second row seats turn into lounges, so anyone can recline and really get into movie watching mode.
A suite of features—back-up camera, rear sonar and blind spot monitoring—help navigate the Sienna into, and out of, tight spaces without worry. I took it down into an underground parking garage in Toronto and had no difficulty inching my way around columns, tight parking spaces and pedestrians.
Up front a touch-screen acts as command centre for your infotainment, which includes voice-activated navigation, Bluetooth connectivity and the three-zone climate controls. This is the one area that disappointed. The touch-screen is a bit fiddly and looks quite of out of date. Toyota introduced a much more attractive, and better functioning, infotainment system on newer models, so it's a shame to not see the same setup here. However, it's possible they decided to wait until the 2015 model year is released to upgrade this component.
The Drive
Honestly, this is of least importance. The Sienna can carry your life, quite comfortably, with a ton of features that make you forget you're in a van. That's its purpose. But, it does output a formidable 266 HP with 245 lb-ft torque from its 3.5L V6 engine with six-speed automatic transmission. During my week-long test I averaged 12.4 L/100 km. Not horrible, especially since most of my time was spent on city streets.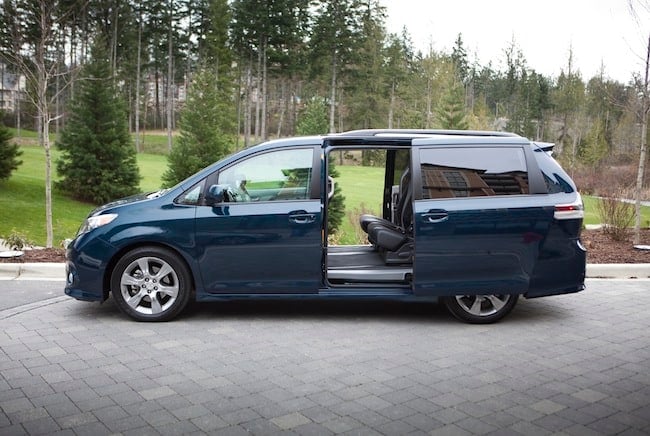 Takeaway
Toyota proves that a minivan, at least from the inside, can be a luxurious experience. For the price of the XLE Limited, however, it's just not worth it. If you have a growing family and are considering a minivan, good for you. Opt for a lower trim, which offers more than enough creature comforts, and you'll be quite satisfied.