Editor's Note: We have two reviews of the Pacifica Hybrid by two separate reviewers; read our other (very different) Pacifica Hybrid review here.
---
Waterton Lakes, Alberta – Back in July 2017, more than a month before the Kenow Mountain wildfire started to burn its way through thousands of acres in Waterton Lakes National Park on the Canada-US border, we took an example of the Chrysler Pacifica Hybrid on a week-long trip to the park with four adults and two children on board.
The van has been on sale since the spring and is the first plug-in hybrid (PHEV) in its segment. We wanted to find out how the on-paper economy benefits translated to real-world use, and whether there were any downsides to running the hybrid setup.
Design and technology
Minor styling tweaks differentiate the Pacifica Hybrid from regular gasoline-powered models. Keen eyes will notice the chrome and teal accents, unique grille and bespoke wheels (shod in our case with high-quality, Michelin Premier A/S 235/60 R18 tires).
We think that many potential customers will find the sleek Pacifica more attractive than the average van to start with, and the Hybrid-specific changes do nothing to dampen its appeal. Our test car was finished in a Silver Teal colour that's unique to the Hybrid model.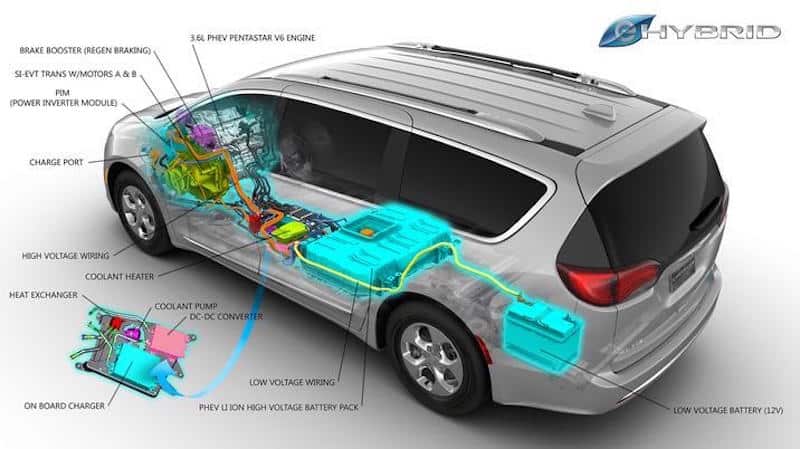 It's under the skin where the big changes lie, however. For greater efficiency, the regular 3.6-liter Pentastar V6 now runs at higher compression and on the Atkinson cycle. That combustion engine is paired with a brand-new, patented, electrically variable transmission (EVT). Its dual electric motors facilitate electric-only or hybrid-electric drive and contribute to a total system output of 260-horsepower. A 16kWh LG Chem battery pack is big enough to provide electric vehicle-like operation – no Prius-style engine cut-in, the second you press the accelerator – and a claimed 53km (33 miles) of electric-only range.
Loading up
Even with six on board and a week's luggage to accommodate, the Pacifica swallowed the load without difficulty. A rare ergonomic glitch is the power liftgate button's location on the inside of the C-pillar rather than the tailgate itself. To close it, you have to press the button and retreat quickly – or use the key fob.
The battery pack's location under the second row of seats means that the Hybrid misses out on the regular car's second-row Stow'n'Go functionality – there's simply no hole into which to fold the seats. Passenger capacity is reduced from eight to seven by the standard second-row captain's chairs, which can be removed entirely if you need to transport bulky loads. There are no other reductions to the available interior space in the Hybrid versus the regular Pacifica, although you can't specify the optional Stow 'n Vac cleaning system.
An upside of the Hybrid's heftier, individual second-row seats is that they are very comfortable for adults on long runs. Access to them is good through the sliding rear doors and the seatbelts helpfully adjust for height. The Stow'n'Go third-row accommodation is best suited to children, especially on a long journey, but passengers in all three rows got very comfortable, very quickly.
2017 Chrysler Pacifica Hybrid on the road: how does this minivan perform?
Heading south from Calgary, two things quickly became apparent. First, it's easy to use the Pacifica Hybrid as a full electric vehicle for much of the time. When the battery is charged up, the combustion engine won't kick in during normal driving unless you need hard acceleration in a hurry. This is good news indeed for fuel costs, as we'll see.
Second, the car is remarkably quiet in the cruise. Electric drivetrains are ruthless at exposing wind and tire noise, but the Pacifica Hybrid was serene, thanks to some excellent sealing, laminated glass and noise cancellation tech. The ride quality is comfy without being spongy, and the cabin is well isolated from bumps and thumps coming from the road surface.
One blemish to the Hybrid's performance was an unidentified drivetrain noise when our test vehicle was under acceleration. It wasn't intrusive, but there's no doubt that it wasn't supposed to be there; hopefully it was confined to this particular vehicle. Note also that Pacifica Hybrids were recalled earlier this year to fix an issue in the power inverter, leading to a temporary suspension of production. The van is now back on sale as a 2018 model.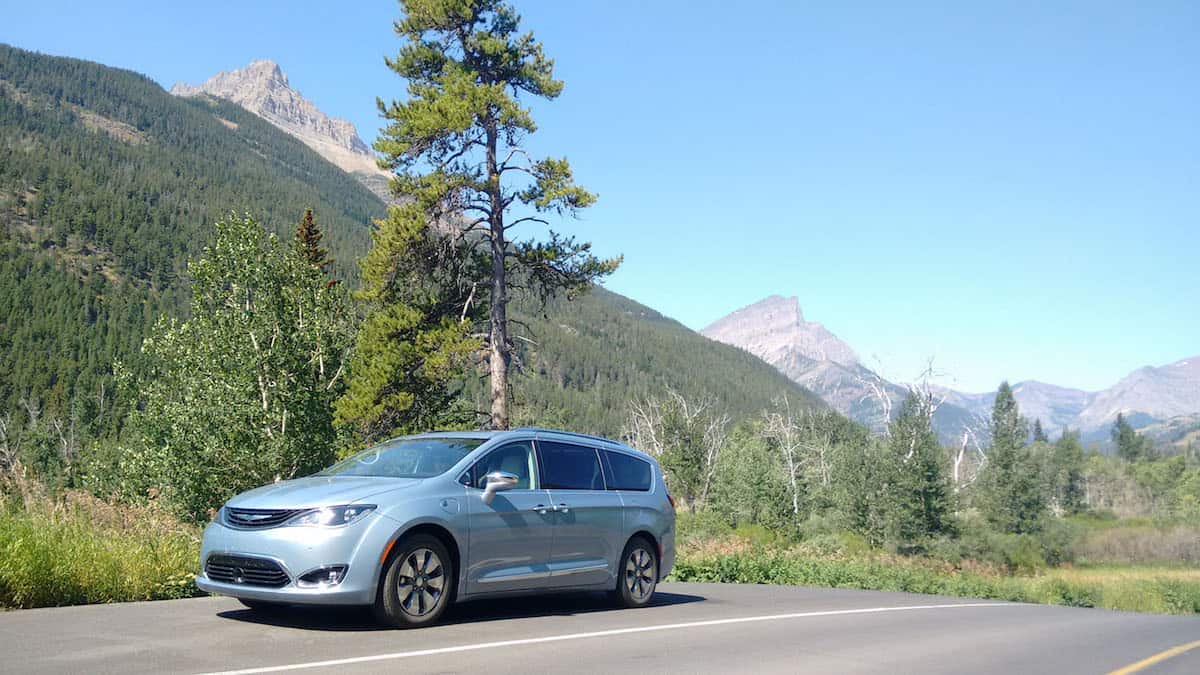 2017 Chrysler Pacifica Hybrid Interior
Like all Pacificas, the Hybrid gets the crowd-pleasing Uconnect infotainment system with a large, crystal-clear central screen, second-row screens with built-in apps and games and lots of flexibility to play different media in different areas of the car. There are sockets galore for charging your devices and countless places to stow discs, books, sunglasses, drinks and the rest. Nice design details include a minivan timeline in the central storage tray and drip trays for wet gear just inside the rear doors.
The powertrain switches almost imperceptibly between electric and hybrid modes so it was interesting to keep an eye on the Power Flow display to see what was going on – and note with surprise how many electric-only miles were being racked up, even on limited battery charge. If your main-screen focus is on the navigation system or media, the trip display on the instrument panel (IP) helpfully splits distance covered into electric and non-electric.
From the driver's point of view, the IP's mixed analog-digital displays were easy to read and reconfigure. The large, thick-rimmed steering wheel didn't appeal at first but we stopped noticing it after a couple of days, which suggests it's unlikely to bother drivers in the long term.
Fuel Economy Champion?
The Pacifica's battery is charged either on the move via regenerative braking (lift and coast will provide a gentle top-up, too) or by cable from a regular domestic outlet to the socket in the offside fender. A full charge via a standard, 120V home setup is a leisurely 12 hours, but this can be cut to two hours via a 240V socket or charging station. In Waterton, the campsite kindly let us plug in for a few hours during the day, showing that keeping electrically mobile isn't out of the question, even away from a city's infrastructure.
The Pacifica is rated at 84mpge (2.8Le/100km) in combined city/highway driving; even without electric intervention the figure is 32mpg (7.4L/100km), which is still a lot better than a normal Pacifica's 22mpg (10.7L/100km). It's also claimed to offer a total driving range of up to 911km.
During a full week with the van that incorporated one partial and two full battery charges, plus one full tank of fuel, we covered 922km, of which (so the display told us) 344km was completed in pure-electric mode. Even though almost all of our time was spent six-up, that's still within striking distance of the claimed range figure and resulted in a measured 6.2L/100km (38mpg) overall. I'd conclude that the van's long-run economy is pretty impressive, with the promise of hours of gas-free running around town if you keep the battery charged up at home or work.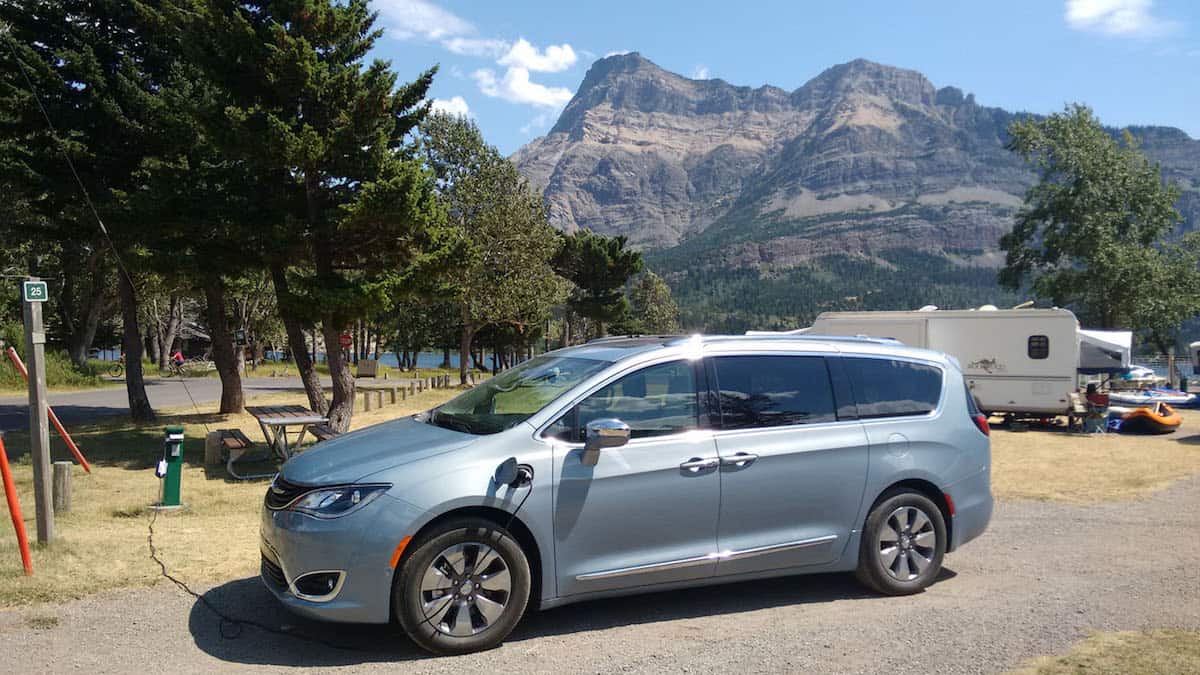 Takeaway: should your family buy a 2017 Chrysler Pacifica Hybrid?
The family was sorry to see the Pacifica Hybrid go. We liked its quietness, refinement, space, in-car tech and ability to keep all its occupants relaxed on a long journey. The icing on the cake is the outstanding economy. If you only ever use the van around town, you won't be buying a lot of fuel, but the plug-in hybrid system offers major benefits over longer distances, too.
For many potential customers, the decision whether or not to go hybrid will come down to cost. In Canada, the purchase incentives offered to PHEV purchasers vary widely from province to province. Here in Alberta, for example, there is no discount available on the purchase price of C$51,095 for the entry-grade Touring Plus, which rises to C$56,595 for the top-of-the-line Limited.
The substantial C$15,000 price premium over a non-hybrid Pacifica is offset to a greater or lesser extent elsewhere, however: in BC, a C$5,000 purchase rebate is available while in Ontario, it's C$14,000, making the hybrid choice a no-brainer.
Buyers are left to do the math on whether the Pacifica Hybrid makes sense to them. But with the sole reservation that the van's long-term reliability is unproven, we would heartily recommend this innovative, refined, spacious and economical family transport.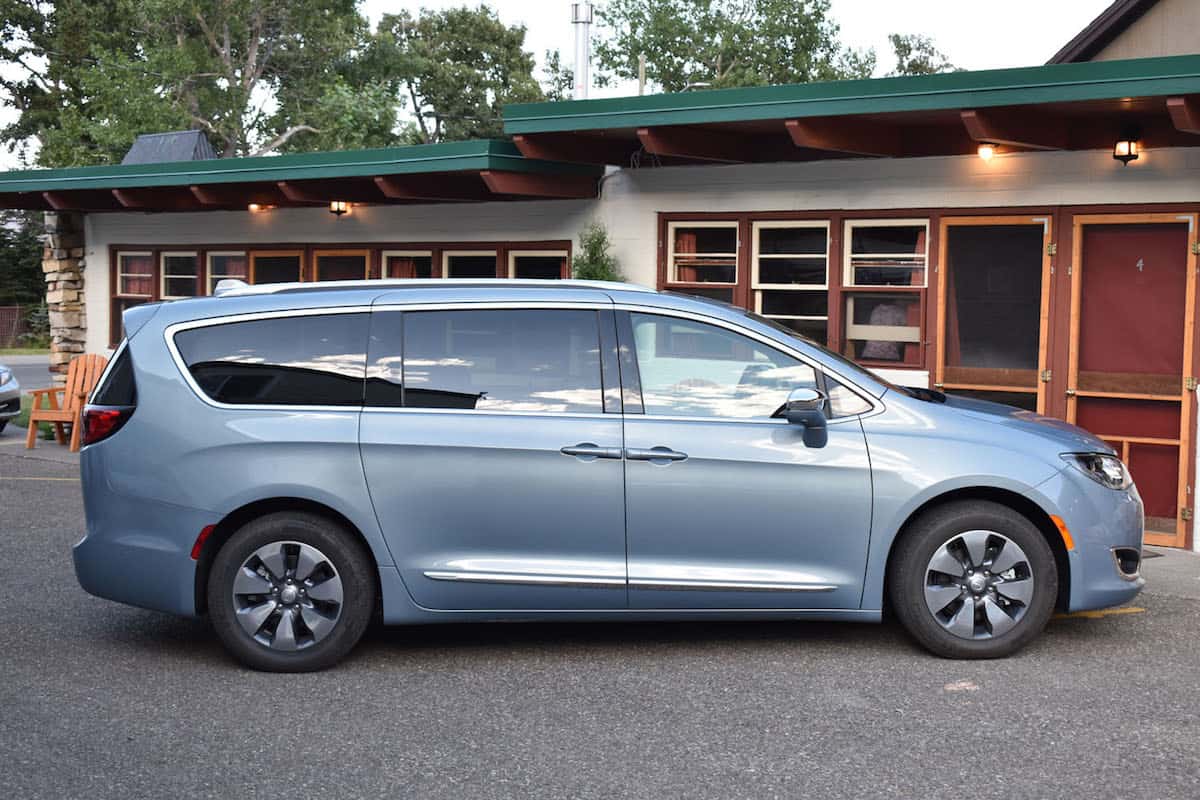 Pros
Excellent comfort and refinement

Spacious, practical and well thought out interior

Unmatched fuel economy in its class
Cons
Unproven long-term reliability

Regional purchase incentives will affect the buying decision

Reduced passenger capacity over a non-hybrid model