Ford bolts one of its most power-dense engines into what is arguably its most pedestrian car. We review the 2017 Ford Fusion Sport.
The term "sport sedan" gets tossed around pretty frequently in car reviews, especially those of the BMW 3 Series and the various European, Japanese and American models whose makers would love to unseat that German four-door as the car that embodies the phrase.
Power and Performance: A 325-hp V6
More power than a
BMW 340i
The latest car to make such a claim—indirectly, at least—is the Ford Fusion Sport, a new-for-2017 version of this handsome family sedan powered by a 2.7-litre twin-turbocharged V6 shared with vehicles as diverse as the brand's Edge crossover and F-150 pickup truck.
In announcing the Fusion Sport, Ford wasted no time in letting us know that with 325 hp and 380 lb-ft of torque, the boosted V6 is more powerful than the BMW 340i's own turbo six-cylinder, not to mention the 3.5-litre V6 engines in the Honda Accord and Toyota Camry.
Those are fun facts, but what Ford doesn't advertise is that the Fusion Sport is also notably more powerful than any non-V8-powered Mustang. So yes, this sedan is quick, all that torque working hard with standard AWD to help the car gather speed in a hurry from a stop.
It has no choice but to work hard: Fusion Sport's curb weight is well over 1,800 kg, more than 200 kg heftier than the front-drive Honda Accord V6, and carrying close to an extra 150 kg compared to the BMW 340i with optional AWD. Ultimately, if this Ford actually accelerates more quickly than those cars, it's not by much.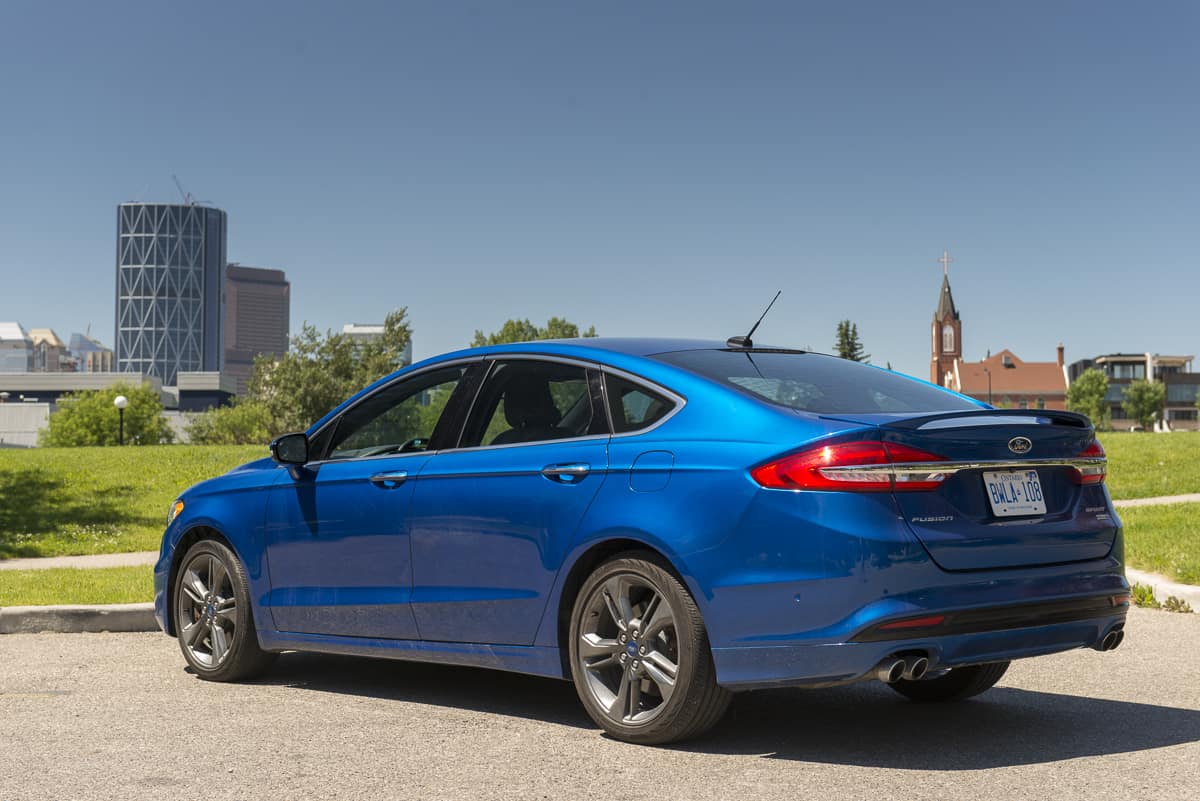 Driving Impresisons
You'll also feel that weight in the way the Fusion Sport goes over the road. It offers a surprisingly comfortable ride, the suspension doing a good job of isolating the cabin from the noise that 19-inch wheels like these typically generate on rough roads. All the same, it's a bit incongruous to pilot a car that can move this quickly but rides softer than a four-cylinder Honda Accord. We freely admit the Fusion Sport is fun to drive in a hurry, thanks to confident handling and the traction advantage of AWD, but the lighter four-cylinder Accord feels more willing to be thrown into a quick corner, despite its relative lack of power. The Accord's steering is also more communicative.
Other Features and Impressions
Another thing that stands out in a car labelled as a sport model is a gauge cluster devoid of a proper tachometer, aside from a tiny digital one that can be called up in the customizable gauge cluster. (It used to be the sportiest model in a vehicle lineup was the only one that got a tach.) We're aware that monitoring engine speed is hardly necessary in a car not offered with a manual transmission, but as enthusiasts, we missed the movement of a rev counter bouncing around as the gearbox shifted through its six ratios whenever we booted it.
If you're looking for cars to compare to a BMW 340i, this potent Fusion boasts a few advantages. For one, it's roomier inside than the 3 Series (and any of its competitors from the likes of Lexus and Cadillac) and comes in around $13,000 less than a 340i xDrive with an automatic transmission, while boasting standard niceties like navigation, Ford's now-excellent Sync infotainment system and ventilated front seats. Equip a 3 Series to match this Fusion and that price gap would grow even wider.
Unsurprisingly, in a lineup of Fusions otherwise powered by four-cylinder and hybrid powertrains, the Sport's fuel consumption figures are highest of the bunch. Against estimates of 13.5/9.0 L/100 km (city/highway), our tester averaged 12.7 L/100 km in a week of city driving.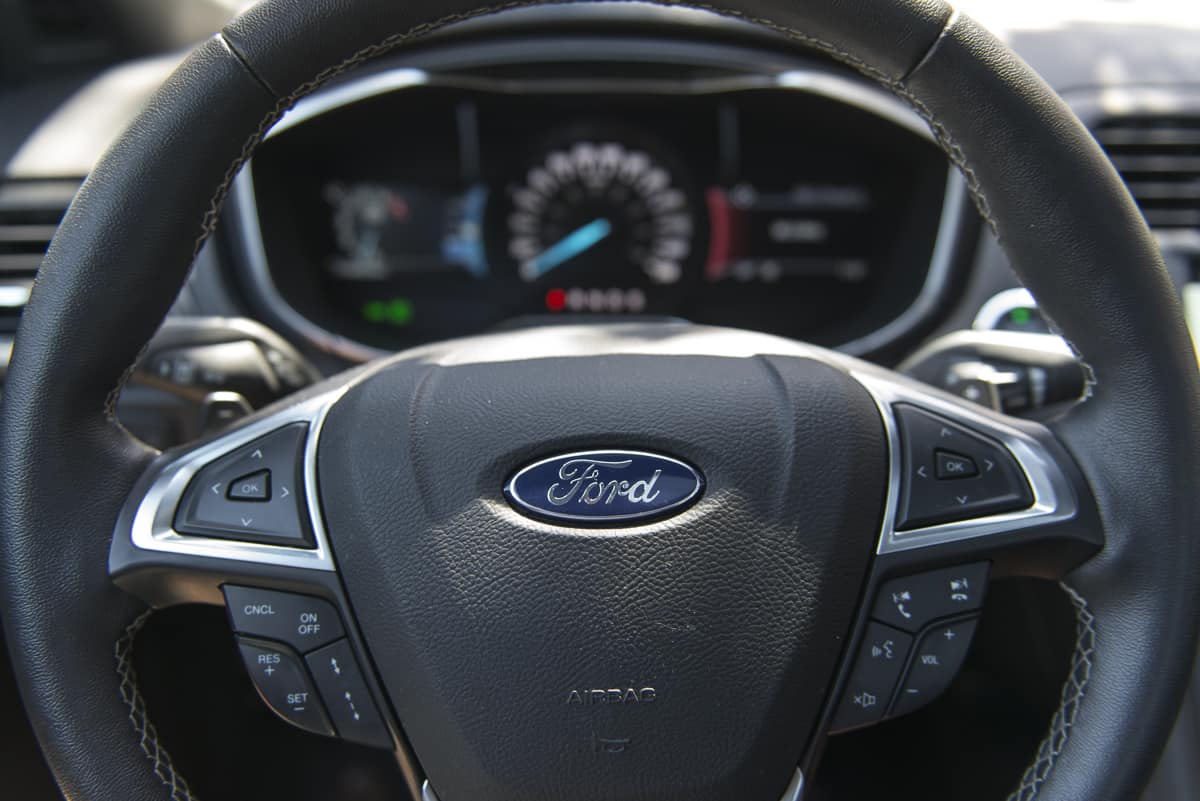 We like that Ford went easy on setting the Fusion Sport apart visually from the rest of the model range. Outside, the only differences are a lightly revised front bumper and four round exhaust tips in place of the stylized tailpipe finishers built into the rear bumper in some lesser trims. Inside, the Sport gets more heavily bolstered front seats, along with leather and suede upholstery front and rear.
We wished for a return to a more conventional transmission shift mechanism, as the Fusion's rotary gear selector means any manual shifting has to be done via the steering wheel-mounted paddles, which are not easy to use in mid-turn when the wheel isn't in the straight-ahead position.
Takeaway
In a vehicle marketplace that's seeing consumers continue to abandon sedans in favour of SUVs and crossovers, it's a pleasant surprise to see an automaker bolt one of its most power-dense engines into what is arguably its most pedestrian car. While the result isn't quite the sport sedan Ford wants us to think the Fusion Sport is, we'll give them credit for what they have created: an impressively quick and competent car at a price that will make you question the value of paying more for a true sport sedan.
Learn more about the 2017 Ford Fusion Sport
2017 Ford Fusion Sport Specs:
Engine: 2.7L turbocharged V6
Power: 325 hp
Torque: 380 lb-ft
Transmission: Six-speed automatic
Brakes: Four-wheel disc
Steering: Electric power-assist rack-and-pinion
Suspension: MacPherson strut (front); Independent coil spring (rear)
Fuel economy, ratings (l/100km, city/highway): 13.5/9.0
Fuel economy, observed (l/100km): 12.7
Price: $42,288/$42,288, starting MSRP CAD/as tested