There are a number of cars that can be classified, accurately enough, as transportation appliances, but it doesn't get much more appliance-like than a family sedan that you plug in when parked.
Among the oldest cars on the market now that you can plug in to charge is the Ford Fusion Energi. It's a PHEV (plug-in hybrid electric vehicle) belonging to a family of Fusion models that, since 2013, has also included conventional gasoline powertrains and a regular hybrid model.
Related Reads: Hybrid and Electric Vehicle Buyer's Guide
What is the difference between the Fusion Hybrid and Energi?
The Energi differs from the regular Fusion Hybrid for its plug-in function, which charges the battery and promises about 40 km of all-electric driving range — an increase of about one third — thanks to a new battery for the 2019 model year.
That's the last update the Fusion Energi will receive. After this year, the entire Fusion sedan lineup will disappear as Ford expands its crossover and SUV model range.
How long does it take to charge Ford Fusion Energi?
If you have access to a 240-volt charger, charging the Fusion Energi takes about 2.5 hours. Charging time increases to about seven hours when connected to a standard 110/120-volt outlet.
The Fusion Energi's new battery still takes up about half the trunk. The rear seat still folds down, but all that does is open a narrow slot between the battery and the parcel shelf. There's room to slide in a few two-by-fours, and that's about it.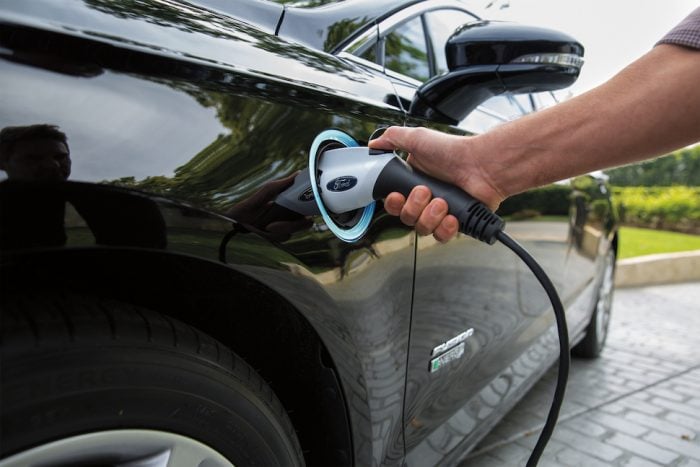 Our Overall Impressions of Ford's PHEV 4-door
Interior design and space
Otherwise, the Fusion Energi's interior is the same as any version of this car. The cabin is more snug than in competitors like the Honda Accord and Toyota Camry, both of which were redesigned last year. Blame that on the fact Ford has only made cosmetic updates to the Fusion since 2013.
Our test car came dressed in top-end Titanium trim. The front seats feel narrow and rear-seat headroom is not especially generous, traits that seem out of place in a $40,000 family sedan. The Fusion makes up for those shortcomings with styling that still looks good despite receiving only incremental changes over the last seven years.
Driving the Fusion Energi
Fusion Energi is a calm and quiet driver. It's not especially fast, but with a charged battery the electric motor does all (or most) of the work. That helps keep engine noise down, or eliminate it completely. In full-electric mode, the gas engine will come on if you request quick acceleration.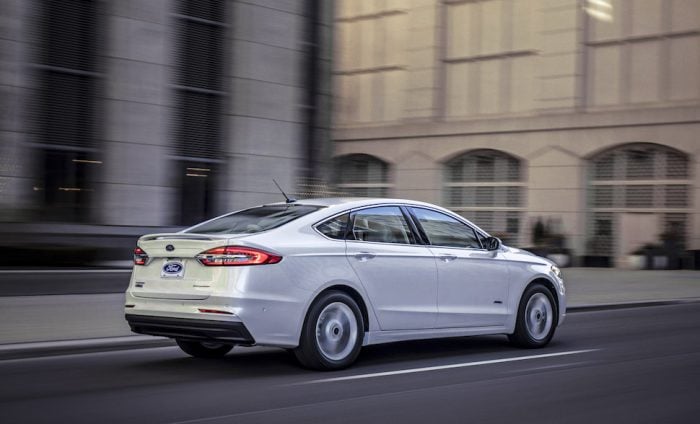 Handling is competent for those moments when you want to carry some speed into a corner. Our biggest complaint about how the Fusion Energi goes down the road is the effect the weight of the battery has on ride quality. Over wavy pavement, the rear end floats and bobs, detracting from the Fusion's otherwise well-composed chassis.
Fuel economy
In Canada, after a week of cold-weather driving, using the car's electric mode whenever we could, we got a fuel consumption average of 3.5 L/100 km. Ford's ratings are 5.5/5.7 L/100 km (city/highway) when the Fusion Energi runs as a regular hybrid, and 2.4 Le/100 km in electric mode.
US drivers can expect an EPA-Est. MPGe 109 City / 97 Highway, according to Ford figures.
If you use the Fusion Energi primarily for commuting and have access to 240-volt charging, it's quite possible you'll rarely need the gas engine.
New standard technology
This year, every Fusion Energi comes with Ford's newly branded Co-Pilot 360 safety system. That includes automatic emergency braking with pedestrian detection, adaptive cruise control with stop-and-go, blind spot monitoring, rear cross traffic alert and automatic high beam headlights.
There's also the SYNC infotainment system, which is nicely sorted, responsive and easy to use.
Takeaway: Is the Ford Fusion Energi worth it?
To go along with the 2019 Fusion Energi's larger battery and new standard safety features, Ford increased the car's price by about C$2,300, to C$39,590, before any discounts. That's $3,000 more than the regular Fusion Energi in its entry-level SEL trim, and about $2,500 more than the regular Fusion Hybrid in its similar Titanium trim.
In the US, the Energi comes in one trim: the top-end Titanium starting at US$34,595.
Honda Clarity vs Fusion Energi
Among the Fusion Energi's competitors is the Honda Clarity. It's about $4,500 more expensive and decidedly less handsome. However, it promises nearly double the electric driving range and has a full-size trunk.
So, should you buy it?
And consider the vehicle that will soon replace the Fusion Energi. That's the 2020 Ford Escape crossover with its PHEV option, which the company announced at the beginning of April. It'll offer better interior space and about 50 km of all-electric range.
When Ford introduced the Fusion Energi in 2013, this sedan was near the leading edge of mainstream electrified cars. But now, to answer the question above, we think your money would be better spent elsewhere in the fast-growing PHEV segment.
Up Next: More Hybrid Reviews
2019 Ford Fusion Energi Quick Specs:
Engine: 2.0L four-cylinder/electric motor
Power: 195 hp
Torque: 129 lb-ft (Gas engine only)
Transmission: Continuously variable automatic
Brakes: Four-wheel disc
Steering: Electric power-assist rack-and-pinion
Suspension: MacPherson strut (front); Independent integral-link (rear)
Fuel economy, ratings (l/100km, city/highway): 5.5/5.6 (hybrid); 2.3 Le/100 km (electric)
Fuel economy, observed (l/100km): 3.5
Starting Price: US$34,595; C$36,590 (C$39,590 starting MSRP/as tested)