Compact crossovers and their subcompact siblings have become all the rage recently, but Subaru was at the head of the curve in 2013 when it lifted the suspension on its Impreza hatchback to create the XV Crosstrek. Now known simply as Crosstrek, this little utility may have more competition these days, but Subaru retains an edge: the near-cult-like fan base attracted by Subaru's reputation as an all-wheel drive specialist.
This year brings more change to the Crosstrek, which gains optional blind spot monitoring and rear cross traffic alert — features it had never occurred to us were missing here, as Subaru's EyeSight tends to steal the spotlight when talk turns to safety features.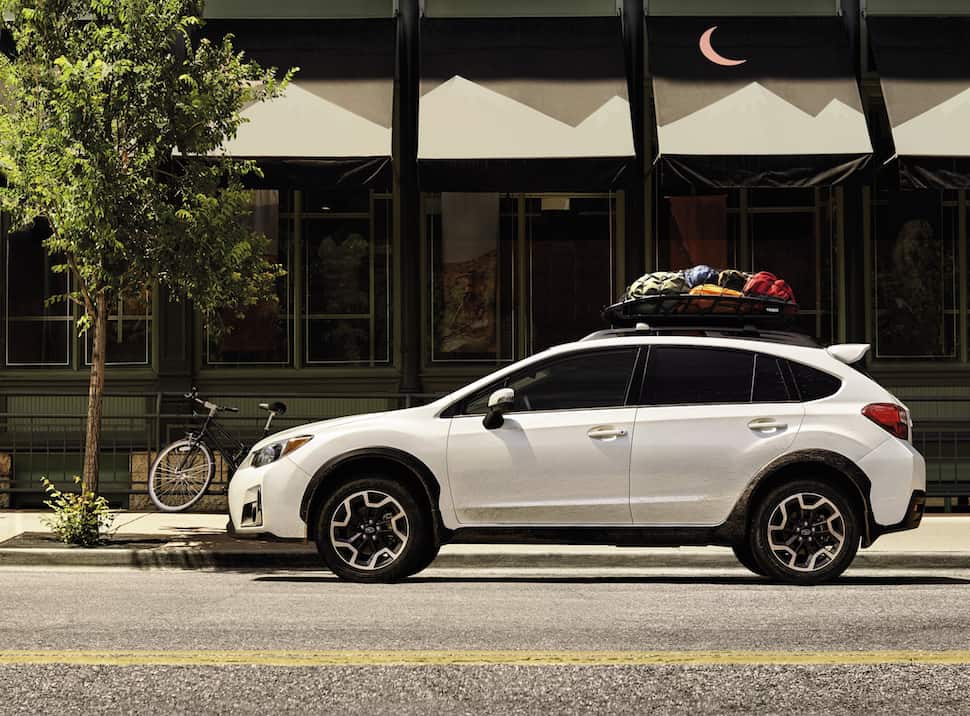 Our tester was a top-trimmed Limited model optioned with a technology package that adds the EyeSight active safety suite (pre-collision braking, brake assist and throttle management; adaptive cruise control; lane departure and sway warning and lead vehicle start alert), passive keyless entry, navigation and leather seating.
Under the hood: the Crosstrek's power and performance
All those extras don't change the Crosstrek's basic specifications, which include a 2.0L four-cylinder engine that we've always felt would benefit from a bit more power: its 148 hp and 145 lb-ft of torque are perfectly adequate in city driving, but this motor runs out of breath on the highway.
Transmission Impressions
Perhaps counterintuitively (we are gearheads, after all), we prefer the Crossktrek's continuously variable automatic transmission (included with the technology package) to the notchy stickshift, which also spins the engine too quickly in highway driving. The automatic is well-suited to the engine, making good use of its modest power, and helping to keep mechanical noise down at highway speeds.
That doesn't mean the Crosstrek is necessarily quiet: a lot of road noise gets into the cabin, but the well-sorted suspension provides a comfortable ride and was only mildly unsettled by the very worst pavement we could find.
2017 Subaru Crosstrek Interior
Inside, the Crosstrek's advantage is that it's based on a compact car, making its interior more spacious than the likes of the Honda HR-V and Mazda CX-3, both of which are limited size-wise by platforms shared with subcompact cars. There's good space in here, with comfortable front seating and an aft cabin marred only by narrow rear door openings and a low, shallow bottom seat cushion.
Interior Space
Crosstrek's extra interior space relative to some of its newer competitors is reflected in its higher price: it starts at $25,000, nearly $5,000 more than the Honda and Mazda models, and $3,000 and change more than the Jeep Renegade, with its similar promises of ruggedness.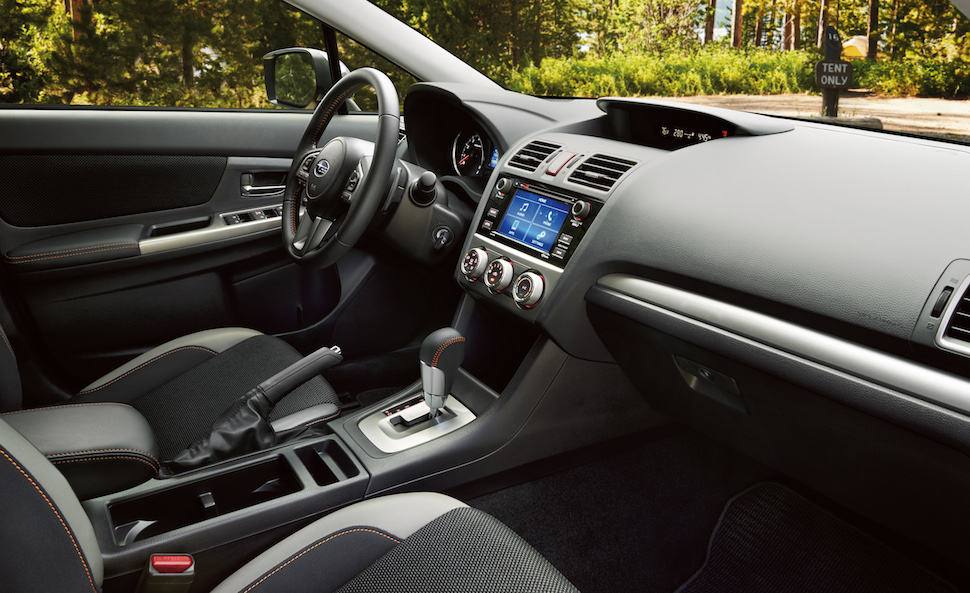 Tech and Convenience
We challenge you to find climate controls as straightforward as the Crosstrek's, which package dual-zone automatic functionality (another tech package addition) into three large dials and a few buttons. Tech package models also get a larger touchscreen (7.0 inches versus 6.2 in lower-spec cars) to house Subaru's nicely designed Starlink infotainment system. The heated seat controls present the only ergonomic annoyance, located far back on the centre console, hidden under the armrest.
Crosstrek Fuel Economy
Fuel economy surely has something to do with the surge in appeal of small crossovers; Subaru's estimates for the Crosstrek are 9.1/7.2 L/100 km (city/highway), and our tester averaged 9.5 L/100 km in a week of wintry January city driving.
In Subaru's case, styling might have something to do with it as well. We find the Crosstrek more interesting to look at than the Impreza it's based on, and we suspect a lot of other Canadians agree, as more of them bought Crosstreks than Imprezas last year, if you don't count the high-performance WRX variant.
Takeaway: is the 2017 Subaru Crosstrek Limited worth it?
And performance is the one thing we wish the Crosstrek had more of. This is a very likable little crossover with a nice interior, tidy looks, and useful ground clearance that lives up to the sport utility label. We don't know how much desire exists for a performance-oriented little crossover, but if any automaker is well-placed to test those waters, it's Subaru: a dose of the WRX sports car's turbocharged personality would do wonders for what is already a very impressive vehicle.
2017 Subaru Crosstrek Limited Specs:
Engine: 2.0L four-cylinder

Power: 148 hp

Torque: 145 pound-feet

Transmission: Continuously variable automatic

Brakes: Four-wheel disc

Steering: Electric power-assist rack-and-pinion

Suspension: MacPherson strut (front); Double wishbone (rear)

Fuel economy, ratings (l/100km, city/highway): 10.9.1/7.2

Fuel economy, observed (l/100km): 9.5 L/100 km (estimated)

Price: $21,695 US – $24,995 CAD, starting MSRP; $32,295 CAD as tested