The 2018 Regal GS makes a strong case for buying a sedan
TOFINO, BRITISH COLUMBIA – For the past 45 years, the Buick Regal has been a go-to sedan for shoppers looking for a more premium 4-door hauler without going all-out luxury. Then, Buick's mid-size sedan disappeared in North America mid 2000s, reemerged six years later, and now for 2018, the Regal is all-new entering its 6th-generation.
Sure, sedans aren't the hot topic these days with crossovers taking over. And automakers like Buick know this. And while the segment isn't exactly growing it is going steady. Best part: today's sedans are getting better — more refined inside and out, offering more cargo than ever, and taking on more coupe-like features that were probably missing in the past.
So, if you're willing to abandon the CUV bandwagon, now's a good time to consider the old 4-door car. And the 2018 Regal in particular makes a strong case for the underrated segment – sharp styling, comfortable yet capable on-road handling, that upscale feel, and about as much rear cargo space as a Mazda CX-5 crossover (reviewed here) with the Regal's sportback styling offering a rear hatch style door opposed to the conventional trunk lid.
But it's the performance-focused, 310-hp Regal GS you see here that really shines.
2018 Regal Trims and Pricing
Both in the US and Canada, the new Regal comes in either the 2.0L turbo Sportback or 3.6L engine GS; both in AWD. However, if you're a wagon fan, only the US offers the first-ever Regal TourX.
MSRP pricing below (less fees/delivery charge):
2018 Regal US Price
Regal Sportback – US$24,990

Regal GS – US$39,070

Regal TourX – US$29,070
2018 Regal Canada Price
Regal Sportback – C$31,945

Regal GS – C$43,945
Buick Regal Competitors
Main competitors would include the Acura TLX A-spec (we reviewed it here), the new Kia Stinger, and the Audi A5 sedan.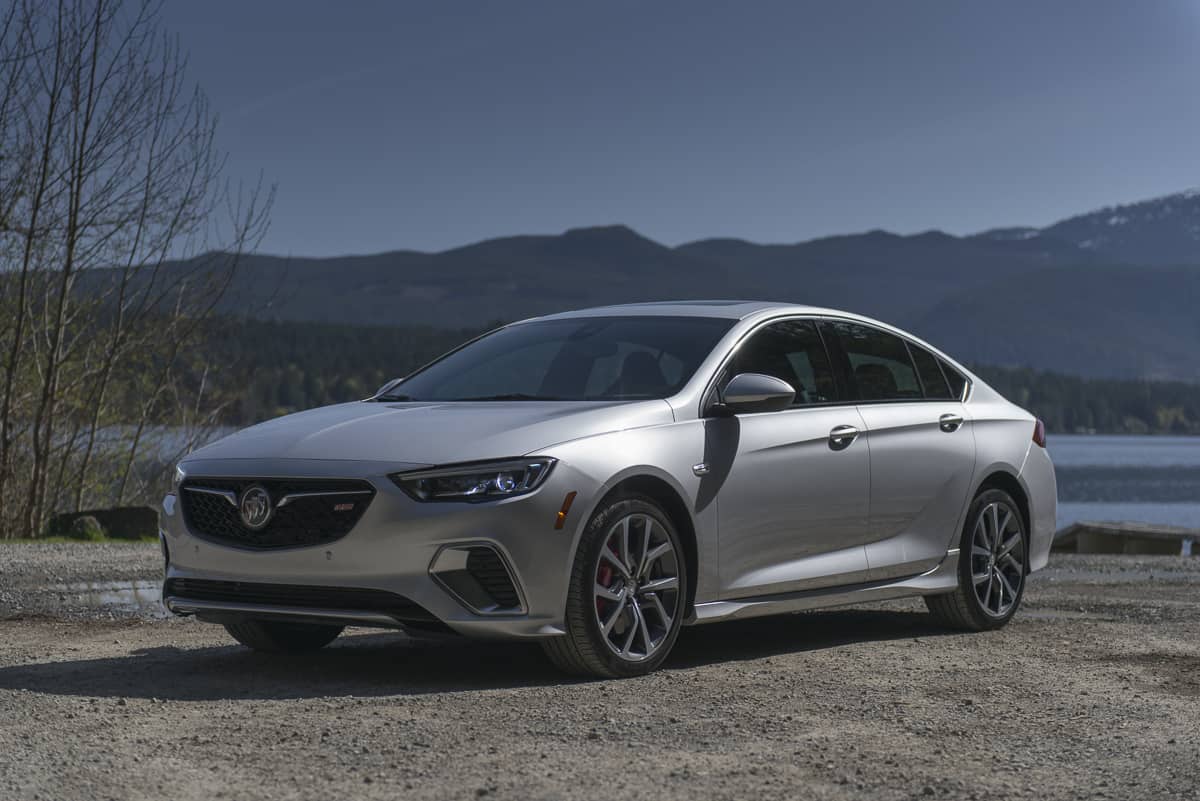 New 2018 Regal GS on the Road
We took both the 2.0L turbo-powered Regal Sportback and the 3.6L V6 powered Regal GS on the road, but it's the latter we're focused on here.
Our 3 hour trek from Nanaimo to Tofino in beautiful British Columbia was a breathtaking route with a portion through the Pacific Rim National Park and its massive, cedar trees in this ancient forest. And the closer we got to the coast of Tofino, the more twisty and exhilarating was the drive.
If Buick hopes to reach the younger, active buyer, they've styled the new Regal GS just right mixing premium and sport without going overboard.
Buick isn't targeting grandpa with their all-new Regal, but rather a younger market that's focused on active lifestyles. So this setting known for its outdoor activities – including Tofino as the country's surfing capital – makes sense for this upscale car (and if grandpa enjoys a little surf, the Regal is for him, too).
Power and Handling
The sportier Regal's 3.6L provided ample power when needed, like passing slow pokes on the longer stretches. Power was smooth and consistent as you'd expect from Buick, but some may expect a little more robustness and quicker throttle response. But this isn't a track-star sedan; rather a premium offering with power to match.
The car handled like a charm through the winding roads; the chassis felt good and the 9-speed automatic transmission provided good shift points throughout. We drove hard in the corners, up and down the curvy roads and around the bends; we never felt uncomfortable as the Regal felt planted with 282 lb-ft of torque kicking in as needed.
But having an all-wheel drive setup with an active twin-clutch helps – a standard in the Regal GS. To help keep the car planted, power is sent to the wheel that needs it most, in turn, much more responsive cornering and better acceleration. Add 500 adjustments per second for the car's 2nd-generation Continuous Damping Control (CDC) when the 'GS' and 'Sport' modes are employed with the touch of a button.
The performance brakes with Brembo calipers paired to 19-inch wheels, and the sport-tuned exhaust system are standards with the GS.
2018 Buick Regal GS Interior
Overall, the interior is well-designed with a clean, upscale feel. There are the plastic bits here and there but that's expected unless you're willing to step up to say a Cadillac. Also, not a fan of the fake carbon fibre door panel details and the fake vent design in the GS seats.
Aside from that, compared to the Sportback trim, the GS is completely different on the inside, keeping the premium while adding a dose of sport and performance including the sport flat-bottom steering wheel and metal pedals; an HUD is optional.
And when your performance seats are AGR-certified (a GM first in North America) that's always a good thing. I'm not sure what AGR-certified really means except that these are super comfortable, are heated/cooled and offer massaging with adjustable seat and seat-back bolsters as well as thigh support. Works for us.
GM was one of the first to introduce Apple CarPlay and Android Auto into their products, and the Regal carries this through, along with an 8-inch touchscreen and 8-inch reconfigurable instrument cluster as standard equipment.
Sportback Opening: More Cargo Space
The new Regal's sportback opening helps bridge the cargo gap between sedans and crossovers. Typically, mid-size sedans do offer decent rear cargo, but this new hatchback-style door lid creates even more space to load cargo in various shapes and sizes. We threw in a couple folding bikes without a problem; and a full size bicycle fits inside without issues with the rear seats folded down.
Buick Regal GS Exterior Styling
For me, what really sets the new Regal apart is the clean, streamlined styling. The GS gets unique sport front and rear fascias, side skirts and rear spoiler. And it all works – the front grill (with optional full LED headlamps) isn't brash and gaudy; neither is the rear end with those stylish lamps, long lines, and subtle decklid spoiler. Overall, it all works with a stylish yet bold look without overdoing it like plastering 'GS' logos everywhere.
If Buick hopes to reach the younger, active buyer, they've styled the new Regal GS just right mixing premium and sport without going overboard.
For more info, pricing, specs, visit:
2018 Buick Regal GS Gallery: