SUVs now dominate what was once the North American 'car' market, and everybody wants in on the act – even exclusive, luxury brands like Porsche, Bentley and Rolls-Royce. Now comes Lamborghini with the Urus, a coupe-like, 305km/h (190mph) five-seater that'll perform off-road as well as on.
A Lamborghini SUV
Unlike most of its competitors (a loose term – alternatives to the Urus could include anything from a Porsche Cayenne Turbo S to a top-end Range Rover), Lamborghini has form with what we now call SUVs, having built the rugged LM002 from 1986-93.
Urus, however, owes as much to the parent Volkswagen Group as it does to Lamborghini's history. Its MLB Evo architecture is also used by the Bentayga, Cayenne, and Audi Q7 and Q8.
The Urus is expected to double Lamborghini's production, to around 8,000 cars a year, and about 70% of Urus buyers are expected to be new to the brand. The first deliveries were in late-Fall, 2018. As a result, Lamborghini's overall sales in North America – its largest market – grew by 46% last year. Some 1,095 cars were sold in the US, with a further 316 cars in Canada.
Price: How much is the 2019 Lamborghini Urus?
There are no major differences between the US and Canadian-spec Urus, but options can add considerably to the already considerable starting price – C$232,000 or US$200,000. Our test car sported C$45,152 of extras to hit a total of C$277,152.
Exterior styling
Styling a Lamborghini SUV must be one of the toughest challenges in car design. The company's 'normal' sports cars stop traffic with uncompromising, angular designs that are all their own, but a family-sized vehicle that must also perform off-road requires a different approach.
The Urus has a sloping front end, coupe-like roofline and copious brand design cues that channel everything from the Countach to the LM002. There's a two-thirds/one-third metal/glass ratio, Y-shaped front intakes and a hexagonal profile to the wheel arches.
Related: Best 2019, 2020 SUV & Crossovers | New Models & Redesigns Only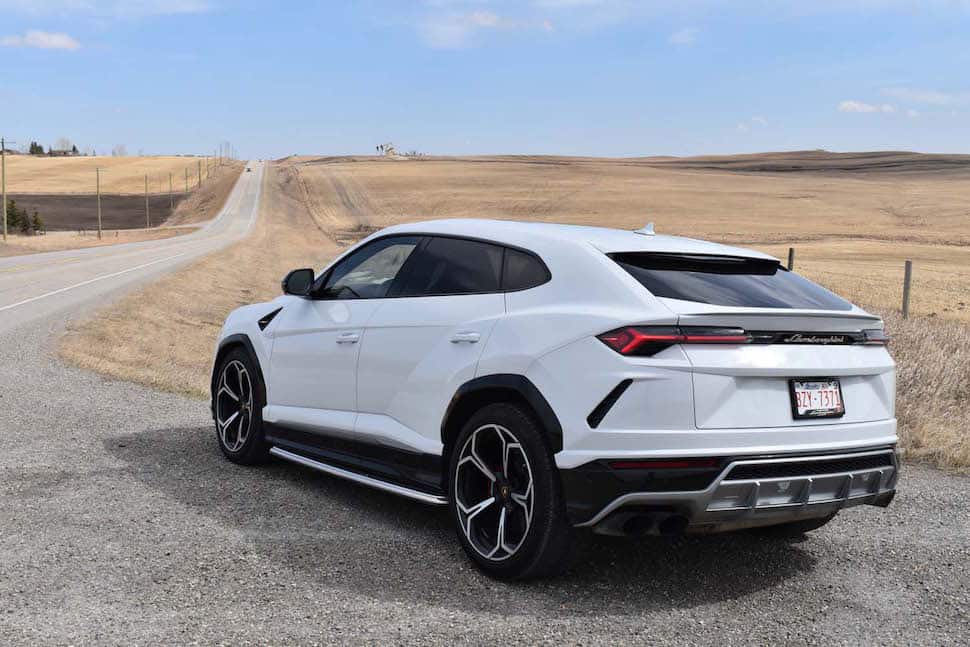 The result is distinctive, certainly, but there are other brands that employ similar shapes and creases – there's a similarity to some elements of the Lexus RX 450h's design, for example.
Overall, the Urus's looks are conventional enough that you don't attract attention from the majority of other road users, which is probably no bad thing for a vehicle of this type, but we also got some enthusiastic waves and thumbs-up from people who knew exactly what it was.
There's plenty of scope to personalize the look of your Urus. We liked the test car's combination of Bianco Icarus white paint (no extra cost) with 22in Nath Titanium Matte rims (C$5,817). It also had the Style Package in high-gloss black (C$2,529), a black matte exhaust (C$1,138) and acoustic heat-insulating privacy glass (C$2,782).
Interior and equipment
You unlock the Urus with a somewhat underwhelming grey fob that's more Audi than Lambo. Access to the interior is good and you settle in highly adjustable seats that are lower than the SUV norm. Nevertheless, I still felt that I was on the driver's seat rather than in it – these are not figure-hugging, sports-car-style bucket seats.
There was seating for four in our Urus, the two rear captain's chairs stealing a little of the Bentayga-beating, 616-liter cargo space offered by the rear-bench configuration. Despite the coupe roofline, there's good headroom even in the back – our 6ft 1in passenger could sit there, just.
The dashboard is a mixture of Lamborghini extravagance and VW Group practicality. Some of the everyday switchgear and the twin touchscreens have been seen in other Group vehicles, but the central gear and drive-mode selection levers are all Lamborghini.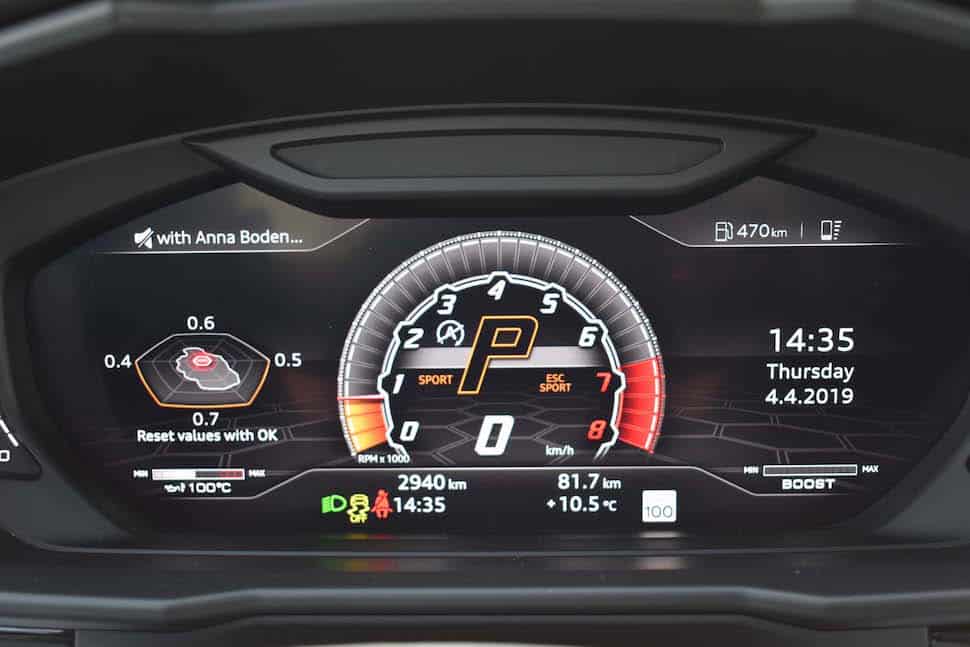 The 'Tamburo' (drum) selectors for preset and 'Ego' (pick-your-own) drive modes flank a chunky, aircraft-style lever for choosing Reverse, with buttons for Park and Neutral. Drive must be selected via the right-hand steering-wheel paddle, however, which is a pain when you've reversed out of a space or off a driveway and the steering wheel isn't straight.
It's easy to flick the wrong paddle and carry on reversing by mistake; I didn't hit anything, but felt like it was only a matter of time before I did.
The hexagonal and Y-shaped design cues continue in the cabin. They are part of Lamborghini's design identity, but some might feel that they are overused in the Urus.
Build quality is at the level you'd expect for the cost of the car, but there are some trim material choices, particularly in the doors and around the centre console, that don't live up to the price. They may have been chosen to save weight – the Urus is 80kg lighter than an Audi Q8 V6 and around 190kg lighter than a Bentayga V8.
Taller drivers will notice that the floating centre console is excessively wide, with insufficient padding for your knee.
Interior options and upgrades
There are plenty of options with which to personalize the Urus's interior, for a price.
The test vehicle's black Alcantara seats (C$2,529) also had the C$886 contrast stitching and embroidered Lamborghini shield on the headrests (C$1,138). There were floor mats with leather piping and double stitching (C$886) and an attractive ambient light package (C$4,047).
In a Canadian winter, you'll probably want the heated, multifunction steering wheel with perforated leather inserts (C$886) but might be able to live without contrast stitching on the wheel (another C$506).
Also fitted to our car was the optional Bang & Olufsen 3D audio system (C$8,347). B&O's sound engineers are said to have spent over 400 hours fine-tuning the 21-speaker system for all seating positions and driving conditions.
It's pricey, but it sounds great and it's hard not to get excited about the way the specially designed speakers rise out of the top of the instrument panel on start-up.
Engine and transmission
The engine is the traditional heart of a Lamborghini. There's no V12 here, however; instead, the Urus gets a 4-liter, twin-turbo V8 – a modified version of a motor that sees service elsewhere in the Volkswagen Group. It's mated to an 8-speed ZF automatic transmission.
Urus will hit 0-100km/h in under 4 seconds
The V8 makes 641 HP, giving the Urus what Lamborghini claims is the best power-to-weight ratio in its class. It fires the SUV to 100km/h (62mph) in 3.6 seconds and on to 200km/h (124mph) in 12.8, assuming you have somewhere to do it.
The engine's flexibility – maximum torque of 627 lb-ft arrives at 2,250rpm – gives you the freedom to drive the Urus as quickly or as slowly as you wish. It's just as happy dawdling around town as it is being hustled along a country road, even in the default Strada (street) drive mode.
You won't hear as much of the engine inside the Urus as those outside will, however – there's surprisingly little engine noise in the cabin in everyday driving, perhaps too little.
Sport and Corsa (track) modes add more aural drama, as do more revs. The V8 starts to hum from about 2,500rpm and is really singing by 5,000rpm (redline is 6,800rpm). On the right road, it's an addictive noise, and the exhaust offers up some entertaining pop and crackle on the overrun.
We're not sure whether anyone cares about the fuel consumption, but for the record, we got 16L/100km (14.7mpg) in mostly non-highway driving. The official combined figure is 13.6L/100km (17.3mpg), but the highway figure is a respectable 9.7L/100km (24.2mpg).
Driving impressions
With all that performance on tap, driving the Urus can be very different to being behind the wheel of a mass-market, family SUV. But it's to its credit that it's extremely easy to drive in everyday use.
For example, the steering is super-light when maneuvering and the four-wheel steering setup helps to make the 5.1m/almost 17ft SUV feel smaller than it really is. That's essential if Lamborghini is to attract new buyers to the brand, including diversifying its typically male-dominated customer base.
The Urus comes with air suspension, electronically switchable anti-roll bars and adaptive damping. That sophistication results in a surprisingly quiet and supple low-speed ride. We played with the Ego settings to assess the difference in ride comfort at speed, but struggled to make noticeable changes.
The Urus is predictably noisy and fast when you want it to be, but unexpectedly quiet, refined and easy to operate, with one or two reservations, in the everyday conditions in which most will be driven.
What stood out instead was tire roar from our test car's Pirelli Scorpion winter rubber – a rare NVH (noise, vibration and harshness) black spot for the Urus. We weren't able to check whether it was any better on the standard summer P Zeroes; note that winter tires are not an option on the largest, 23in rims.
Roll control is terrific and the Urus belies its weight and size when you start to throw it around. We'd have loved to see what it could do on track; 'performance SUV' is a term applied to all sorts of vehicles that don't deserve it, but the Urus isn't one of those.
Our only reservation was that, although the steering is accurate and well-weighted at speed, we were missing that last degree of connection to the road. There's not the on-centre feel we'd have hoped for on the highway and you don't get much feedback on what the front wheels are doing, but that's perhaps no surprise given the multiple layers of electronic wizardry separating the steering wheel from the tire.
This is also a driver's car that will drive itself, sort of, thanks to some well-sorted driver-assistance systems that will guide you down well-marked roads with minimal input. Meanwhile the huge carbon-ceramic brakes – claimed to be the biggest of any production car – will get you stopped no matter what. They also hiss a little at urban speeds, however.
Lamborghini SUV towing capacity
We didn't have the opportunity to take the Urus off-road, but have no doubt that its complex 4WD system – which includes a central, self-locking Torsen differential and active torque vectoring – will keep you mobile.
The Neve (snow) drive mode comes as standard, but our Urus also had the optional off-road modes and trailer towing preparation (C$886), which adds Sabbia (sand) and Terra (off-road) to the left-hand Tamburo. The Urus will tow 3,500kg (7,716 lb) – enough to haul a sports car on a trailer.
Takeaway: Should you buy a 2019 Lambo Urus?
| | |
| --- | --- |
| PROS | CONS |
| Supercar pace, handling | Ergonomically flawed gear selection |
| Docility and practicality in everyday driving | Lack of road feel |
| Exclusivity | Contrived design cues |
This is a longer-than-average review, but there's a lot to say. That's a good thing, because if the Lamborghini Urus were just another car, or if it didn't provoke opinions, it'd have no purpose.
There's a school of thought that the words 'performance' and 'SUV' don't belong in the same sentence, let alone the words 'super sport utility vehicle', which is how Lamborghini describes its vehicle. I can see why some car enthusiasts would feel that way, but it's not a view I share.
If the success of the Urus enables Lamborghini to continue to create the exotic sports cars that just about everybody loves – as the Cayenne has done for Porsche – then that's fine by me.
To summarize, then: The Urus is predictably noisy and fast when you want it to be, but unexpectedly quiet, refined and easy to operate, with one or two reservations, in the everyday conditions in which most will be driven.
Lamborghini drivers now have a vehicle that they can use year-round, pretty much wherever they live, thanks to 4WD, the ability to tow and the flexibility to carry people and cargo.
With annual production set to be capped, Urus buyers are also guaranteed something far more exclusive than a Cayenne or a Range Rover, and perhaps with better residual values, too.
What others are saying about the Urus:
"The Urus is the first Lamborghini with a turbocharged engine, the first super-performance SUV that actually drives like a car (albeit a large one) and the first Italian vehicle in years that I can confidently say I would drive across the US." Andrew Maness at Gear Patrol
"It's not as charismatic as the Huracán's V-10 or as intimidating as the Aventador's V-12, but the hungry Hungarian V-8 under the Urus's hood defines the vehicle's character." John Pearley Huffmanapr at Car and Driver
"It's objectively a Very Good Car, but maybe that's the issue. While it looks every bit as wild as a Lamborghini ought to, it doesn't quite drive like one unless you're pushing it to the limit on a track." Matt Bubbers at Globe and Mail
2019 Urus Photos