Hyundai's popular, mid-size Sante Fe XL was no slouch, but the Korean's decision to replace it with the more stylish 2020 Palisade was certainly a good move. It's longer, wider, and taller. So, what does this mean for the new Palisade's interior? We take a closer look
For a full review including drive impressions, read our 2020 Palisade review here.
Inside Hyundai's new mid-size SUV: what to expect
With a slightly boxy exterior, it is the 2020 Palisade interior that is the star of this show. Where once there was a competition to provide as many cupholders as possible, today's rivalry seems to be about how many USB charging ports you can provide. They're everywhere: on the console, on the front seat back (for middle-row passengers) and it the third row. The features inside the Palisade, big and small, include:
16 cup holders spread over three rows of seats
Seven USB ports (curiously none USB C)
Wireless charging and individual rear-seat climate control.
The rear speakers can be switched off quickly with a one-button quiet mode, and the Driver Talk in-car intercom system amplifies the driver's voice through the audio system to reach kids kids in the third row.
Seating arrangement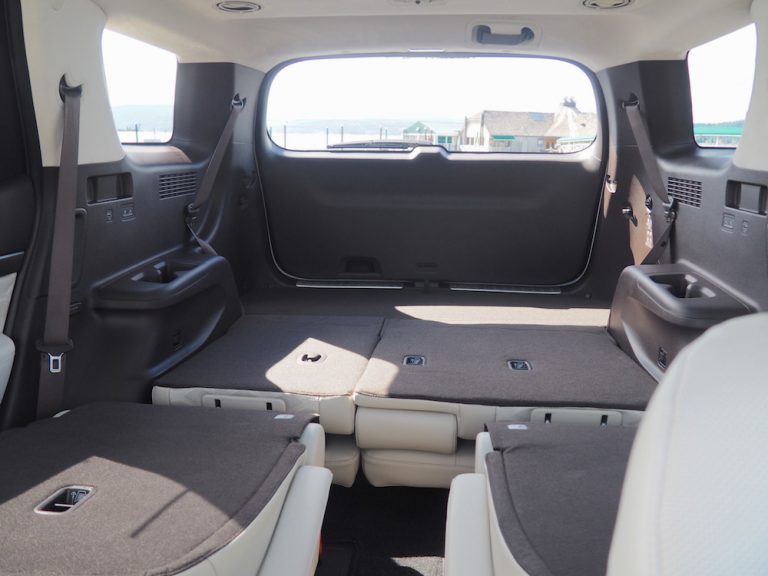 Seating is second only to FCA's high-end Pacificas for convenience. The rear bench is power-folding. Mid-row seats can be dropped from the back with a touch of a button, or total capacity can be dropped to seven if you choose second-row ventilated captain's chairs.
Technology and control setup
Controls up front are clean and easy to use. A push-button gear changer eliminates the traditional shift lever, opening up room in the front. The use of quality materials adds to the near-luxury feel. The centre console features a 26-cm touchscreen multimedia panel, and the 31-cm gauge display is digital on higher trim levels. Head-up display is available as an option.
Safety tech
Palisade also features eight driver safety features, including lane guidance, forward collision avoidance with pedestrian detection, blind spot detection, rear cross-traffic alert, auto high-beam, driver attention alert, safe exit and smart cruise.
Safe exit is an extension of both cross-traffic and blind-spot alert: it senses when an object is in jeopardy of striking a door — such as a cyclist passing from the rear — and prevents that door from opening.
Palisade interior compared to the Kia Telluride – what's the difference?
First, a look at the 2020 pricing for both models and a quick front interior comparison, below.
| | |
| --- | --- |
| 2020 Palisade US Starting Price | $31,550 |
| 2020 Palisade Canada Starting Price | $38,499 |
| 2020 Telluride US Starting Price | $31,690 |
| 2020 Telluride Canada Starting Price | $44,995 |
Hyundai-Kia launched their two mid-size, three-row crossover SUVs in 2019. Both have been welcomed by critics and customers alike, but for many it can be hard to choose between two excellent vehicles, especially when it comes to interior features that will work best for larger families.
Here's our full Palisade vs Telluride comparison, including powertrain differences and pricing.
These big Korean haulers look different on the outside, and those differing design themes continue inside, where the Telluride has a simpler, more utilitarian look than the Palisade's more opulent approach, which takes cues from luxury yachts. Neither is low-rent, however: both have excellent materials and build quality, so it's down to buyers to see which they prefer.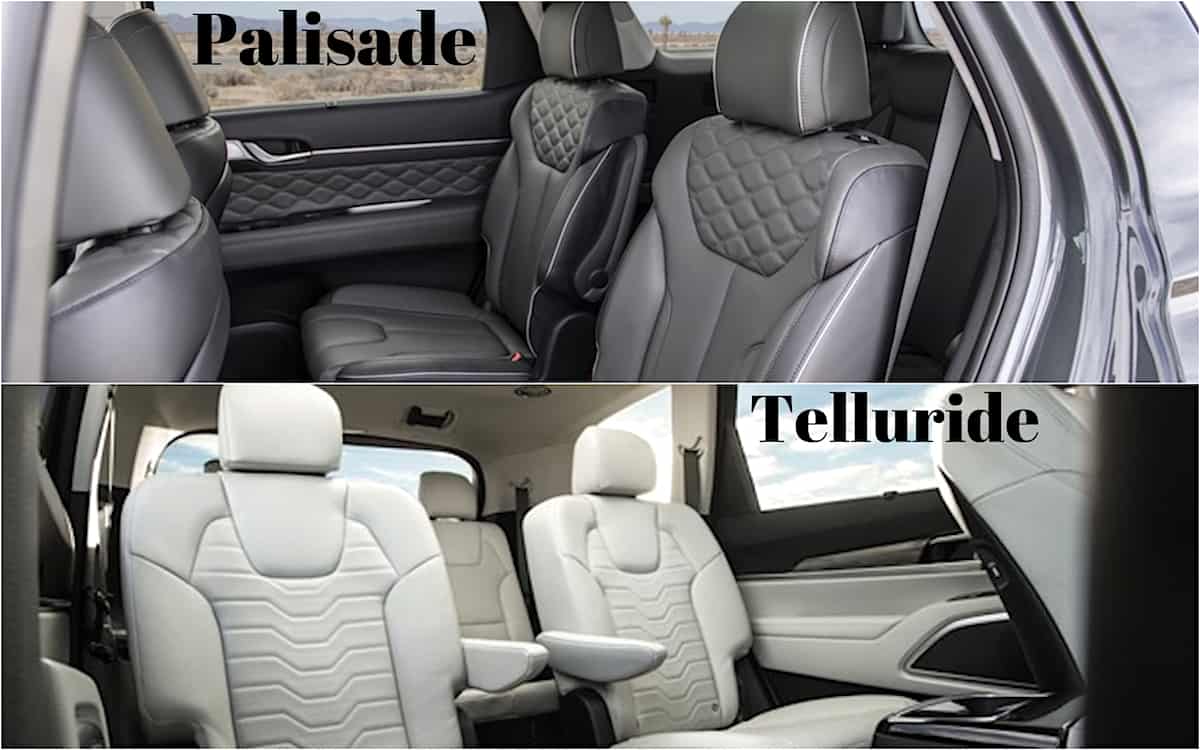 The vast majority of equipment options are common to both cars, including the handy blind view monitor technology. Perhaps with that eye on a more luxurious positioning, the range-topping Palisade Ultimate can be had with a full-digital instrument cluster, suede headlining and an electrically folding third row – all features unavailable on the Telluride, which we reviewed here.
Both cars are available in seven and eight-seat configurations and the interior dimensions broadly identical, as you'd expect. Key differences are that the Palisade has more leg room in the front while the Telluride has more cargo capacity behind the third row of seats.
Takaway
The Palisade combines convenience and safety features, generous interior space, ample power and respectable fuel economy. It joins its twin – the Kia Telluride – which is built on the same chassis and uses the same powertrain, although it is manufactured in the U.S. (while the Palisade is built in Korea).
Overall, Hyundai has really stepped it up with their 2020 SUV lineup, and the interior of the Palisade is no exception. From the abundance of cupholders and USB ports to wireless charging and individual rear-seat climate control. This hauler is the ultimate road-trip warrior for those long-haul journeys where everyone needs to be content.
2020 Palisade interior photos: