The Canadian-made Lexus RX remains the best-selling luxury SUV in North America – not bad going for a vehicle that's been on sale five years in its current generation. Lexus is keeping things fresh with this new, F Sport-based Black Line limited edition: a package of cosmetic and equipment upgrades that replaces the chrome trim with black accents for a more sinister look.
For the 2021 model year, the RX gets blind spot monitor and rear cross-traffic alert systems as standard across all grades. Power-folding, auto-dim mirrors also become standard and a wireless phone charger is now available as an option.
2021 Lexus RX Black Line pricing
The MSRP for the RX 350 Black Line, as tested here, is US$50,635 or C$65,000. The hybrid RX 450h Black Line (US-only) is US$51,885.
In Canada, the Lexus RX range runs from the C$56,150, gas-only RX 350 to the seven-seat, hybrid RX 450hL (C$76,200). All models come with AWD. In the US, the base model is the FWD RX 350 (US$45,070). The most expensive are the RX 450hL or RX450H F Sport: both are AWD-only and have MSRPs of just over US$51,000.
Exterior styling
You know what the latest RX looks like by now, but there's no doubt that the Black Line package is a striking option. The only available exterior colours are Ultra White (as on our test vehicle) or a new shade of blue called Grecian Water. The prominent black stripe on the side is the most literal interpretation of the Black Line concept but other cosmetic changes are 20in darkened wheel rims and locks, and a black grille surround. These come in addition to the F Sport RX's black mirror caps and sportier front and rear bumpers.
Lexus RX Black Line interior and equipment
Inside, the Black Line package builds on the F Sport trim. Most notable are the black 'Nuluxe' leather seats with white trim and blue stitching; the latter turns up again on the Black Line floormats, cargo mat and key glove. The package also encompasses F Sport interior options like a perforated, leather-wrapped shift knob, scored aluminum trim and aluminum pedals.
The bold combination of black and white won't be to everyone's taste, but we liked it for being different to the usual all-black or black/brown options favoured by most manufacturers, and the blue stitching looks classy. The seats are comfortable, and the interior is put together with the high-quality materials and rock-solid build quality that you'd expect from a Lexus. There's no rear-seat heating in this grade, unfortunately.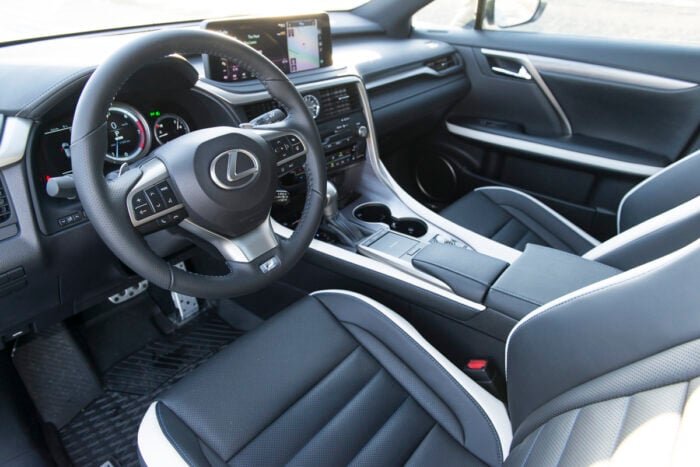 A prominent interior feature is the 12.3in touchscreen, which as you'd expect has built-in Android Auto and Apple CarPlay connectivity. It can also be operated from a central touchpad between the seats; this works better than the similar Honda/Acura technology, just about, but we remain unconvinced that remote touchpads are the future of infotainment controls.
In the US only, the final element of the Black Line package is a customized, two-piece set of black Zero Halliburton travel cases: a 22in carry-on and a 26in medium travel case. This 'Edge Lightweight Collection for Lexus' luggage boasts a Lexus grille motif on the interior lining and a Lexus-embossed leather logo badge. The cases are sent to customers after they purchase a Black Line vehicle.
Driving impressions
Lexus remains better known for relaxed, hushed progress than for a sporty drive, and that remains the case here, even on those big, 20in rims and with passive 'performance' dampers in place of the adaptive suspension found in the regular F Sport package. There's an underlying firmness but thankfully the ride is never hard. Our tester had Bridgestone Blizzak DM-V2 winter tires that felt fine in slushy conditions; check out our winter-tire roundup for more on these essential safety items.
In non-hybrid form, the RX is not an economical vehicle, despite its love of switching to an inappropriately named Eco mode whenever possible. Using it around town over the course of a week delivered a painful 14.5L/100km (16mpg) from the 295-HP V6, well short of the official city driving figure of 12.2L/100km (19mpg).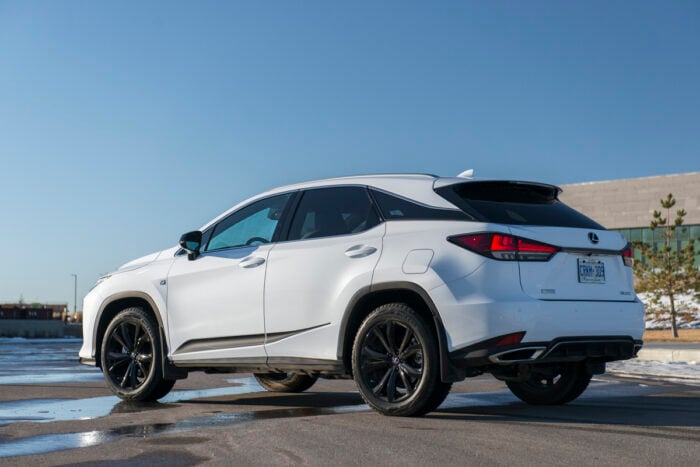 That wouldn't be so bad if the RX 350 were a rocket ship, but it isn't, for all the sporting pretensions. The power delivery is pretty leisurely: seemingly that Lexus DNA of smooth, relaxed progress is deeply ingrained. It's not at all unpleasant, it just doesn't match up to the F Sport billing.
Takeaway: is the Lexus Black Line worth it?
With just 750 RX 350 Black Lines made available for sale in the US and 300 in Canada, this special edition will maintain its exclusivity. We like the design makeover, inside and out, but don't expect it to magically transform the RX from cruiser to bruiser. The hybrid makes much more sense in the context of this SUV's relaxed personality but just 250 RX 450h Black Lines will be sold in the States, none in Canada, so only very few buyers will be able to combine this appealing new package with hybrid power.
Pros
Exclusivity
Striking exterior and interior makeover
Still a comfortable ride
Cons
Performance doesn't match looks
Disappointing fuel economy
No hybrid Black Line in Canada
Interior and exterior 2021 RX 350 Black Link photos: