Triumph's Rocket 3 roadster lineup gains some serious blacked-out looks and more brawny vibes with the addition of the Rocket 3 R Black and Rocket 3 GT Triple Black. Entering the dark side is something the Brit has been doing lately, like with their exclusive Triumph Scrambler 1200 Bond Edition.
Limited to 1,000 units each accompanied by a certificate of authenticity detailing the motorcycles specific VIN number, the new Rocket 3 duo share many of the same features, including the largest production engine with the 2,500cc triple.
But it's the more laid-back and comfort-oriented Rocket 3 GT Triple Black that gets the slight edge with its three-shades paint scheme, compared to the Rocket 3 R Black's all-black colour scheme (and you can't go wrong with that either). Both also share the premium carbon-fibre mudguard.
Below, a look at the 2021 Rocket 3 GT and Rocket 3 GT Triple Black side-by-side:
When we say blacked-out, we mean it — Triumph pretty much darkened every element of the limited motorcycles. Including the engine with its black painted exhaust headers, heat shields, and crinkle black powder coated intake cover.
Other stealthy details include new black painted headlight bezels, fly screen finishers, radiator cowls, seat finishers and rear body finishers. Add new blacked out badging and rear wheel finishers, plus other black anodized components to the mix like rear frame forging, brake and clutch levers, yokes, risers and handlebar clamps, RSU rocker, swingarm guard, side stand, rider footrest, brake and gear pedals, yokes, risers, heel guards and pillion, footrests and hangers.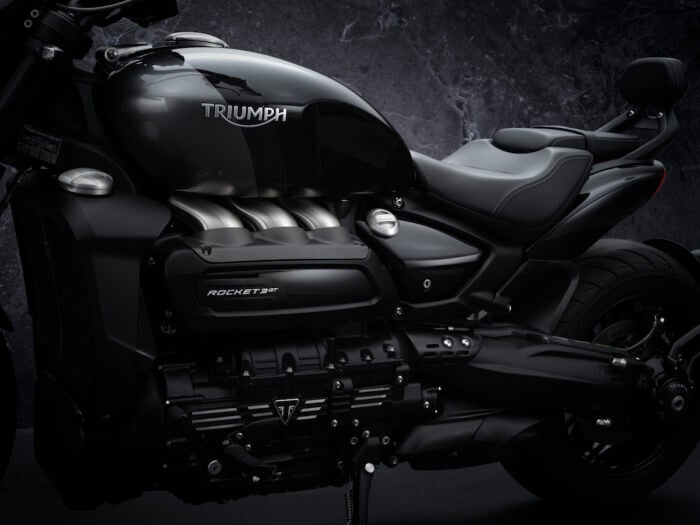 We might be missing something here, but you get the point: Triumph's black package isn't a gimmicky ploy to sell more bikes with a "blacked-out" version with a few dark features here and there — these are indeed meaner and moodier roadsters for those looking to stand out, or not, in this case.
On the performance front, these limited Black editions find the same numbers as their regular Rocket 3 GT R and Rocket 3 GT counterparts.
Peak power is rated at 165 horsepower @ 6,000 rpm and the triple engine is tuned to deliver power from a low 3,500rpm, up to 7,000rpm, while reaching 0-60 mph in just 2.73 seconds. In addition to holding the "largest production motorcycle engine in the World" title, they also put down the world's highest torque at 221Nm.
Pricing for 2021 Triumph Rocket 3 lineup
Pricing is slightly higher for the Black versions, but not by much considering they're limited to 1,000 units each. So the chances of actually buying one are likely slim for most. Here's pricing for the 2021 models:
ROCKET 3 GT – $27,300.00
ROCKET 3 R – $26,500.00
ROCKET 3 GT TRIPLE BLACK – $28,500.00
ROCKET 3 R BLACK – $27,700.00