Pickup tailgates are getting a lot of love these days. And why not? They serve an important function and have pretty much been exactly the same, forever. Adding greater functionality with more utility to these underrated rear doors only makes sense.
Ten years ago, Ford introduced the simple yet awesome integrated tailgate step. Last year, GMC took things to another level with the 6-way, Transformers-esque MultiPro tailgate on their new Sierra.
Today, Ram joins the tailgate party with the new Multifunction Tailgate for their new 2019 Ram 1500 — a feature that adds even greater utility to the truck industry's cargo-management and storage leader.
Main features of Ram's new Multifunction Tailgate
Cargo Access
Offering more cargo-access flexibility is what really sets Ram's version apart. And the 60-40 split, swing-away door is a first in the truck segment.
Swing those doors open
The major benefit with of independent-opening doors is loading duties curbside; plus, you're able to access the bed closer to the bumper which makes stepping into the bed that much easier.
Aside from swinging, it's also a fully dampened drop-down door with remote release options.
Trailer-friendly
With other pickups, you need to unhitch the trailer in order to access the tailgate. The Ram 1500's door doesn't require that, so go ahead and pull 907 kg or 2,000 lb of stuff without removing the hitch.
4 "Configurations"
Ram promotes this feature as "4 configurations" but really, it's just the ability to open 2 doors in 4 ways: open flat, open left door only, open right door only and open both doors.
We think they just threw this one in but nevertheless, with the 88 degrees door swings, the retractable centre-mounted step option further enhances access.
Plus, the ability to swing open AND drop-down is pretty cool, and handy, like when you're just chilling out, taping your hockey sticks like these guys below: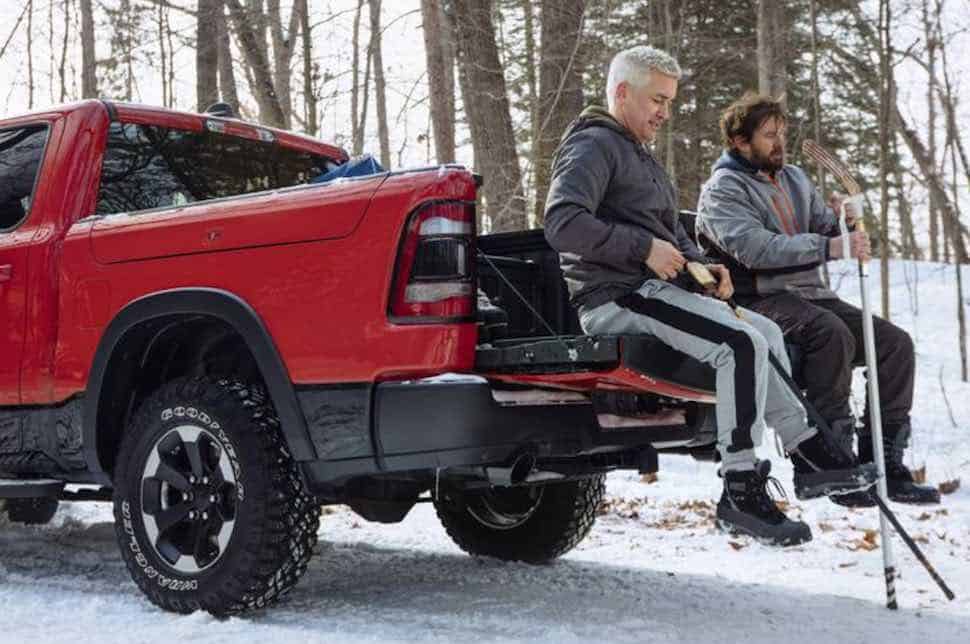 Takeaway
So there you have it, 4 things that make the new Ram 1500 Multifunction Tailgate special, and what separates it from the pack.
Our takeaway? A 2 door tailgate seems so simple, and it is. But we're glad Ram did this. And, the ability to access the rear door without requiring that the trailer and hitch be removed before opening is a game changer as well.
Let the tailgate wars begin!